Have you been thinking about getting a contemporary dog crate but are lost when it comes where you should start looking?
Look no further and continue reading this article because in it we've reviewed our top picks for the ones that fit the description. We've made sure that there's a crate for everyone by categorizing them all into categories like, wooden, metal, furniture style, and a lot more.
The Summary
Best 6 Contemporary Dog Crates
BEST OF BEST CONTEMPORARY DOG CRATE
Casual Home Wooden Pet Crate
Less Chewing Problems
Probably the biggest reason why we can consider this to be a durable dog crate is because of its wooden construction. You won't typically find a wooden crate whose wood can endure some chewing coming from a dog but since this one is made out of solid wood, it is chew-resistant.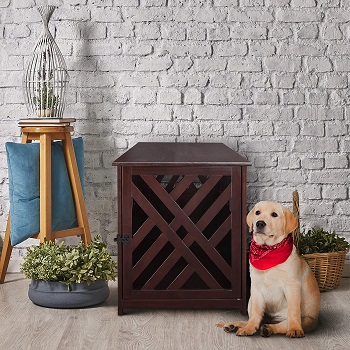 No Ordinary Look
It's not only durable but aesthetically pleasing to look at as well. We have the bars that are placed diagonally instead of vertically to thank for that. This breaks the crate's usual boring cage-like look and makes it an even more attractive piece of furniture. Furniture, because the top allows it to function as one.
Weight Limits
To talk a little bit more about its furniture style top, we have to mention the excellent news that it can hold stuff up to 200 lbs of weight. This is a lot and you can really let your imagination run free when deciding. The bottom of this contemporary dog crate might have a 200 lbs weight limit as well but because of the crate's dimensions, you'll only get to house a smaller dog inside it.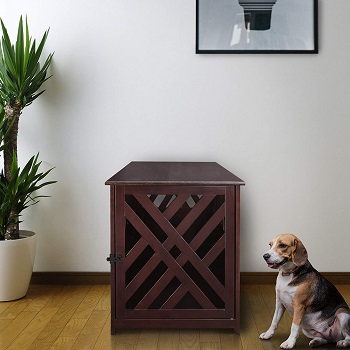 Cleaning And Sleeping Access
To access the crate, your dog will get to do that through the single door that is found in the front. It locks with one hasp latch lock and this is also how you're going to access it for cleaning. You'll typically want to wipe down the crate with a damp cloth.
In Short:
The solid wood it's made out of is chew-resistant
The vent bars are placed diagonally
The top allows it to function as furniture
Has a 200 lbs weight limit fo the top
Can house smaller dogs
Has a single access door in the front
The door locks with a hasp latch lock
BEST WOODEN DOG CRATE CONTEMPORARY
Unipaws Pet Crate End Table
Built Differently
There aren't that many differences between this crate and the one we reviewed before it one first glance but if we dove a little deeper we'll find a lot of them. The first memorable difference is that the crate's wooden parts are made with MDF that's not chew-proof while its sides are chew-proof because they're made with metal bars.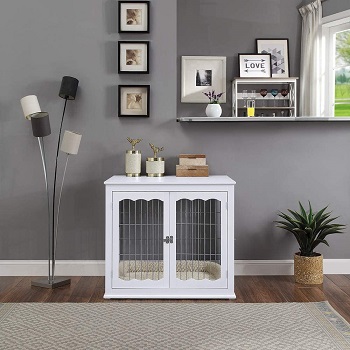 What You Can Do With Doors
This crate is to be considered as indoor dog crate furniture not just because it won't survive the rain and it's too heavy to move but only because it features three doors that will allow you to easily decide on how you're going to place it inside your home and you don't want to miss out on that opportunity. Another thing that'll make things easier that you can choose how you're going to place the doors when assembling it.
Safe Locking
We didn't really mention how many doors there are. There are three doors in total but there are two entrances. This is because the side door is actually a double door while the front door is a regular single door. The doors feature 3 locks in total so that you can be worry-free when it comes to whether or not your dog was able to break out of this safely locking dog crate.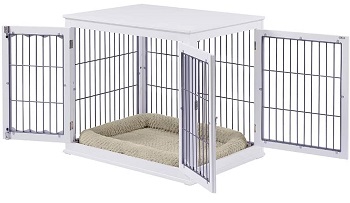 Bottom And Top Feature
The top feature is already a part of the contemporary dog crate and it's the furniture style top on which you can place your things up to 200 lbs while the bottom feature is not a part of the crate but will definitely prove to be useful and it is the washable bed that you easily wash and is even waterproof. The bottom can house dogs up to 90 lbs which means large dogs.
In Short:
Built with MDF and metal bars
The wood is not chew-proof while the metal bars are
Comes with three doors and three locks for each one
Features a waterproof and washable bed
The top weight limit is 200 lbs
Can house large dogs
The door panels can be placed however
BEST INDOOR CONTEMPORARY DOG CRATE
Crown Pet Products Wood Pet Crate
Lacquered And Stained Wood
It's safe to say that there's a lot going on with this crate and we'll explain why soon. We'll start by explaining its build. it's made with hardwood that actually looks like teak so that it's more aesthetically pleasing and not only does it have a beautiful espresso finish but it is also lacquered.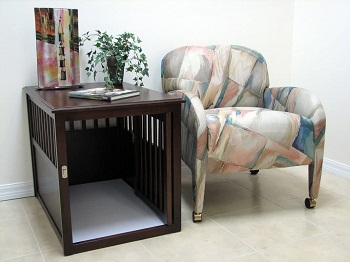 Melamine Bottom
What's probably even more important is its bottom contents. The bottom is made out of MDF wood instead of hardwood and it's covered with melamine. What the melamine does is that it eliminates the possibility of the crate absorbing nasty odor or liquids in case of a minor accident inside
Panel Connection
Each panel of this contemporary dog crate connects with probably the most recognized and strongest joints available that are incredibly common in making furniture and they are the mortise and tenon joint. You will have to assemble the crate when it arrives though.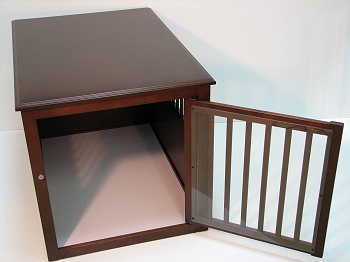 Top, Door, And Size
The top, as with all of these crates, will allow you to put your things on top of it. There's a single door for access located in the front and the dogs that will get to enter and be contained inside this crate comfortably and easily are medium dogs since this is a medium wood dog crate that's 30-in long.
In Short:
Has a hardwood build that looks like teak
Has a lacquered finish
Can house medium dogs
The bottom is made out of melamine covered MDF
The bottom won't absorb liquids or odors
Has a single access door in the front
You can place your things on top
BEST EXTRA LARGE DOG CRATE CONTEMPORARY
Polar Bear's Shop Wooden Pet Crate
Deceiving Size
Finding an XL wooden dog crate is thought work so that's why we just had to review it when we found it. If you were to compare this and any other XL wooden dog crate with other crates of different types you'd find out that according to its dimensions, it's not really an extra-large crate but only a large one.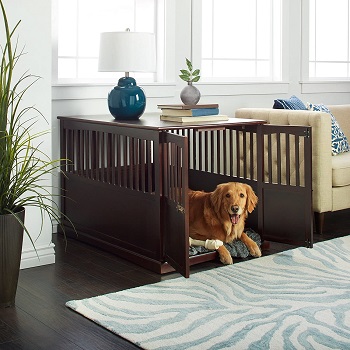 How Durable It is
It features an MDF wooden build, it's colored in an espresso color and its sides have wooden bars placed all around this contemporary dog crate for better ventilation. Since it's an MDF wood-made crate and it's made to house larger dogs.
Door And Access
Instead of one large front access door, you'll get a double on the single access point in the front. They lock with a single sliding bolt lock. Since it's so big you probably won't have problems with getting inside to clean it. You also won't have problems with your dog breaking out if he's crate trained.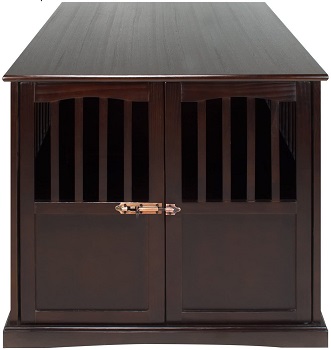 Crate Training Importance
As we've already mentioned, you'll get to house a large dog inside this crate. Seeing as how large dogs are much stronger than smaller ones, this is all the more reason as to why you should crate train your dog before housing him inside this crate.
In Short:
Made with MDF wood
Can only house crate trained dogs
Suitable for housing large dogs
Feature a double door in the front
The doors lock with a sliding bolt lock
BEST BARN DOOR CONTEMPORARY DOG CRATE
Ecooflex Furniture Style Dog Crate
Barn Door Benefits
If you're not really sure why you'd have use of getting a sliding door dog crate that features a barn door you might know better if we tell you that these doors do two things. One is that they save you space around the surrounding cratearea and two is that it won't get in your way if you leave the crate open.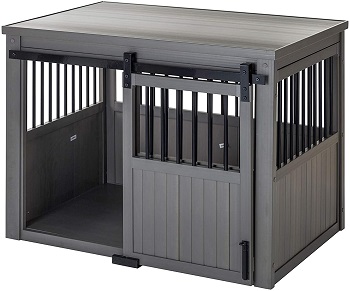 Material Details
This contemporary dog crate is made out of ecoflex that's a really special material. It's a polymer composite material made out of wood and plastic and its most important property is that it won't split, crack or warp. You'll still have to crate train your dog if you want to get the crate for him though.
Locks And Top
The lock on the single barn door is located on the bottom. Your dog won't be able to reach this single sliding bolt lock so you'll have less to worry about when it comes to whether or not he's going to break out of the crate. Its top, as with all, allows it to function as an end table, side table, or other pieces of furniture.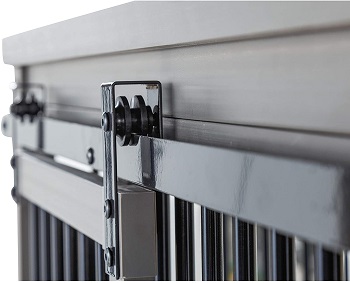 Cleaning Ease
All crates need to get cleaned and this crate is not an exception. The way you'll access it is through the door but what might make you like it better is that ecoflex, as a standalone material doesn't absorb moisture or odors. This will definitely make it last you for years to come.
In Short:
Built with a material called ecoflex
The material won't crack, split, or warp
Exoflex doesn't absorb moisture and odors
Has a single barn-style sliding door for access
The sliding bolt lock for the door is located on the bottom
The top allows it to function as furniture
Can only house crate trained dogs.
BEST METAL DOG CRATE CONTEMPORARY
Feandrea Wooden Dog Crate
Different Furniture Piece Crate
This crate might not be as wide to be a dog rate credenza but you can still use it as one mainly because you can place it next to your wall without blocking any ventilation points. This is due to the fact that the back of the lengthier side is made out of wood only and not with metal bars like the rest of the sides.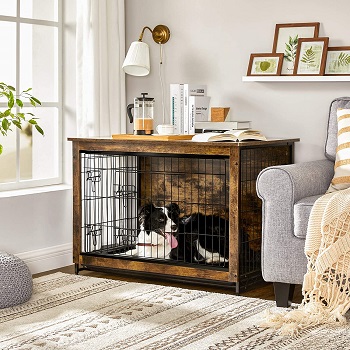 Should You Crate Train Your Dog
Although we would still recommend that you crate train your dog before getting this crate for him, this is not that necessary because of the metal sides. The doors are also made out of metal and the sliding bolt locks on the side and front door can typically be found on large wire dog crates.
Other Crate Type Common Features
We've mentioned that there are some features on this crate that resemble wire crates and it also features some things typically found on heavy-duty metal dog crates. We're talking about the gridded floor that has a plastic cleaning tray below it. This will allow yout o clean this contemporary dog crate without having to let your dog out of it.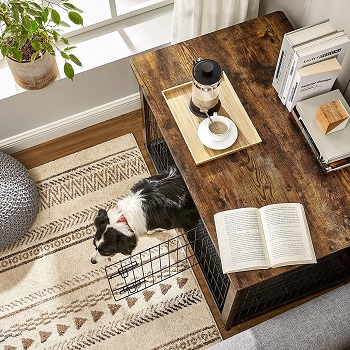 Bottom And Top Weight Handling
The crate's top can handle a weight of up to 154 lbs. This is great because you don't really have to think all that much about if you're going over the weight limits. It's a crate that's around 39-in long so you can easily use it to house large dogs inside. Typically, with these dimensions, the dog can be up to 90 lbs.
In Short:
Built with wood and metal
Features 2 metal doors that lock with sliding bolt locks
Can be placed next to a wall because of the wooden back
The cleaning tray is located outside of it
The floor is gridded so that dog dirt can fall through onto the tray
Can house large dogs
The weight limit for the top is 154 lbs
How To Pick A Contemporary Dog Crate
Contemporary dog crates might look almost the same on first glance but they definitely differ greatly from one another when you take a dive into what materials they're constructed of, materials placement, size and more so in order to clear up some things and make it easier for you to choose which crate is the best one for you, we made this useful guide to help you gather all the important information about them in one place.
Recognizing One – Every crate can be a contemporary one, but what we've decided to do is review ones that stand out the most because of what they are. That's why we choose to review mainly indoor dog crate furniture because on of the feature of a modern style and design is that the crate have double functions.
Home Blending – There are two reasons why they blend so well inside homes. The first more obvious thing is that they feature a wooden design and since furniture is usually also made out of wood, it'll make it seem like it's just another furniture piece. Reason number two is that they actually function like furniture because of their top where you can place your personal belongings.
Dog Behavior Importance – Whether or not you'll get to buy these contemporary dog crates all depends on the fact if your dog is crate trained or not. Wood and wooden polymers are not materials that can handle chewing. The damage will be visible instantly and it will be great. You might get away with buying a solid wood crate that's chew-resistant but even then your dog should be calm for the most part.
Typical Sizing For The Type – Not only will you have to make sure your dog is crate trained but you'll also want to make sure you're getting the right size of crate. Typically, an extra-large wooden dog crate will not have the same dimensions as an XL wire crate. This is important information because actual XL wooden crates that can house extra large dogs are hard to find. To make sure you get the correct size, you should add at least 3-4 inches to your dogs' length and height and see if it matches the crate's dimensions.
To Sum Up
Since each contemporary dog crate we reviewed can still only house crat trained dogs we've decided we should recommend the Crown Pet Products Wood Pet Crate as the best since it's well protected from getting soaked in urine because of its MDF wooden floor that's covered with melamine. If you want to find out about more options for these crates, we advise you to read the article about modern dog crate furniture and if you want a crate where you don't have to crate train your dog first we suggest you look into the article about training cages for dogs.