Looking to get your dog his own unique dog apartment crate but can't seem to find one?
We can help you find it as soon as you read this article where we reviewed our best picks for this type of dog crate. We tried to include a lot of different crates like the ones for puppies, the ones with dividers, and the ones without one. We also focused on reviewing different sizes and types of crates.
The Summary
Best 5 Dog Apartment Crates
BEST OF BEST DOG APARTMENT CRATE
Lucky Dog 54-in Giant Dog Crate
Divider Uses
This is a crate that comes with a divider and thanks to it, you can use this crate to potty train your growing puppy. The way that this happens is that you'll adjust the divider according to the size of your dog as he grows. The divider can also be used to split the crate into two separate ones so that it's a multi-dog crate.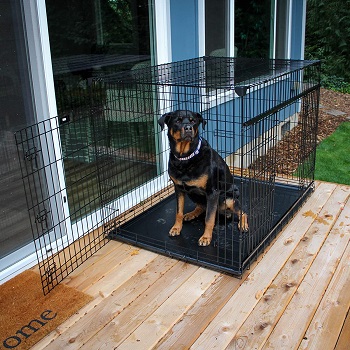 Litter And Sleep Area Dividing
Another use for this apartment cage for dogs divider is that you can use it to separate the crate's sleep area from the litter area. Your dog will get to access both from the outside instead of the inside since the divider doesn't have a hole your dog could walk through.
Door Kinds And How They Open
What will be of great assistance when talking about how your dog will access his sleep and litter area is the double sliding door that's located in the center of the crate so if you were to put a divider right in the middle, your dog would have enough space to enter both sides. there's another door on this crate located in the front that opens like a regular door.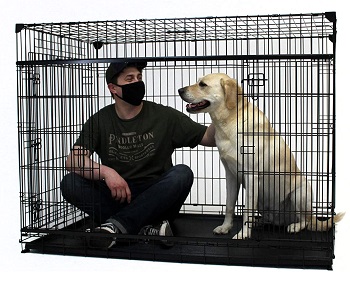 Silent Operation And Crate Construction
The dog apartment crate is made out of steel wire and operates with less rattling noise because of the corner stabilizers. These stabilizers will also ensure that it doesn't accidentally collapse if you don't want it to since it can be folded down as well. It's a giant dog crate that's 54-in long so you can easily house a dog like a Great Dane inside it.
In Short:
Made with steel wire
has corner stabilizers that reduce rattling noise
Can be folded down
Features a divider for potty training puppies
Can be used to house one giant dog or two large dogs
Has a double sliding door and a single door for access
BEST PUPPY DOG APARTMENT CRATE
Midwest Ovation Folding Dog Crate
Access To Areas
Your dog will also get to access either his sleeping area or his littering area from the outside. Luckily, the door won't get in your way because it opens like a garage door. The other door on this crate opens like a regular one and can be found in the front. To open the garage-style door, you'll have to lift a handle and open the door while the other door locks with 2 sliding bolt locks.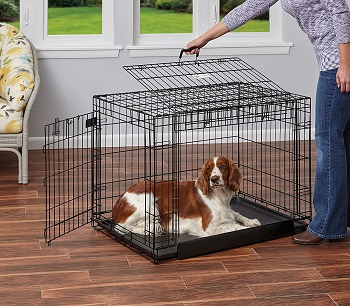 Specific Size
It's 36-in long which means that it's an intermediate dog crate. These crates fall right in the middle between large and medium crates. Typically, a crate like this can house a dog up to 70 lbs. It can be folded down and it even comes with a handle for you to carry it easily to your car or if you just want to store it.
Indoor Use Advantage
It's safe to say that you'll definitely have an advantage if you use this puppy training apartment crate indoors. it's because it has rubber feet for the bottom that will prevent the crate from damaging your floors. The floors will also be kept clean because the bottom has a slide-out cleaning pan with raised edges to create more depth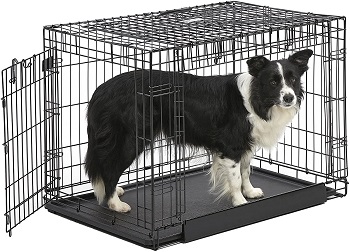 Common Use
Like the dog apartment crate before it, this one is also made out of steel wire. Crates like this fall right in the middle in terms of durability. This means that they can easily be used to crate train a puppy if it comes with a divider or even an adult dog.
In Short:
Comes with a puppy crate divider
Has 2 access doors
One door opens like a garage door
Can house intermediate dogs up to 70 lbs
The bottom rubber feet keep the floor free from damage
The plastic slide-out pan is meant for cleaning
Can be folded down and carried like a briefcase
Can be used to crate train dogs
BEST LARGE APARTMENT CAGE FOR DOGS
Cardinal Gates Sliding Door Dog Crate
Gauged Wire Build
Out of all the crates we've reviewed so far, this one might be the most durable dog crate. This is true due to the fact that it's made with 10 gauge and 6 gauge wire. The 6 gauge wire can be found on the doors. Gauge determines how thick the wire is and it goes b the logic that the smaller the gauge the thicker the wire.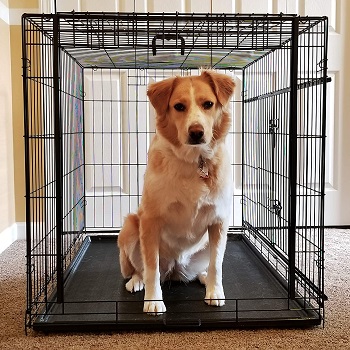 Fold And Unfold Easiness
There's no need for you to go through the trouble with assembling this dog apartment crate because it's just as easy to unfold as it is to fold down for when you want to either store it or transport it elsewhere. You'll even get a handle to carry even more easily like a briefcase.
2 Unique Openings
It has two unique opening doors instead of one. it actually combines the door we've seen on the first crate and the one we've seen on the second. The side features a double sliding door while in the front you'll find a door that opens like a garage door and can rest on top of this crate.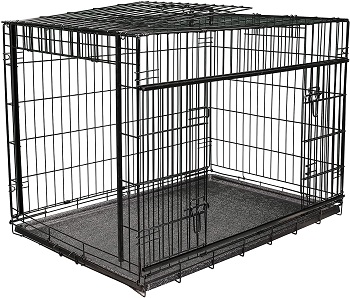 Size Of The Crate
Crates are usually sized by their length and since this is a 42-in one, it's easy to conclude that you'll get to use it to house a large dog inside it up to 90 lbs but just to be on the safe side, you should measure your dog still. it doesn't feature a divider but you can easily buy one.
In Short:
Made with 10 ad 6 gauge steel wire
Has a double sliding door for access
Features an additional garage-style door in front
Can house large dogs up to 90 lbs
Can be folded and unfolded easily
Features a carrying handle for easier transport
BEST WITH DIVIDER APARTMENT TRAINING CRATE
Precision Pet Great Dog Crate
Door Uses And Locations
The side door is located in the centre of this folding metal dog crate so that your dog can access his potty and sleep area from the outside if you choose to divide the two spaces with the divider it comes with. There's another door in the front as well.
Doors Locks And Fold Design
For more protection at least when it comes to how hard it will be for your dog to break out of the crate, each door locks from 5 different points. This includes the single sliding bolt lock on each door. The crate can be folded down for you to travel with it or store it when it's not in use.
Main Divider Use
This is, after all, a puppy apartment training crate with divider so you can also use the divider for potty training puppies. The way it works is that the divider is adjustable so you'll get to enlarge the crate's interior space according to how big your puppy is. You will have to make sure that you size the crate according to your dog's adult dimensions. It can house large dogs.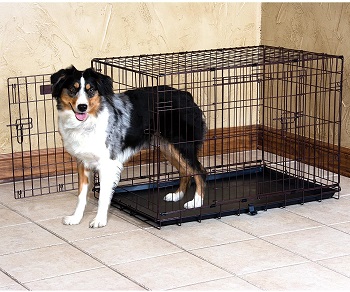 Interior And Bottom Characteristics
The interior of this dog apartment crate is safe for your dog because of the fact that its corners are rounded. For the inside, you'll also get a cleaning plastic pan that will collect any dog dirt and excrements and prevent them from ending up on your floors. To protect your floors from scratches, you'll get to attach rubber feet o the bottom.
In Short:
Made with steel wire
Features a centered side door and a front door
The doors lock from 5 different points
The crate can be folded down
There's a cleaning pan on the inside
It has rounded corners for safety
Comes with a puppy divider
You'll get rubber feet with it to protect your floors
BEST FOLDING DOG APARTMENT CRATE
Diggs Revol Dog Crate
Exceptional Safety
There's a lot going on with this crate because it's just that great. The manufacturer thought about almost everything when designing this crate and the first and probably the most important thing about it is its safety. it's made to comply with baby industry standards so it's completely safe for puppies and dogs in general.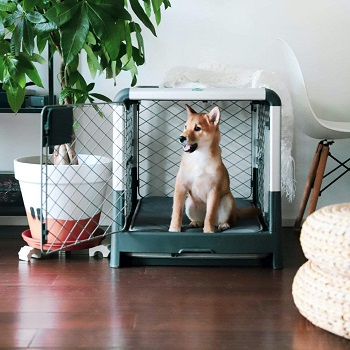 Next Level Traveling
This apartment cage for dogs takes the ease of traveling to another level. it can be collapsed like many other crates can be, but what it also has is built-in wheels and a handle for you to easily drag it around or carry it if you can since it does weigh almost 25 lbs. Your dog should be crate trained first if you're planning a trip.
Potty And Crate Training
Not only is it safe for puppies, but this dog apartment crate can easily train a puppy. It's suitable for potty training because it comes with a divider for it but it's also true for regular training because this training cage for dogs is made out of durable materials. These materials are reinforced plastic and aluminum steel wire sides.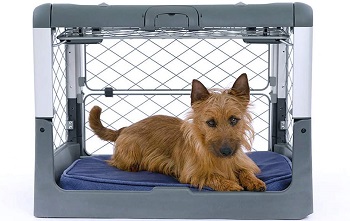 Door Number And Types Help
The number of doors and their position will not only allow you to position the crate with more freedom inside your home but they will also save you space. At least that's true for the side door that opens in an upwards direction so that the crate can stay open without the door bothering you and your dog.
In Short:
Has a reinforced plastic and aluminum steel wire build
Comes with a divider
hAs three access doors, one opens upwards
The bottom has built-in wheels
The top features a built-in handle
Can be collapsed
Completely safe for puppies and dogs
How To Pick A Dog Apartment Crate
Those who live in the apartment and have a dog or more dogs always search for the right dog crate. What to consider while buying the crate for your lovely pet, what you need to know about the dividers and doors, and much more information you can read below.
What Are They – Dog apartment crates literally function as the dog's own personal home. They usually have a sleeping area and a littering area. They usually don't come made like this right away so there are a few adjustments that you'll need to make if you want a highly functional one
Divider Purpose – Typically, a divider is used to potty train a puppy by adjusting to his size but in this case, you'll get to use the divider as more than just that. You'll be able to split the crate into its own sleep and litter area. If you want your dog to access it directly from the crate you'll have to make a hole inside the divider and make sure it doesn't have any sharp edges when you do it or you can do what we did and find a crate with a sliding door so that your dog can access each area from the outside.
Sliding Door Use – The sliding door is not a must-have with these crates but it will definitely help you truly make a crate an apartment for dogs. Not only that but it will also save you space and protect your shins because a regular swing through the door will both get in the way, and if you're not careful, hurt you. You don't have to search for sliding door dog crates only though, You can find one that has a side door positioned in the central part of the crate
No Divider Apartment – You can make a dog apartment without using a divider though. All you need to do is get both a puppy crate bedding and puppy pad in crate and teach your dog what's what and how to use it. This will require some effort and patience though. You'll find it easier to train a puppy but even an adult dog can be taught this.
To Sum Up
The one dog apartment crate we'd recommend you get is definitely the Cardinal Gates Sliding Door Dog Crate. It's due to its steel wire build that features a 10 and a 6 gauge wire. It also has a sliding door that'll save you some space. If you're only interested in getting a divider for puppies, check out our post about adjustable dog crate dividers and if you want to get a proper training cage for dogs we have an article for you to read about it as well.