Have two dogs that you want to house inside a double dog crate for 2 dogs?
This article might help you find one since we reviewed only the best in it. COntinue reading if you want to take a look at what a two dog crate can be and if you want to see what options are generally offered like soft and heavy duty ones.
The Summary
Best 4 Double Dog Crates For Two Dogs
BEST OF BEST DOUBLE CRATE FOR 2 DOGS
Homey Pet-43 Heavy Duty Cage
Same Material, Different Execution
The crate's comprised of two types of the same material. It uses steel tubes for the frame and steel wire for the rest. Both the steel tubes and the durable heavy-duty wire are coated with a hammer spray finish that conveniently enough makes the whole crate resistant to rusting.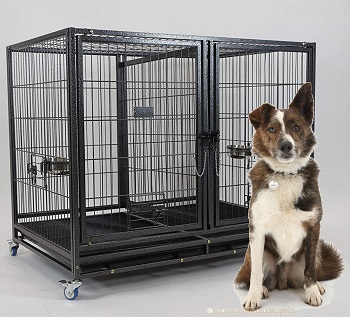 How It Separates Into Two
It manages to be a multi-dog crate because it's a double dog crate with divider. The divider is non-adjustable which means that you can only place it in the designated slot for it. Thanks to it, the crate has 2 separate entrances that are both located on the side of the crate and each part of the divided crate has 2 feeding doors.
How The Door Locks Safely
If your dog were to try and open the cage on his own and somehow succeed, the things that would prevent him or them from escaping are the metal chains attached to the crate's door and locks that won't let the doors open fully. To put the feeding doors to good use you'll get 2 feeding bowls for each dog that you want to house inside.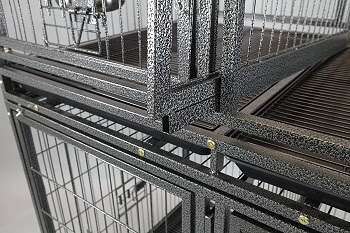 Other Crate Info
This is a stackable dog crate and you can stack up to three cages on top of one another. This double dog crate for 2 dogs is the bottom tier cage. It features an additional open-top door, lockable wheels to make moving easier since the crate is heavy, and it also comes with 2 cleaning pans located below the bottom floor for each side of the crate.
In Short:
Made out of heavy-duty steel tubes and wire
Coated with a rust-resistant hammer tone spray finish
Two separate crates are created with a non-adjustable divider
Has 2 front entrances and a top-load entrance
Features additional 2 feeding door for each crate part
You can stack multiple cages on top of it
Sits on lockable wheels for easier movement
The cleaning pans are located below the bottom
BEST SOFT DOUBLE DOG CRATE FOR 2 DOGS
PawHut 39" Dual Compartment Pet Carrier
Crate Parts
Just like the one before it, this crate also uses a divider to separate the living space for two dogs but instead of a metal divider, this one is made out of fabric and can be zipped onto the crate. The whole crate is actually made out of oxford fabric and polyester mesh fabric while the thing that makes it hold its shape well is the steel tube frame.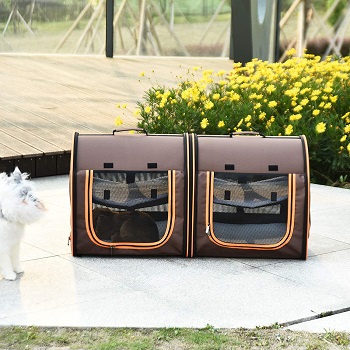 Fold-Down Design Advantage
Unlike the heavy-duty metal dog crate before it, this double crate for 2 dogs can be folded down. After you've folded it down, you can either put it away or transport it. For neat and simple transport and storage, you'll get a storage bag for it that you can carry using the 2 handles on it.
Use Options
There's more than one way to use this crate. You can either use it as two separate crates, two crates that are connected to one another, or use it as a crate to house a single dor. The choice is up to you but to use it for one dog might be a waste of storage space inside your car cause it can't really house a larger dog if you use it for one.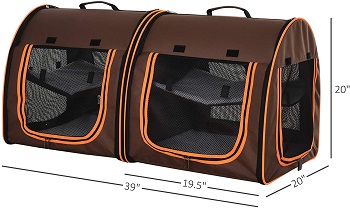 Travel Bonuses
Since these are mainly travel double dog crate for 2 dogs, they come with a cushion for those long rides. Other travel features include a belt in the back that can be combined with a car seat belt to keep it in place so that it's safer while you're driving and of course the fact that its light always comes in as a handy travel feature. the crate can only house small and crate trained calm dogs.
In Short:
Made out of oxford fabric
Has polyester mesh fabric windows
Features a steel tube frame
Can be folded down and stored inside its storage bag
Made to house small and calm dogs
Can be divided into two separate crates
Comes with a cushion for comfort
Can be connected to a seat belt for security
BEST FOR TRAVEL DOUBLE CRATE FOR 2 DOGS
One for Pets Portable Pet Kennel
Safe Traveling
This is a soft travel dog crate. We can easily consider soft crates to be the best for travel and if not, definitely the most commonly used ones for traveling so this crate also has some useful travel features. For starters, it has built-in straps that will allow you to connect it to your car's seatbelt.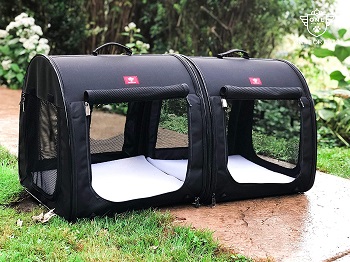 Window Functions
Each crate that is separated with a divider has mesh fabric windows on three sides. Each window whose main purpose is to ventilate the crate is also an access door that closes with zippers. If you were to leave the crate open you can do it as well by simply rolling the door/window up and attaching it to a piece of velcro fabric.
3 Way Use
Just like the double dog crate for 2 dogs before it, you can also use this double-door dog crate with divider in one of three ways. either with the fabric divider as connected crates to a single one, as separate crates or as a single crate without the divider to house a single dog inside it.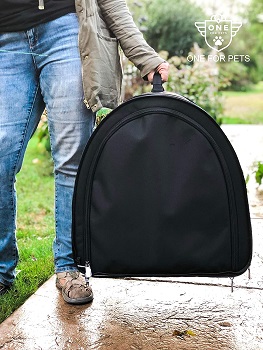 Travel Extras
There is a padded cover for the interior that will create a soft ad cozy spot for your dogs. You ca also take it out and wash it easily. Another bonus the crate comes with is a travel bag where you can store the crate when you fold it down. The reason you can fold it down is because of its foldable steel tube frame.
In Short:
Made out of and a folding steel tube frame
The crate gets divided with a fabric divider
Can separate into two crates
Made to house small dogs
Each crate has 3 mesh fabric windows and doors
Comes with a travel bag
Can be connected to a seat belt for safe traveling
BEST HEAVY DUTY DOUBLE DOG CRATE FOR 2 DOGS
Go Pet Club 37-in  Dog Crate
Stackable Design
If you'd like to use this crate to house two dogs you can easily do that, that's why it's here but you can also take advantage of its stackable design to house even more dogs without using too much of your space inside your home. You will have to buy another crate of the same model to do that though.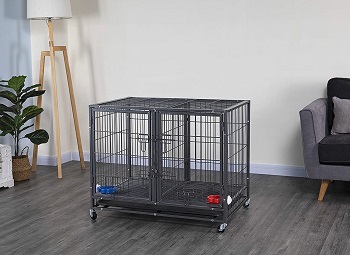 How It's Split
This stacking dog crate is made out of heavy-duty metal which means that you can house a dog that's more aggressive inside it. The way it splits into two crates is with a metal divider panel that cannot be adjusted. If you split it for housing two dogs you'll get to house two smaller dogs inside it whereas you'll get to house a larger dog inside if you use it as a single dog crate.
Doors Made For 2 Dog Housing
Each part of the double dog crate for 2 dogs has its own front access door that locks with 2 sliding bolt locks. They're located on the lengthy side and they both have a built-in feeding door as well. To put the feeding door of this double crate for 2 dogs to good use, you'll even get 2 food bowls with it that can be attached to the steel wire of the feeding door.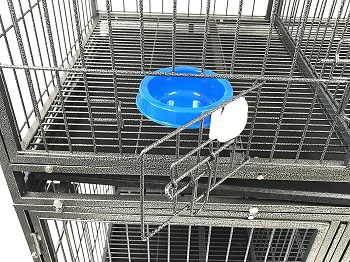 Cleaning And Easy Movement Supplies
You will only get one tray for cleaning with the crate instead of the typical two if the crate allows you to house two dogs inside. You'll find this plastic slide-out tray below the gridded floor. The crate is elevated because it sits on wheels so you can easily move it from room to room since it's quite heavy.
In Short:
You can stack multiple crates on top
Made with heavy-duty steel
Gets split into two crates with a metal divider
Features a single door for access for each crate
Has a built-in feeding door
Comes with 2 food bowls
Cna house 2 smaller dogs or a single large dog
Sits on wheels for easy movement
How To Pick A Double Dog Crate For 2 Dogs
Since double-dog crates for two dogs differ so largely in types and functions we've decided to split this helpful guide on how to pick one into two parts where we'll talk about each crate type, their benefits, and of course their differences. The guide might answer some questions you didn't even know you had so it's definitely worth looking into.
Heavy Duty Type – The large metal dog crates we reviewed are considered to be best for housing more aggressive dogs since their metal frame can endure a lot of abuse. The downside to these crates is definitely that they are extremely heavy and hard to move. This is why they typically come with wheels. Note that you can use these crates to house a single larger dogs, but all of their features indicate that it's better to use them as double dog crates for two dogs.
Soft Crate Type – On the other end of these crates we have the soft collapsible dog crates. These crates are made to house dogs that are calm and if you want to travel with them since that is their main function, the dog should also be crate trained for your and his own safety. They are light so they are extremely portable. They can be used to house a single dog as well but that might be counterproductive since it will take up more space and you won't be able to house a larger dog inside them.
Crate Differences And Benefits – metal crates are of course heavy so you're more likely to use them as indoor dog crates. They don't usually come with the travel option. Soft crates on the other hand aren't recommended as indoor dog crates since they are so flimsy and unreliable. Your dogs should, for the most part, be under constant supervision if you were to use them to contain your dog inside your home but since they are so light, you won't have trouble transporting them anywhere.
Sizing – Having double dog crate for 2 dogs, it's important that you divide the crate's length by 2 to see ho much space you're getting for each dog. Each crate parts' length and height should be at least 3 to 4 inches larger than your dog so that they can fit inside nicely and comfortably.
To Sum Up
Choosing which double dog crate for 2 dogs to get depends solely on what you want to use it for but still, we couldn't miss out on the opportunity to suggest you get the Homey Pet-43 Heavy Duty Cage. It's plenty sturdy with its heavy-duty build, it's corrosion-resistant and it can safely contain even aggressive dogs. If you're looking to get a crate with an adjustable divider then your best bet is to look to the article about puppy crates with divider and if you're just looking to crate train your already grown-up dog, take a look at the article about training cages for dogs.