Are you looking to camp out with your dog so you want to reward him with his ow dog tent crate?
You're lucky to be here then. If you want to be even luckier, keep reading this article because we reviewed our top picks for that type of crate in it. we made sure that no crate gets left behind which means that we reviewed a plethora of different crates like best for travel, heavy-duty, and more.
The Summary
Best 6 Dog Tent Crates
BEST OF BEST DOG TENT CRATE
Midwest Portable Tent Crate
Folding Feature
One of the more important features of a proper campring dog crate suitable for inside tent model is that it can easily be stored away whenever you're not using it since you'll be taking enough stuff as it is on your camping trip. Not only can this crate be folded down but it can also be carried like a briefcase when it is.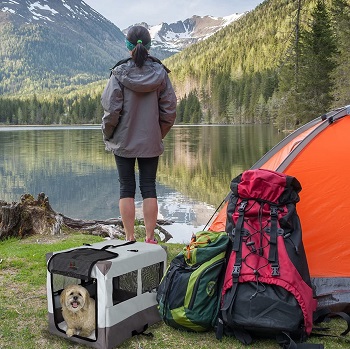 Fabric And Frame Properties
Since it's a soft collapsible dog crate of course it's made out of fabric and a steel tube frame that makes it hold its shape well. What's interesting and a definite must for these crates is that the fabric material is waterproof so that water doesn't soak through the crate.
Door And Vents Build
It features a single large door for entry and exit that is also a ventilation window along with all the other side ventilation windows made with mesh fabric. You can close this door with a zipper and if you want to leave it open you can bend it over to the top for your dog to enter and exit as he wishes.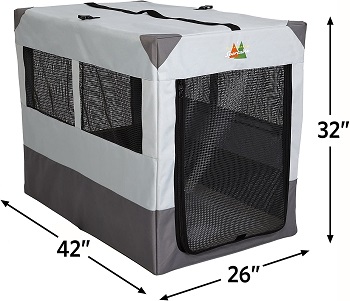 Dog Size And Behavior Recommendation
This Midwest portable dog tent crate is designed to house large dog breeds. It is 42-in long and 32-in tall and it's recommended that your dog isn't taller than 25-in and longer than 32-in to fit inside comfortably and safely. Remember that this crate should only house calm dogs that have been crate trained.
In Short:
Made out of waterproof fabric
Has a foldable steel tube frame
Intended to house calm large dog breeds
Features a single access door that closes with a zipper
Gets ventilated from all sides through mesh fabric windows
BEST HEAVY DUTY DOG TENT CRATE
Petnation 610 Port-A-Crate
Heavy Duty Fabric
Although this is a soft fabric dog crate that can only house crate trained dogs, we cannot but mention the fact that its cover is quite thick and very durable. It's because the fabric is tightly woven together that we were able to make this claim. Another thing that makes it a durable dog crate is its steel tube frame that's quite strong.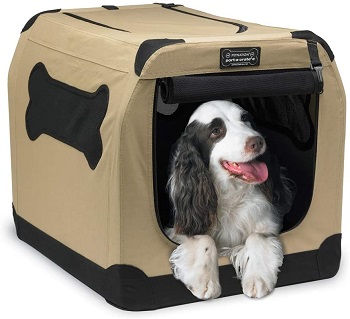 Windows Size And Shape
There are three mesh fabric windows on the dog tent crate that are shaped like cute dog bones but they are small. Don't worry though, your dog will get plenty of air because the fabric is patterned like a honey bee comb so that plenty of air can through and into the crate.
Door Material Type
There are two doors to access the crate and they not only differ in their location but in how they're made as well. The top door is made out of the same fabric that makes the crate while the front door is made out of mesh fabric that will, along with the other mesh windows, ventilate the crate.

Different Measuring technique
Your dog will have to be measured differently for you to figure out whether or not this camping dog crate is the right size for him. The crate should be 1 or 2-in taller than your and  4 to 6-in longer than your dog. Although it's a heavy duty crate we still recommend you use it with crate-trained dogs only.
In Short:
Made with tightly woven fabric that's heavy-duty
Has a strong steel tube foldable frame
Made to house small dog breeds that are calm
Features ventilation widows shaped like dog bones
Has a top and front access point
BEST FOR TRAVEL DOG TENT CRATE
A4Pet Collapsible Dog Crate
Travel Benefits
You can just as easily think of this dog tent crate as a soft travel dog crate. What we mean by this is that you'll put this crate to good use while you're traveling to your campsite as well. This is thanks to the waterproof and leakproof bottom and rounded corners that will both protect your vehicle.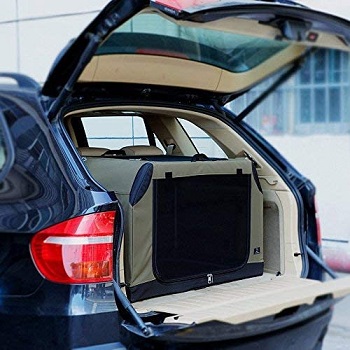 Door Kinds And Amount
It has 3 doors in total and vent windows on all sides. This is made possible because the doors are also ventilation windows because they're made with mesh fabric but they can also be opened and close with zippers. They're located in the front, on the side, and on top.
Basic Build Materials
Like many other soft crates, this one is also made with a fabric cover and a steel tube frame. It can easily be folded down thanks to the way that the frame is made. To be more specific about the cover, it's made out of oxford fabric and you can take it off to wash it as well.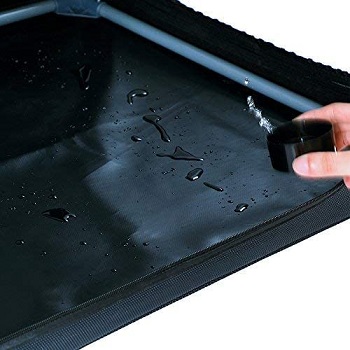 Typical Sizing
Crates are typically sized according to their length and this one is no exception to that rule. It's a 31-in long dog crate that's made to house dogs up to 50 lbs. What this means in dog size is that you can use it to house either medium or large dogs depending on how tall and long they are.
In Short:
Builts with oxford fabric and a steel tube frame
Can be folded down
The cover can be taken off for washing
Built so that it can house medium and large dogs
Has 3 large entrances
Gets ventilated from all sides
Has a leak-proof and waterproof bottom
Has rounded corners for car protection
BEST SMALL DOG TENT CRATE
Noz2Noz Soft-Krater
Crate Weight
What's true for this crate that is also true for many other soft crates and that is that it's a lightweight dog crate. It doesn't come as a surprise since most and this one as well are made with a fabric cover and a steel tube frame. This crate specifically weighs around 6 lbs.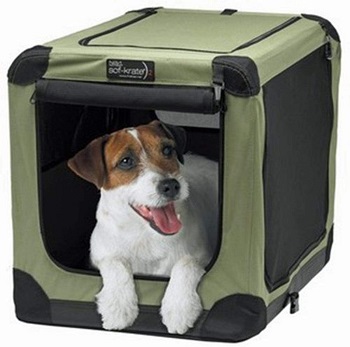 Washing The Crate
The inside of this dog tent crate has a base that's water-resistant. This makes cleaning the crate much easier and helps with leak prevention to an extent. Another way to clean the crate is to simply take the fabric cover and wash it inside a washing machine when you need to.
Doors And Their Features
There are three access points on the crate. One on top, one on the side, and one in the front. The side and front doors are also ventilation windows while the top door is made out of a fabric that's used to make the entirety of it. You can attach the front and side zippers to plastic clips that will prevent the crate from accidentally opening.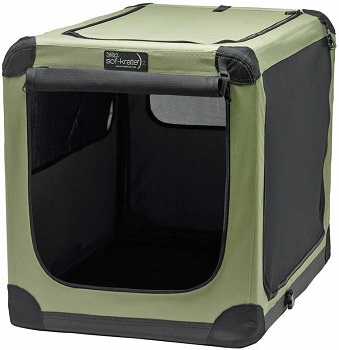 Dogs It Can House
Since we wanted to include a lot of different crate types in these reviews we've decided to review this one as a small soft dog crate. There are larger versions of it but this one specifically will allow you to house small dogs like beagles, chihuahuas, and similar sized dogs.
In Short:
The fabric can be taken off to machine wash
Has a foldable frame made out of steel tubes
Large enough to house small dog breeds
Has three entrances
The entrances close with zippers
Has a water-resistant base
BEST LARGE DOG TENT CRATE
EliteField 3-Door Folding Soft Dog Crate
Multiple Looks
If what you're after is an amazingly functional but yet nice-looking dog crate this dog tent crate might just be the one for you. It's not because it looks good on its own but it's more because of the fact that you can choose to get it in 16 different colors and varieties so if one doesn't appeal to you visually, another might.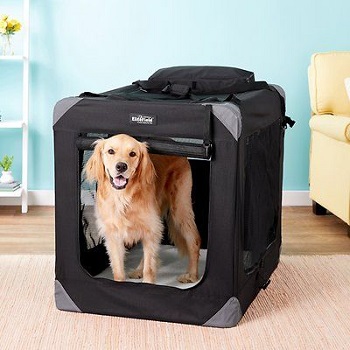 Materials Used
It's made with an incredibly durable 600D oxford fabric. It's an incredibly thick fabric that' breathable but rugged. It's most typically used in making strong backpacks and laptop cases and luckily enough, it makes this camping dog crate. The steel tube frame will hold it feel and allow you to fold the crate down when needed.
Cover Accessories
On the fabric itself, you'll find some clever accessories that are either built-into the cover or are connected to the cover. There's a built-in accessory pocket on top and a removable one in the back. It also features plastic clips that you can hook the door zippers t so that the zippers don't accidentally open.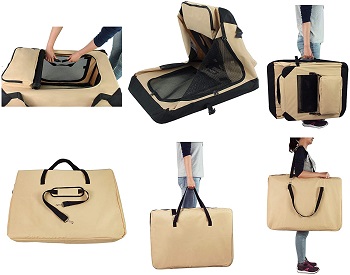 Comfort Features
There are three doors for access, all three of which are also access doors. The crate is large enough to house large dog breeds that have been crate trained and calm. As an added bonus that will make your dog feel more comfortable inside you'll get this crate as one that's 2-in wider and 4-in taller than other crates of this type. You'll also get padded bedding for more comfort for your dog.
In Short:
Made with 600D oxford fabric
Has a foldable steel tube frame
The side bottom can hold a padded bed
Comes with accessory pockets
Features 3 access doors
Made to house large dog breeds
It's 2-in wider and 4-in taller than most
Comes in 16 color varieties
BEST METAL DOG TENT CRATE
iCrate Dog Crate Starter Kit
Different Kind Of Crate
This is definitely the crate that stands out most out of all these crates and it's because it's not a soft crate but a steel wire one. You might be thinking about why we choose to review it here then. It's because it comes with a waterproof dog crate cover that will protect your dog from rain.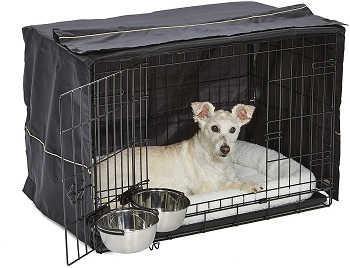 Starting Features
It's basically a little tent for your dog where he'll have everything needed for comfortable living. It comes with a water and food bowl that can be attached to the crate and with a comfortable bed. to protect the bed from getting dirty, the bottom is equipped with a plastic slide-out cleaning pan.
Indoor Use
Since it's not intentionally made as a dog tent crate it features some things that will be put to good use if you used it indoors. These things are the roller feet located on the bottom that will prevent scratching on the floor and the already mentioned cleaning pan that will prevent liquids from going on to the floor as well.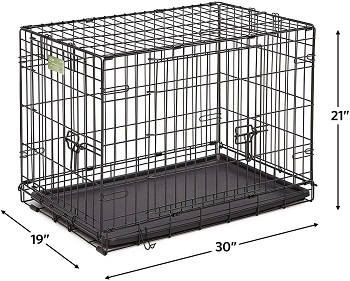 Size Conclusion
The crate is 30-in long and 21-in tall. These are the focus dimensions for figuring out what size of dog can be contained inside it. With them, we were able to come to the conclusion that this crate is large enough to house medium-sized dogs like french bulldogs and similar-sized dogs.
In Short:
Comes with a crate cover and bed that are washable
Built out of steel wire
Features a cleaning pan on the bottom made out of plastic
it's large enough to house medium-sized dogs
Comes with detachable water and food bowls
Has roller feet that protect floors from scratches
How To Pick A Dog Tent Crate
We can easily look at dog tent crates as travel of crates. What this means is that they will mostly need to have features that can easily help you travel with them but of course, there are some differences between them like materials they're made out of. we will go through some of these differences and similarities for you to easily buy the right crate from your first buying experience.
Weight Benefits – Since most of these crates are made out of fabric they will mostly be light and easy to carry. This is an excellent feature that you should want since camping is more than just being out in nature. You need to make sure that these crates are just as good for traveling until you get to your campsite and this is just one way to make sure of that.
Fabric Material – You should always look for a heavy-duty fabric material. This can be achieved either through the process of tightly woving the fabric or just by the material type. The most durable material will usually be oxford fabric. For dog tent crates you also look for waterproof and water-resistant fabrics since you'll be spending outdoor time with your dog.
Durability Warnings – Although these are durable crates, we can't go around the fact that they are made out of fabric materials that are flimsy when it comes to aggressive dog behavior. These crates will not stand up to abuse coming from a dog and they're definitely not training cages for dogs. Your dog should always be supervised when your out on your camping trip with him
Sizing Way – SInce your dog will spend a lot of time in a crate whe you're traveling and camping out it's important that you make him feel as comfortable as possible. One way that you might do that is by getting the correct crate size. Generally speaking, a crate should be at least 4inches taller and longer than your dog. If that's not the case and you have to size the crate in a different way there will definitely be mentions of it.
To Sum Up
We've decided to go with the Midwest Portable Tent Crate as the dog tent crate we recommend. The one reason why we've decided on it is that the fabric material that makes the crate is waterproof which will definitely be a useful feature when you're camping out. If you're still looking to travel with your dog but with a truck you'll definitely need a crate for it so check out the article about hunting dog crates and if you have an SUV and need a crate for it then check out the article about SUV dog crates.