Are you having difficulties in finding a hunting dog crate?
You don't have to any longer by continuing to read this article with reviews of the best ones. We've also made sure to include a large variety of dog crates with different price point and different purposes so you can find travel dog crates, plastic ones, and more
The Summary
Best 4 Hunting Dog Crates
BEST OF BEST HUNTING DOG CRATE
Primos Hunting Kennel Up Dog Kennel
Crate Worth
The number one reason why we chose to review this crate as the best of best is that it's made in the same way as the rest of these crates but has a more approachable price so it's definitely more versatile in that sense because you won't have to go and spend $1000 for it. Instead, you'll pay half of that price.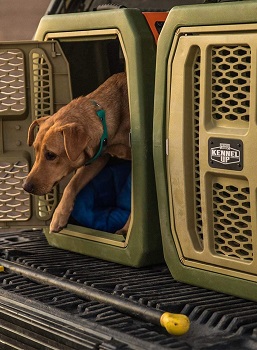 Plastic Build Technique
The crate's made using a special technique called roto-molding. Essentially, the roto-molding process shapes a single piece of plastic so instead of a multiple part build, you'll have a single part build. This definitely makes the crate more durable.
Metal Pieces
The hunting dog crate also features some aluminum and stainless steel pieces. You will get tie dow holes made out of aluminum on the top and the door can be locked with stainless steel locks. You can even reverse the door so that it opens in more than one way and easily adjust to different placing situations.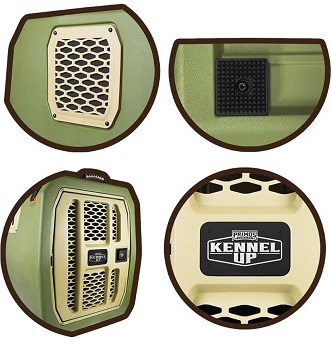 Bottom Features And Vent Types
The bottom of the crate features rubber feet that will make the crate stay in place and you'll also find drain holes on the bottom to make cleaning this hunter dog crate a lot easier. The crate's side ventilation points are adjustable for cold and warm weather and there's an additional ventilation point in the back that you can remove if you want to.
Weight And Size
The medium plastic dog crate weighs only 37 lbs which means that it'll be much easier to transport especially if you use the 2 handles on top for carrying. It's a crate made to house medium dogs but make sure you check your dog's dimensions to see if he can fit inside.
In Short:
ž
Made out of roto-molded plastic
Has adjustable side vents for cold and warm weather
features a removable back vent
Has aluminum tie-down holes
The lock on the single door is made out of stainless steel
The door is reversible
Made to house medium-sized dogs
BEST MEDIUM HUNTER DOG CRATE
Lucky Duck – Lucky Kennels
Light Compared To Others
The crate, just like the one we reviewed before it is lighter than most. It weighs 38 lbs and while that might not seem like it's light, compared to the other ones that are a lot heavier, it definitely can be considered a lightweight dog crate. You can easily carry it since it has 2 top handles.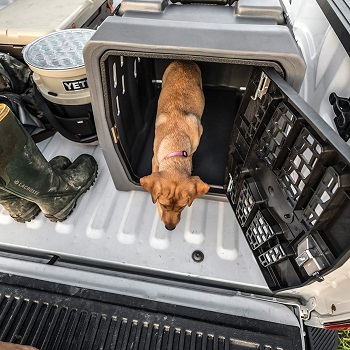 Keeping Your Dog Clean
The floor of this hunting dog cage is elevated but there's a reason for that. It is elevated so that if any liquids find their way inside the crate, they will run through to the channels for training on each side of the crate to keep your dog dry until you're ready to clean the crate
No Slipping Or Moving
There are two features on this hunting dog crate that will make it move less if you want to use it as a hunting dog cage for trucks. The first are the rubber feet on the bottom that are non-slipping and the other ones are the top tie-down holes that are powder coated that you can use to tie the crate down with safety buckles. The crate is even crash tested.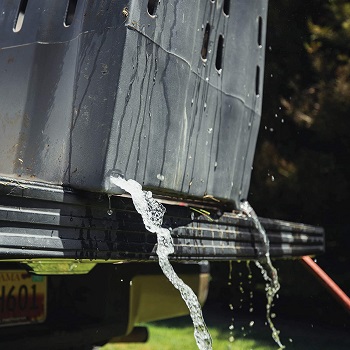 Door Opening And Locking
You can reverse this crate's door so that it opens in more than one way. It also has a metal door for more security and extra security locking pins for corners with the provided lock that can be locked with a key. Apart from getting ventilated from the front door, the crate will also get ventilated well on the sides.
In Short:
Weighs 38 lbs
Can be carried using the top handles
The door can open in multiple ways
Locks with a regular lock and has corner pins for extra security
Has a metal door as well
Has powder-coated tie-down holes and non-slip rubber feet
It is elevated so that liquids run into drain channels
BEST EXTRA LARGE HUNTING DOG CRATE
Dakota283 Extra Large Kennel
Lower Pricing According To Size
If you were to get this dog crate for hunting dogs in the same size as the first two we reviewed you would be paying around $150 less for it but since it's an XL plastic dog crate it's a bit more expensive so you'll be paying around $30 to $60 more for it. The crate can house dogs up to 75 lbs.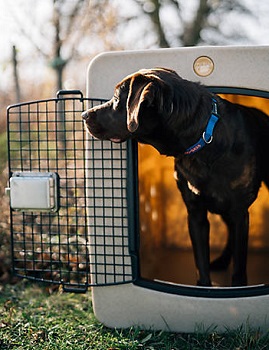 Molded Handle Carrying
The hunting dog crate does weigh 59 lbs so it might be a bit more difficult for you to carry it. The crate's made so that the carrying handle located on top is molded into the crate. This is great since there's a lesser chance that the handle is gonna tear and wear down and get detached from the crate itself.
Locking The Single Door
The single door on the crate is made out of steel wire. The lock on the door is made out of steel hardware as well and in order for you to lock it, you'll have to be using a key to do it. The door actually ca be locked with a double lock for additional safety.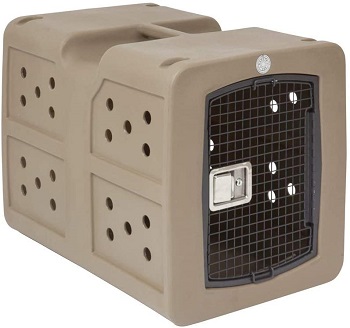 Inside And Outside Crate Sides
The sides of the crate feature vent holes for proper airflow while the door itself serves the purpose of a ventilation point. The inside bottom sides of the crate have drainage channels to keep any liquids there until you are ready to release them through the drain holes.
In Short:
ž
Made with a single piece of plastic
Has a molded handle on top for carrying
Weighs 59 lbs
Has a steel wire door that locks with double locks
The inside sides feature liquid drainage channels
Has built-in holes that function as air vents
BEST FOR TRAVEL HUNTING DOG CRATE
Gunner Kennels G1 Intermediate Dog Crate
Price Worthy
This is the most expensive crate we will review. For the intermediate dog crate, you'll have to spend around $600 but the price is definitely worth it given its amazing features. To start with, the crate is crash tested so you can safely use it for traveling by car as well.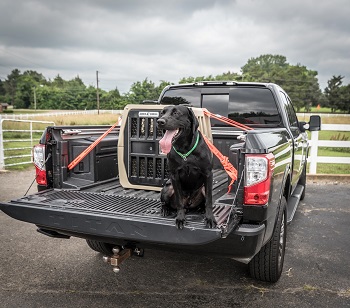 Double-Wall Build Benefits
While the hunting dog crate is roto-molded and made out of plastic just like the rest of these crates, it does have a unique build to it and that is that it's made with a double-wall. This will leave your dog better protected from different weather conditions and keep him safer in the event of a car crash.
Door And Lock Features And Benefits
This hunter dog crate's door is a story on its own. It's welded into the crate and has an aluminum door frame as well. The lock on the door is made out of stainless steel and locks with a key. The doors also chew-guard made out of stainless steel as well for dogs that are prone to aggressive behavior due to either anxiety or phobias.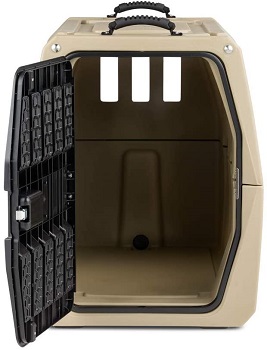 Inside Cleaning
The tie-down holes are made out of stainless steel as well and are built-into the crate itself. They are tested for crashes and won't rip from the crate in the event of a crash. The inside, like with all of these crates, has a side drainage system where liquids will go before you're ready to release them by plugging out the oversized drain plugs.
In Short:
Has a doublewall roto-molded plastic build
THe crate protects your dog better from weather and human mistakes
It is crash tested
Has a door that's welded and reinforced with an aluminum steel door
Has built-in stainless steel tie down holes
The inisde holds a liquids drainage system
How To Pick A Hunting Dog Crate
The main difference that then defines other differences between these hunting dog crates is of course price. Although the differences in price aren't large, it's crucial that you reevaluate these crates and weigh down their pros and cons since some could save a life because they're crash-tested while others won't.
Price Differences – The largest difference in price between these crates is only $100 dollars. The more expensive crates are crash tested which means you can consider them to be the safest dog crates for cars. You also might find that the more expensive crates can either house larger dogs or that they are reinforced with metal pieces and stainless steel hardware.
Weight Comparison – If you're someone that suffers from back or arm injuries and might find it difficult to carry crates that weigh around 60 lbs, there's a solution to that problem. You can find crates that are lighter than usually weigh around 40 lbs. The differences might not seem like much but if this is a problem for you, then you'll definitely benefit more from a lighter crate.
Comparing Crate Types – If we were to compare these crates ad their durability to a more familiar crate type, we easily choose to compare them to heavy duty metal dog crates. Even though they're made out of plastic, the manufacturers use a special process called roto-molding to create crates that are made with a single piece of plastic and this is why we won' hesitate to compare them with heavy-duty metal crates. Even more so, these crates are definitely lighter and easier to carry than the metal ones.
Sizing Method – Although most of these hunting dog crates can house either medium or intermediate dogs you should know how to figure out the crate size generally and that includes these crates as well. Your dog should fit comfortably inside so that the crate is at least 4 inches longer and taller than him.
To Sum Up
The one hunting dog crate that we would recommend is the Lucky Duck – Lucky Kennel dog crate. It's definitely a cheaper crate that is crash tested, and is built in the same way as these types of crates should be made: with roto-molded plastic. If you're looking to travel by car either with a dog or a puppy then you should check out either the article about puppy carriers for cars or about large dog car crates.