If your dogs' safety is always on your mind, including traveling, you must have thought about getting an appropriate SUV dog crate.
This article will put your thoughts into perspective because we reviewed the best ones to keep you and your dog safe during car travel. There's a lot of products in this category and each one is better for something than the other so you can decide what is most important to you because we put them into categories like the absolute best, the best crash-tested one and more so continue reading and you're sure to find one for you.
The Summary
Best 5 SUV Dog Crate Reviews
BEST OF BEST SUV DOG CRATE
4×4 North America MIM Safe VarioCage
Crash Tested Crate
Although this SUV dog crate is quite expensive, it is well worth the trouble since it is crash tested and it passed with flying colors in a range of different crash scenarios like Rollover, front, and rear crashes. All of this makes it one of the safest dog crates for car travel.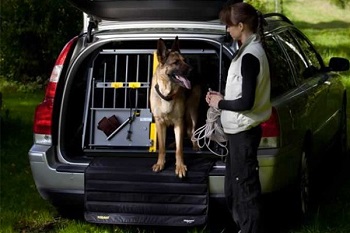 Mimics Car Crumple Zones
There are crumple zones in cars. They change depending on the car type but they can be dangerous for your dog if your dog is placed inside one. This crate mimics the crumple zones of cars. It does this by having metal bars that have an adjustable length.
Automatic Stop And Escape Door
You'll get two doors with this crate, the front access one that opens with a quick-release button. The door has an automatic stop feature and it opens with pneumatic assistance. there's also an escape door in the back that will serve well in the most unpredictable scenarios.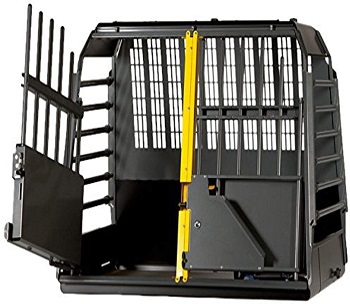 Adjustable Divider And Length
This crate is an XL metal dog crate and it even comes with a divider. The divider can be placed anywhere in the crate if you have a larger and a smaller dog so the large dog needs more space. Another thing that you won't worry about is the length since it's adjustable to fit any dog.
In Short:
Passes rollover, from and rear crash tests
There an escape door in the back
Has an adjustable length
Comes with a divider
Mimics the crumple zone of a car during a car crash
BEST SOFT DOG CAGE FOR SUV
One for Pets Pet Kennel
Built-In Straps For Seatbelts
The SUV dog crate is a perfect travel dog crate since it can be fastened with a seatbelt because of the straps that are built into it. The crate is light because it is made out of polyester fabric and it's easy to carry because of it and because it has a top handle.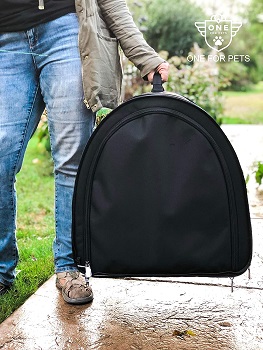 3 Ways To Use It
You can use this double dog crate for SUV in more than one way so it is completely adjustable to your needs when inside an SUV. You can use it to house two dogs separated with a fabric divider that can be zipped on, you can use it as one unit to house one dog or you can use it as two separate crates.
Ventilation And Cleaning It
There will be enough ventilation inside the crate since it is provided with a fabric mesh and it is located on every side of the crate. The pad cover on the bottom can be easily removed through multiple entrances and it's washable so that you can keep the crate clean with less effort.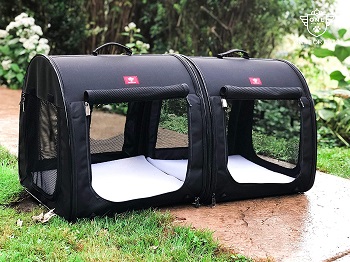 Made For Calm Dogs
This crate will only do good if your dog is crate trained and it's fit for use by small dogs. Otherwise, the small dog might easily destroy it since small soft dog crates are not as durable and can't be used for the same types of dogs as small wire dog crates.
In Short:
Has a built-in strap for seat belt fastening
Ventilation is provided with fabric mesh on each side
Can be used for two small dogs or one
Has a divider that easily zips off or on
BEST AIRLINE APPROVED DOG KENNEL FOR SUV
SportPet Designs Plastic Kennels
More Than An SUV Dog Crate
The crate does well in a variety of different travel scenarios. This not only makes it an SUV dog crate but also a good XL dog travel crate. it is first and foremost an airline approved crate because it meets most crate requirements provided by airlines.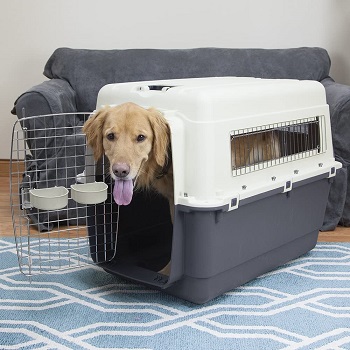 Everything Needed For Air Travel
Some things a crate made for air travel should have and this one does are 2 attachable water bowls, 4 "live animal" stickers, metal bolts, and nuts to keep the bottom and top connected securely. It also has tie-down holes for a bungee that maybe you could use to tie it down with a seatbelt. It even has wheels for transport that can be taken off with ease.
Behaviour Of A Dog Inside
You should only use it with dogs that are crate trained, especially if you're traveling with the crate. It will give you good enough ventilation and partial visibility so anxious dogs might have trouble being inside the crate which could mean a lot of trouble during travel.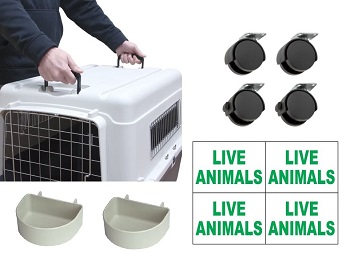 Height And Length Of Dog To fit Inside
Another important thing to know before traveling with the crate is whether the crate is of appropriate size when you compare it to the size of your dog. With this one, your dog shouldn't be 32-in long and 24-in tall. The weight limit of the crate is 140 lbs but you'll be using it for large dogs weighing up to approximately 90 lbs anyway because of the dimensions.
In Short:
Can be used for car travel and air travel
Fits inside large dog breeds
Meets most requirements for air travel
Ventilation windows can be found on each side of the crate
Comes with two water bowls, live animal stickers, and nuts and bolts
Has detachable wheels
BEST FOR MEDIUM DOGS DOG CRATE FOR SUV
Midwest Side-by-Side Crate
Narrow Build
The MidWest side by side SUV dog crate is made a bit narrow to leave room for you to sit in the back with your dog or if you choose to put them in the back to take up less cargo space. It is safe to put him in the back because SUV's don't have a crumple zone in the back.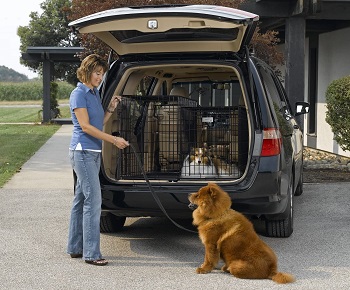 E-Coated Metal Wire
The SUV dog crate is made of metal wire and it is coated with e-coating that is applied to surfaces using an electric current that in turn makes the coated surface rust-proof which is the case with this crate. the crate also has a plastic pan on the bottom that is leak proof.
Dog Size Fit For The Crate
It is made to fit most cars and SUV's and it measures 37-in in length, 26-in in height, and 20.8-in in width. This makes it fit for use by medium dog breeds or dogs that weigh up to 70 lbs. You shouldn't go over that because you will risk your dogs' comfort inside the crate and his safety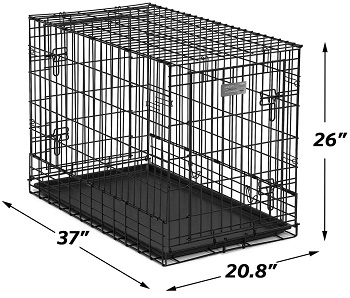 Front And Back Access
There are two doors to access the crate. One is located in the front and one in the back of the crate. Both doors can be locked with sliding bolt locks that will keep your dog inside the crate even he's skillful at escaping. The crate can also be collapsed and has a handle for easy transport or to tuck away when it's not in use.
In Short:
Made a bit narrow to fit most SUV's and cars
made out of metal wire and it's painted with e-coating
Can be used by medium-sized dogs
there's a back and a front access door to the crate
The access doors lock with sliding bolt locks
BEST FOR PUPPIES DOG CRATE BACK OF SUV
Diggs Revol Dog Crate
Frame And Sides Material
The crate is made with reinforced plastic that's used for the frame and the bottom while the sides are made with aluminum steel wire that's one of the high-grade standards. It also has wheels on the bottom, a pullout tray, it can be collapsed and has a handle for easy carrying.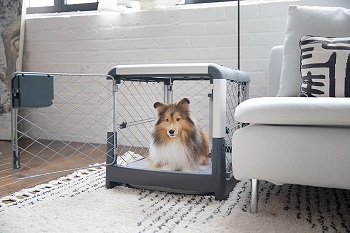 Completely Safe For Puppies
The steel wire on this crate will provide your dog with excellent airflow and visibility which is important for a puppy that's still learning to be inside the crate. You can be sure that your puppy won't get hurt inside because the crate is made with baby industry standards in mind.
Doors On the Crate
Apart from being a good small dog travel crate, it is also a side door dog crate since it has a front access door that can be opened with the push of a quick-release button on the outside but also a side door that opens like a garage door if you're using the crate for more than just your travels.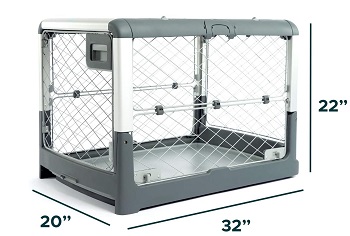 Grown Dogs That Fit Inside
As your puppy grows, he might get too big to fit inside the SUV dog crate so it's important to know what dogs can fit inside after they're grown into their full size. This crate will fit inside a grown medium-sized dog
In Short:
Made out of aluminum steel wire and plastic
Has a pullout tray that comes out easily for cleaning
Has 2 access doors, one in the front and on the side
Safe for puppies because it's made with baby industry standards
When the dog is fully grown, he can be a medium-sized dog to fit inside
How To Pick An SUV Dog Crate
Picking an SUV dog crate is a tricky business. The reason for it is because you can't predict every possible situation that might happen while you're on the road. What you can do to prevent a disaster is getting a good and safe enough crate but you have to know what you're buying and why you're buying it since there's a lot of different types of these crates that differ in materials used to make them, the way they keep your dog safe inside and a lot more than that.
Why You Should Get One – the reason you should always opt for a crate when traveling with your dog is that if a dog is not safely contained inside of it, you're putting yourself and him at risk of a car accident. The dog might also distract you so getting a crate is crucial.
Crate Training Your Dog – Another thing that might put you at risk of a car accident is if the dog is not calm and has a lot of anxiety. His cries for help and excess moving might also distract you so keeping your dog as calm as possible is imperative in this case
SUV Crumple Zones – Crumple zones are places where your car will take the most damage in the event of a car crash to keep you as safe as possible. This would mean that placing your dog in the trunk of your car would be unsafe but SUV crumple zones differ from regular cars. The trunk of an SUV usually isn't a crumple zone so it's safe to put your dog there.
SUV Dog Crate VS Kennel – there's not much to think about when you're comparing SUV dog crates and kennels since dog kennels aren't made for travel. They are made to withstand harsh outdoor conditions and keep your dog safely contained when he's outside. The crates that come close to dog kennels for SUV but are still smaller than them are crates.
Different Types – There's a variety of options that range from soft dog crates for cars to metal and wire ones. In the event of a car accident, there's not much to do but you can definitely prevent it by getting a crate that fits your dogs' behavior and size best.
To Sum Up
There's a lot that can go wrong when you're on the road so getting an appropriate SUV dog crate that will keep you and your dog safe is of great importance. The one that we'd recommend is definitely the 4×4 North America MIM Safe VarioCage. It is a bit pricey but safety has no price when it comes to these. If you're just at the beginning of your crate journey and need one to crate train your dog read the post about training cages for dogs and if you want to keep it sturdy because your dog is not as calm as you would like him to be, definitely give the article about sturdy dog crates.