Does your dog like to chew their beds and pads so you'll need a more durable option like a crate pad chew proof model?
We've gathered both chew-resistant and chew-proof pads, all inside this article, and reviewed them. All that's left for you to do is to continue reading this article to find one that will suit your dog and the crate they're in like medium, large, and plenty of other sized crates.
The Summary
Best 8 Crate Pads Chew Proof
BEST OF BEST CRATE PAD CHEW PROOF
K9 Ballistics Tough Pad
Fill And Cover
The filling of this crate is a 1.5-in polyfill. The cover is blue and is stitched. You can either spot clean the thing or you can throw it inside a washing machine to clean it. It's 47-in long and 28-in wide so it's fit for extra large dogs and crates.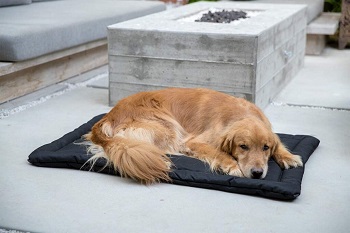 Pad Resistance
This pad, apart from being dig and chew-resistant, is also water-resistant as well so accidents won't be that big of a problem. There are more durable options available so if you'd like to, check out the article about other durable dog crate pads.
In Short:
Has a 1.5 thick polyfill
It's colored blue
The cover is water-resistant
Can be washed inside a washing machine
It's digging and chew resistant
Fits inside 48-in standard crates
BEST HEAVY DOG CRATE PAD CHEW PROOF
K9 Ballistics Chew Proof Pad
Pad Frame
The frame of this pad is made out of metal so there's no chance your dog will chew through the edges. It's amazing both for heavy chewers and teething puppies so if a puppy bed for crate is what you need, you can read about others in the article linked below.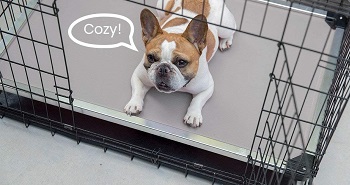 Crate Fit
This dog crate pad for heavy chewers will fit perfectly inside most 30-in medium crates that also eliminate the chance of your dog chewing on the sides. It's elevated from the ground with 4 aluminum metal legs and the place where your dog will lay down is made with ballistic ripstop fabric.
In Short:
Has an aluminum frame
It's elevated from the ground
fits inside standard 30-in dog crates
It's great for heavy chewers and teething puppies
The fabric is a ballistics ripstop fabric
BEST LARGE CRATE PAD CHEW PROOF
Big Barker Orthopedic Crate Pad
Fabric And Filling
The fabric cover of this bed is Cordura super weaved nylon fabric that's both waterproof and chew-resistant. The inside is a 4-in thick foam. 2-in are reserved for the h10 foam while the bottom 2-in are reserved for the h45 support foam. The H represents the foam thickness.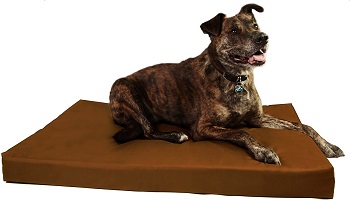 Cover And Size
The cover can be taken off so you can machine wash it. The whole chew proof dog crate mat can fit inside a 42-in long and 28-in wide crate which would be a large crate. if you'd prefer a durable dog crate pad and not a bed, you can find more in the article we've linked below.
In Short:
Has a Cordura nylon cover
The cover is waterproof and chew-resistant
The filling is a 4-in thick orthopedic foam
Has 2-in of h10 and 2-in of h45 foam
Fits on 42-in long and 28-in wide crates
BEST 36 CRATE PAD CHEW PROOF
Vibrant Life Durable Crate Mat
Edges And Bottom
The outer edges of this mat have a thicker filling than the center. This is so that your dog can rest their head on there. The bottom features rubber dots which makes it non-slipping as well. It will fit well on a standard 36-in long dog crate which can house large to medium dogs.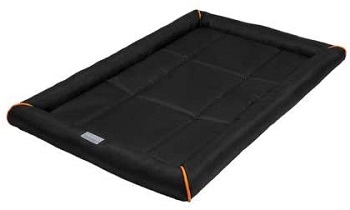 Material Durability
The material that makes this chew resistant crate pad isn't specified but what we know is that it's only chew-resistant so light chewers will do just fine with it. If you'd like to find a bigger large dog crate mat but also a more durable one, you'll find one in the article we linked.
In Short:
Has more filling on the outer edges
Features a non-slip bottom
It fits on 36-in standard crates
It's chew-resistant but not proof
It's colored black
BEST MEDIUM CHEW PROOF CRATE PAD
Tuff Pupper Premium Dog Bed
Cover And Interior
The fabric cover can be taken off with a zipper. It's UV coated so apart from being water, stain, odor, and scratch-proof, it also resists fading due to sun exposure. The inside is covered with a 4-in thick plush filling. It has side clips so you can easily fold it down and transport it as well.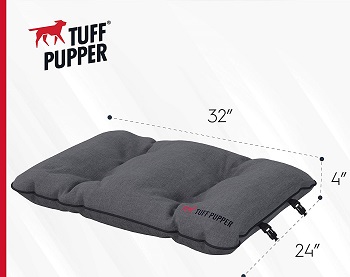 Non-Standard Size
This crate bed for chewers is 32-in long so it's 2-in bigger than the standard medium crate but for those that are slightly bigger, it's going to be perfect. For truly large mats we advise you read the large dog crate mat article next. You can easily clean the ballistics fabric cover as well.
In Short:
Has a ballistics fabric cover
The cover is UV coated
It's resistant to water, stains, odors, and scratches
it's 32-in long
The plus filling is 4-in thick
You can take off the zipper closing cover
BEST SMALL CHEW PROOF CRATE PAD
K9 Ballistics Tough Orthopedic Dog Bed
Orthopedic But Durable
This is one of the rare cases of a chew-resistant but also an orthopedic bed. The foam is thick and won't let your dog sink all the way down to the floor. The cover is washable and removable but it's also waterproof, scratch-resistant, and dig resistant. We'd advise against using it for heavy chewers.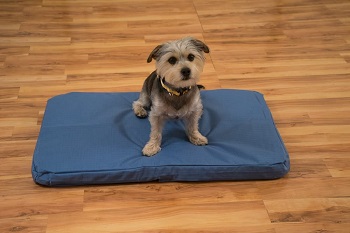 Dimensions And Cover Material
The foam is 5-in thick and it easily fits inside small dog crates that are 24-in long and 18-in wide. The material that makes the cover is a ballistics cover. If you'd like to get a larger version or a different branded model, you can read the large dog crate beds article next to find them.
In Short:
Made for 24-in small dog crates
Has an orthopedic foam
The cover is a ripstop ballistics cover
The foam is 5-in thick
The cover is washable
It's scratch-resistant and waterproof
BEST EXTRA LARGE CRATE PAD CHEW PROOF
GoDog Bed Bubble Bolster
Inside And Edges
The inside of this mat is filled with plush but it's high pile plus actually. The borders on the edges are elevated and filled with more plush so that your dog can rest its head on it. You can wash it inside a machine and its seams are reinforced for added durability.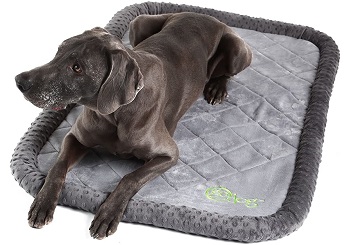 Size And Resistance To Chewing
This crate mat for chewers is 49-in long so it's bigger than the standard extra-large crate. Below the exterior fabric, there is a piece of material that makes the whole thing chew-resistant but not proof. If you'd prefer an even more durable crate pad, you can read the article we linked below to find one.
In Short:
Has a high pile plush filling
Features raised edges that act as a headrest
It's 49-in long
Has chew guard technology
It's double seamed
It's colored gray
BEST SOFT CRATE PAD CHEW PROOF
Quiaoqi Dog Bed Kennel Pad
Actual Durability
It's both tear-resistant and waterproof. We'd step on the break with just how much your dog can chew on it though. It fits well inside 36-in dog crate considered to be a crate that can house large to medium dogs.  The joint relieving properties aren't accentuated with this pad so if you'd like them to be, read about other memory foam dog crate pads next.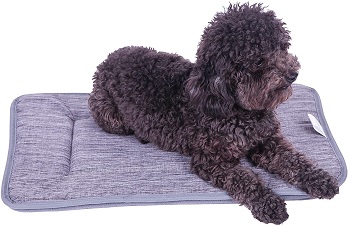 Flip Sides
Even though the micro terry fabric that makes this pad is highly durable, it's still soft to the touch. The crate mat for chewers is filled with plush and memory foam so the materials inside won't move when you wash it. It has a warm-weather side and a cold-weather side made out of fleece.
In Short:
Fits inside a 36-inch dog crate
Has a terry fabric build
Has flip sides for cold ad warm weather
Features a plus and memory foam filling
It's machine washable
How To Pick A Chew Proof Crate Pad
The level of durability of each chew-proof crate pad varies greatly so it's important to know what you're in for with each one. We'll discuss in detail this, their size, materials they're made out of, and plenty of other things so that you can truly get one that will last long.
Chew Proof VS Resistant – The only bit of most crate pads that are to thank for the chew proof or resistant ability is the cover. These covers can either be taken off if the interior filling is specialized, orthopedic, or if the stitching is too loose and might let out the filling when it's washed inside a machine or they are part of the mat and the mat is fully washable.
Toy Aspect For Crate Training – Whilst crate training your dog or puppy, chewing is a big part of the crate training process. Puppies and dogs might at first be anxious in their crates so a crate mat that the dog is familiar with can ease the stress and act as a comfort toy.
Big Dog Health Problems – If your dog is large, they're more likely to suffer from joint diseases, hip dysplasia, and others so getting an orthopedic mat or pad is crucial in the prevention of these diseases. We've reviewed only a few that are chew-resistant but never chew-proof.
Teaching Non-Chewing Behavior – Although most dogs will stop excessively chewing on things when they grow up, it still might be a problem with some adult dogs. No matter what mat you get, prevention is the best cure so we recommend you teach your dog what they can chew on and what they can't.
Crate Fits – For a mat to fit inside a crate, it's going to have to be an inch smaller in both length and width to fit snuggly inside. They commonly come in dimensions that fit standard-sized small, medium, large and extra-large crates which are 24-in, 30-in, 42-in, and 48-in long dog crates.
Are They Chew Proof – If the mat or pad you're looking at is made out of soft materials, whether it's polyester fabric, nylon, etc… the pad is always going to be chew-resistant. For excessive chewers, you should get a pad that's partially made out of metal.
To Sum Up
You've seen it for yourself, every crate pad chew proof model is different in durability, size, and many other things so we can't recommend one just because we're not familiar with the dog of each person. If you'd like to give your dog more privacy while inside a crate, you can read the article about dog crate covers, and if you need a standard-sized crate to go with that mat you just bought, you can read the article about wire dog crates. For full-blown reviews of all of the possible dog crate types, you'll find it all in the post about the best dog crates.