Are you trying not to break the budget with your dog's new home so you're trying to find cheap dog cages?
You can find them all in this article if you continue reading it. We've reviewed plenty of different types like large ones, extra-large ones, and we've even squeezed in furniture style and wooden crates that will leave you with money to spare.
The Summary
Best 10 Cheap Dog Cages
BEST OF BEST CHEAP CRATE FOR DOGS
Life Stages Dog Crate
Puppy And Travel Crate
If you're looking for a crate for crate training and potty training, this is a great choice since it comes with a potty training divider and even has rounded corners for safety. It's made out of wire and features 2 entrances, one in the front and one on the side. You can even fold it down and carry it with a handle.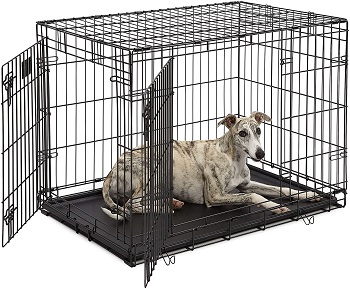 Finish And Size
This affordable dog crate is fully black and coated with an e-coat finish that makes it rust and corrosion-resistant. it's an intermediate dog crate able to house medium to large dogs. If you'd like a bigger model and brand of this type of crate, check out other puppy crates with divider next.
In Short:
Made out of wire
Has a black e-coat finish
Comes with a puppy divider
It's 36-in long
Can be folded down
Comes with a carrying handle
Has rounded corners
BEST LARGE CHEAP DOG CAGE
Pet Trex 42 Folding Crate
Size Info And Plastic Bits
A 42-in crate is the standard large crate able to house most, if not all, large dogs. It's wire and has an electro coat finish making it rust and corrosion-resistant. On top and the bottom, you'll find the only plastic bits which are the handle and cleaning tray. It has 2 doors that lock with 2 sliding bolt locks each.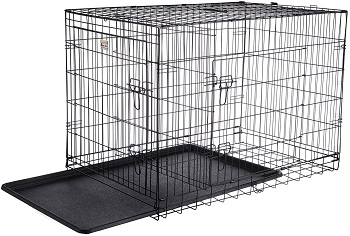 Corners And Storage
The corners are rounded for safety and you can easily fold it down either to store it or to travel with your dog inside it. 42-in crates tend to be more expensive so if that's what you need without breaking budget, read about other cheap large dog crates next.
In Short:
It's 42-in long
Made out of wire and has an electro coat finish
Can be folded down
Comes with a plastic tray and carrying handle
Has 2 entrances that lock with sliding bolt locks
BEST XL CHEAP CRATE FOR DOGS
Cardinal Gates Dog Crate
Set Up And Transport
Upon arrival, all you'll have to do is unfold it to set it up. It's just as easy to fold as well and this function can help you transport it for traveling. Bigger crates tend to cost more so if this around 150 dollar crate is still too expensive for you, you can find cheaper models in the cheap xl dog crate article.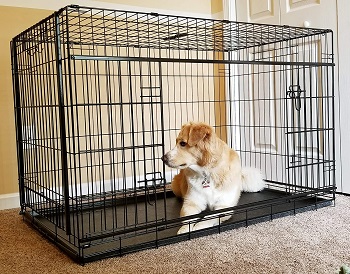 Wire Thickness And Doors
The wire it's made out of features a 10 and 6 gauge. The 6 gauge is used for the double sliding door on the side and for the front door that opens upwards. It's 48-in long, 30-in wide, and 33-in tall and can house dogs like rottweillers and Bernese mountain dogs.
In Short:
The doors have a 6 gauge
The rest of the crate is made with 10 gauge wire
Has a double sliding, and a single upwards opening door
Can be unfolded and folded down easily
It's 48-in long, 30-in wide, and 33-in tall
Costs around 150 dollars
BEST 42 CHEAP DOG CAGE
Polar Aurora Pet Dog Cage
Metal Tube Build
Although it's significantly more durable than wire crates since it's made with heavy-duty steel tubes, it only costs around 50 dollars more than the average wire 42-in crate. You can look up other models if you don't require this cheap large dog crate in the article linked below.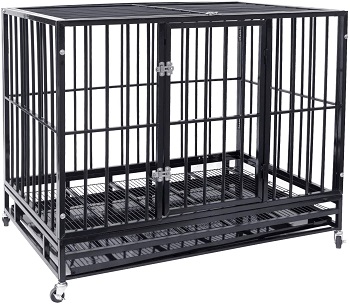 Doors And Bottom
This 42-inch dog crate cheap model has a front and top door. The front door locks with 2 hasp latch locks while the top locks with one. It has a wire grid floor that will let through dog excrements that will end up on the slide-out cleaning tray below. It's quite heavy so it makes sense that it sits on 4 wheels for easier moving.
In Short:
Made out of steel tubes
Sits on 4 wheels
Features a wire grid floor
Below the floor, there is a cleaning tray
Has a front and top entrance
The front door locks with 2 hasp latch locks
Costs around 200 dollars
BEST 48 CHEAP CRATE FOR DOGS
BestPet 48 Inch Dog Crate
Puppy Housing
You don't have to sacrifice safety for the low price of around 70 dollars with this crate. It has rounded corners that will help both adult dogs and puppies be safe. We said puppies because it comes with a removable and adjustable puppy divider for potty training. The cleaning pan has raised edges to prevent liquid overflows.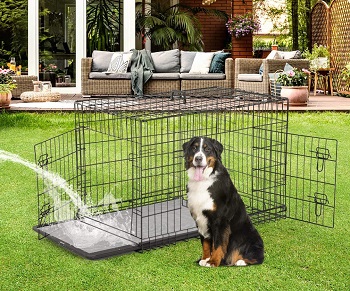 2 Doors And Traveling
It has a 2-door design, one is found in the front and the other on the side. It can be folded down and you'll also get a carrying handle with it. if this cheap 48-inch dog crate is too big for your dog, read about other, somewhat smaller cheap large dog crates next.
In Short:
Has rounded corners
Comes with an adjustable puppy divider
Can house extra large dogs
Has a deep ABS cleaning tray
You can fold it dow
Features a plastic carry handle
Has a front and side entrance
BEST FURNITURE CHEAP DOG CAGE
EcoFlex Dog Crate
Plastic And Wood Build
The plastic and wood composite material makes this crate is unique, durable, but cheaper than regular wood. The benefits are that it won't absorb liquids, crack, split or warp. You can take off the top for cleaning or leave it on and store your things there.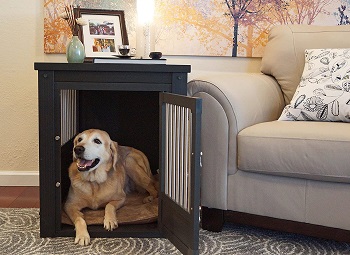 Cleaning And Visibility
The door and two sides are surrounded by stainless steel tubes for visibility and ventilation. It's considered extra large cheap dog crate furniture but is large with its 42.5-in in length. if it doesn't fit into your home decor one of the crates in the large dog crate furniture article surely will so check them all out.
In Short:
Made with ecoflex material
The material won't absorb liquids
It doesn't split, warp or crack
it's 42.5-in long
The top can be taken off or store your things
Has one entrance
BEST MEDIUM CHEAP CRATE FOR DOGS
Carlson Pet Products Crate
Standard Certification
Price gets higher as the crate gets bigger but the 50 dollars it costs is still a low price to pay for a 30-in crate. It's certified to ASTM and JMPA standards so it's safe for dogs and puppies. The single front door locks form 5 different points for additional safety points.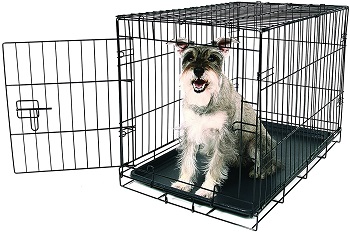 No Divider Crate
You can fold it down and carry it simply because it weighs only around 6 lbs. The only problem with this cheap medium-size dog crate is that it doesn't come with a puppy divider so check out other medium wire dog crates so you don't have to buy one separately.
In Short:
Certified to JMPA and ASTM standards
Made out of wire
You can fold it down easily
Has one door that locks from 5 different points
It's 30-in long
Weighs around 6 lbs
BEST TRAVEL CHEAP DOG CAGE
Amazon Basics Folding Portable Crate
Doors And Ventilation
The crate gets properly ventilated from 5 sides using mesh fabric windows. Two act as zipper closed entrances and you'll get a removable accessory pocket with it. If this is unfamiliar turf, you can learn more about cloth dog crates in the article linked below.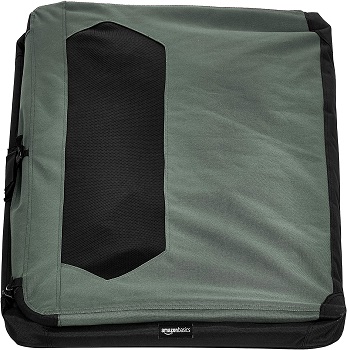 Materials That Make It
What you'll pay for is a polyester fabric crate with a PVC frame that you can use to fold it down. It's the perfect travel crate choice because it's lightweight and easily portable. This affordable dog cage weighs only around 6 lbs and can house small dogs since it's 26-in long.
In Short:
Built out of polyester fabric
Has a folding PVC frame
Only weighs around 6 lbs
It's 26-in long
Has 5 vent windows and 2 doors
Comes with a removable accessory pocket
BEST PLASTIC CHEAP CRATE FOR DOGS
Pawd Collapsible Dog Crate
Crate Looks And Design
You'd be surprised with just how much a plastic crate can cost but luckily, this one costs around 130 dollars only. It's fully made out of plastic and features decorative patterned holes for ventilation. The single door can be taken off to stay open and save you space and the whole thing collapses and can be carried like a briefcase.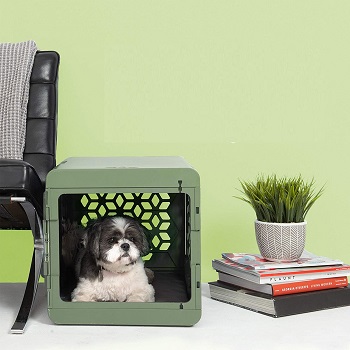 Crate Safety
The corners are rounded for safety reasons and you'll get a chew-proof dog bed with this 21-in long cheap plastic dog crate. Collapsible plastic dog crates tend to come with additions like beds so to save money on these things, you can read this post.
In Short:
Made fully out of plastic
The single door can be taken off
Easily collapses as a whole
Features rounded corners
Has decorative pattern vent holes
It's 21-in long
BEST SMALL CHEAP DOG CAGE
Precision Pet Snoozzy Baby
Stronger Build
To make it less of an eyesore inside homes, this crate is colored with a baby blue color. It's made with wire but features a looped wire build that makes its construction 25% stronger. It does come with a puppy divider and has 2 entrances that you can lock from 5 points total.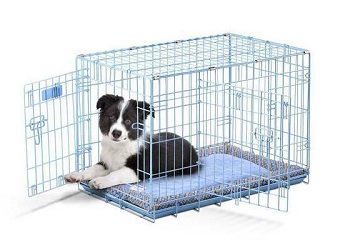 Travels And Cleaning
Even the bottom plastic pan is colored blue and you can collapse the whole crate for storage or for traveling. It's only logical that its price is acceptable for anyone's budget since it is a small cheap dog crate. If you'd like to check out more of these, read the 24-inch dog crate article next.
In Short:
It's fully colored blue
It's 24-in long
Can house small dogs
Comes with a puppy divider
Has a looped wire build
Can be folded down
The 2 doors lock from 5 points
How To Pick A Cheap Dog Cage
Just because you're on a budget it doesn't mean that the cheap dog crate you get is low quality. With the information provided in this buying guide, we'll try and make you knowledgeable enough to recognize what crate is going to be most suitable for you and your dog.
Crate Prices – The first major factor that goes into price determination is crate type and the second one is size. Extravagant crates like dog crate furniture for instance are always going to be more expensive than a typical wire dog crate. Overall, you won't spend more than 250 dollars on any of these crates.
Crate Lifetime – The price of a crate can also be looked at from the crate lifetime point of view. We'd say that the crate lifetime has more to do with your dog's behavior than anything else so it's important to choose crates that fit them. A heavy-duty metal dog crate is going to last long even if the dog is anxious or aggressive, a wire crate will survive some of this behavior as well since they are used for crate training while furniture style crates and soft crates, unfortunately, can't house uncrate trained dogs.
Price And Durability Balance – The crates that best balance the two mentioned factors are wire crates. They're suitable for potty training, come in standard sizes and even with larger models you won't spend too much money.
Sizing The Crate – Unfortunately, you can't choose crate size however you'd like so if you have a large or extra-large dog, you'll have to be prepared to pay more. The way you figure out what size of crate you need is by measuring your dog's height and length and adding 3-4 inches. The numbers should add up close to a certain crate size and that's the crate you should be looking for.
Double Functions – This is yet another factor you should look into when considering which crate you should buy. Furniture crates have an obvious double function so it's a matter of weighing out if the second function is important to you. Wire crates can act as travel crates while soft crates and heavy-duty metal crates don't have another function because of their durability and in the case of metal crates, their weight.
To Sum Up
Which cheap dog cage you'll get largely depends on your budget, your dog housing needs, and the dog's size so we can't recommend any. Just make sure you get the one whose primary function is in line with your and your dog's needs. If you don't mind spending more on crates be it travel crates or indoor crates, check out the articles about wooden dog crate furniture or dog travel crates. For reviews of most, if not all possible crate types with large differences in prices and functions, check out the dog crates article.