Want to help your dog feel comfier inside a crate by getting him a large dog crate bed?
You're guaranteed to find one ere if you continue reading this article where we reviewed only the best that we could find. One thing is for certain, every one of these beds is designed for large dogs but we do have some varieties to that statement like 36, 42, and even 48-inch models.
The Summary
Best 6 Large Dog Crate Beds
BEST OF BEST LARGE DOG CRATE BED
Tuff Pupper Scratch-Resistant Bed
Resistant Cover
The thing that makes this bed stand out is definitely its versatile and durable dog crate bed cover. We can't exactly tell you the material that was used to make it but what we can tell you is that it's K9 ballistics grade. The cover is waterproof, stain proof, and also odor resistant.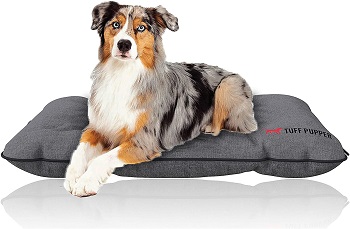 Combats Fading
We didn't think that we'd find a bed that we can recommend for the safest dog crates for car but we are. It's because the cover is UV treated so that it can resist fading if you were to use it outdoors or for traveling. You will benefit from it if you use it indoors as well.
Filling Contents
There are two parts to the filling of this large dog crate bed. One is a 4-inch thick mattress that has cushioning made from plush around it to offer both the orthopedic support a large dog needs, and a comfortable resting and nesting spot.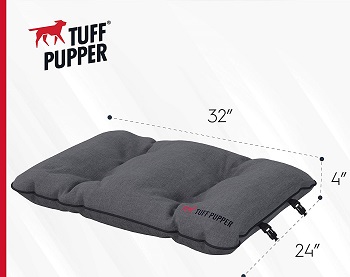 Dimensions And Durability
You can use it as a stand-alone bed or you can throw it in your dog's crate. Your dog can chew on it as well without it ripping apart since it's chew-resistant. It's 32-inches long so it's a little less long than your standard large dog crate but this way you can be sure that it'll fit inside.
In Short:
Made with a k9 ballistic grade cover
The cover is resistant to fading so it's good for traveling
The bed is chew-resistant and water and stain proof
It can fit easily inside 36-in long crates
Has a 4-in thick mattress and plush cushioning
BEST 36 INCH LARGE DOG CRATE MAT
Barkbox Memory Foam Bed
Color Options
Although you won't get to choose between vivid colors, a color change can make all the difference in how this bed looks inside the crate and in your home. The colors offered can be plaided, stripped or you can get single colors like black espresso, and brown. We'd definitely recommend this bed with indoor dog crate furniture since the espresso color is the most typical furniture style crates' color.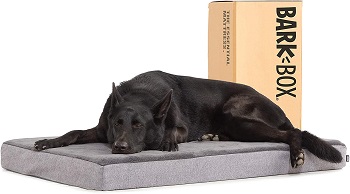 General Memory Foam Description
Not only will you get to choose your color but what's even more impressive is that you'll get to choose between different types o memory foam fillings. The one we're reviewing has a single sheet of gelled memory foam. The gel is found on the top and helps regulate temperature.
Bottom Foam Layer
The gel bit is not the only great thing about this large dog crate bed. The bottom of the memory foam pad consists out of high-density memory foam. This foam type relieves pressure on your dog's aching joining extremely well by adjusting to his body shape and firmly holding his weight on top.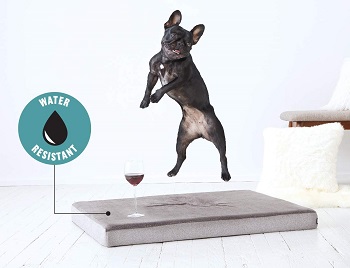 Protecting The Foam Inside
The foam is a valuable asset to this bed so it must be protected. The way it is protected is by having a water-resistant cover. You'll get to take it off by unzipping it and then you'll get to machine wash it. The bed is of the perfect size for intermediate dog crates. This means that it's a 36 dog crate bed.
In Short:
Has a water-resistant cover
The cover is machine washable
The inside is filled with memory foam
One foam layer is a high-density foam
The foam has a temperature regulating gel
Can fit inside 36-in dog crates
BEST 42 INCH XL DOG CRATE BED
Dogbed4less Memory Foam Dog Bed
2 Covers
The manufacturer of this bed probably knows the importance of protecting the filling inside the bed. That's why this bed doesn't come with just one cover but two. The external cover is a heavy-duty denim cover while the internal covers' sole purpose is to protect the foam inside because it's waterproof.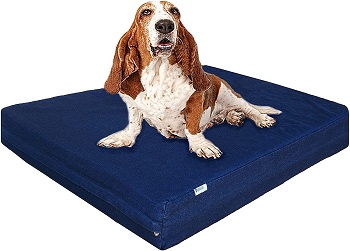 Never Without A Cover
The denim cover is to be considered a bonus and might as well be a fashion statement inside a fashion dog crate. We say this because you'll also get a brown external case that's made out of microsuede. You can switch it up in terms of looks and never leave the bed without a cover when you're washing the other.
Memory Foam Use
There's no other material used than the memory foam as the filling. This 42-dog crate mat is excellent for relieving joint pains that might occur with large dog breeds. The memory foam has a high density and is even hypoallergenic. You can be sure that it won't flatten with time.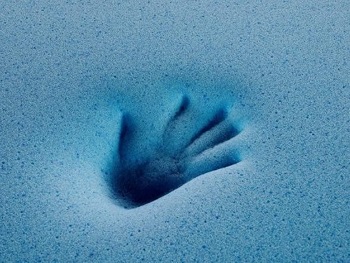 Crate Size For It
We've already mentioned that this is a large dog crate mat but what we haven't is the correct size of the crate it fits in. It's 41-in long which is just short of an inch for a standard large dog crate. The standard dimension of 42-in in length is typically found on large wire dog crates.
In Short:
Comes with denim and a brown cover
Has an additional internal waterproof cover
The memory foam is high-density
Excellently relieves joint pains
Made to fit inside 42-in long dog crates
BEST 48 INCH LARGE DOG CRATE BED
Big Barker 7″ Orthopedic Dog Bed
Beautiful Colors
We really couldn't choose a cover color for this bed to review so we would like to mention them all. The one that stands out is the burgundy cover but we definitely can't underestimate the looks of all the other ones. This includes the chocolate, khaki, and charcoal grey colors.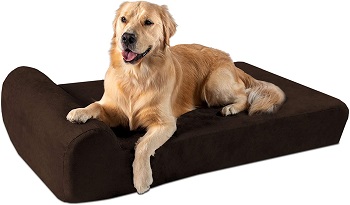 3 Foam Layers
The part where your dog will lay consists out of a total of three different types of foams. The layer where your dog will rest is a 2-in thick h10 comfort foam and you'll get the same on the bottom. The middle part that's 3-in thick is what makes it stand out since this is the support h45 foam. Think of it as memory foam.
Additional Foam Layer Function
Although most of this XL dog crate bed s 7 inches thick, there is an additional layer of foam located on one of the edges of this 48 dog crate bed. This layer of foam is 4-in thick and it is rounded out at its top. The reason is that this will act as a headrest for your dog.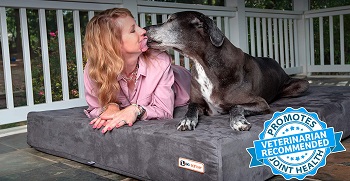 Length And Durability
This bed is designed for extra large dogs because they are probably the ones that need orthopedic crate pads the most. This one is 48-in long which means that you can easily fit it inside 48-inch heavy-duty dog crates. Just be careful that ou dog isn't too aggressive on the bed since that might destroy it.
In Short:
Has a beautiful burgundy cover
The foam is 7-in thick
Has a 2x h10 foam and a center 3-in h45 foam
Features a 4-inch foam that acts as a headrest
It is orthopedic and good for extra large dogs
Fits inside 48-inch dog crates.
BEST CUSHION LARGE DOG CRATE MAT
MidWest Maxx Dog Bed
Color Variants
Although the color variants for this bed aren't abundant, they're definitely unique since you won't easily find most of them on other beds. You'll get to choose between the standard black that can easily match perfectly inside black dog crates, brick, green, and even camouflage.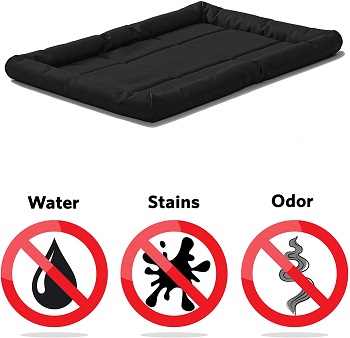 Resistant Cover
You won't find a removable cover on this large dog crate cushion. What you see is what you get but the outside is well made and will act well if any dirt gets on to it since this cover is resistant to water, stains, and even odors. This means that you won't have to clean it as often.
Edges And Base Filling
The edges of this large dog crate mat are filled with polyfill fibers. You won't just get it on one edge but on all edges. This creates a nice and comfortable headrest for your dog that will definitely enjoy it. The base of the bed is filled with a cushion so it isn't really orthopedic but is still comfortable.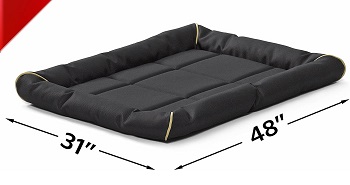 Size And Cleaning
This is a dog crate pad washable model. It's really easy to set it up for cleaning since all you need to do is throw it in the washing machine as a whole. There's no need for cover separation or anything similar. It's 48-in long so it's excellent for XL wire dog crates.
In Short:
Comes in 4 different colors
It is 48-in long
Has poly-filled edges that act as a headrest
The base is cushioned
Can be machine washed as a whole
The exterior resists water, odors, and stains
BEST MATTRESS XL DOG CRATE BED
K9 Ballistics Tough Dog Bed
Resistant To Scratching And Digging
We had to include this bed in our reviews because large and extra-large dogs have a lot of energy and are prone to being aggressive when they're playful so a regular dog bed might not endure this type of play. This one definitely will since it's designed to resists scratching and digging dog behavior.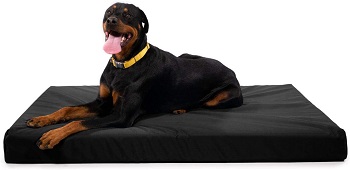 Light Chewing Possible
Additionally to the dig and scratch-resistant properties, this xl dog crate mattress is also chew-resistant. You have to keep in mind that it's not chew-proof so if you have a dog that's a heavy chewer, this bed won't survive long. We'd definitely recommend it with training cages for dogs.
Foam Type
The foam used as the filling is an orthopedic CertiPUR-USA type of foam. The foam feels and is firm but is soft enough for your dog's joints to be relieved of pressure. The foam will be protected because of the cover that's water-resistant on top of all things that we mentioned earlier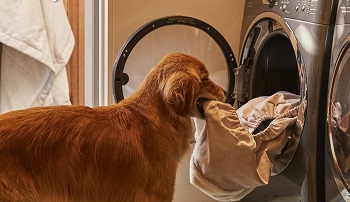 Washing And Size
You'll get to separate the cover from the foam of this bed when it's dirty so that you can wash it. It should be washed in a machine on low and on a delicate cycle. You can easily use this large dog crate bed inside crates for giant breed dogs since it's 54-in long.
In Short:
Made with certiPUR-USA foam
The bed is orthopedic
Has a chew-resistant cover
The cover is also water, dig, and scratch-resistant
You can wash the cover inside a washer
Fit for giant 54-in long crates
How To Pick A Large Dog Crate Bed
Picking out the right model is important for large dogs since they are more prone to joint pains. Even more, so, with a bed inside you're not only providing your dog with more comfort but are also making it easier for him to feel safe inside a crate. Not every bed is the same though so we would advise you to read this buying guide to know what bed you need and to learn about their different uses.
The Best Beds For Large Dogs – Large and extra-large dogs like Rottweilers, Great Danes, and German shepherds are more prone to joint diseases. Therefore, it's important to get a bed that will help either reduce the pain. For these dogs, the best bed you can get would be orthopedic beds that are most typically made out of memory foam.
Using Beds For Crate Training – If you have a puppy that hasn't yet been crate trained or an adult dog that hasn't been as well a bed can help you greatly during this process. The thing is that your dog will be more likely to willingly enter and be inside his crate if something inside it is familiar to them as a bed for example.
Active Dog Beds – By active dogs we mean the dogs that tend to play a lot with their beds and that chew on them as well. You won't have much use of a regular bed since they'll be easy to chew through so what you should do is focus on getting a bed that either has a chew-proof or a chew-resistant cover. The most durable dog crate pads are typically the ones that are elevated and have metal edges.
Sizing It Right – If you do want to put your dog's large dog crate bed inside his crate you'll have to be careful with the size you get. The most important thing is that the bed's length is not bigger than the crates'. Ideally, you'll want to get a bed that's 1-in shorter than the crate's length but you can choose to get one that has the same length as well.
To Sum Up
The large dog crate mat that we find to be the one we can't but not recommend is definitely the K9 Ballistics Tough Dog Bed. Since large dogs tend to be more active, this beds' cover will endure this type of behavior since it's chew, scratch, and dig resistant. Additionally, it will relieve your dog of his joint pains since it's orthopedic. If you still haven't gotten around to getting a crate that's fit for your large or extra large dog, we would definitely advise you to read the articles about either heavy-duty large dog crates or XL metal dog crates.