Are you tired of having your dog in the same old boring black, and most typically wire dog crate and are trying to find refreshment in a cute dog crate?
You can make the transition to a more beautiful crate fast if you keep reading this article where we made it our mission to only review the best-looking and functional ones. A little preview of what's to come in different crate types like a large, small, puppy, and even furniture crates.
The Summary
Best 15 Cute Dog Crates
BEST OF BEST CUTE DOG CRATE
Carlson Pink Secure Crate
Color And Doors
Although the crate is fully made out of wire, the finish coating is pink which certainly makes it a pretty dog crate. For more, read the article we linked. It has one door that locks with a sliding bolt lock but also from 4 other points for nothing else but safety reasons.
Puppy And Adult Dog Safety
It's safe for puppies especially since it is certified to ASTM and JMPA standards but that doesn't exclude that a grown-up small dog will also be safe. We said small since it's 24-in long. You can also travel with it and transport it due to the folding design.
In Short:
It's colored pink
Has a full wire build
Has one door that locks from multiple points
Certified to JMPA and ASTM standards
It's 24-in long
Can house puppies and adult small dogs
BEST LARGE DECORATIVE DOG CRATE
Unipaws Furniture Dog Crate
Size And Functions
For the frame, this crate uses MDF wood while its sides are made out of metal wire. There's no doubt about it that it's a large decorative dog crate since the top makes it a furniture crate and there are more like this so for different colors and sizes, check out the article next.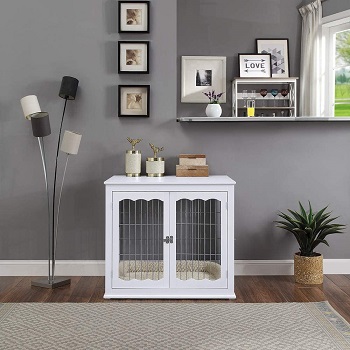 Entries And Extras
It has 3 doors and 2 entry points. The doors lock safely with 3 locks for each entrance and you'll even get a waterproof and washable bed with it. The weight limit for the top is 200 lb and it's 36.5-in long and able to house both medium and large dogs because of it.
In Short:
Has an MDF wood frame and wire sides
Features a washable waterproof bed
Can act as furniture
The top has a 200 lbs weight limit
It can house medium and large dogs
Has 3 doors and 2 entry points
The doors lock with 3 locks for each entry point
BEST SMALL FANCY DOG CRATE
Simply Plus Wood & Wire Crate
Crate Screws
At first glance, this is nothing more than a regular furniture crate but it is a dog crate for small dogs due to the screws and a pan blocker shaped like dog paws and bones. Small dog crate furniture tends to be cuter far more easily so if you do have a small dog, check other designs out.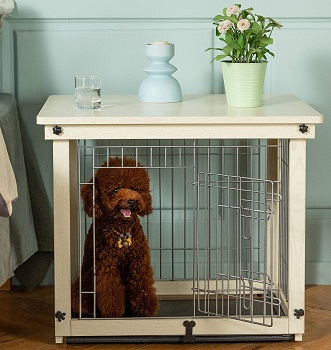 Construction And Other Details
This fancy dog cage has an MDF wooden frame and steel wire sides. You'll find it has only one door that locks with a sliding bolt lock. The top doesn't have a weight limit but be careful still with how much stuff you put on there. On the bottom, there is a plastic cleaning tray that you can easily slide out.
In Short:
Has an MDF frame and wire sides
Has one, sliding bolt locking door
The top can feature your things
Has a plastic cleaning tray on the bottom
Its screws are shaped like dog paws
BEST PUPPY CUTE DOG CRATE
Precision Pet Snoozzy Baby Crate
Wire Enhancement
The classic wire build of this crate is detailed with a looped wire that makes it more balanced and stronger in construction, 25 percent to be exact. It's colored with a baby blue color and is a 24 inch dog crate so for more small dog crates, read the article linked below next.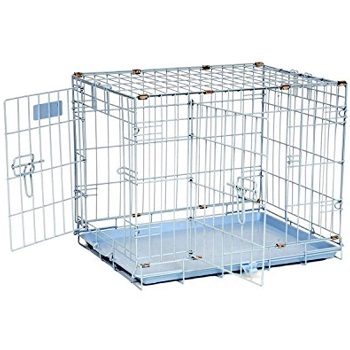 Puppy Crate Feature
The reason why it's a cute puppy crate is that it comes with a divider that'll help you with potty training your dog. It has 2 entrances and each one locks from 5 different points for extra locking dog crate safety. The finish is an e-coat finish that protects it from rusting and corrosion.
In Short:
Made out of blue e-coat finish wire
The wire is looped for a more durable construction
Comes with a puppy divider
It's 24-in long
Has 2 doors that lock from 5 different points each
BEST FURNITURE FANCY DOG CRATE
Internet's Best Decorative Dog Crate
Build Info
It's the most common for a furniture crate to be made out of MDF wood. The other build material for this crate is the wire that's located on the sides that will ventilate the crate and provide visibility. Many white dog crate furniture have wire sides that might make the dog calmer so read about them next.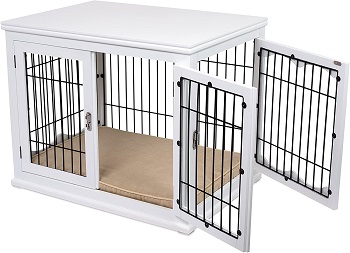 How Big A Dog Can Be
Your dog can be comfortable without any trouble because of the removable bed this decorative dog furniture crate comes with. Although it's 30-in long and considered medium, it's best if you'd house small dogs inside because you should crate train your dog before letting him in. The top doesn't have a weight limit but you can still put some things on there.
In Short:
Has a furniture top
It's 30-in long
It is recommended for housing small and calm dogs
Comes with a removable bed
Made with MDF wood and wire
Has a white color finish
BEST INDOOR DECORATIVE DOG CRATE
Diggs Revol Dog Crate
Modern And Durable
We'd describe this crate as a modern one. It has a reinforced plastic frame and aluminum sides made out of wire. Both things make it durable and with the addition of a divider and the baby industry standards it's made with, it's an excellent puppy housing crate and the dog can grow up to be medium-sized.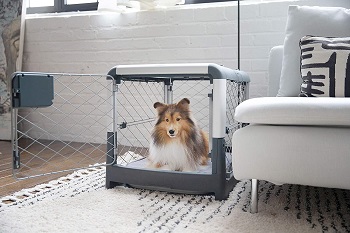 Mobility And Entrances
It's colored with different tones of grey. It has 3 safe entrances and it can be collapsed for traveling and you'll get to drag it with the built-in wheels. Although unique, this designer dog crate might not be for everyone's taste so to find one, read the article linked below next.
In Short:
Features a reinforced plastic frame
The sides are aluminum wire made
It's safe for puppies and adult dogs
Comes with a puppy divider
It's 32-in long
Can collapse and be dragged with built-in wheels
Has 3 doors
BEST EXTRA LARGE CUTE DOG CRATE
Ecoflex Dog Crate
Contemporary Material
The material it's made out of truly makes it a contemporary dog crate but if you want it to be based solely on looks, you'll find them in the article linked. This material is called ecoflex and it's made with a combo of wood and plastic. It doesn't absorb liquid and also won't split, crack, or even warp.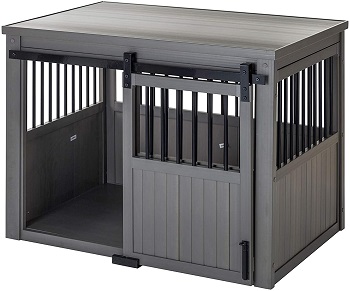 Size And Other Info
Who's to say that an extra-large crate can't be cute. On a different side note, it's XL but 42-in long which makes it able to house large dogs only. It has a barn door entrance and features a grey finish. It can only house crate trained dogs and has metal bars all around for ventilation and visibility.
In Short:
Classified as extra large
It's 42-in long and can house large dogs
The dogs should be crate trained
Has a barn style door
Made out of ecoflex
Won't absorb or get damaged by liquids
Features metal bars on all sides
BEST PLASTIC DECORATIVE DOG CRATE
Iris USA Wire Open Crate
Bottom, Middle, And Top
If you look at the bottom and top frame, you'll see a wooden frame but it's made out of plastic. The rest is made out of white epoxy coated wire. You'll find a sliding door entrance on it and also no top. You can find more like this crate in this dog crate playpen article.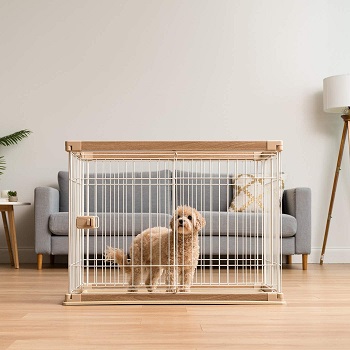 Actual Size
This cute dog cage does have a molded tray on the bottom so it's not fully a playpen. It's around 48-in long but you should only house medium dogs inside it like french bulldogs. The molded tray has raised edges so that liquids don't overflow fast and end up on your floors.
In Short:
The top and bottom frames look wooden
Has wire sides coated with epoxy
it's around 48-in long
Should only house medium dogs
Doesn't feature a top
The bottom holds a raised edges, molded tray
BEST INTERMEDIATE FANCY DOG CRATE
Staart Wooden Indoor Crate
Elevated And Curved Bottom Design
This crate is elevated from the ground with 4 rubber gripped legs. The bottom corners are rounded for the mid century dog crate look and dog safety. If you like how it looks, you might want to check out others that look similar to it or even better.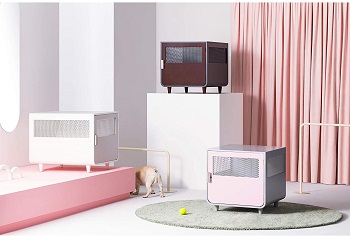 Size, And Interior
It's 36-in long which makes it an intermediate dog crate. The door and left and right sides have metal mesh windows for looks and ventilation and visibility. This decorative crate for dogs is made out of solid wood but the best thing is that it has a waterproof finish on the inside for extending the life of the crate.
In Short:
Made out of solid wood
The interior has a waterproof finish
It's 36-in long
Has rubber gripped legs on the bottom
Has mesh metal windows on 3 sides
The bottom corners are rounded
BEST WOODEN CUTE DOG CRATE
Casual Home Wooden Crate
Windows And Wood
It's rare for a solid wooden crate to be chew-resistant but this one is. Nonetheless, we advise you to house crate trained dogs inside only. The ventilation points and door are covered with wooden bars that form the shape of the letter X meaning they're diagonal.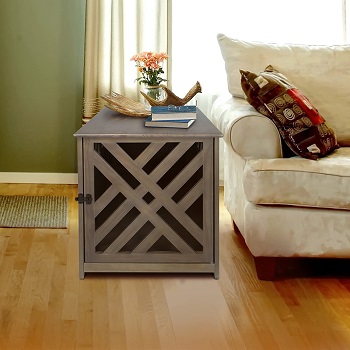 Top And Interior
IThis fancy dog cage features one door in the front that can be locked with a hasp latch lock. It has a taupe grey finish and can act as furniture. You'll get to house some medium and large dogs inside due to it 36.5-in in length and the top can put up with 120 lbs of weight. The perfect choice for an indoor wooden dog crate tailored to your needs lies in the article we linked below if this one doesn't suit you.
In Short:
Made with solid wood
The wood is chew-resistant
Has diagonal wooden bars on windows and the door
Has a 120 lbs weight limit on top
It's 36.5-in long and can house some medium and large dogs
BEST WHITE DECORATIVE DOG CRATE
Zoovilla Medium Slide Aside
Basic Build Info
If you'd like the crate to be fully open, you can push the single front door inside to hide it. It's made with MDF wood but does have a solid bottom for more strength. It features only vertically placed wires so that your dog can't bite on them. It's 36.5-in long so you can house larger but also medium dogs inside.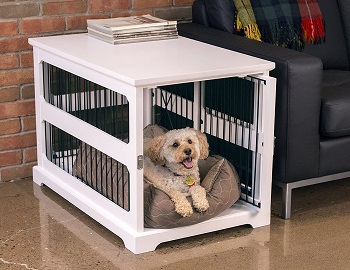 Top Details
The impressive thing about this cute dog cage is that it can put up with 300 lbs of things on top. The top is also wider so more things can fit there. If this crate interests you because it's a white wooden dog crate, there are more made with different materials and with different designs so be sure to check them out as well.
In Short:
Made with MDF wood
Has a solid bottom
Features vertically placed wire sides
It's 36.5-in long
The top has a 300 lbs weight limit
Features a door that you can push inside
BEST WITH DIVIDER FANCY DOG CRATE
Midwest Blue Dog Crate
Simple Design
This is the simplest form of wire crate that you can get your dog. It has one entrance that locks with a sliding bolt lock, has a slide-out cleaning tray, can be folded down and carried with a handle, and comes with a divider. The divider is there so that you can potty train your puppy inside it.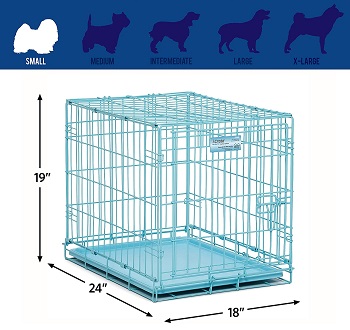 Size And Safety
This decorative crate for dogs is 24-in long which means that it's a crate made to house small dogs only. For puppy safety and adult dog safety, it features rounded corners. It's a colored dog crate so if you'd like the one that's a different color, you'll find one in the article we linked before and below.
In Short:
It's 24-in long
Has rounded corners for safety
The puppy divider is adjustable
Has one door
Can be folded and carried with a handle
It's colored light blue
BEST MEDIUM CUTE DOG CRATE
James & Steel Dog Crate
Color And Design
You can choose between 4 colors: classic pink or blue, but also purple or red. This one's purple and it's completely made out of wire. The side and front doors lock with double locks for locking safety and you'll get to fold it down and carry it like a briefcase with the provided top handle.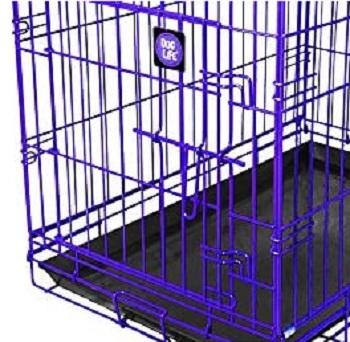 Size And Cleaning
This cute crate is 30-in long which means it can house medium-sized dogs. The slide-out cleaning tray is colored black though. If you really enjoyed reading about this purple dog crate but want a different crate type, there is more to read about them in the article we linked below.
In Short:
It's fully made out of wire
It's colored purple
Can also come in either pink, blue, or red
It's 30-in long
Can be folded and carried with a top handle
Has 2 doors that each lock with double locks
BEST SOFT DECORATIVE DOG CRATE
X-Zone Pet Dog Carrier
Extra Small Crate Design
You might as well make this crate a fashion accessory with your extra small dog crate inside. For more design-oriented fashion dog crates, read the post about them. This cute crate for dogs is 17.5-in long, made out of oxford fabric, and colored purple. You'll get to carry it with the two carrying handles or with a shoulder strap.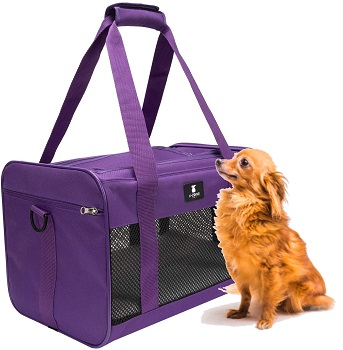 Traveling Options
An airline-approved crate meets the regulations provided by airlines. This one can go aboard an airplane with you since it can fit below the seats of airplanes. The interior comes with a removable baseboard and with a comfortable mat. You can attach it to your luggage with a back belt loop as well.
In Short:
Made with oxford fabric
It's 17.5-in long
Can house extra small dogs
Can be carried with carrying handles or a shoulder strap
It's colored purple
Can fit under the seats of most airlines
BEST PINK FANCY DOG CRATE
Pet Expressions Luxury Crate
Crate Size And Door Safety
Since it's 48-in long, it's considered a standard, extra large dog crate. There are two doors on it that lock with the classic sliding bolt locks that are much longer than regular and with 2 other interlocking locks. It's colored in a pink color that's a magenta tone.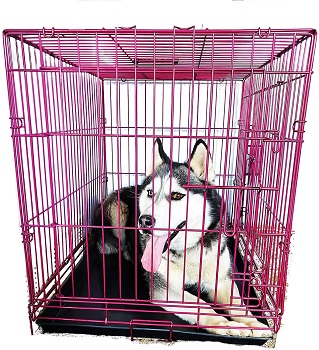 Accessories And Carrying
You can easily fold it down and carry it with the provided top handle. It's mainly a crate training crate and even comes with a book for crate training techniques and calming dog music. This is certainly not the only type of cute dog cage for large dogs and you can read about more large pink dog crates next to learn more.
In Short:
Made out of wire
It's 48-in long
Has a magenta color
Comes with a book for crate training and a calming dog music CD
Can be folded down
Has a detachable carrying handle
Has 2 doors with 3 specialty locks on each
How To Pick A Cute Dog Crate
There's a lot more to a fancy dog crate than just its shape and color. Don't get us wrong, they all fit the description well but some might be better for you than others will. This all depends on crate type, size, durability, safety, and many more things so continue reading to find out more.
Decorative Dog Kennel – We can assure you that were no kennels reviewed in this article. For starters, they're all too small to be considered kennels. Kennels are used by dog care professionals, usually in outdoor settings and they can easily fit crates inside them.
Cute Dog Crate Covers – If you didn't like any of the crates reviewed here, crate covers are an easy fix. They're meant to give your dog more privacy and are usually made out of very breathable materials. They're designed to fit standard dog crate sizes which are most commonly seen in wire dog crates.
Crate Types Reviewed – We most commonly reviewed dog crate furniture but also wire crates. Dog crate furniture is fancy more than it is cute while wire dog crates are considered cute if they're colored in some sort of way. The most common colors are pink and blue.
Furniture Crates Pros And Cons – Furniture crates are a great choice if you're looking to save space and if you want the crate to not be very visible or an eyesore. They're furniture most likely due to their tops that can sometimes hold up to 300 lbs worth of stuff. The only con is that they should only house crate trained dogs.
Wire Crates Info – We already mentioned that wire crates are amazing crate training tools and if you have a new puppy, they should be your first choice, especially if they come with a divider that can help potty train your growing puppy. When choosing a wire crate for puppies, make sure you get the size that will match your dog's breed approximate adult size.
Standard Sizes Details – We already said that wire decorative dog crates have the most standard sizing so every size decision should be based on those. Small crates are 24-in, medium are 30, large are 42, and extra large are 48-in long. You can also find 36-in long crates that are meant to house dogs that don't fit the medium nor the large category.
To Sum Up
Any crate can be a cute dog crate if you find it to be so we can't recommend one to you. we don't know where your stand with crate training, we don't know how big they are so it's all up to you but we're sure you'll pick the right one if you be careful with size and crate training. If you'd like to shift your focus on pink dog crates, you can read the article about them here. If your focus is on luxury dog crates, we have an article about them that's waiting for you to read it. If you'd like to know all of your options in terms of crate types, we suggest you read the article about the best-rated dog crates.