Is your dog or puppy just not cozy enough in his crate so you want to make sure he is by getting puppy crate bedding?
You will be thrilled when you find out what this article is about. Keep reading if you want to find not only a good crate bed but the best as well. We've put together a list of our top picks and reviewed them so you'd know what you're buying and if you need to know what each one is best for we've got you covered in that area as well since we categorized them into small, medium, and large categories but that only the half of it.
The Summary
Best 6 Puppy Crate Bedding
BEST OF BEST PUPPY BED FOR CRATE
Vetbed Petlife Original for Dogs
The Looks Of It
You'll not only love how the VetBed for puppy crates works but you also love its looks and color. The top of the bed mat is colored in grey and it really goes well with the color of the bottom that is a mix of ocean blue and forest green.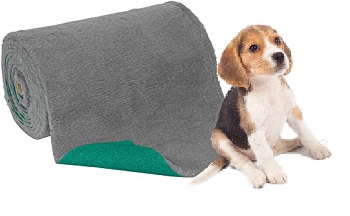 Double Woven For Durability
You'll be pleased to know that this puppy crate bedding is double woven which only ensures that it is durable and long-lasting. It has an incredibly thick pile of material that will make sure that your dog is kept warm and cozy all year round.
Doesn't Irritate Your Dog
The material won't irritate your dog's kind and it's also non-alergenic. It drains liquids amazingly well which will ensure that if your dog is to pee on the bed, the bed will be kept as dry as possible until you decide to wash it.
Washing It And Its Use
It's recommended that you machine wash it at a temperature of 95 degrees. Its dimensions are 19×15-in and you can easily place it inside a puppy crate with a divider since it's smaller than crates but you don't have to limit yourself, you can also use it inside your car or anywhere in your household that you'd like.
In Short:
It's colored in grey and ocean blue
It is double woven to ensure durability
Has non-allergenic and anti-irritant properties
Can be machine washed at 95 degrees
Best for small crates
Quickly drains liquids
BEST SMALL PUPPY CRATE BED
Furrybaby Fluffy Fleece Dog Blanket
Coloring Options
This is actually a cozy blanket for puppy crates. It's entirely colored in gray but you can get it in 7 more different colors depending on what you like and it is fully made out of polyester. You can choose to use it in small wire dog crates.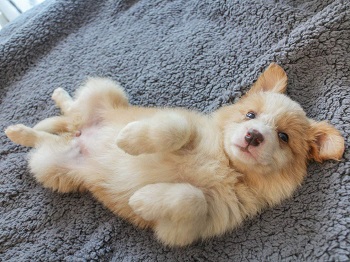 Placing Options
The blanket is small with its dimension of 24×32 -in but that doesn't have to stop you from using it to cover your couch or bed so that your dog can get comfy and bond with you without the bed or couch getting ridden with dog hair and other dirt.
Polyester Fleece Info
The environmentally friendly fleece that's thick and soft won't shed nor fade even when you machine wash it. You can also choose to tumble dry this best puppy bed for crate. The crate will protect whatever you choose to cover it with because it can handle scratching coming from your dog or puppy.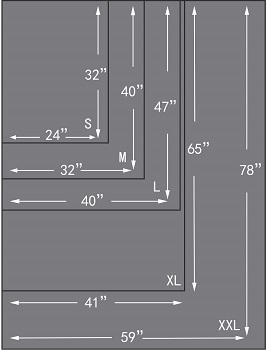 Weight And Size Options
It's incredibly light with a weight of only 4.9-oz and your puppy or dog can easily drag it anywhere he likes. You don't have to limit yourself and only get the small version since you can choose to get it in 4 more size ranging from medium to jumbo.
In Short:
Made out of polyester material
The fleece blanket can handle scratching
It's small but you can get it in 4 larger sizes
It's colored gray but comes in 7 more colors
Can be machine washed and tumble tried
It won't shed or fade
BEST MEDIUM PUPPY CRATE MATRESS
MidWest Bolster Pet Bed
Matching Size For Crate Types
Since this is Midwest's bed, it will be the best puppy bed for crate if you already have or are planning to buy the Midwest's 36-in iCrate, Life Stages, or Ultima Pro crate that are all medium wire dog crates. Of course, this also applies to the smaller and larger versions of the bed but at last, you can use it for any 36-in dog crate.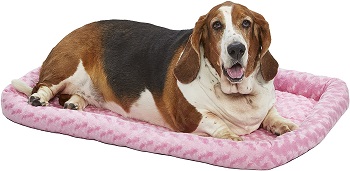 Base And Elevated Sides Materials
The top of this puppy crate cushion is made out of synthetic material and is incredibly soft. For the base it uses poly-cotton cushioned material and the edges that are padded and a bit thicker so that your dog or puppy can rest his little head are filled with polyester.
Washing Instructions
You can machine wash and dry it but you have to follow some rules as with anything that you machine wash. You should wash it in cold temperatures and if you decide to tumble dry it, you should dry it on low as well. The bed shouldn't be bleached.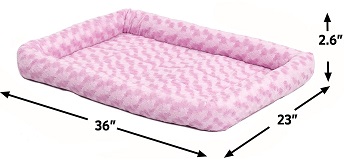 Different Colors
This specific bed is colored in pink but you can buy a different color if you'd like and they are powder blue, charcoal grey, cinnamon, and white fleece. Some colors are limited to the smaller versions of the bed while others are limited to the larger versions.
In Short:
Has a poly-cotton base
The surface is extremely soft
The edges are filled with polyester and are elevated
Fits inside 36-in dog crates
Comes in 5 different colors with this one being pink
BEST LARGE PUPPY CRATE BEDDING
OQQ Orthopedic Dog Bed
Leather And Foam Design
There are 2 materials that make this best puppy bed for crate. The first one is the cover that is made out of artificial leather that's quite durable and the second one is the filling inside that is made out of orthopedic foam material. The top of the bed's cover is soft and comfortable.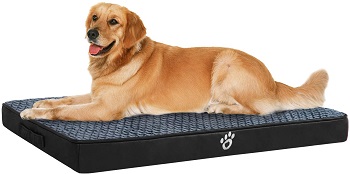 Open Mattress Shape
This dog crate bed has a bottom that won't slip or slide. It looks like a mattress that will allow your dog to position himself with more freedom when he's trying to sleep. You can unzip the cover, take out the filling, and either machine wash the cover on cold or wash it by hand.
Aggressive Behavior Resistant
The PU leather or artificial leather if you like is what makes this bed resistant to scratching and digging. it can also handle some light chewing which is why we'd recommend you use it for heavy-duty metal dog crates since you'd typically buy these crates for more aggressive dogs.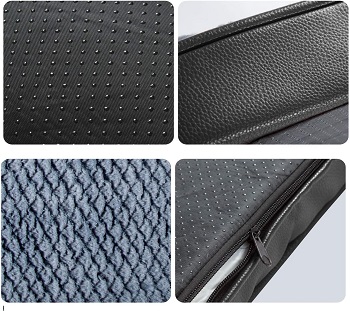 Light But Large
It weighs 3.5 lbs which is light enough for you to carry and place it elsewhere but heavy enough for your dog to not be able to drag it. Its measurements are 43×31.5-in so make sure you consider this as well before placing it inside a crate since you won't exactly be able to bend it like you would a regular blanket since it is a mattress.
In Short:
The cover is made out of PU leather
Has an orthopedic foam filling
The cover is scratch and it resistant and can handle chewing
Made for large crates
Has an open mattress design
The cover is machine and hand washable
BEST EXTRA LARGE PUPPY CRATE BED
Dogbed4less Memory Foam Dog Bed
Bed Covers And Functions
There's a single internal cover on this bed that is waterproof and will protect the memory foam from liquids that go on to the mattress, the second cover is the denim external cover that's heavy-duty and washable as well and you'll get an extra microsuede external cover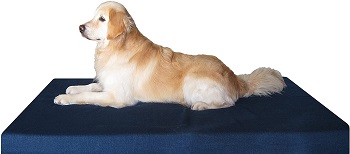 The Memory Foam
The memory foam is located inside all of the covers of this puppy crate bedding and it is infused with gel. It can regulate temperatures so that it keeps your dog cool during summer and extra warm during cold winter months
Jumbo Size 
If you have a puppy that's going to become an extra-large dog like great Danes, mastiffs, and cane Corso's this might be the right bed for you. You can place it inside an XL wire dog crate but do make sure that you check that the puppy crate and bed dimension match before you buy too big of a mattress.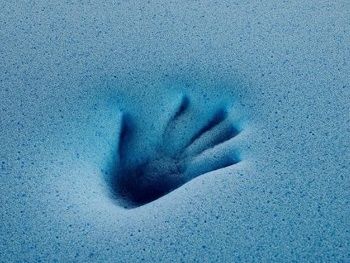 Pain Reliever Bed
Extra-large dog breeds tend to suffer from arthritis even at an early age because they're so heavy and there's a lot of pressure surrounding their joints so getting a bed that will relieve that pain is very important and this dog bed will help with that.
In Short:
Has an internal waterproof cover
Has an external durable denim cover
Comes with an extra microsuede cover
The memory foam will keep your dog cool or warm
It"s great for dogs that suffer from arthritis
Made for extra-large crates
BEST METAL DOG CRATE BED FOR PUPPIES
K9 Ballistics Chew Proof Dog Bed
Design And Material Description
This dog bed is slightly elevated since it stands on metal legs. It has an aluminum steel frame and in the middle, there is a ballistics cover. The legs are padded so that your floor or the crate doesn't get damaged if it moves a little.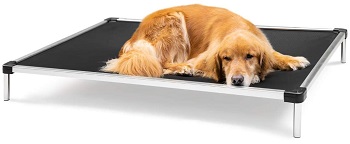 Putting a Stop To Aggressive Beahavior
If your pet is a puppy that destroys beds in the crate you will find that this model is the best puppy bed for crate to that behavioral pattern. Part of the reason why it's chew, biting, scratching, digging, and nesting proof is its frame. The fabric might get slightly damaged though.
Cleaning The Bed
We'd recommend you use this bed for heavy-duty dog crates for separation anxiety since we know how these dogs can get when it comes to their behavior. if the bed gets' dirty you can wash it off with water and soap or you can just use a hose to clean it.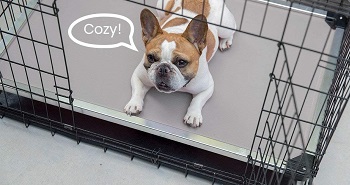 Standard Crate Sizing
This specific bed is made for large crates but you can choose to get it in 4 different sizes. The bed is designed to fit snuggly into most crates, small or large but do make sure you measure your crate to know for sure if it can fit inside it.
In Short:
Has an aluminum steel frame
The center features a ballistics fabric cover
It has an elevated design
Fits most large dog crates snuggly
The frame is resistant to aggressive behavior
How To Pick A Puppy Crate Bedding
There's a lot of good puppy crate bedding models out there but what separates a good one from a great one is the bed's cover, filling, if it has chew-proof features and a lot more things than you might think so make sure you keep reading about some of the things we recommend you focus on before buying
When You Should Worry About Size – Although all of these mats, pads, blankets, and mattresses as crate bedding are soft some are more foldable than others. For example, a large blanket might easily fit inside a medium plastic dog crate since it's easily foldable while a mattress made out of memory foam might not and will only fit inside an XL metal dog crate so you should check the dimensions always just to be extra sure.
How To Make Sure It Lasts Long – If you have a dog or puppy that's slightly more aggressive make sure you get a chew proof bed and if your dog is calm, you still want to make sure that the bedding is washable and that the filling, if it has a cover, is protected, usually with a waterproof cover because you can wash the cover but not the filling.
Other Functions – Another great function of these best puppy beds for crate is that they are easily transportable and they have good drainage properties. This means that you can safely use them for long or short car rides and keep your dog comfy while still keeping the car clean.
When You Really Need It – Of course beds for puppy don't have a limited use but if your dog is not one that will easily go inside the crate a bed or a soft cozy place might encourage him to use the crate. You have to get him familiar with the pet bed and then place it inside the crate after some time.
To Sum Up
Without a doubt, the one puppy crate bedding that we'd recommend is the Dogbed4less Memory Foam Dog Bed. It has a memory foam filling that will keep your dog cool during summer and warm during winter and it relieves arthritis pain that dogs might have especially larger breeds. If getting a bed was the first step to create a puppy crate apartment definitely check out the article about those and if all you're missing are puppy pads in crates then read the article about those.