Have you recently been searching for a new cage for yorkies of any type?
Can't seem to decide on one?
Then this article is for you. Continue reading if you want to see what these crates have too offer any pick one fast after reading reviews about our top picks for the subject. We've added a little twist to the matter and reviewed all sorts of crate types like, plastic, for puppies, and airline approved ones and we will even go on to explain a little bit more about them ad what you should know before buying in the buying guide at the end of the article.
The Summary
Best 6 Cages For Yorkies
BEST OF BEST CRATE FOR YORKIES
MidWest iCrate Starter Kit
Crate Build
There are two parts to this crate. One is the crate itself and the second is ts features since it comes wth a basic starter kit for housing dogs. It's made out of durable steel wire and features a black e-coat that makes it resistant to corrosion. Its corners are rounded so that your dog is safe from harm like pinched paws.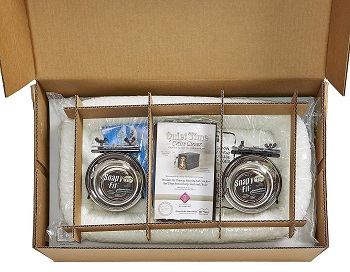 Included Accessories
The accessories that you'll get with this dog cage for Yorkie are abundant. Firstly, you'll get a comfortable bed that will make it easier for your dog to feel comfortable inside, the second thing is the crate cover for more privacy if your dog wants it and the third are the 2 water and for bowls that you can attach directly onto the wire.
Complete Starting Crate
The starter kit wouldn't be complete if the crate didn't come with a divider with which you'll get to house a puppy. The divider is adjustable so that the crate can adjust to your growing puppy. Another thing it comes with is, or rather, are roller feet found on the bottom that will protect your floors.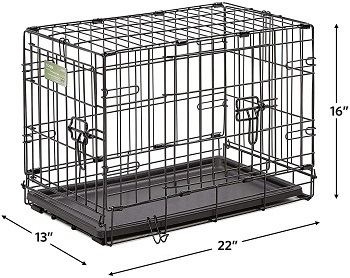 Upper Limit Size
Its size is just below the norm for a standard small dog crate. What this means is that this is an extra small dog crate that can house extra small dogs. To be more specific, it's 22-in long and 16-in tall. This is the upper limit for the correct crate size for Yorkies so it's made for Yorkies that are slightly larger than the norm.
In Short:
Made with steel wire
Has a corrosion-resistant e-coat finish
The interior is safe because of rounded corners
Comes with a crate cover, bed, and water, and food bowls
It's 22-in long and 16-in tall
Features an adjustable divider for puppies
The bottom roller feet protect floors
BEST PUPPY CRATE FOR YORKIE
Lucky Dog Sliding Door Dog Crate
Door Design
There's a lot going on with this sliding door dog crate. To start, its doors are made so that they're space-saving. The way they save space is because of the way they open. Rather than swinging open, they slide open so they won't bother your if you leave it open. The sliding door is a double door while the front door is a single door that opens like a regular one.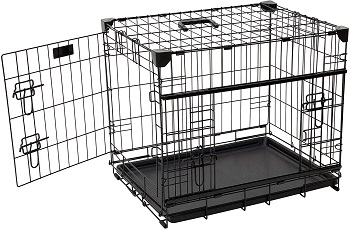 Build Details
It's built out of steel wire that's durable and coated with an e-coat that makes it resist rusting. Wire crates tend to produce rattling noise so if that's something that bothers you generally, it won't with his crate because of its corner stabilizers that minimize the noise. They will also prevent the crate from accidentally collapsing.
Fold And Unfold Ease
There's no need for you to g through the trouble of assembling this crate since it comes preassembled and all you need to do is unfold it. With easy assembly comes the fact that it's just as easy to disassemble or fold down. When it's folded down you'll get to store it or transport it.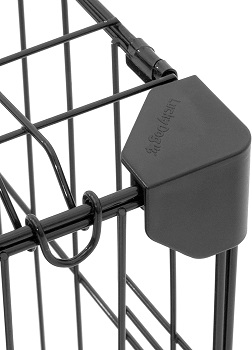 Crate Bonuses
The three noticeable bonuses that come with this best crate for Yorkie puppy are the rubber feet to protect your floors, a cleaning pan that will also protect your floors and a divider that adjustable. The divider can be used to potty train puppies. it's a 22-in long crate so make sure you keep that in mind when measuring your dog to figure out the right size.
In Short:
Has a durable steel wire build
it's rust-resistant due to its e-coat finish
it's 22-in long
Features a puppy divider panel
The rubber feet and cleaning pan protect floors
Has a double sliding access door and a single regular door
The corer stabilizers reduce rattling noise and prevent collapse
You can easily fold it down
BEST WOODEN CAGE FOR YORKIES
Birdrock Home Dog Kennel
Fancy Design
If by any chance you've already crate trained your dog and can now splurge to get a somewhat fancier and cool dog crate you'll probably want to go with this crate. We won't tell you why just yet but what we will say is that it's made out of MDF wood and has steel wire sides.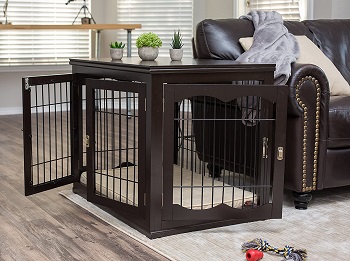 Furniture Style Crate
The mostly wooden build is definitely a purposeful choice. It's because it's intended to look like furniture inside your home so that it goes almost unnoticed. Not only does it look like furniture but it also functions as furniture as well. This is due to its wide top where you can put your things.
Entries And Doors
There are two entry points but three doors on this crate for yorkies. One is a double door located on the side of it and other door is located in front. What the multiple entrances and doors do is that they allow you to position the crate with more freedom inside your home.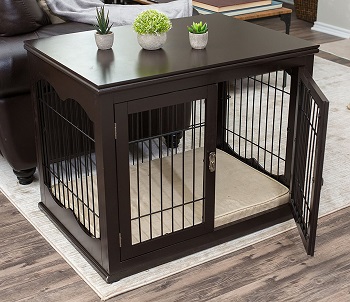 Size Warning And Crate Bonus
For more comfort, while your yorkie is inside this crate, you'll get to place a padded bed inside that comes with it. This crate is somewhat larger and is to be considered a medium-sized crate but if you've done the job of crate training your dog that's now calm and won't bite on the crate to damage it, you can get this size. We do not always recommend a larger size but what you can do is make your dog an apartment crate with a divided potty and sleep area.
In Short:
Made with MDF wood and steel wire
Made to look and function as furniture and a crate
it's medium-sized and a lot larger
Can only house crate trained dogs
Comes with a padded bed
Feature a double side door and a single front entry door
BEST FOR TRAVEL CRATE FOR YORKIE
EliteField Soft Dog Crate
Stand Out Looks
If you're looking for a crate that's made to stand out with its looks this just might be the one you're looking for. It's because you can choose from a variety of 16 different colors. This includes the less common camo color pattern and other colors like green, purple, and even red.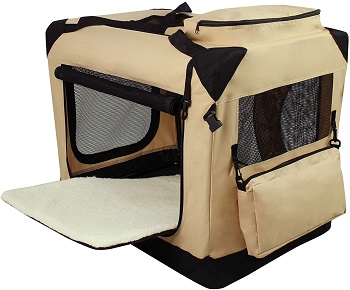 Main Purpose
The rest of these crates for Yorkies we will review all have one thing in common. They are all built as small dog travel crates. We will get into why the rest are made like that but for now, we'll stick to this one. The crate is incredibly light with only 6 lbs and can be easily carried in multiple ways. You'll get to carry it either with the provided handles or with a shoulder strap on its own carry bag.
The Cover And Frame
It's made with a steel tube frame that will make it hold its shape and will allow you to collapse this yorkie dog cage easily. it also features an oxford 600d fabric cover that can be removed and washed. The interior bottom is also equipped with a bed that can be removed and washed just as easily.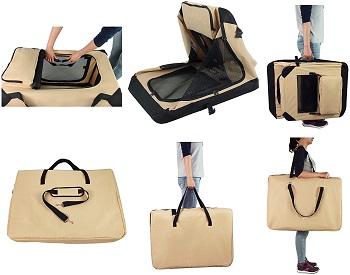 Cover Contents
The cover of this crate also features 3 door entries, mesh fabric windows on all sides, and a built-in and removable accessory pocket. it's 20-in long so it's perfect for yorkies but it's way more comfortable because it's 2-in wider and 4-in taller than other crates of this type. We must warn you though, your yorkie should be crate trained so that he doesn't destroy this crate.
In Short:
Has a 600d oxford fabric cover
The steel tube frame is foldable
Weighs 6 lbs
Can only house crate trained dogs
It is 2-in wider and 4-in taller than most
The cover and interior bed are removable and washable
Comes with a built-in and removable accessory pocket
Has 3 access doors and mesh fabric windows on all sides
Comes with a carry bag
BEST PLASTIC CAGE FOR YORKIE
SportPet Designs Plastic Kennel
Traveling Aboard An Airplane
Since Yorkies are extra small dogs, you'll definitely have an advantage if you're traveling by air because if you get the right size of crate, you'll get to put the crate or carrier below the seat of an airplane and really air travel with your dog instead of him traveling as cargo or as some airlines like to call it, shipping your dog. Your Yorkie shouldn't be longer than 21-in and taller than 13-in.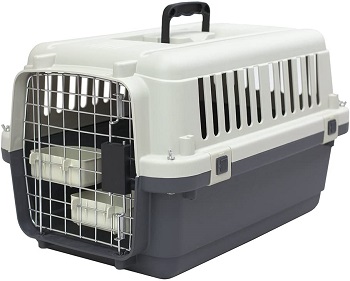 Travel Kit Supplies
The crate is approved for flying on an international flight as well because it's approved by IATA. It features a basic travel kit that all airline crates must-have. These things are stickers with "live animal" written on them, detachable water and food bowls, nuts and bolts, and tie down holes for bungees.
Connecting The Plastic Bits
The nuts and bolts will actually connect the two crate parts, the bottom, and top heavy-duty plastic shell. The small plastic dog crate can be much more easily connected if you want to use it to travel by car. You'll get to down it much more simply with plastic locking clips.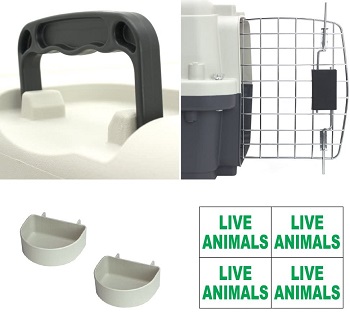 Door Features
There's a single steel wire door located in the front of this crate for yorkie. It features a lock that you have to pinch to open so you won't have to worry about it sliding open accidentally. The steel wire door is also the place where you'll get to attach the food and water bowls. The top features a handle for carrying.
In Short:
Made out of a top and bottom heavy-duty plastic shell
The dog shouldn't be longer than 21-in and taller than 13-in
You shouldn't travel with dogs that aren't crate trained
Features a single steel wire door for access
Comes with a basic travel kit
The two shells connect with plastic locking clips as well
Comes with a carrying handle
Can be used to travel by air
BEST AIRLINE APPROVED CAGE FOR YORKIE
X-zone Pet Airline Approved Dog Crate
Size Advantage
This is another crate that's been airline-approved and you can take on an airplane with you. It's sized as large but it's in fact extra small and can only house dogs that weigh up to 20 lbs. it's so small in fact that it can fit under the seat of an airplane. This is the requirement for crates that can travel with you on an airplane.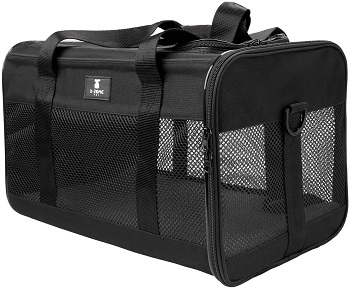 Materials It's Made Out Of
It's made out of oxford fabric that's know to be a quite durable material. The ventilation points are made out of mesh fabric. Although the fabric is durable you should still only use it with a crate-trained Yorkie. There are two entrances on this crate and both are located on the sides.
Interior Safety And Comfort
The interior is equipped with both safety and comfort features. The bottom features a hardboard floor so your dog can easily stand up while he's inside but you can also place a mat on the bottom for comfort that comes with this dog crate for Yorkie. There's also an inner leash inside for safety.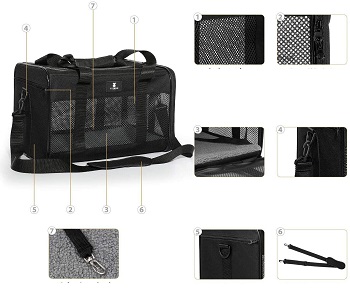 Carry Techniques
You'll get two carrying options with this crate. The first one is with carrying handles that are already on it and the second one is with a padded shoulder strap that you can attach and detach from the crate. The shoulder strap has another function and it is that it can be used as a seatbelt for traveling by car.
In Short:
Has a soft oxford fabric costruction
Features a had board floor and a cozy mat on the inside
Equipped with an inner leash
Can fit below the seat of an airplane
Can be carried with a shoulder strap or handles
The shoulder strap converts into a seatbelt
How To Pick A Crate For Yorkies
In some cases, crates for Yorkies come with their own set of advantages but if you want those, you'll have to buy a specific crate type and not everyone needs that. That's why we tried to review as many of different types as possible. Each crate type has its own main purpose and use and we'll talk a bit more about and about some of their other differences and similarities like size, and toughness in this guide that will help you pick one out.
Size To Look For – This is probably the most distinctive feature of any crat made to house Yorkies. You'll typically want a crate that's around 18 up to 22-in long. The size depends on the dog's gender and breed type. This size is perfect as it's not too big nor too small for the dog.
Exceptions To The Size Rule – If your dog is an exception to the set rule of the general size you might want to know how to size a crate. A crate should typically be 4 inches longer and taller than your dog. To measure your dog's length, you'll take his measurement from the tip of his nose to his rear and to measure his height you'll take his measurement standing up from the floor to the top of his head.
Advantages For Small Crates -The first advantage that comes to mind is that you can take your Yorkie aboard an airplane with you because they are so small that the crate they're in will easily fit under the seat of an airplane. The second advantage is that no matter the crate type, they won't take up much space inside your home so you can virtually get any type of crate.
Basic Crate Type Info – There are 3 types of crates for Yorkies: wire crates, travel crates, and wooden crates. Only the wire crates can be used as training cages for dogs while the rest of these will require you to have a crate-trained dog. Wire crates most commonly come with a divider and if that's the case the crate can easily house a puppy and you can then potty train him.
To Sum Up
We understand you want the best for your dog and we want it to so that's why we've decided we should go with the MidWest iCrate Starter Kit as the one cage for Yorkies we should recommend. It comes with all the basic things needed for a dog to live comfortably inside a crate like a crate cover, bed, and food and water bowls and it can even house puppies because of the divider.if you're looking for a crate for a small dog but that dog is a chihuahua then your bet is to read the article about chihuahua crates and if your dog is much larger we have an article about crates for giant breed dogs.