Do you have a lovely chihuahua that you want to get a properly functioning chihuahua cage but don't know which one to pick?
By continuing to read this article, you're signing yourself up for success when it comes to choosing the right crate for your dog. We've not only reviewed these crates but we've also categorized them so you'd generally know what you're getting with each one. That's why you'll find crates for puppies, indoor ones, and even airline-approved ones.
The Summary
BEST OF BEST CHIHUAHUA CAGE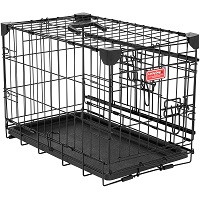 Lucky Dog Sliding Door Dog Crate
The space-saving sliding door not only does that, but it will also protect you and your dog from accidentally bumping into an open door.
Jump To Review
BEST PUPPY CRATE FOR CHIHUAHUA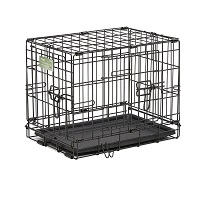 MidWest Home For Pets iCrate
Interested in getting a training crate for your dog? With this one, you can both potty-train and generally crate-train your dog.
Jump To Review
BEST INDOOR CHIHUAHUA CRATE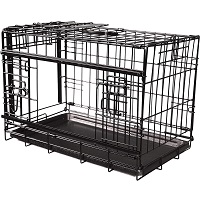 Cardinal Gates Sliding Door Dog Crate
Besides the double sliding door, the crate also comes with another special door that opens upwards and can rest on the crate's top.
Jump To Review
BEST WOODEN CHIHUAHUA CRATE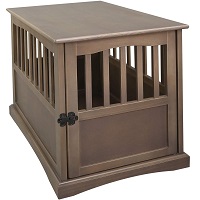 Casual Home Wooden Pet Crate
The solid wood will put up with some chewing seeing as it's chew-resistant but might take some visible damage after a while.
Jump To Review
BEST SOFT CHIHUAHUA CAGE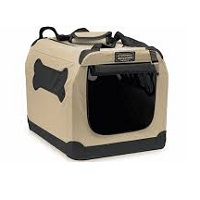 Petnation Port-A-Crate
Although the fabric is heavy-duty because it's tightly woven, you should still only use it with crate-trained dogs. You'll benefit from it if you use it for traveling.
Jump To Review
BEST AIRLINE APPROVED CHIHUAHUA DOG CRATE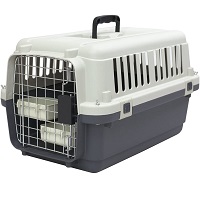 SportPet Designs Plastic Kennel
If you ever wish to travel by air with your lovely dog, you can make it happen with this crate that comes with the basic air travel necessities.
Jump To Review
Best 6 Chihuahua Crates
BEST OF BEST CHIHUAHUA CAGE
Lucky Dog Sliding Door Dog Crate
Barn Door Benefits
Although the share size of this crate will save you space if you want more you can be sure that this crate will give it to you. it's because this is a sliding door dog crate. It's a double door that slides open to the sides. Not only will it save you additional space in the area surrounding the crate but it will also help protect your shins and dog from bumping into the open doors.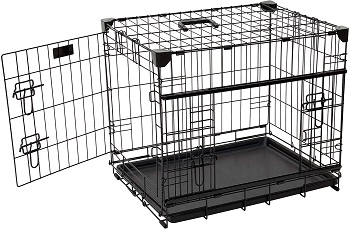 Door And Build
Its construction is mainly sturdy steel wire that's coated with an e-coat finish. The finish is rust-resistant which automatically means that the crate is as well. It has another door for access that opens like a regular one and locks with 2 sliding bolt locks.
Plastic Pieces
There's more to the plastic bits than just the slide-out cleaning pan on the bottom. Another plastic bit includes the carrying handle on top for when the chihuahua cage is folded down and corner stabilizers. They will help prevent the crate from accidentally collapsing and will also reduce noise like rattling that usually comes from these.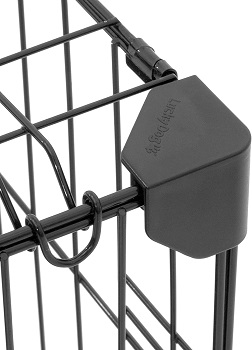 Missing Training Tool
When you look at other crate sizes but the same model, you'll notice that this is the only crate that doesn't feature a divider. You can still use it to crate train a dog but maybe not so much potty train. The crate won't damage your floors because of the fact that it comes with rubber feet.
In Short:
Has a sturdy steel wire build
The e-coat prevents it from rusting
Has plastic corner stabilizers, carrying handle, and cleaning pan
Has 2 entrances, the side one is a double sliding door
The doors lock with sliding bolt locks
BEST PUPPY CRATE FOR CHIHUAHUA
MidWest Home For Pets iCrate
Safe Construction
The crate is made up of steel wire and features an e-coat finish that's black. The finish helps the crate become somewhat rust-resistant. What would otherwise be a hazard of sharp edges this crate eliminates by having rounded corners. They will also protect your dog's paws.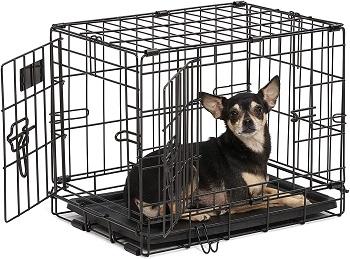 Accessing The Crate And Bottom
The two access doors, front and side, allow you to position this chihuahua crate with more freedom inside your home although that might no ever pose a problem since it's generally small. The doors can be securely locked with 2 sliding bolt locks in total. You won't have to access the crate to clean it, you'll simply have to pull out the slide-out cleaning pan to do it. The bottom is also equipped with roller feet for floor protection.
On The Smaller End Of The Spectrum
This crate is on the shorter end of crates that can house chihuahuas. It's 18-in long and you'll typically get to buy either an 18, 20. or 22-in long crate. To know for sure whether or not your dog can sit and stand up inside, you should measure him properly.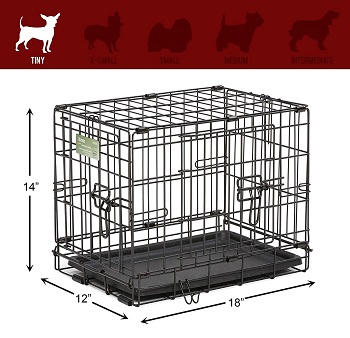 Common Wire Crate Things
The thing with small wire crates and wire crates, in general, is that they can be used as crate-training tools. With standard durability that's not a surprise. They can usually come with an adjustable divider as well as this one does and that's why it might be the best crate for a chihuahua puppy. The divider will help you potty train a puppy if you have one.
In Short:
The steel wire is coated with a black e-coat
Has a length of 18-in
The two doors lock with a sliding bolt lock each
Can be used to crate or potty train puppies and dogs
Has rounded corners for safety
Cleans easily with a plastic bottom pan
Has roller feet on the bottom for floor protection
BEST INDOOR CHIHUAHUA CRATE
Cardinal Gates Sliding Door Dog Crate
Durability In Gauge
At first glance, you might not think of this crate as any more special than the first two. That's because you have to go below the surface to see what it is. it's made with 10 gauge and 6 gauge steel wire. Gauge is typically used to determine the wire thickness and the lower the gauge, the thicker the wire.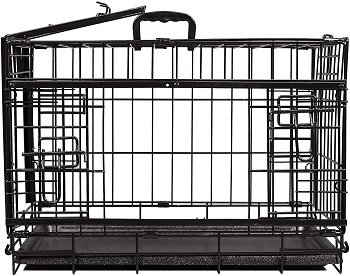 2 Special Doors
Instead of just having a single double sliding door like the chihuahua cage before it, it additionally has a door that opens upwards that can rest on its top. You'll benefit the most out of both entrances if you leave them open for your dog to exit and enter as he wishes.
Travel Ease Design
This is a folding metal dog crate and what you can do with that design feature is use it to easily transport the crate for traveling. You'll also get help for transporting it with a carrying handle found on its top. It weighs 12 lbs so it shouldn't be hard to lift it.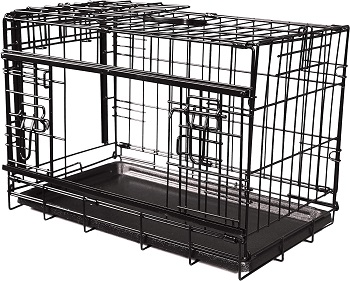 Easy Things
The fold-down design goes both ways which mean that is just as easy to assemble it as it is to fold it down. Another thing that will be easy is cleaning it. You'll find a pan inserted on the bottom that will collect dirt until you're ready to pull out the pan and clean it.
In Short:
Has a 10 and 6 gauge steel wire build
The double door slides open, the single door opens upwards
Easy to fold and unfold
Can be cleaned with a plastic pan on the bottom
Comes with a carrying handle for easy transport
BEST WOODEN CHIHUAHUA CRATE
Casual Home Wooden Pet Crate
No Crate Training
If we were to split the crates we reviewed so far and the ones we are yet to review, we'd split them into two categories: The ones that ca be used to crate train a dog and the ones that can't. This is the first crate that can't although it does feature a solid wood build that's chew-resistant.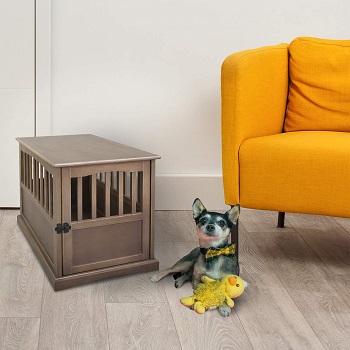 Solid Wood Info
This chihuahua cage is or flimsy nor unreliable. The only reason why we wouldn't recommend it as a training cage for dogs because the wood, even though it's chew-resistant, might take some visible form of damage after prolonged chewing and biting.
Looks Like And Acts Like Furniture
What's so unique about it, is that it looks and functions as indoor dog crate furniture. This is due to its top that's slightly wider and can hold things of up to 120 lbs. The bottom weight limit is 120 lbs as well but because of its dimensions, you will only get to house a small dog or a dog like a chihuahua inside.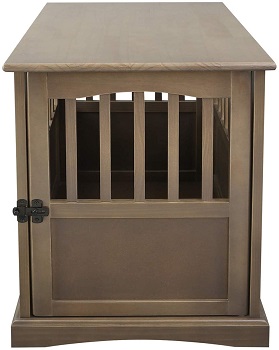 Access And Cleaning Access
It's not all that uncommon for a wooden crate to feature only a single door for access that locks with a single lock. In the case of this crate, that's also true and the lock in question is a hasp latch lock. This is the same access point where you'll access this dog crate for a chihuahua to clean it.
In Short:
Made with chew-resistant solid wood
The crate might take some visible damage from chewing
Has a single access door
The door will allow you to access it for cleaning
Looks and functions as furniture
The top can hold a weight of up to 120 lbs
BEST SOFT CHIHUAHUA CAGE
Petnation Port-A-Crate
Heavy-Duty Build Caution
For this type of crate, we tried to find a heavy-duty one that's a far more durable dog crate than the rest of its competitors. It does have a much stronger ad thicker fabric cover because it's a tightly woven fabric. Unfortunately, these crates won't survive long with a dog that's not calm nor crate-trained.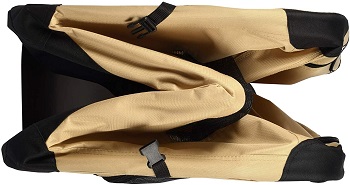 Travel Design
The fabric actually covers a steel tube frame that makes it hold its shape properly. Because of the frame, this chihuahua crate is also a soft collapsible dog crate. You can use this feature to travel with your pet or to store it away when it's not being used.
Door Differences
You'll find a door o top and one in front. they are different from one another because the front door is made out of mesh fabric that will help with getting enough air inside it. There are two additional mesh fabric windows on both sides that are lovingly shaped like dog bones.

Pointing Out It's Built For Traveling
All of its features point out the fact that you should use it to travel. The rounded corners will protect your car interior from damage, the lightweight of only 3 lbs, and the carrying handle will help you carry it. Another reason why you should only use it to travel is that an unattended dog might escape from it if it's used indoors.
In Short:
Has a tightly woven fabric cover
The steel tube frame can be folded
The rounded corners keep the car interior safe
Has a top and front entrance
Features 3 vent windows
Can only house crate trained and calm dogs
It's advised you use it only for traveling
BEST AIRLINE APPROVED CHIHUAHUA DOG CRATE
SportPet Designs Plastic Kennel
Why To Crate Train A Dog
Although this crate will require you to crate train your dog beforehand, this might be only because it's built to go aboard an airplane with you. It's an airline-approved crate and you can easily take it on an airplane with you instead of your dog traveling as cargo.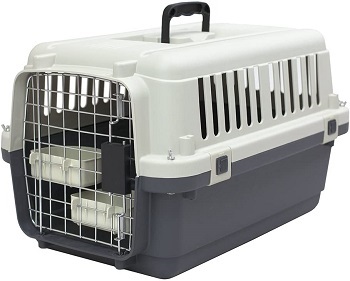 Parts Connection
It consists of two parts, a top and bottom plastic shell that needs to be connected. You can either connect the two using the plastic locking clips or using the provided nuts and bolts. it'll be much easier for you to connect them with clips when you're not traveling with this small plastic dog crate so it's good to have that option.
Supplies For Air Travel
The nuts and bolts are just one of the requirements for crates that are made for air travel. Other things that this crate includes for air travel are stickers with "live animal" text, water and food bowls that are detachable, and holes for tying the chihuahua cage with bungees.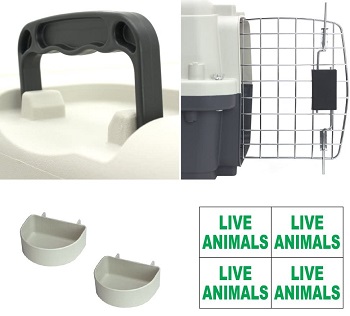 Ventilation And Size Of Dog To Fit Inside
It has a steel wire door that opens with a lock that you have to pinch to open. The door is one of the vent points while other vents can be found on all sides of this dog crate for chihuahua but as holes on the top plastic shell. The dog shouldn't be longer than 21-in, and taller than 13-in which is perfect for chihuahuas.
In Short:
Made with plastic
The shells connect with plastic clips or nuts and bolts
Comes with basic travel kit necessities
Feature a steel wire door
Can be taken aboard an airplane with you
Before traveling, make sure your dog is crate-trained
How To Pick A Chihuahua Crate
There's so much you can do with a chihuahua cage because they're so small and are fit for anything. We're here to tell you what are those things and to accentuate some of the differences we've noticed through reviewing these crates. This buying guide should help you decide on a crate designed for you and your dog.
Size Specialty – There are a few not-so-common crate sizes that find themselves between common crate sizes. Chihuahua crates are one of them. They come first if you were to rank the crates from smallest to largest. They are usually 18-in long and can go all the way up to 22-in in length. The size you'll get solely depends on your dog. Because they're so small, you can take them to travel aboard an airplane.
Size It Right – To correctly and safely figure out what crate size you should get for your dog you'll have to make sure you've measured your dog. By knowing what his height and length are, you can easily compare these two dimensions with the crate. When you do, you will want to make sure that the crate is at least 4-in bigger in both aspects.
Crate Types Durability – The durability of a crate mostly depends on the materials it's made out of. Typically the most durable crates for these breeds are going to be wire crates. You can use them as small puppy crates if they come with a divider as well. All other crates will require you to crate train your dog but these degrees vary according to what you're using the crate for and their type.
Travel Crates Warning – If you've decided that your dog needs a travel crate to go on trips with you, it's really important that you know that the dog should be crate trained first.  With soft crates, it's because the crate won't last long and will get destroyed easily while with plastic travel crates it's mainly because a dog should always be crate trained for a trip.
To Sum Up
The chihuahua crate that we'd recommend you get because it can house puppies, crate train, and potty train both them and adult dogs and it's all-around a safe and versatile crate is the MidWest Home For Pets iCrate. If you're looking for crates just as small but for Yorkies check out our article about the best crates for Yorkies and if you're looking for a crate for larger dogs like a golden retriever, we have an article about dog crates for golden retrievers too that you should definitely check out.