Looking to upgrade the comfort of your dog inside its crate or out of it with a crate pad, mat, or bed?
It will never be easier to do so if you continue reading this article where we only reviewed the best models. Apart from that, we made sure to include plenty of different types like 42, 48, waterproof, and even chew proof beds so one is bound to be tailored to your dog's needs.
The Summary
Best 20 Dog Crate Beds
BEST OF BEST CRATE BED
Big Barker Orthopedic Dog Bed
Foam Thickness
The foam inside this bed is a 4-in thick foam made out of 2 different density foams. The top foam is an h10 foam while the bottom 2 inches are reserved for the h45 foam that supports the whole thing. These two orthopedic foams will prevent your dog from laying on hard ground.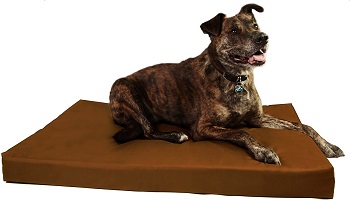 Crate Fit
The cover that you can easily wash is a Cordura weaved nylon that's both waterproof and chew-resistant. It will fit well inside a medium-sized crate and if you'd like to learn more about different types of durable crate mats, we advise you to read the article about them here.
In Short:
Has a 4-in foam filling
Has a 2-in thick h10 and 2-in thick h45 foam
Features a waterproof and chew-resistant cover
The cover is washable
The material used to make the cover is Cordura nylon
Fits on medium 30-in crates
BEST CHEW PROOF CRATE MAT
K9 Ballistics Chew Proof Mat
Metal Edges
Forget soft fabric with this aluminum metal frame mat. It's elevated from the ground with 4 metal legs and because its edges are metal as well so it's a chew-proof crate pad. For more like this or at least similar to it, read the article about puppy beds for crates next.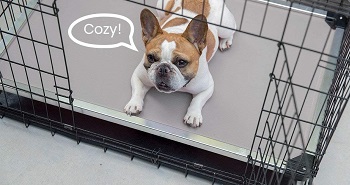 Corners And Toughness
The corners are rounded and covered with plastic and it will fit well inside 30-in crates considered to be medium dog crates. Your dog will lay on the ripstop ballistic fabric and will surely be comfortable because it doesn't touch bottom floors. It is scratch, dig, and chew-proof.
In Short:
Fits on 30-in medium crates
Has an aluminum metal frame
Sits on 4 legs and has an elevated design
the corners are plastic and rounded
Dogs will lay on the ripstop ballistic fabric
It's dig, chew, and scratch proof
BEST 42 IN CRATE PAD
Dogbed4less Premium Bed
Two Covers
The main cover of this bed is made out of denim and is colored blue as well. While you're washing it inside a washing machine, you can put the other cover on to never stop using the bed. The denim cover is tough but it's not chew-proof. It is 41-in long which makes it fit well inside large 42-in dog crates.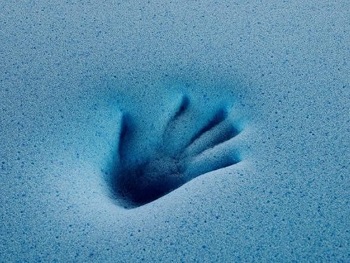 Memory Foam Info
The 3.2 lbs foam inside is made out of a single foam piece. It has a high density so it will be less likely that your dog will sink into the ground fully. It's gel-infused to keep your dog cool or warm. If this 42-in dog bed is still too small to your liking, read the article about other, and some probably bigger, large dog crate mats.
In Short:
Comes with 2 covers
The first cover is durable denim
Made with a single piece of foam
The memory foam is high density
It's 41-in long and fits inside large 42-in dog crates
The memory foam is gel-infused
BEST 48 IN DOG CRATE BED
Big Barker 7 Pillow Bed
Pillow Foam
Think of this crate as a dog bed with a pillow included because one of the corners is elevated and filled with an additional 4-in of foam. If you thought that this 48 in dog bed si the largest you can find but still need a bigger one, you'll find even larger models in the large dog crate bed article.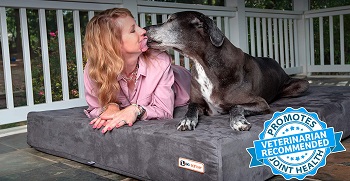 Bed Cover
The rest of the bed is 3 different foam types that altogether make it 7-in thick. It includes 2 times 2-in h10 foams and a middle layer of 3-in thick h45 foam. Its cover is made out of microsuede and it's easy to zip open and machine wash. You can get it in 4 different colors as well.
In Short:
Has a 4-in thick foam pillow
The bed itself is 7 inches thick
Made with h10 and h45 orthopedic foam
HAs a microsuede cover
The cover is machine washable
Comes in 4 different colors
BEST PUPPY DOG CRATE MAT
Oqq Orthopedic Dog Bed
Cover Sides, Bottom, And Top
The top of the cover on this bed is fairly soft and comfortable while the bottom is made to prevent slipping. The zipper of the cover is hidden and the corners are made with faux leather. It's 43-in long and features an egg crate foam shape that offers joint and orthopedic support.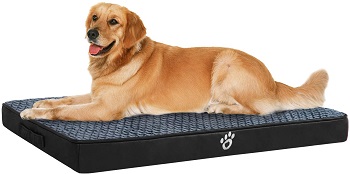 Two Covers
Along with the exterior cover, you'll get an additional cover to protect the foam better. Both can be removed and machine washed which is important if you're looking for the best puppy beds for crates. If you want to get the greatest one, make sure you read the article linked below.
In Short:
It's 43-in long
Has a soft top
The bottom of the cover is non-slip
Has faux leather edges
The zipper is hidden
Features 2 washable covers
Has an egg crate orthopedic foam filling
BEST COOLING DOG CRATE PAD
Arf Pets Pet Dog Self Cooling Mat
No-Hassle Operation
You won't have to refill this mat, use electricity or complicate your life to cool off your dog. We will get into the details of how this cooling crate pad works later on but for now, if you want to learn more about just them, read the article about cooling dog crate pads next.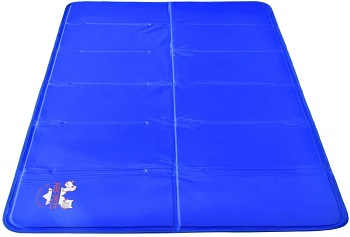 Cover Info
The cover is latex-free and requires only wiping down to be cleaned and stay clean. The inside is filled with a solid gel that recharges on its own and offers cooling support for up to 3 hours. To recharge, all you have to do is leave this 36-in dog crate pad alone.
In Short:
Fits inside 36-in crates
Filled with a solid cooling gel
Works up to 3 hours
Doesn't require refrigeration, electricity, or anything else
The cover is latex-free
It's easy to clean by you wiping it down
BEST FOR FURNITURE CRATE BED
Barkbox Memory Foam Bed
Color Coding
The colors this bed can come in are abundant. With the 10 colors variations, you can fit it to look well inside your furniture style crate. Apart from that, it's a great do bed furniture crate because it's a waterproof dog crate mat so check out others if you need a different one.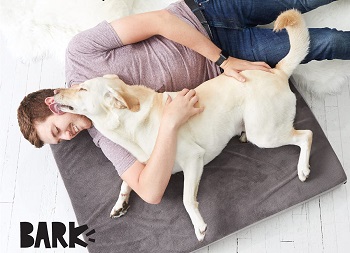 Foam Contents
The foam is 3 inches thick and consists of high-density foam and gel-infused memory foam that will regulate your dog's body temperature well. The cover is machine washable and water-resistant and you can fit the whole thing inside an intermediate dog crate.
In Short:
Comes in 10 different color combinations
Has a machine washable and water-resistant cover
Filled with 3 inches thick foam
The top foam layer is gel-infused memory foam
Fits on 36-in dog crates
BEST TRUCK CRATE MAT
Cooler Dog Cooling Pad
What It Does
Assuming that your hunting dog crate for trucks already keeps your dog plenty warm inside, this dog crate for truck bed is supposed to keep your dog cool during hot weather months. If that's your exact focus, you can read about other dog crate cooling pads in the article linked below.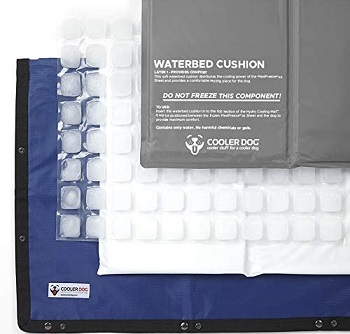 Layered Design
It consists of three layers that work together to bring your dog the best cooling. The bottom layer repeals heat, the second layer is made up o a sheet of 88 ice cubes that you can freeze to make it work again. The top layer is made to be soft and distribute the cooling power evenly and efficiently. It's a 16.5-in cooling pad so it can fit inside any crate but make sure the dog isn't too big.
In Short:
Cools your dog
Has a soft top layer
The bottom layer repeals heat
Needs to be frozen to work
Made up of a sheet of 88 ice cubes
It's 16.5-in long
BEST WASHABLE CRATE PAD
Western Home Large Dog Bed
Foam And Cover Exterior
The egg crate foam that this bed is filled with is high density so it will adjust to your dog's shape nicely without having them sink into the ground completely. The top of the cover is made with faux and soft fur while the bottom features tiny rubber dots that make it a non-slip bottom.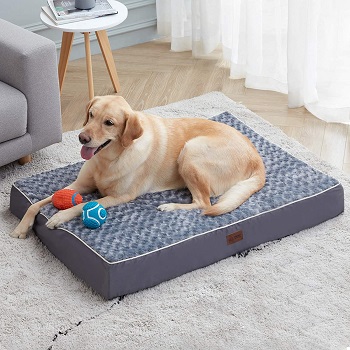 Foam Protection
The cover is water-resistant and washable but the inside liner takes the win when it comes to protecting the foam from dog urine. If the simplicity of cleaning is very important to you, we suggest you read the dog crate pads washable models article next.
In Short:
Has an egg crate foam filling
The foam has a high density
Has a washable cover and liner
The exterior cover features a non-slip bottom
Fits inside 30-in dog crates
It's 3-in thick
BEST WATERPROOF DOG CRATE BED
Petmaker Waterproof Dog Crate Bed
How It Cleans
The stitching on this bed and its cover are made to pool the liquids that end up on it until you're ready to wipe or rinse it clean. The cover in question is made out of nylon and is waterproof completely. It's a grey-colored waterproof dog crate bed so it will fit into most crates and homes.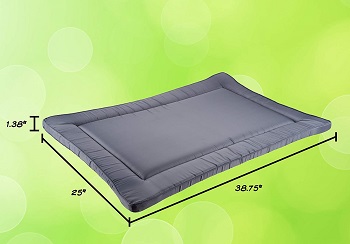 Bed Proportions
It's said to be large but it's around 39-in long so there's no worry that it won't fit inside your large dog crate. The inside is filled with polyurethane foam for added comfort and coziness. For even cozier models, check out the dog crate pads waterproof models article.
In Short:
Has a nylon cover
it's filled with polyurethane foam
The cover is water repellent
It's around 39-in long
Can fit inside large dog crates
Has a grey color
BEST DURABLE CRATE MAT
Tuff Pupper Premium Bed
Impressive Cover Durability
The impressive thing about this bed is that you can use it indoors as well as outdoors. The cover has a UV protective coating so it's resistant to fading. Apart from that, it's stainproof, waterproof, and scratch and odor resistant. It's water-resistant on both sides and cleans easily by you wiping it down.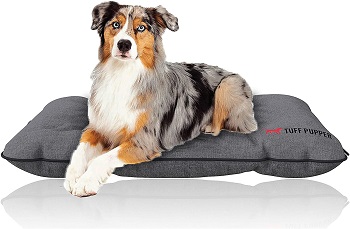 Mattress Details
It's cushioned and filled with a 4 inches thick and durable mattress and it's considered large but it's 32-in long and fits inside medium crates. It's a durable crate mat that doesn't offer orthopedic support though so if you need one, read about others in the article linked below to find it.
In Short:
Has a UV protection coated cover
The cover is stain and odor proof
It's water and scratch-resistant
Has a 4-in thick mattress filled inside
It's 32-in long
BEST INDESTRUCTIBLE DOG CRATE PAD
K9 Ballistics Tough Dog Crate Pad
Chew Resistant, Not Proof
It's important to know the difference between chew resistance and proofness. This mat is chew and scratch-resistant so if you have a dog that chews heavily on its bed, you might want to find another durable dog crate pad option in the article linked below.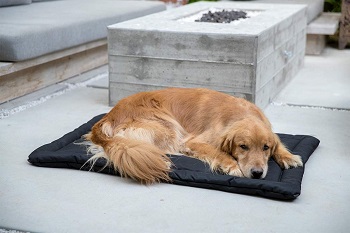 Inside Filling
The tough dog crate pad is filled with a 1.5-in thick polyfill foam that's also stitched so that the filling doesn't fall out over time and with machine washing. The cover is made out of ripstop ballistics fabric and is the one to thank for the chew and scratch resistance. It's made for extra large dogs.
In Short:
Has a ripstop ballistics cover
Doesn't features zippers
Has a 1.5-in thick polyfill
It's chew-resistant
Made for extra large dogs
Can be washed inside a machine
BEST LARGE DOG CRATE BED
Maxx Dog Bed For Crates
Edges And Cleaning
All four edges on this bed feature extra filling so that no matter how your dog lies on it, it offers support for its head. It has a cushioned base and the cover is resistant to odors and liquids. It's fully black and if you ever need to take care of accidents with more detail, you can machine wash it.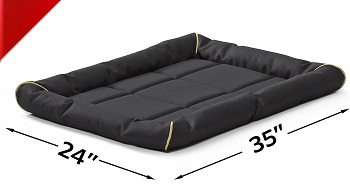 Standard Sizing
Overall, this large dog crate bed is 3-in thick, 48-in long, and 31-in wide which makes it the perfect choice for extra-large dog rates since it fits into standard-sized XL wire dog crates. If this large dog crate mat is too big for your dog and its crate, you might want to read the article about others next.
In Short:
Has raised edges.
Features a cushioned base
It's machine washable
It's water and odor resistant
Made for standard-sized xl dog crates
It's 3-in thick, 48-in long, and 31-in wide
BEST MEMORY FOAM DOG CRATE PAD
Petlibro Dog Bed
Smaller Dimensions
Because it's 1-in smaller in all dimensions than the crates it fits into, it's the perfect match for most standard 42-in long dog crates able to house large dogs. Large dogs especially need the orthopedic support that memory foam dog crate mats offer. To learn more about it, check out the linked article.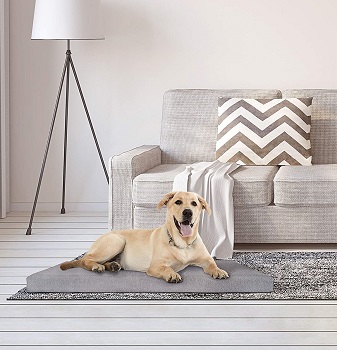 Mattress Thickness
The whole bed is 3-in thick thanks to the 2-part memory foam inside. The bottom layer has a pressure-relieving foam that's high density while the top features a cooling gel memory foam. The cover is made with polyester fabric, it's washable, and has a silicone bottom.
In Short:
One inch smaller than the 42-in crates it fits in
Has a polyester fabric cover
The cover is machine washable
Has a silicone bottom
It's 3-in thick
Has a cooling gel memory foam top
BEST ORTHOPEDIC CRATE PAD
Big Barker 7 Pillow Top Dog Bed
Matress Layers
The 7-in thick foam is layered with different types of foam. The bottom and top have an h10 comfort foam while the middle is reserved for the 3-in thick h45 foam. The bigger the number of the "H" foam the thicker the foam is. It comes with a burgundy-colored cover but it also comes in three other colors.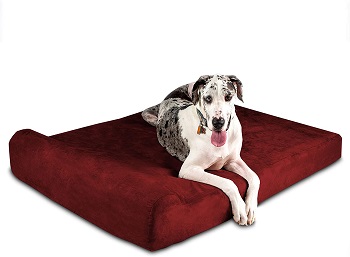 Dogs It's For
If you think that the thickness of this mattress is exhilarated, think again because it's made for giant dog breeds not only because they're big dogs but also because they're heavy dogy. The mattress is 60-in long and if you'd like a smaller version of this orthopedic dog crate pad, check out other models.
In Short:
It's 60-in long
Has a 4-in thick pillow on one end
The foam is 7-in thick
Consists of two layers of h10 foam and one layer of h45 foam
Made for giant dogs breeds
The cover is burgundy colored
BEST RUBBER CRATE MAT
Gimars Heavy Absorbency Non-Slip Mat
Pad Size And Use Location
This pad is 22-in long and wide. We wouldn't say it's designed for dog crates but it can be if you fold it down and fit it into your small dog's crate but its primary use is as a mat for under dog crates. To learn more about them and find more models, you can read the article.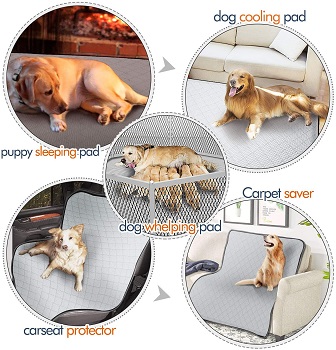 Pad Explanation
This is more of a pad than it is a mat. It isn't very thick and is made to absorb liquids, not repel them. It can hold up to 10 cups of water no problem and you wash it to keep using it. It won't leak through due to the 4 layer construction and its epoxy resin bottom makes it a non-slip rubber mat for dog crates.
In Short:
Absorbs liquids without them leaking
Can hold up to 10 cups of liquid
Has a four-layer build
The bottom is non-slipping epoxy resin made
It's 22-in wide and long
Mainly used under dog crates
BEST SMALL DOG CRATE BED
Furrybaby Premium Fluffy Blanket
Size And Function
This pad acts like a blanket that's made out of soft fleece. It's an environmentally friendly fleece that is easily washable inside a washing machine and reusable. It's 24-in long and 32-in wide so it's bigger than the standard small crate but it's a blanket so it can be folded to fit inside as a small dog crate bed.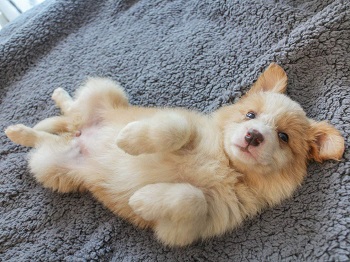 Crate Protections And Colors
It can well protect the crates it's inside off and you can even color-code it to match your dog's crate or your home interior since it comes in 8 different colors and 2 different thicknesses. The best way to describe it is cute and many other puppy beds for crates are so check them all out.
In Short:
Made out of environmentally friendly fleece
Acts as a blanket
Can be machine washed
Comes in 8 different colors and 2 thicknesses
It's 24-in long and 32-in wide
BEST FOR WOODEN CRATE BED
Gorilla Grip Premium Waterproof Pet Pad
Design And Function
If you have a wooden crate you'll need to protect the wood from liquids somehow and the best way to do it is with a dog crate pad waterproof model. This one is just that but if you'd like it to look different than the grey collared, black paw design, you can read about others in the article linked below.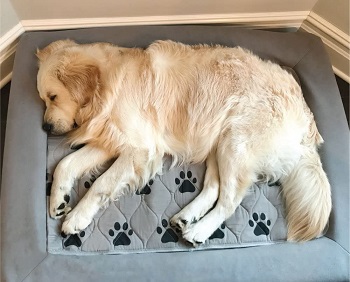 Pad Layers
The inside features 2 inner liners to prevent the liquids from leaking through, the edges are also leakproof and it has a sot top quilted layer for coziness. The bottom is made to be slip-resistant and it can well fit inside extra small dog crates since it's 18-in long and 12-i wide. It can easily be washed.
In Short:
It's 18-in long and 12-in wide
Fits inside extra small dog crates
Has a soft quilted top layer
Features a grey color and black paws design
MAde to absorb liquids
Has 2 leakproof inner layers and edges
The bottom is non-slipping
BEST XL DOG CRATE BED
Dogbed4less Premium Dog Bed
Bed Covers
You'll get two covers for this bed mattress and both are washable inside a washing machine. The first durable cover is a denim cover while the other one has a non-slip bottom. You'll get another interior cover that's waterproof ad protects the memory foam mattress well.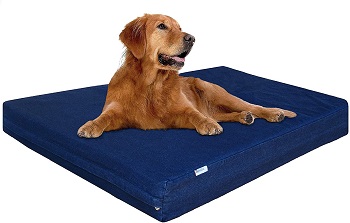 Inside Mattress
The memory foam is 4-in thick and is infused with a cooling gel to better relieve joint paints in elderly and large dogs. If that's your main goal, you should check out the orthopedic dog crate pads article next to find more like this xl dog crate bed.
In Short:
Comes with two washable covers
The first cover is made out of denim
The second cover has a non-slip bottom
Has a waterproof inside cover
The mattress is 4-int hick
Made with gel-infused memory foam
BEST 30 INCH CRATE BED
Arr Warm Double Sided Bed
Flip Side Mat
You can flip this mattress on the other side. One side is made to be fluffy with soft plush and keep your dog cozy while the other one is made out of cooling polyamide fabric to adjust to different weather types. It's filled with cotton microfiber and nothing else.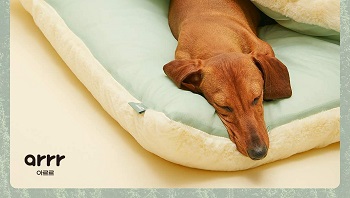 Cleaning And Size
It still features a cover and you can take it off to wash it inside a washing machine It comes in 4 different colors and it's 23-in wide, and 27-in long so it can fit well inside 30-inch dog crates. If you'd prefer a 30-inch crate bed with better cooling properties, we'd advise you to read the cooling dog crate pad article next.
In Short:
It's 23-in wide and 27-in long
Filler with cotton microfiber
HAs a cooling and warming side
One side is made out of plus
Polyamide technology makes it cooling
Comes in 4 different colors
How To Pick A Dog Crate Bed
Dog crate beds, mats, and pads are all different from one another but within each category, there are plenty of more differences. We're here to discuss these differences and differences in function size, durability, and everything else needed for you to pick the best one out on your own.
Dog Bed Benefits – If you do get a crate bed, mat, or pad you might as well know that they can serve well as a toy the dog is familiar with. It will help soothe the dogs if it's anxious or frightened of being inside a crate. This is common with dogs that haven't been crate trained yet.
Optimal For Wire Crates – Not all, but most dog beds, pads, and mats are going to be large enough to fit perfectly inside standardized dog crates. The most common standard-sized crates are wire dog crates that are amazing crate training crates. Even though it's easier to fit them inside these crates, you should check the dimensions of the mat and its thickness as well.
Perfect Crate Fits – The mat is going to fit perfectly inside a crate if it's 1-in smaller in both length and width. If the mat is bigger, this shouldn't be a problem if it's a mat or pad that is highly flexible. In the case of dog beds and thick mattresses, you should make sure the bed fits perfectly inside because you can't bend them properly.
Conditions For Dog Health – Many pet bed mattresses are going to offer orthopedic support either with an egg crate foam mattress or with a memory foam mattress. These are important allies in helping relieve your dog from joint pains, arthritis, and other illnesses related to dog bones. Dogs that commonly suffer from these illnesses are more likely to be large dogs and giant dog breeds.
Crate Protection – Wire dog crates don't need bottom protection but crates like a wooden dog crate and dog crate furniture do because they're wooden and this material doesn't handle liquids well. The thing to do in this case is to get a waterproof dog crate mat.
Proof And Resistant Difference – Although the difference between the two words might seem only like a linguistic difference, it surely is a functional difference as well. This problem is more noticeable with waterproof and resistant beds and chew-proof and resistant beds. If a bed is water-resistant it's not a guarantee that it is fully able to repel liquids. With chew-resistant beds, the difference is that they can't handle heavy chewers and aggressive dogs, unlike chew-proof beds.
To Sum Up
The big number of dog crate beds reviewed prevents us from recommending one since they are rarely alike. You'll first want to realize what you need and want the pad, mat, or bed for and search based on that and its size according to your crate. If you'd like to read more about crate pad chew proof models we have an article about it and if you're missing a standard crate for them, you can read the article about wire dog crates. If you'd prefer to read about nothing but crates and their differences and possibilities, read the article about the best-rated dog crates next.