is your dog overheating during hot summer days so you need a quality solution and think that might be a cooling dog crate pad?
We think it's a good solution too and that's why we made this article. All you need to do is continue reading and you'll find reviews of only the best ones. We tried hard to offer you a wide selection and that's exactly why you'll find small, medium, large, and even XL ones.
The Summary
Best 6 Cooling Crate Pads
BEST OF BEST COOLING CRATE PAD
Arf Pets Pet Dog Self Cooling Mat
Logical Color
It's only logical that this pad comes in a single color that represents its function best. The color in question is blue since this is the color you automatically think of when you think of cold so if you were to color coordinate it to your dog's crate, you might want to have a blue dog crate.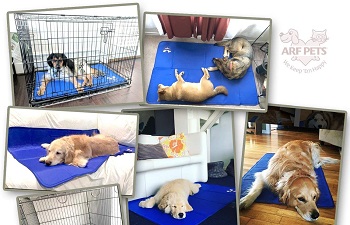 How It Doesn't Work
To explain how it works, we also must explain how it doesn't. It doesn't run on electricity so there's no danger that your dog might get hurt. This cooling pad for dog crate doesn't require water so there will be no mold after prolonged use and there's also no need for refrigeration or batteries.
How Long It Lasts And Other Cooling Details
The pad actually self charges. It works with a non-toxic cooling gel and it'll last up to 3 hours of continuous use. The way it functions is that it absorbs your dogs' temperature and then regulates it. You'll only need to wait around 15 to 20 minutes until the Arf Pets cooling mat is ready to cool off your dog again.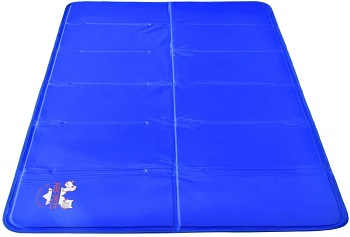 Cover Possibilities
We didn't really talk about the cover though. All we mentioned is that it's blue but there's much more to it than just that. It's made out of nylon that's also non-toxic and safer for the environment. It's easy to clean since you only need to wipe it down with mild soap and water and it's tear-resistant. We'd recommend you use it with intermediate dog crates made for traveling since it's 35-in long.
In Short:
It's colored blue
Doesn't run on electricity, water, or refrigeration
Uses a cooling gel that lasts up to 3 hours
Charges within 15-20 minutes
The nylon cover is tear-resistant
Fits inside 36-in long crates
BEST SMALL COOLING PAD FOR DOG CRATE
CoolerDog Dog Cooling Pad
Customizable Size
Even though this pad is 23-in long and 18-in wide that can all be changed by buying multiple pads of the same model. On each of the three edges, you'll find snaps that will allow you to connect multiple pads to the already existing pad to create an even bigger pad. For that reason, it doesn't come in different sizes but a pack of one, two, or four.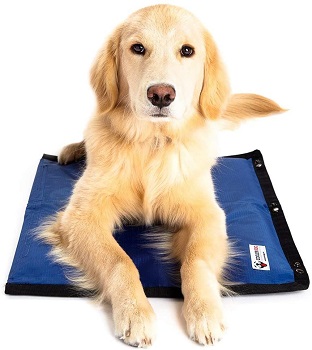 Interior Protection
Just like the first dog crate cooling mat, this one is also colored blue that represents its function. The three edges that will allow you to connect multiple pads are black though. This blue cover won't absorb water so it serves the function of protecting the interior from getting into contact with unwanted liquids.
Three Layer Functioning
It has three layers that all work together to keep your dog as cool as possible. The first layer is a waterbed cushion that's soft and distributes the cooling power of the second layer, The second layer is a sheet of 88 water ice cubes that you'll need to freeze. The third layer is made out of foam that will repel heat from melting and heating the pad too soon when it gets into contact with floors.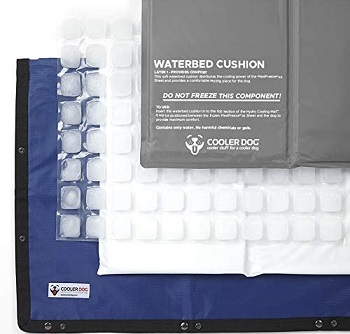 Pack Crate Recommendation
Since the pad uses regular water to cool your dog, this pad is also non-toxic and won't damage your dog's health in any way. If you were to use one pad we'd recommend it for use inside 18 x 24 dog crates. If you buy a two-pack you can use it inside 36-in long dog crates with divider.
In Short:
The interior consists of three layers
The foam layer repels heat
The middle layer consists of an 88 ice cubes sheet
Ice cubes will distribute the cold well on the water cushion layer
You can connect multiple pads to create a bigger one
The single pad can be used inside small crates
BEST MEDIUM DOG CRATE COOLING MAT
Arr Warm And Cool Dog Bed
Flip Function
This mat is different from the ones we reviewed before because it operates in two ways. It can either keep your dog cool during warm weather or it can keep him warm during cold weather. It's just a matter of flipping it and deciding on which side your dog will rest on.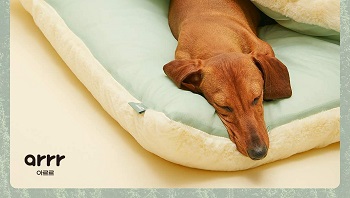 Cover Fabrics And Filling
The secret to the warming and cooling properties of this dog crate cooling mat is the mat's cover. The cooling side is made out of cooling fabric while the warming side is made out of warming fabric. The filling of this bed is microfiber cotton that will help keep your dog cozy at all times.
Sides Specifics
We want to be specific about what we recommend so we have to go into detail about each side. The warning side is made out of long plush material while the cooling side uses a super high cool-polyamide tech. This technology effectively lowers your dog's temperature to keep your dog's skin temperature regulated.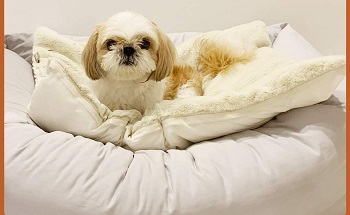 Medium Sized Crates Use
You'll easily get to fit this bed inside a medium wire dog crate or any 30-in long dog crate for that matter. Since it comes with both a warming and a cooling side we'd also advise you to use it inside soft travel dog crates since you'll need both of these when traveling with your dog.
In Short:
Can both cool and warm your dog
It's filled with microfiber cotton
Can fit inside 30-in long dog crates
The warming side is made out of plush material
The cooling side uses polyamide technology for cooling
BEST LARGE COOLING CRATE PAD
The Green Pet Shop Dog Cooling Mat
Pressure Activated Pad
You won't need to use refrigeration technology, water, or even worse electricity to keep your dog feeling cool during hot days with this pad. That's because your dog will activate the gel located inside by putting pressure on it with his body weight. This will last for about 3 hours before it needs to be self-charged.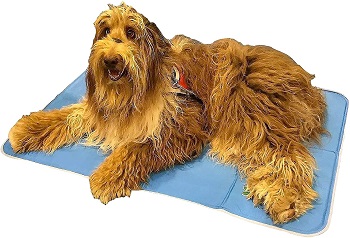 Recharge Time
We mentioned that this cooling crate pad for dog crate self charges but didn't go into detail about it. It will recharge after around 15 to 20 minutes of your dog not using it so it's a great solution if you need to keep your dog cool at all times because he tends to overheat more than your average dog.
Cooling Pad Other Benefits
This and all the other crate cooling mats in this article are not only great for keeping your dog cool but also to provide some ease if they suffer from joint pains. It's even better if the pad in question is an orthopedic crate pad but this one unfortunately isn't one.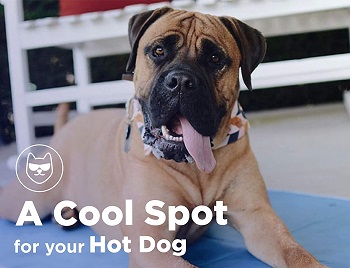 Sizing According To Crate
Although the pad is said to be large, it's only a perfect fit for 36-in long dog crates since the pad itself is 35-in long. On the other hand, with a little bit more space left to spare inside a large wire dog crate, you'll easily get to place it inside one. It's only important that the pad is not bigger than the crate.
In Short:
Can keep your dog cool for up to 3 hours
Self recharges in a matter of 15 to 20 minutes
The gel inside is pressure activated
Can fit inside intermediate and large crates
Can provide ease for your dog's aching joints
BEST OUTDOOR DOG CRATE COOLING MAT
K&H Pet Products Cooling Mat
Orthopedic And Cooling
We did already mention that these pads can aid in relieving your dog from joint pains and joint diseases. The pads that also do that are orthopedic pads that are filled with some type of orthopedic foam. This cooling pad for dog crate is not just one or the other but both.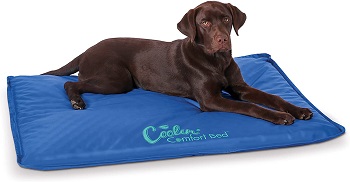 Room Temperature Cooling
Dogs have a higher normal body temperature than humans. The humans' temperature range is between 97-99 degrees Fahrenheit while dogs have a regular body temperature of 102 degrees Fahrenheit. This is why it's important to keep them cool during hot weather and the way this pad does it is by lowering the temperature according to room temperature.
Tips For Longer Use
It runs on water which means that you'll have to fill it with water for it to work. One problem that might occur after prolonged use is mildew but you can solve this problem by adding a few drops of grapefruit seed extract to the water. This is a completely natural way to prevent bacteria from forming.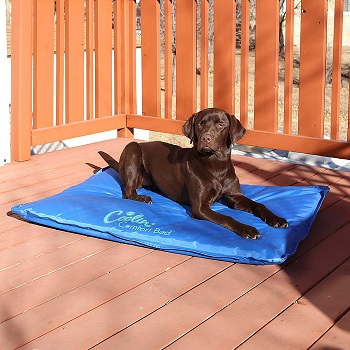 Storage Warnings
You should keep away from storing it in direct sunlight, so you should use it inside 48-inch heavy-duty dog crates. These crates won't get damaged if this bed ever leaks through. would also recommend that you use it only with crate trained and calm dogs since it might easily tear.
In Short:
Has orthopedic foam inside
Can be filled with water to cool off your dog
Fits inside extra large dog crates
Might develop mold after prolonged use
Shouldn't be kept in direct sunlight
BEST INDOOR COOLING CRATE PAD
Sealy Lux Orthopedic Dog Bed
Cooling Part
A lot is going on with these bed's layer so well dedicate a few sentences to each one. The first one on the list is of course the cooling part. It functions simply. it regulates your dog's body temperature by making the heat disappear from the surface where your dog will sleep.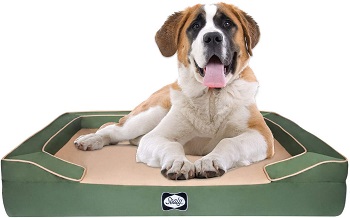 Two Foam Types
The foam inside this cooling pad for dog crate is comprised out of two parts. The first one is the memory foam that will adjust in shape to your dog's. The second part is the orthopedic foam that has a high density and will relieve pressure points by simply distributing his weight evenly.
Base Layer And Foam Distribution
The base of this bed is a charcoal foam base. What this layer does is help absorb nasty odors while also providing additional support. This foam layer is found on the bottom, the middle is reserved for the orthopedic foam and the top layer is reserved for the memory foam.

Cover Facts
The cover of this bed makes it a dog crate pad waterproof model but that's not all. You can easily wash this cover inside a washing machine and you also won't have to worry about it slipping or sliding since it has a non-slip bottom. We recommend you use this pad inside an XL metal dog crate.
In Short:
 The top layer is a memory foam
In the middle, there is an orthopedic foam
Has a charcoal base foam layer
The cover is waterproof and machine washable
Fits inside extra large dog crates
How To Pick A Cooling Crate Pad
If it's hard for you to keep your dog cool during hot weather months then a this pad is the thing you need. The thing is that you'll have to choose the pad according to your needs, your dog's behavior, and your resources so we'd advise you to continue reading this buying guide where we'll explain everything you need to know about them before buying one.
Cooling Pad Uses – There is more to these pads than just keeping your dog cool during hot weather. They are made for all dogs but they are far more important for dogs that tend to overheat during warm weather. Additionally, these pads can give your dog relief from his aching joint if he's a breed that's more prone to these diseases.
Orthopedic Support Enhancement – You can further enhance the relief on your dog's joints by getting a cooling pad stuffed with some form of orthopedic foam. These foams are typically either memory foam or egg crate orthopedic foams. We advise you to get these if your dog lives inside an XL wire dog crate or a crate for giant breed dog.
Dog Breeds At Risk Of Overheating – If your dog is a breed that overheats, providing a dog crate cooling mat is the best solution to offer them. Dog usually cool off by panting through their tongues so flat-faced dogs such as French bulldogs, Pugs, And boxers will definitely overheat more easily.
Cooling Ways – There are multiple ways in which these pads cool your dog. They all have one thing in common and that that they don't use electricity or batteries to work. They can either be filled with water, have a cooling gel that recharges fast, or they can be filled with ice cubes that cool the water cushion layers on top. What type of pad you get depends mostly on your dog's behavior. Cooling gel pads are less likely to easily tear.
Keeping In Mind Crate Size – If you want to get a pad that fits perfectly inside your dog's crate you'll want to make sure that the pad is at least an inch shorter than the crate in length. You can get ones that have an equal length but you will have to make sure that the pad isn't longer.
To Sum Up
We didn't have to think twice about recommending the Sealy Lux Orthopedic Dog Bed as the best cooling crate pad. That's mainly because it not only cools off your dog but also provides him with orthopedic support because of the orthopedic foam and memory foam inside it. If you're looking for pads that are chew-resistant we suggest you look into the article about durable crate pads and if your want and if your dog is a puppy and you want to provide him with the best bed possible we advise you to check out the article about the best puppy beds for crate.