Are you looking for a rubber dog crate mat that's not going to slide uncontrollably every time your dog gets on it?
You'll definitely find what you're looking for here if you continue reading this article where we reviewed only the best. We made sure to include different types of these mats with different materials and purposes but you'll also find medium, large, and even XL mats here. The point is, there's a mat for everyone here.
The Summary
Best 5 Rubber Dog Crate Mats
BEST OF BEST RUBBER DOG CRATE MAT
Dogbed4less Memory Foam Mat
Choosing A Color
Since this mat has a cover you'll get to choose between 3 color options. it's not a lot but enough if you want it to match the color of your crate or your home interior. You'll get to choose between the colors beige, brown, or even gray. We'd recommend the brown one for indoor dog crate furniture and the gray one for black dog crates.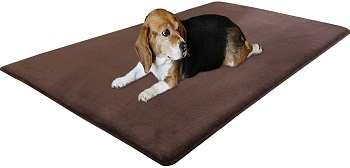 Rubber Bottom Use
This is not an entirely rubber dog crate mat. In fact, it has the least amount of rubber. You'll find the rubber bit on the bottom that will prevent the whole mat from slipping and sliding. Additionally, this bit is waterproof so that the inside doesn't get soaked if the bottom touches a liquid.
Memory Foam Filling
The material used for the filling is memory foam with a 4 lbs density. The memory foam is even infused with a cooling gel so you can think of it as a cooling crate pad. The memory foam makes this bed an orthopedic one that will help relieve the pain of dogs that have joint problems.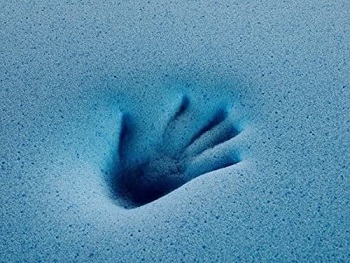 Size And Washing
Since it's 42-in long you'll get to put it inside crates that are 42-in long. These crates are large dog crates that can typically house dogs up to 90 lbs. The cover is stain, dirt, and wrinkle resistant but not water-resistant. That's the reason why you'll have to let it dry out when you decide it needs washing.
In Short:
Comes in beige, brown, and gray
Filled with 4lbs density gel-infused memory foam
Can be washed but it's important to let it dry
The rubber bottom prevents slipping and is waterproof
Can fit inside 42-in long dog crates
BEST FOR PUPPIES RUBBER DOG CRATE MAT
Gimars Non-Slip Washable Dog Mat
Advised Uses
Multiple factors were included when we decided that the best use for this mat is to use it with dog crate playpens or to place it under a dog crate to make the crate's surrounding area cleaner. Reason number one is that it's too big to fit inside any standard-sized dog crate and reason two is the way it works.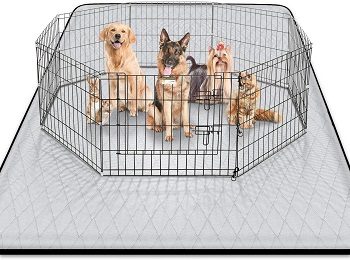 How It Works
Initially, this rubber dog crate mat is intended to be used as a whelping pad. Whelping is a process of dogs going into labor so you'll usually see it inside a whelping box. It's waterproof but in a sense that it won't leak through and get damaged when it gets into contact with up to 10 cups of water.
Rubber Like Bottom
The bottom of this non-slip mat for under dog crate is to thank that this crate is being reviewed under this category. It might not be actual rubber but the epoxy resing that makes the tiny dots that prevent slipping and sliding have a rubber-like feel and serve the same function as rubber.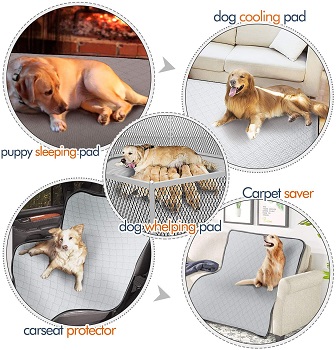 Layers And Size
The 4 layer mat is breathable to keep your dog cool during summer but also warm during winter because of its polyester fabric layer. The mat is tear-resistant and odor-resistant. You'll even get to wash it whole inside a washing machine. It measures at 65 x 48 inches so we'd definitely recommend you buy it under crate for giant breed dogs.
In Short:
Can fit below dog crate or in playpens
Can absorb up to 10 cups of water without leaking
Can be washed inside a machine
Has a non-slip bottom
Can keep your dog cool or warm when it's needed
BEST XL RUBBER DOG CRATE MAT
SincoPet Reusable Pee Pad
Top Layer Details
This mat, just like the one before it, is made out of 4 different layers. The first layer, that's where your dog will rest, is made out of incredibly comfortable polyester. The surface of this layer is grey and has dog paws on it. It's also triple stitches to prevent tears because of puppy bites,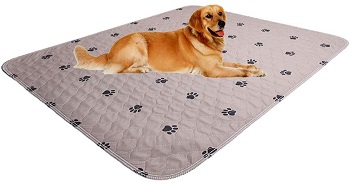 Main Function
The layer after the first one is the one that makes it function probably. It's a super-absorbent layer meaning that it can absorb a lot of liquids before you even think about it leaking through. It's made to replace disposable puppy pads in crate since it's reusable so you'll save a lot of money by getting it.
Waterproof Layer
Below the super absorbent layer of this rubber dog crate mat is a waterproof PUL layer. It makes sense that this slayer is located here because this is also one of the ways that this mat will prevent liquids from leaking through and ending up on your floors that might get damaged if this were to happen.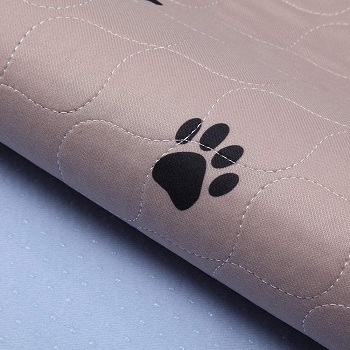 Silica Gel Bit
We've finally come to the rubber part of this mat that we should explain in detail. It's made out of silica gel that might not be rubber on its own but it has its properties and it even contains silicone rubber so it partially is rubber. It's made to prevent the mat from sliding and slipping.
In Short:
The top layer is tear-resistant
Has an absorbent inner layer
Below it, there is a waterproof layer
The bottom is non-slipping and is made out of silica gel
Can be washed and it replaces disposable puppy pads
BEST LARGE RUBBER DOG CRATE MAT
MidWest Homes for Pets Mat
Crate Recommendation
This is the only mat we're reviewing that's completely made out of rubber. Although that probably makes it too simple, the benefits that it gives you are immense. It's got a typical large wire dog crate color which is black. That's not the only reason why we recommend it for these crates though.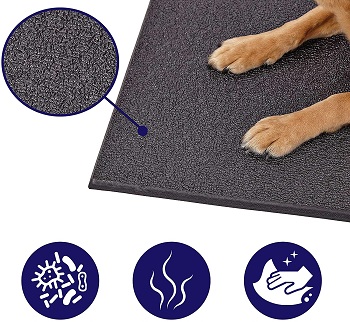 Unnoticeable Support
It's half inches thick and creates a seamless additional cushioned support layer inside any dog crate. If you like your dog's crate the way it is, this simple rubber dog crate mat will enhance the comfort level your dog has while going almost unnoticed since it's so thin and comes in a natural black color.
Fully Rubber Mat Benefit
The main benefit of having a full rubber mat is that this material is waterproof. It's not only waterproof but it's antimicrobial which means that it won't soak up odors and stains over time which would render it useless after prolonged use. You can use it below an existing bed as well.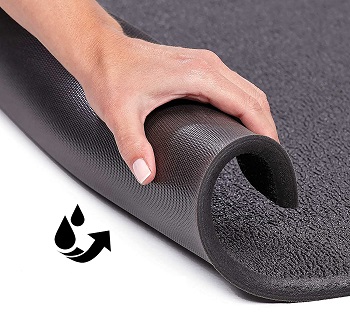 Correct Sizing
Although we did say it's large that's not entirely true. It's almost 36-in long which means that it can fit inside crates of the same length. The crates of this length are usually considered to be intermediate dog crates that can house dogs that aren't medium-sized but aren't large either. They fall somewhere in the middle between the two.
In Short:
Completely made out of rubber
Provides half an ich of cushioned support
It's water, stain, and odor proof
Fits inside 36-in long dog crates
Can provide extra support to your existing dog bed
BEST MEDIUM RUBBER DOG CRATE MAT
Invenho Dog Crate Bed Pad
Elderly Dog Protection
Although this pad is not an orthopedic one, it can still offer elderly dogs the comfort they need. This is because it's incredibly soft and has a thick filling of PP and velvet cotton. It can even protect your dog's spine which is just as complex as that of a human.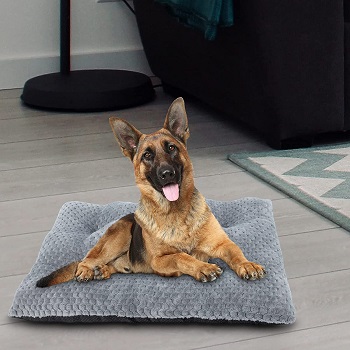 Surface Material Details
The surface of this rubber dog crate mat where your dog will rest his body and get into contact with his skin is flannel fabric.it's very breathable so your dog won't overheat by being on it. It's colored in gray so we'd recommend you use it with aluminum dog crates if you want it to match the color of your crate.
Bottom Abilities
The bottom of this bed is not fully made out of rubberized. Instead, it's rubberized. Because of that, it will prevent the bed from slipping while inside the crate and it also makes it waterproof. The waterproof bit will help protect the floor of your crate if it's one that shouldn't get into contact with liquids like the floors of medium wood dog crates.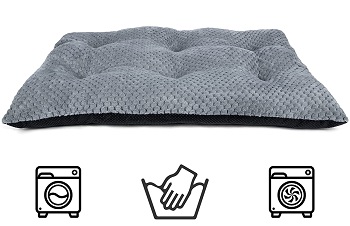 Size And Washing Recommendation
It's 29-in long so it can fit perfectly inside 30-in long dog crates. These crates are usually made to house medium-sized dogs. You can wash this bed inside a machine but if you want it to be with your dog for years it's advised you wash it by hand with water and some soap.
In Short:
Has a thick filling of PP and velvet cotton
The top layer is made out of flannel material
The bottom is rubberized so it's waterproof and non-slipping
Can be used inside 30-in long dog crates
Can be washed but it's recommended you wash it by hand
How To Pick A Rubber Dog Crate Mat
Since it's not so easy to find a full rubber mat we had to go out of our way to find ones that fit the description. Keep reading and find out what rubber pad means. There are different types of mats that have a lot of different uses so to pick out the one that you need we advise that you continue reading this buying guide.
Main Rubber Ability – Rubber is a material that's waterproof no matter what. If you're wondering why you might find that useful is that it'll help protect the bottom of your crate's floor since typically you'll find the rubber parts on the bottom part of the mat cover.
Rubber Parts Location – We've already mentioned that you're most likely to find a rubber part of a mat on the bottom and it's not just because it will protect your crate. It's also because rubber is a material that won't slip or slide. This means that the mat will mostly stay in place no matter how your dog moves on top of it.
Choosing A Mat Filling – If you were to get a full rubber mat you might get some cushioned support out of it but not a lot so you should combine it with a bed. The one you'll choose depends on your dog's age and the diseases he's prone to. If your dog is a breed that's prone to joint diseases you might want to pick out a memory foam dog crate pad.
Getting The Size Right – If you plan on getting a rubber dog crate mat for under dog crate then you'll probably want to get a bigger mat than the largest standard-sized dog crate. These mats' main function is to soak up a lot of liquids without leaking through. If you want to place it inside a crate you'll want to make sure that the mat's length either matches the crate or is shorter, typically an inch shorter.
To Sum Up
We decided to go with Dogbed4less Memory Foam Mat as the rubber dog crate mat we should recommend. Mainly it's because it has a cooling gel memory foam filling that offers your dog orthopedic support and because of its bottom that's fully made out of rubber. If you haven't gotten around to picking out a crate for your dog we advise you to either check out the article about colored dog crates so that you can color coordinate the crate to your mat and if you need a crate that will definitely have a use for a rubber mat, we advise you to check out the article about white dog crate furniture.