Are you looking for an 18 x 24 dog crate that's a very specific size and you're finding it hard to find?
It doesn't have to be hard any longer since all you need to do now that you're here is to keep reading this article. We didn't just review crates that fit the description but we also made sure to include many different crate types like wooden, indoor, and even travel crates.
The Summary
Best 6 18 X 24 Dog Crates
BEST OF BEST 18 X 24 DOG CRATE
MidWest Homes For Pets iCrate
Reliable Construction
You can be sure that you're getting everything that you possibly can by getting this crate. It's very versatile since it's able to work as a small puppy crate, a travel crate, and a dog training crate. This is due to its durable steel wire build that you can definitely count on in terms of containing your dog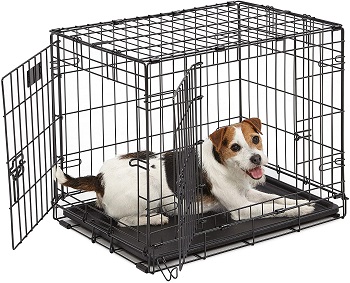 How Housing Puppies Works
If you're wondering how it is that you'll get to house a puppy inside this 18 x 24 dog crate it's really easy. It comes with an adjustable divider that will help with keeping the crate small enough until your dog grows into his full size. The divider actually helps potty train a puppy. It's also safe because of the rounded corners it has.
Number Of Accessories
Additional things that come with the crate that ensure that it functions well are the following: 4 roller feet to help protect floors, a slide-out cleaning pan for easier cleaning, 2 entrances for versatile crate positioning. and a single sliding bolt lock for each door.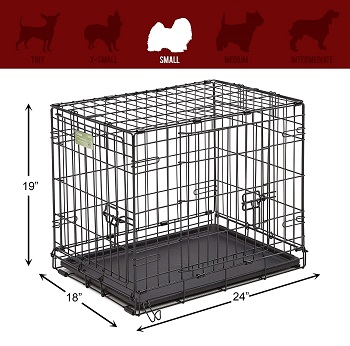 Size And Storage
his is also a folding metal dog crate whose foldable design you can use to either easily store or to travel and transport it. It's not even that heavy since it weighs 13.8 lbs. You'll get to house a small dog inside it since it's 24-in long. The dog's weight should be somewhere around 11 to 25 lbs.
In Short:
Made with steel wire
Comes with a divider and cleaning pan
The 4 roller feet protect floors
Has 2 entrances that lock with single locks
Can house small dogs up to 25 lbs
It can be folded down
BEST INDOOR 18 X 24 DOG CRATE
Lucky Dog Sliding Door Dog Crate
Corner Contents
By taking a glance at this crate the first thing to notice is that it has something on its corners. These are plastic corner stabilizers that not only ensure that the crate is stable but also help reduce the rattling noise small wire dog crates tend to produce. They can easily be taken off as well.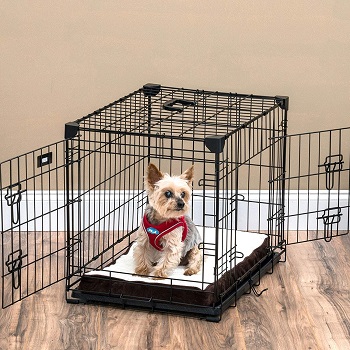 Additional Plastic Pieces
The corner stabilizers are not the only plastic things on this 18 x 24 dog crate. There are two more plastic bits and the first one is the top carrying handle that you can use when the crate is either unfolded or folded down and the second one is the cleaning slide-out pan on the bottom.
Accident-Free Home
It comes with a divider for housing and potty training puppies as well. You can be sure that the crate is good enough for indoor use because of the rubber feet that will protect your floors. These will go hand to hand with the plastic cleaning tray that will also protect your floors.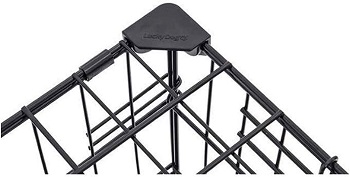 Door Openings And Travel Design
You'll get the standard 2 doors with this crate. One is located in the front and the other one in the front. They lock with 2 sliding bolt locks so you can be sure it's safe. You'll also get to fold down the crate to either transport it or to store it when you're not using it.
In Short:
The steel wire has a rust-resistant finish
Features a divider for puppies
The plastic bits are the cleaning pan and handle
The corner stabilizers reduce rattling noise
Has a front and side access door
BEST 24 X 18 X 19 DOG CRATE
Carlson Pet Products Small Crate
Lightweight Benefits
Surprisingly enough, even though the crates we reviewed so far were similar in size to this one, it is still a much lighter crate than the first two. In fact, with only 5 lbs to it, it weighs almost half of what each crate before does. This means that the lightweight dog crate is easy to carry and transport.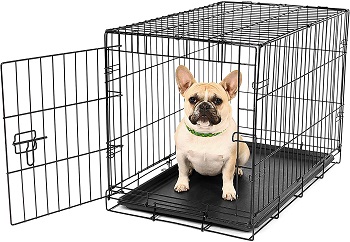 Safe Locking Entrance
Even though this 24 x 18 x 19 dog crate features a single access door this should prove to be enough because it's a safely locking dog crate. We were able to make this statement because of the fact that the door doesn't just lock with a sliding bolt lock but from other points as well.
Standardized Safety
Although it might not seem like this 18 x 24 dog crate doesn't have anything to show for it has because of the standards it is certified to. These standards are JPMA and ASTM and the one we would like to points out is the JPMA one. This standard concerns itself with juvenile products' safety meaning that this crate is safe for both puppies and adult dogs.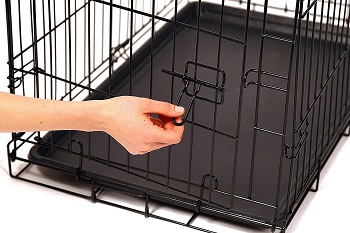 Size And Build Design
As with all wire crates, this one can also be folded down simply and fast. You will be provided with a carrying handle as well to carry it with even more ease like a briefcase. It's 24-in long so you'll get to contain small dog breeds that weigh up to 25 lbs inside it.
In Short:
Made out of steel wire
Has a single door that locks from multiple points
Certified to JPMA and ASTM standards
Because of JPMA certification, it's safe for puppies
Can be folded down
Able to house small dogs up to 25 lbs
BEST 24 X 18 X 20 DOG CRATE
Precision Pet Great Crate Dog Crate
Uncommon Door Placement
We can't think of a single reason why you wouldn't like this crate at least when it comes to its door positioning. It's definitely like no other since it features a top access door and front access doors. The top door will help you interact with your dog while the front will let him enter and exit.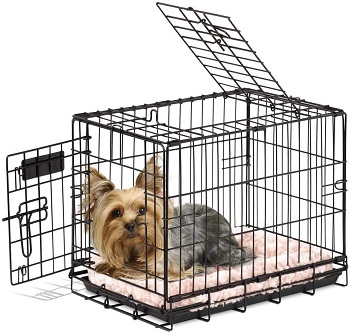 Its Locking System
It's not just that this dog crate 24 x 18 x 20 model has unique door placement but it also has a unique locking system. Instead of getting to lock it using a single sliding bolt lock that's visible right from the start, you'll get to lock it from five other different points. This is definitely a safe dog crate.
Heavy Gauge Wire
You can consider this 18 x 24 dog crate to be a heavy-duty metal dog crate for one simple reason. It's made with heavy gauged wire which makes it far more durable. It even has a coating finish that helps it become resistant to rusting. The finish in question is an e-coat.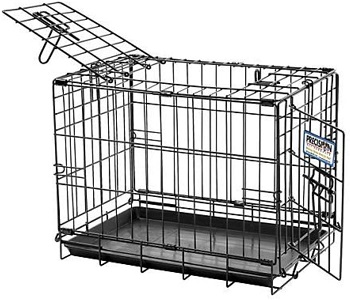 Bonuses Included
It's standard practice that wire crates come with a cleaning pan that can easily slide out on the bottom. It's also common that the crate comes with a puppy crate divider but some crates don't. The divider on this crate is adjustable so you'll easily adjust the crate's size to your puppy.
In Short:
Has a heavy gauge wire build
It is rust-resistant
Comes with a divider for puppies
Has a top and front access door
Both doors lock with a 5 point lock
Features a cleaning pan on the bottom
BEST TRAVEL 18 X 24 DOG CRATE
A4Pet Soft Collapsible Dog Crate
Car Floors And Interior Protection
If you were looking for a sign to travel with your dog reading about this crate should be it. it is the perfect traveling tool for multiple reasons but to start we'll talk about safety. To be specific we'll talk about car safety by mentioning that it has a leakproof and waterproof bottom and rounded corners. Both will protect your car interior and floors.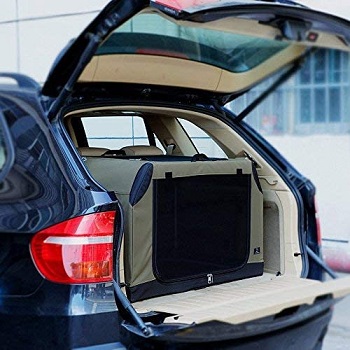 Durable But With A Warning
You can be sure that it's made from quality materials. This 18 x 24 dog crate features an oxford fabric cover and a steel tube frame that you can fold down. Because of the fact that the crate's cover is fabric, you should only contain crate-trained dogs inside it.
Entrances Size And Their Details
The crate has three really large entrances. They could be smaller but this way they will properly ventilate the crate and give your dog more visibility since they are made of mesh fabric. There's a 4th one on the other side and it is smaller while the back only features an accessory pocket.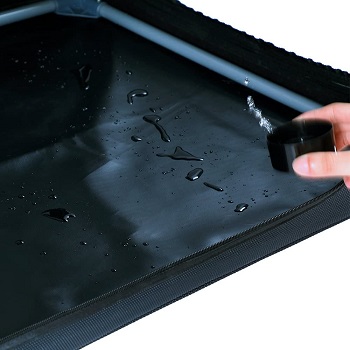 Size Specifics
Since it's made out of fabric the dimensions are not exactly precise. That's why this crate might be slightly different from another but generally, it's 17.7-in wide which is only a 0.3-inch difference for it to be 18-in wide. You'll get to house small dogs inside it.
In Short:
Made with oxford fabric and a steel tube frame
You can fold it down
Has a leakproof bottom and rounded corners
It won't damage your car
Can house small dogs that are crate trained
BEST WOODEN 18 X 24 DOG CRATE
New Age Pet ecoFLEX Pet Crate
Indoor Environment Crate
The crate we reviewed before is only able to contain crate trained dogs for the same reason that this crate can but they are very different. This crate behaves well in an indoor environment not only because it looks nice and seems like furniture but because it acts like indoor dog crate furniture as well.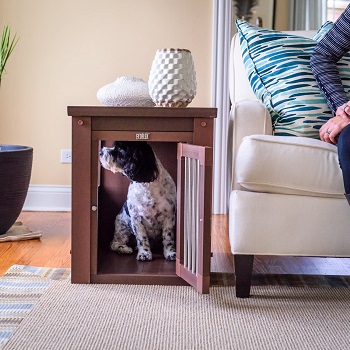 Material Explanation
It's made out of a special material called ecoflex. This is a wood and plastic polymer composite material which means that it combined the two to create a more durable material than the two materials separated. That's why this 18 x 24 dog crate won't crack, split, or warp.
Cleaning Access
We've mentioned that it acts as furniture but we didn't mention that it's because of its top. Here, you'll get to place your personal belongings. You can take off the top as well when you need to clean this crate and it shouldn't pose a problem because ecoflex doesn't absorb moisture and odors.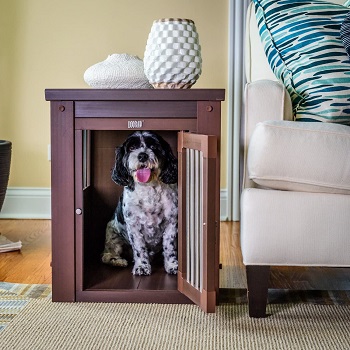 Stainless Steel Pieces And Size
It does feature stainless steel bits. These bits include the tubes placed on the door and two sides and the single lock on the single door in the front. Like we already said, your dog should be crate trained and should be a small dog breed to fit inside comfortably.
In Short:
Made out of ecoflex that doesn't split, warp, or crack
Ecoflex doesn't absorb moisture or odors
The top makes it function as furniture
You can take off the top to clean the crate
Has a single access door in the front
Can house small and crate trained dogs
How To Pick A 18 X 24 Dog Crate
Just to make sure you're not confused and really find the perfect 18 x 24 dog crate, we made sure to provide you with all the information you need to understand these crates better. This info includes details about their size, type functions, and even general benefits of small dog crates with more details to come.
Numbers Mix Up – Hypothetically speaking if you were to get a 36 x 22 x 24 dog crate these numbers would, in order, mark the crate's length, width, and height. With these crates, it's mixed up so that the second dimension marks the length while the first one marks either the height or width.
The Most Important Dimension – Definitely the most important dimension you should know is the crate's length since these are the dimensions that determine the crate's size. The second most important one is the height because you'll both use the height and length of the crate to figure out if your dog fits comfortably inside. The dog should at least be 4 inches smaller in height and length to fit inside comfortably.
Indoor Small Dog Crate Benefits – Unless you're getting wooden dog crate furniture you'll want to worry about how your crate looks inside your home and behaves. With small crates such as 18 x 24 dog crates, the benefit is that they're small and don' take up a lot of space. if they come with more than one door it's even better because you'll get even more placement options.
Travel Small Dog Crate Benefits – We did review a soft travel dog crate but most of the others can be used to travel with your dog as well. We're mostly referring to the wire crates. The most important small crate benefit for traveling is definitely their lightweight. The other, more common one in all wire crate types is the fact that they're easily transportable because of their folding design.
To Sum Up
Without a doubt, we would definitely recommend the Precision Pet Great Crate Dog Crate as the best 18 x 24 dog crate. It has a unique top entrance alongside the front one, locks safely from 5 different points, and can both house puppies and adult dogs. IF+f you're looking for an 18-in long dog crate or a little bit bigger or even smaller, you might want to check out the article about extra small dog crates and if you want to check out the offer for wire crates but also small, we would advise you read the article about small wire dog crates.