Are you finding it hard to find or to decide on the perfect mat for under dog crates?
We'll not only help you find one, but we'll also help you find the best one you can possibly get for yourself and your dog. We reviewed our top pick so that you can continue reading and decide which one to buy in a matter of minutes since you'll have the option to choose from small, medium, large, and even extra large models.
The Summary
Best 6 Mats For Under Dog Crates
BEST OF BEST MAT FOR UNDER DOG CRATE
Kluein Pet Playpen Mat
Top Layer And Stitching
This mat is not only useful but it's also quite comfortable. This is due to the fact that the top surface is made out of fleece that's been brushed. There are three more layers to this mat and together they're all triple stitched to surely make it a durable crate pad.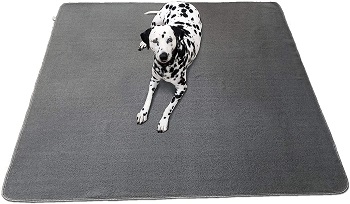 Liquid Soak Up
This mats for under dog crates main function is to trap liquids. It does this very well since it doesn't only trap liquids but also odors. The layer to thank for that is the iner layer that's made out of urethane. This barrier is waterproof and will prevent the liquids from leaking through.
Polyester Bottom
The fabric that will find its way on the bottom of the crate or on your floor is polyester fabric. Generally, polyester is considered to be water-resistant o this layer will also help with trapping liquids inside. It also has dotted grips that will prevent the whle mat from either slipping or sliding unnecessarily.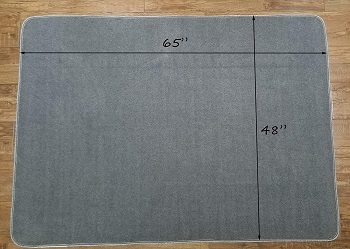 Recommended Size For Under Crate Use
You won't find a crate that has these dimensions so that'st just another indicator of the fact that it trully is a pad for under dog crate. It's 65-in long and 48-in wide so we'd recommend you get it for large wire dog crates since you'll need to leave some bits of it around the crate.
In Short:
Has a brushed fleece top layer
Has a waterproof urethane barrier inside
Designed to soak up ad trap liquids
The bottom polyester is non-slipping
Recommended for under large dog crates
BEST XXL MAT FOR UNDER DOG CRATES
SincoPet Reusable Pee Pad
How It Looks
If you don't want the mat you're getting ot be a boring black mat that will disrupt the visual feel of your dogs' crate and your home interior you might want to consider getting this one that's colored in a beautiful gray color and has little dog paw patterns on it.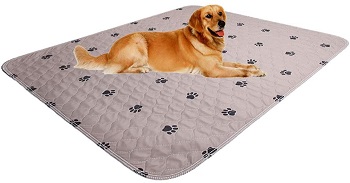 No Moisture Liquids Absorption
The beautifully colored surface of this mat for under dog crates is made out of polyester that can easily absorb liquids since that's what it's intended to do. It absorbs them in a way so that your dog isn't lying on moisture if he ever decides to rest on this mat.
Absorbent And Waterproof Layer Combo
The core on the inside of this mat is what will absorb liquids well. It will not only absrorb them but also trap them inside. Under it you'll find a waterproof layer that will protect your floors or furniture from getting int contact with the absorbed liquids inside.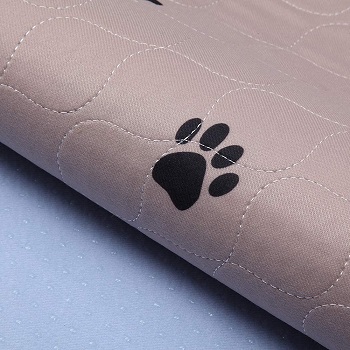 Silica Gel Bottom Details
Because it's bottom is made out of silica gel and silica gel is known to have a portion of rubber you can consider this to be a rubber dog crate mat. This will prevent it from sliding and slipping. The mat is 72-in long and wide so we'd recommend you place it under crates for giant breed dogs.
In Short:
Has a plyester top layer
Has a gray color with dog paws on it
Absorbs the liquids so there isn't any moisture on top
The silica gel bottom doesn't slip or slide
Has a waterproof layer that prevents liquids leakthrough
Best for under giant dog crates
BEST XL MAT FOR UNDERNEATH DOG CRATE
ANWA Washable Dog Pee Pads
Most Common Uses
The most common use for these mats generally is for you to use them either in whelping boxes when dogs go into labour or to use them below dog crate playpens since they don't normally come with a bottom dog crate plastic liner that will protect your floors from getting damaged by liquids.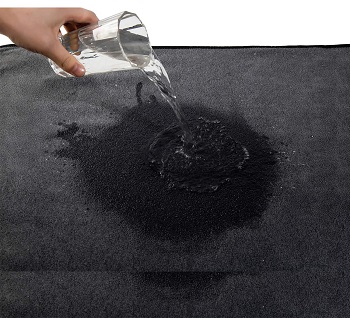 Reusable By Washing
This mat for under dog crates is designed too replace regular puppy pee pads by givig you the option to reuse them. You'll get to reuse this mat by simply puttig in your washing machine. The water should be under 30 degrees celsius, it shouldn't be ironed or dry claned.
Blanket Like Flexibility
It's very flexible so it acts more like a blanket than a mat. This feature will allow you to use it on sofas, inside cars, and of course on floors to protect them all from getting damaged. It's made out of multiple layers of different materials which allows it to absorb liquids fast and prevent them from leaking through.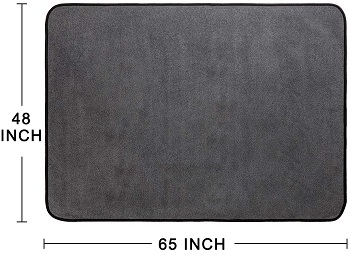 Bottom Abilities And Size
Like all the others, it's got a bottom that's non-slipping but that's not all. This bottom is also leakproof so it's the one to thank that your floors woat get soaked with liquids. It's as wide as a a standard XL wire dog crate which is 48-inches so these are the crates we'd recommend them with.
In Short:
Great for use as a whelping pad or under playpens
It can be machine washed
It's as flexible as a blanket
The bottom is non-slip and leakproof
Can be put below XL dog crates
BEST LARGE MAT FOR UNDER DOG CRATE
Kooltail Washable Pee Pads
Easy On The Eyes
The color of this mat is easy on the eyes and will definitely make it blend well with your inteiror. Not only will it blend well with your interior but will also be great if you perhaps have a puppy and a blue dog crate that he lives in. The color of the mat is baby blue.
Reusable By Washing
The thing about this mat for under dog crate is that it's eco friendly and will not be smeeling nasty because of liquid build up after prolonged use. This is due to the fact that it's washable. We should note that you shouldn't dry clean the pad an iron it so if you need a mat constantly you might want to get a pack of two.
Materials Used
The surface of this mat will absorb liquids fast ad have them trapped on the inside. Because of this you shouldn't put this mat next to sharp objects because it might break and leakthrough if you do. This does't mean that the pad isn't durable since it's made out of polyester, viskose, and even polyurethane.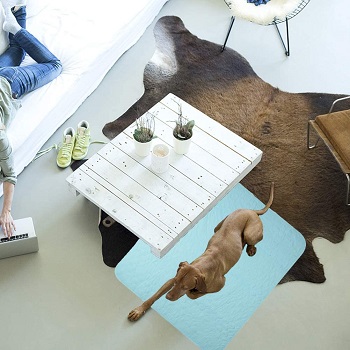 Size And Bottom Details
The bottom is waterproof and can additionally help trap liquids and prevent them from leaking through onto your floors. It's also nn-slip so for that reason you should keep the bottom of the mat dry or else it might lose its non-slip abilities for the time being. It's 41-in long and 35-in wide so we'd recommend you use it under medium wire dog crates.
In Short:
Has a baby blue color
Can be rewashed time and time again
Won't soak up odors after prolonged use
Made with polyester, viskose, and polyurethan
Fits for under medium wire dog crates
BEST MEDIUM MAT FOR UNDERNEATH DOG CRATE
Drymate Whelping Box Liner Mat
Customizable Dimensions
You might be shocked that this mat's dimensions are 48-in in width and 100-in in length but there's a reason for it. It's because it's completely customizable. What this means is that you can cut it hovewer you like to fit it perfectly below a crate or inside a whelping box or a car.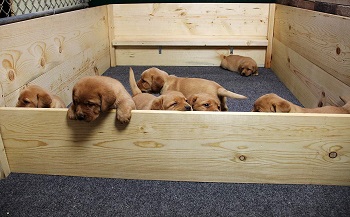 Getting Rid Of Stains And Odors
Every stain and odor that might get on this mat for under dog crate will easily dissapear after you wash the mat inside a washing machine. That's eactly why this mat will last you for a lng period of use without being worn out and rendered useless.
Fast Drying
The fabric on top is highly absorbent but that's not the only thing worth mentioning about it. It's made with fast drying technology which means that it will dry the moisture out very quickly all the while soaking up a decent amount of liquids quickly as well.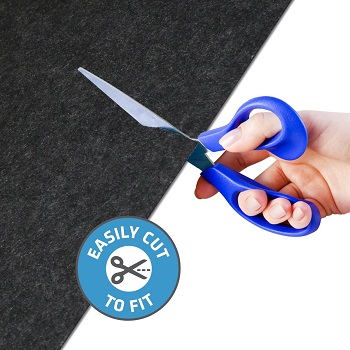 Things To Know About The Bottom And Size
The bottom of this mat has to be waterproof becuase if it were not. The liquids would easily leak through and end up on your floors or wherever you placed the mat. It's somewhat non-slipping but will still do its job right when you need it to not move around. Since it's customizable we don't really have a crate size recommendation But seing as it's 48-in wide we'd recommend it for medium metal dog crates.
In Short:
It can be cut so it's completely customizable
It's 48-in wide and 100-in long
Stains and odors will dissapear with washing
Absorb liquids and dries out the mositure on top fast
Recommended for medium sized crates
BEST SMALL MAT FOR UNDER DOG CRATE
Gimars High Absorbency Mat
Absorbency In Gallons
With this mat we are actually able too tell just how much of a high liquid absorbency it has. It is able to absorb up to 10 cups of liquids which when it's turned into gallons equalls to around 0.625 gallons of water or liquids. You definitely won't see it leaking through anytime soon.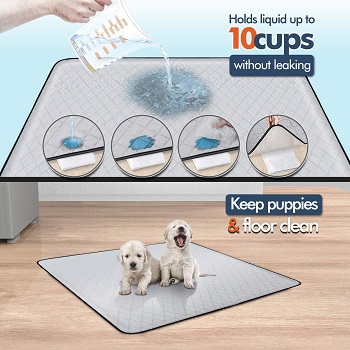 Washing And Drying
Every bit of odor that this mat might have after prolonged use or stains will easily wash of when you throw the whole thing inside a machine too wash it. After you're done washing it, you should air dry it and this should be done within half a day so if you want to have this mat for under dog crate there at all times, it might be good to buy two.
4 Layer Protection
The 4 layers work together well to bring you a mat with great leakproog techonology. The bottom is made out of PVC and features tiny dots made out of eppoxy resin that make the bottom non-slipping. The PVC is waterproof so you wn't have to worry about liquids leaking through the bottom and onto your floors.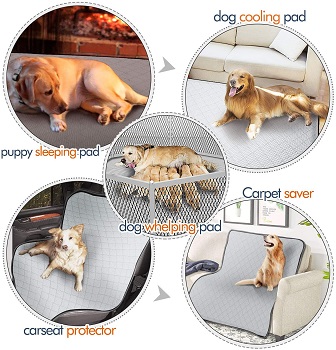 Equal Dimensions
The mat has a square shape which means that both his length and width are equal. It measure out at 22-in in both length and width so it's quite small. That's why we'd recommend you use it only below extra small dog crates that aren't longer tha 18-in.
In Short:
Can absorb up to 10 cups of water
Odors and stains dissapears with machine washing
Has a square shape with 22-in in lenght and width
Can fit below extra small dog crates
How To Pick A Mat For Under Dog Crates
although figuring out which of the mats for under dog crates fits you and your dog best is easy, it's not just about getting the size right. There are multiple types that all do their things differently so in order for you to try and pick out the best one from your first buy you might want to consider reading this guide with all the details about them.
Main Use – The main use for these mats is actually to use them inside playypens or for dog whelping. Whelping is a process of a ddog going into labour. You can then easily use it under a litter of puppies but that's not all. The main thing about them is that they absorb liquids and with it protect your floors.
Water Absorbency – You'll want to make sure that these mats have an inside layer that is incredibly absorbent. What you should also look out for is if the top is fast drying. You don't have much use of it if you place under your dog's crate but for times when your doog is on the mat, you'll want to make sure that it is.
Botom Importance – For these mats for under dog crates to work perfectly you'll want them to be somewhat of dog crate pads waterproof so that the liquids don't leak out through it. You'll also want to make sure that it's a non-slip bottom so that it doesn't move around below the bottom of your crate which would then move the crate as well
Sizing Logic – If their main purpose is protect your floors from liquids that wound up on your floors instead of the crate, the only lgic behind the sizing is to have them be bigger than the crate. If you have a standard sized crate that's not a giant or an XL one, you'll want to get a mad that's a size above the crate. For example,if you have a standard 30-in long crate, make sure that one of the mat's dimensions is 36-in.
To Sum Up
The mat for under dog crates that stands out the most with it's abilities and features is definitely the Drymate Whelping Box Liner Mat and tht's why we'd recommend it. It' completely customizabel in size since you can cut it, it has a waterproof bottom, a great liquids absorbency and it top dries out the mositure fast. If you need the floor protection tool then your next stop is definitely to check out the article about metal dog crate pans or if you want it t be specifically extra large to check out the article about xl dog crate trays.