Has your dog crate tray been destroyed so you're looking for a new and improved xl dog crate tray that will replace it?
Replace it with one of the trays that we reviewed in this article! You can be sure that we reviewed only the best and that's exactly why you should continue reading this article. We also made sure to include more than just one tray type so you'll get to find the standard plastic trays but also metal ones.
The Summary
Best 4 XL Dog Crate Trays
BEST OF BEST XL DOG CRATE TRAY
Red Hound Auto Metal Replacement Tray
Worthy Of The Price
To start you off well, we decided that the first tray offered has got to be a metal one since it's more likely that the tray you're replacing is a plastic one. These trays have a lot more benefits than plastic ones. Their only downfall is their price but they're well worth it in the end. This one will cost you around $80.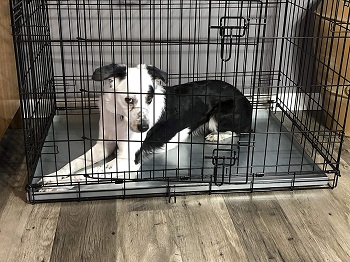 Finish Options
There are 2 options to choose from when it comes to metal pans. You'll either get o buy a galvanized steel pan or an aluminum steel pan. This one is made with galvanized steel which means that it was treated with a layer of zinc coating that makes it water-resistant and rust-resistant
Safety Build
Each part of this xl dog crate tray has been welded to create a pan that won't ever leak through. The pan is also chew-proof and because it's intended to withstand the abuse coming from these dogs it has to be safe. That's why the edges are also hemmed while the corners have been polished smooth.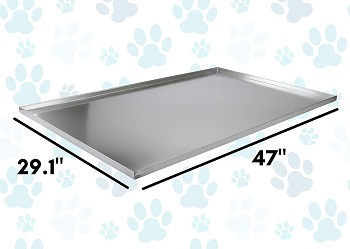 Angled Edges And Bottom Purpose
The tray can easily slide out in the designated area of 48-inch heavy-duty dog crates made out of steel wire. It's also made to be a  perfect fit when inside because of the fact that it has angled edges and a bottom. The tray definitely won't move around while inside.
In Short:
Has a galvanized steel build
the tray is chew proof and rust-resistant
It's leakproof and water-resistant
Has hemmed edges and polished corners for safety
The bottom is angled to be a perfect fit inside 48 crates
BEST HEAVY-DUTY XL DOG CRATE TRAY
Kopeks Heavy Duty Tray
Size And Price Correlation
It's only logical that the price of a tray goes up with size. This is due to the fact that more materials are used so the production expense is automatically higher as well. This tray is 5-in larger than the first one we reviewed but it's not that much more expensive than it is. you'll pay around $85 for it.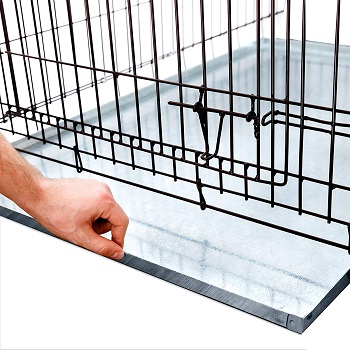 Metal Tray Benefits
The main benefit of metal replacement trays like this one is that they're resistant to odors so you won't have to replace them because of it over time. It's also rust-resistant and chew-proof so if you have an anxious dog that chews on their inside crate tray, this is the most durable dog crate tray replacement you can get.
No Health Hazards And Clean Floors
Even though the raised edges should do enough in terms of preventing liquid overflows and leaks, this is not the only feature that makes it leakproof. It's leakproof on its own as well. It's non-toxic so it won't endanger your dog's health if he chews on it a lot.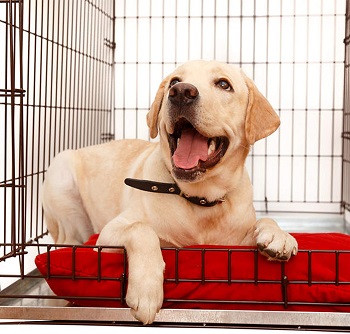 Size And Safety
For safety, the sides of this xl dog crate tray have been folded over so that your dog doesn't ever pinch his paws when on it. You'll easily get to slide it out for cleaning inside crates for giant breed dogs. Of course, this is only true if the crate is made out of steel wire. The size of the crate it fits in is a 54-in long dog crate.
In Short:
Fit for 54-in long dog crates
The sides are folded over for safety
It is leakproof and chew-proof
Easily resists rusting
It's nondamaging to your dog's health
BEST METAL XL DOG CRATE TRAY
Pinnacle Systems Metal Crate Tray
Expensive Finish
With so many metal crate trays you might begin to think that they're all the same but this one is here to prove otherwise. This tray is a lot more expensive because of the production cost. Mainly it's due to its finish that's more durable than galvanization. It's a stainless steel finish and because of it, this tray will cost you around $130.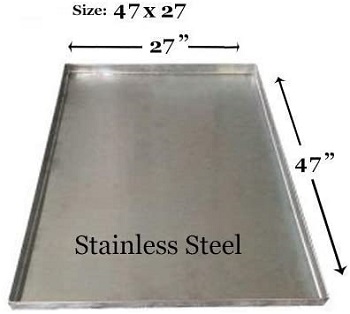 Finish Benefits
Although both galvanized steel and stainless steel seem to have the same properties and abilities, stainless steel is more expensive for a good reason. It's far more difficult to work with in terms of production but when the finished product is put in front of you, you ll be looking at a product that's stronger and more corrosion resistant.
Metal Tray Basics
Without the stainless steel part, this xl dog crate tray metal model has quality properties on its own. The metal construction makes it chew-proof and odor-proof. If your dog is one to chew on his tray this tray will definitely step up to the challenge quite easily.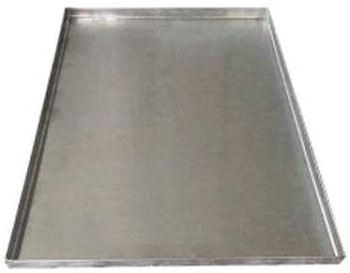 Multiple Sizes
There are a lot of options to choose from even in terms of XL sizes so one is bound to fit inside your crate. This one, in particular, can fit inside XL metal dog crates that are 48-in long. Make sure you check out the width of your crate as well before buying to make sure that you're looking at the perfect tray for your dog crate
In Short:
Made out of metal
Has a stainless steel finish
The finish makes it water-resistant
It is stain, odor, and chew proof
Can fit inside 48 dog crates
BEST PLASTIC XL DOG CRATE TRAY
Midwest Dog Crate Replacement Pan
Tolerated Dog Behavior
If we had to choose inside what type of dog crate we can place the metal trays we reviewed so far we would definitely choose to place them inside training cages for dogs. This one, since it's plastic, can be compared to these in terms of durability so we'd recommend it if your dog isn't one to chew on his crate or tray.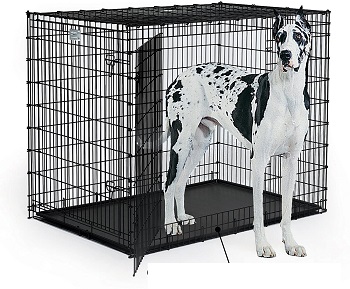 Branded But Still Standard
If you happen to have a MidWest dog crate this pan will fit perfectly inside one. Other than that, it can comfortably fit inside almost any dog crate that has a standard size of 54-in in length. These crates can house giant dogs like Great Danes and it's the last crate size on the list of standard-sized dog crates.
PP Description
The plastic used to make this xl dog crate tray is PP plastic. PP plastic or polypropylene plastic is one of the most popular commercial types of plastics. You won't have to worry about if your dog's health might be damaged because of it since it's FDA approved. This plastic is commonly used for food containers like yogurt and cream cheese.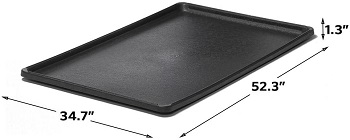 Tray Properties And Price
It's been injection molded so it's far more durable than the plastic that's only vacuumed. It's also odor-resistant which makes it even easier to clean and you can be sure that it's leakproof. It's a lot cheaper than the pans we reviewed so far since it will only cost you around $40.
In Short:
Made out of PP plastic
It's leakproof and odor resistant
It's far more durable since it's been injection molded
Can easily fit inside giant dog crates
The tray is non-toxic
How To Pick A XL Dog Crate Tray
Even when it comes down to the size you have to be careful when buying an XL dog crate tray. Other things you should worry about are definitely durability, price, and safety so make sure you read all about it and more in this useful guide on how to pick the right tray for your dog crate.
Material Offers – There are two categories in which we can place the materials used to make these trays. They are plastic and metal. Metal ones can be further categorized as well as plastic ones. Each has its own benefits and flaws and it's just a matter of your needs and wants.
Price Points – With price, we can split these into 3. They are categorized according to the material used in making them. Metal trays are generally more expensive than plastic trays. With a plastic tray, you won't be spending more than $50 dollars for one while a metal tray costs around $100. Cheaper metal dog crate pans are galvanized steel ones while stainless steel ones can cost over $100.
Metal Pan categorization – As we mentioned before, XL dog crate trayS can be further categorized not only in terms of price but also in terms of abilities. Although both stainless steel and galvanized steel tray are water-resistant and chew-proof, stainless steel tray production is difficult but worth it in the end since these trays are then stronger and also more corrosion-resistant.
What You Need – What tray you'll get doesn't just come down to your spending abilities but also your dog's behavior. If you have a dog that tends to chew, dig, and burrow a lot inside his crate we'd definitely recommend a metal tray. If that's not the case, your dog will do just fine with a plastic one.
To Sum Up
With a price that's affordable enough, chew-proof and water and odor-resistant construction, and its perfect fit inside crates since it has an angled bottom, the Red Hound Auto Metal Replacement Tray is the one XL dog crate tray we'd recommend. If you want to learn more about your plastic tray options, make sure you check out the article about dog crate plastic liners and if you want to get a dog crate with a tray outside the crate, we suggest you look into the article about heavy duty metal dog crates.