Are you looking for a metal crate tray that will replace the easily breakable plastic tray you had so far?
You don't need to look further than this article since this is where we reviewed our top picks for the ones that fit this description. All you need to do now is continue reading through the reviews of metal trays like stainless steel ones, 36-inch ones, and many others.
The Summary
Best 4 Metal Crate Trays
BEST OF BEST METAL CRATE TRAY
Pinnacle Systems Metal Replacement Tray
Wire Crate Trays
You won't typically find a metal tray inside a large wire dog crate. Usually, these trays are made out of plastic or ABS plastic that is more durable and long-lasting, but it's still nothing compared to metal trays. Dogs can usually easily dig through and scratch these trays which isn't possible with this metal one so it's the perfect type of replacement.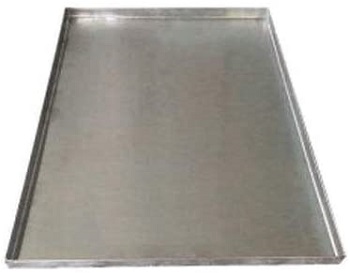 Finish Details
It's not that the metal itself of this metal replacement tray for dog crate is stainless steel. It's actually the finish that's stainless. The benefit of having a stainless steel tray is that it's much stronger and more corrosion resistant than galvanized steel trays. This also makes it more expensive.
Corners Safety
With metal crates, there's a problem with corners. If the corners are not rounded, your dog might easily hurt himself and the same goes for metal trays. That's why the corners of this tray are folded over. This leaves a smooth surface so that your dog can't pinch his paws on them.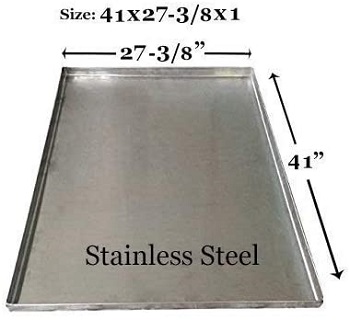 Tray Size And Durability
This tray is meant to be used on the inside of a dog crate. That's mainly because it's 41-in long which means that it's a perfect fit for wire dog crates that are 42-in long. The tray is chew-proof, odor-free, and even rust-proof so you can sure it'll be a while until you might need a replacement, if ever.
In Short:
Has a stainless steel finish
Fits inside 42-in long dog crates
it's chew-proof and rustproof
It won't rust over time or pick up nasty odors
Has smooth corners for safety
BEST 36 INCH METAL DOG CRATE TRAY
Pinnacle Systems Replacement Pan
Tray Placement And Finish
This is another tray that's meant t be used inside a crate. If you were to find one that it's meant to be used outside of a crate, you would typically use this pan with a heavy-duty metal dog crate. Unlike the first one, this one is made out of galvanized steel. It's still durable but slightly less.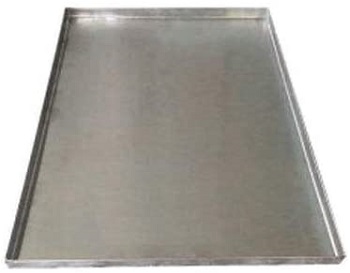 Galvanized Finish Details
This 36 inch metal dog crate tray has a galvanized finish. This finish doesn't take away from the tray's properties all that much. Galvanized finish is a protective layer of zinc coating that's rustproof, water-resistant, and also resistant to wear-outs from prolonged use.
Edges Looks And Functions
This metal pan has raised edges that will prevent liquids from over-spilling and damaging your floors. Of course, this is true as long as you don't let the liquids build up inside it. its edges are also smoothed out so that your dog can't hurt himself since it's meant to be used inside a crate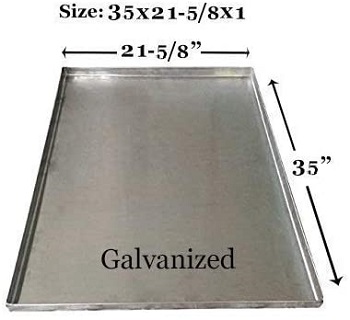 Perfect Fit
It's going to fit well inside intermediate dog crates. These crates are 36-in long and are made to house dogs that you can't decide on if they're large or medium. Typically, they can house dogs that weigh up to 70 lbs. The tray itself is 35-in long so it will be a perfect fit on most.
In Short:
Has a galvanized steel finish
It's rustproof and resistant to water
Has raised edges to prevent liquid overflows
Mean to be used inside 36-in long crates
The edges are smoothed out for safety
BEST 42 INCH METAL DOG CRATE PAN
Red Hound Auto Crate Tray
Angled Bottom
This pan doesn't have straight raised edges but instead, these edges are angled so that the bottom is automatically angled as well. This will allow you to make it fit better inside your crate and will even allow you to easily slide out the pan where these trays are intended to slide out on 42-in dog crates with a divider.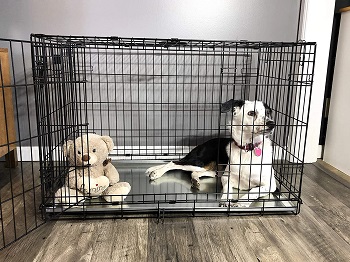 Galvanization Process
When steel is galvanized, this means that it was covered with a layer of protective zinc coating. This coating is durable and is almost impossible to wear off. This is exactly what this 42-inch metal dog crate tray has. Since it's galvanized it's well protected from rusting and different weather conditions.
Metal Gauge
This replacement tray isn't just durable because of its galvanized steel. The steel is, on its own, durable because it's heavy gauge steel. Since it's 42-in long it should be a perfect fit inside a 42-in long dog crate that is usually meant to house large dogs up to 90 lbs.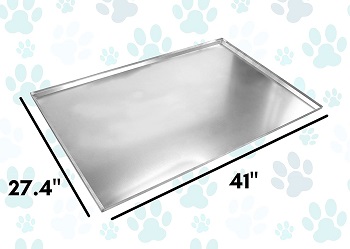 Welded Corners
If you're wondering about the safety of this tray since it is metal you won't have to worry about your dog hurting himself by pinching his paws on the corners because they are all-welded. They're not just welded though, each corner has welds that are ground and have been polished.
In Short:
Has a galvanized steel build
Has an angled bottom to better fit inside a crate
Can easily slide out of wire crates
Fit for use inside 42-inch long crates
Each corner is welded and polished to be smooth
BEST SMALL REPLACEMENT TRAY FOR DOG CRATE
Everila Dog Crate Pan
Alloy Steel Composition
The metal used to make this pan is actually alloy steel. Alloyed steel is just regular steel to which different elements have been added to improve its properties. Although it is alloy steel it has also been galvanized so that it is far more durable and resistant to some outside elements.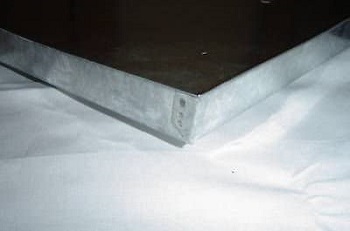 More Build Details
Due to the galvanization process which means that it has been treated with a layer of zinc coating, the pan is rust-resistant. The metal on its own is both tough and thick which means that it'll handle chewing coming from a dog well and also won't crack but that's the whole point of a metal dog crate pan.
Tight Fitting
It might be a snug fit on small wire dog crates so you should be careful with it. This is due to the fact that these trays should be an inch smaller than what the crates' length is. To be precise, this metal tray is 23.75 inches long so it's only 0.25-in smaller than the crate you want to get it for.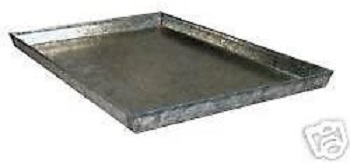 Easy Pull Out
If you happened to like the fact that your plastic tray could have slid out easily where it was supposed upon removing the pan stopper on your crate, you'll like the fact that this one will slide out perfectly as well. It's even safe for use since its sides have been folded over.
In Short:
Made with tough and thick alloy steel
Has been galvanized
It is rust-resistant
Its sides are folded over for extra safety
Can easily slide out where it's supposed to
It's a tight fit on 24 inch long crates
How To Pick A Metal Replacement Tray For Dog Crate
A metal replacement tray is hard to find due to the limited market options. Beyond that, it's hard to find one that is safe and fits your dog crate perfectly. We'll talk about how to make sure you're getting the safest tray possible, the most durable one, and a well-fitting one.
Metal Tray Commonness – You won't usually if ever, get a metal tray with the crate you just bought. Plastic trays are typically made ut of PP plastic or ABS plastic and although these trays are durable, they can easily crack and be rendered useless if your dog digs, scratches, and chews on his tray
Tray Location – The only crates that feature a tray outside the actual crate living area are heavy-duty metal crates. It's only logical that these crates have them outside since they're designed to house aggressive dogs. For dogs that are slightly calmer but still like to chew on their crates and pans, you'll be stuck with a wire crate that has a tray inside.
Metal Finishes – There are two types of most common finishes that may not seem like they differ too much, but in reality they do. These finishes are stainless steel and galvanization. Stainless steel finishes are up to 4 to 5 times more expensive than galvanization finishes. They are also far more durable and give the tray better stain-proof properties but also better water-resistance properties
How To Find The Right Size – To find the right metal crate tray all you need to make sure of is that the tray is an inch shorter in both length and width. These trays might then move around slightly inside crates but it's far better than getting a tight fit that in the end won't even fit inside your crate.
To Sum Up
We didn't have to think long and hard when we decided to recommend the Red Hound Auto Crate Tray as the one metal dog crate tray we think is the best. It fits great inside crates since it has an angled bottom and edges. The edges are also raised to prevent liquid overflows and it can slide out where it's supposed to perfectly. If you don't really need a metal tray since your dog is calm but still need one to replace your old one with we advise you to check out the article about dog crate plastic liners and if you're looking for specifically xl ones, your next stop has got to be the article about XL dog crate trays.