If you're still searching for a functional and modern dual betta fish tank, you are at the right place.
Divided tanks are perfect for different fish breeds, so we picked the best 5 models from the market and reviewed them for you. In our guide at the end of this post you can find tips for shopping and much more, so make sure you check it.
The Summary
Best 5 Dual Betta Fish Tanks
BEST OF BEST DUAL BETTA FISH TANK
Aqueon Betta Bowl Aquarium Kit
Blue Or Black
The functional and affordable model is everything you need if you're looking for your first aquarium for fish breeds. This tank comes in blue or black color so you can pick the best one that will easily match your home decor.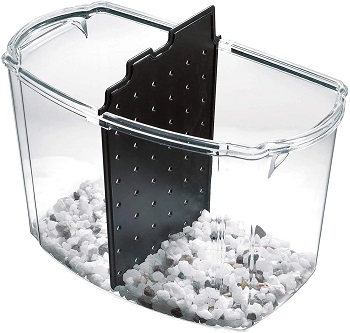 Acrylic Material
The aquarium is made of acrylic material which is much stronger than glass so you can use this tank for many years. Even if it is stronger, acrylic is much lighter which will provide easy moving and storing.
Easy Fitting
This dual betta fish tank measures 9.1 x 7.2 x 5.1 inches, and it will not take much space in your home or apartment. Place it on a higher stand or a desk so you can enjoy the view every day.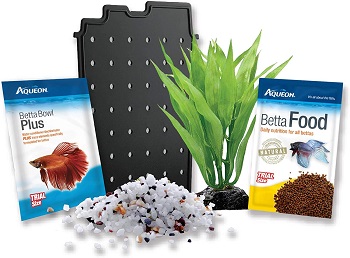 Included Features
With this cheap betta fish tank comes everything you need to start an aquatic home. You will get an artificial plant with gravel for decoration, a plastic divider with holes for better water flow, and samples.
In Short:
Functional design in black and blue color
Acrylic aquarium for durability
Easy fitting in living space
Artificial plant and grave for decoration
Divider with holes for water flow
BEST PLANTED DUAL BETTA TANK
Lee's Betta Aquarium
Simple Design
If you're looking for a model with plants and other additional features for the aquarium, this model is a great choice for your fishes. Simple design is made for easy fitting with any style in the home.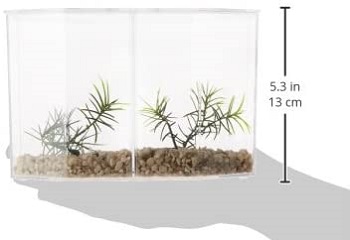 Transparent Tank
The aquarium is made of acrylic material and it is fully transparent so you can always check your fishes during the day. With the measurement of the only dual-betta tanks can fit on every stand and commode.
Acrylic Divider
In the middle of this dual betta fish tank is a transparent acrylic divider so you can place 2 fish breeds inside. It is perfect for breeding or for injured fishes as well.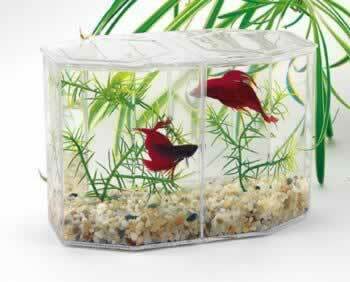 Easy Feeding
At the top of the divided betta fish tank are 2 openings for easier feeding. In the package, you will get a grave and 2 artificial plants so your fishes can enjoy your natural habitat.
In Short:
Transparent fish tank
Sturdy acrylic construction
Lightweight for easy moving
Acrylic divider for fish breeds
Opening at the top for easy feeding
BEST BIG DUAL BETTA FISH TANK
Penn Plax Deluxe Aquarium Tank
Blue Aquarium
The blue color of this aquarium will definitely catch everyone's attention when they enter the room. The modern and functional tank has great features and it is made of high-quality materials to provide durability.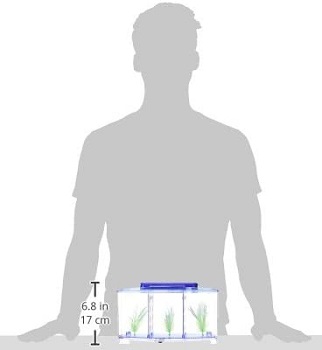 Lightweight Material
This model is a little bit longer than the rest of the tanks from our reviews and it measures 4.25 x 11.5 x 7 inches, so you can still place it in every corner. Because it is made of lightweight acrylic material you can easily move it around.
2 Dividers
Dual betta fish tank comes with 2 dividers so you can place even 3 fish breeds if you need to separate them. You can easily remove one of the dividers when needed.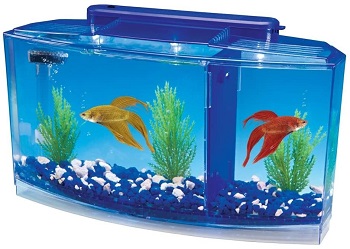 Lighting System
Besides dividers, this betta fish starter kit includes lights with 2 colors and a filtration system so your fishes can always have crystal clear water. Vents at the top will provide easy feeding.
In Short:
Aquarium in blue color
Functional design made of acrylic material
2 removable dividers
Lights in 2 colors
Included filtration system
BEST WITH FILTER DUAL BETTA TANK
Penn Plax Twin Aquarium
Smaller Version
For a smaller but still functional version, pick this Penn Plax model in blue color, which you can place anywhere you want. The aquarium is made of only high-quality materials.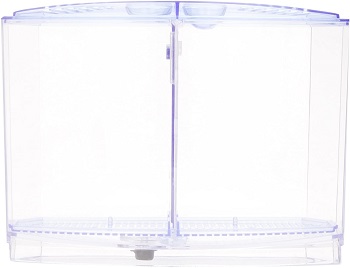 Easy Moving
Dual betta fish tank is made of sturdy acrylic material which will provide a clear view and it is constructed to last you for a long time. Tank measures 3.85 x 7.75 x 6 inches, and you can easily move it from side to side when needed.
Filter Gird
The blue divider will separate fish breeds so they can have a safe environment. At the bottom of this tank is a filter grid with a clean system, which will provide fresh water every day.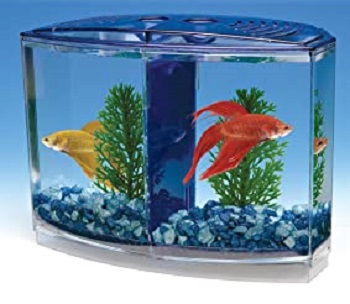 Dual Lights
The self-cleaning betta tank comes with lights in 2 colors to reflect the interior Make sure you place plants and gravel inside so your fishes can have a more natural habitat.
In Short:
Functional blue aquarium
Small measurement for easy fitting
Blue divider for fish breeds
Filter grid with a clean system at the bottom
Lights in 2 colors
BEST CUBE DUAL BETTA FISH TANK
Aqua One Betta Aquarium
Modern Design
Rimless models are always and trend and this beautiful black aquarium will eas fit in your interior. Modern design and functional features are the perfect choices for your fishes.
Sturdy Glass
The aquarium is fully made of glass and strong enough to last you for many years. The thick glass will provide a crystal clear view so you can enjoy in colors of your fishes every day.
Easy Storing
With a measurement of only 4 x 4 x 4 inches, this dual betta fish tank in cube shape can fit on every sturdy stand and desk. You can easily store it when it's not in the use, as well.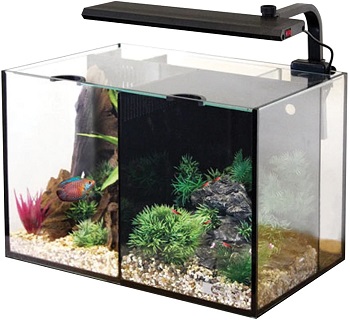 Black Divider
Unique betta fish tank includes LED lights for better reflection and a filtration system for clear water. In the middle, there is a sturdy divider that will keep your fishes separated.
In Short:
Modern rimless design
Thick glass for durability
Small and functional tank
LED lights and filtration system included in the package
Sturdy divider in the middle
How To Pick The Best Dual Betta Fish Tank?
These tanks for fish pets are a great choice for multiple fish breeds but it's not easy to pick the best model. If you still not sure about some specifications and features, our guide will definitely help you with your decision.
Sturdy Model – To keep your fishes safe in a new environment, make sure that the aquarium you're picking is made of high-quality materials, so you can be sure it will last you for a long time. aquariums are usually made of glass or acrylic material, which is both durable and sturdy. If you're afraid it will break easily, we recommend picking acrylic 1-gallon betta tanks.
Which Size To Pick? – Check dimension so you're sure the aquarium will easily fit in your living space Depending on how many fishes you have, pick the model that will have enough space so fishes can move easily. We recommend a minimum of 1-gallon tanks so when you separate few fishes they will still have enough space for swimming.
Divider For Tank – Most of the aquarium comes with 1 or 2 dividers, depending on the size of the tank, but make sure you check the quality of it so you can be sure your fishes are safe in their area. The divider needs to be sturdy to prevent wobbling. We recommend picking a model that has vents for easier water flow and optimal temperature.
Additional Accessories – If you're a beginner we recommend a simple dual betta tank that can be easily installed and use. Check if the top has opening doors for quick feeding. LED lights are great for better reflection and filtration systems will save you time with maintenance. If you don't have decoration, pick a model that comes with plants and gravel so you can add it inside.