Are you tired of trying to find the best-divided betta fish tank?
Don't worry, we picked the best models from the market and reviewed them for you. Divided models are very functional, so if you want to check our best picks, keep on reading. At the end of this post you have a guide for shopping, so make sure you check it after reading.
The Summary
Best 5 Divided Betta Fish Tanks
BEST OF BEST DIVIDED BETTA TANK
Aqueon Betta Bowl Aquarium Kit
Blue or Black
The simple design of this aquarium will fit on every commode or stand and we are sure our fishes will enjoy a new habitat. You can pick between black or blue color depending on your style and preferences.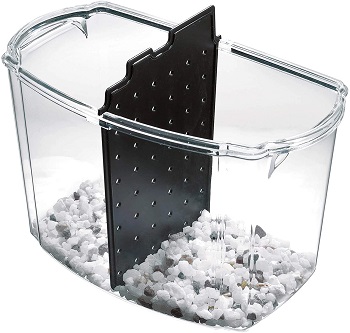 Affordable Model
Not only that this model is functional, but it is also affordable, as well, so you will get the full package for a great price. Divided betta tank is fully made of acrylic material which is durable and lightweight for easy moving.
Plastic Divider
The fish tank measures 9.1 x 7.2 x 5.1 inches, and it is suitable for few smaller fishes. With the package, you will get a plastic divider that can be easily installed and removed when needed. The divider has holes for water flow.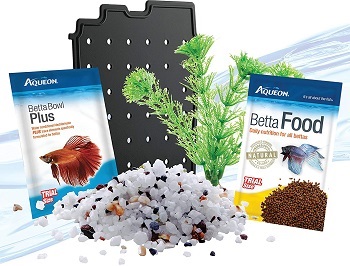 Included Decoration
This cheap betta fish tank included plastic plant and gravel so you can add them as decoration. You will get free samples, as well. This acrylic aquarium can be easily installed.
In Short:
Simple design for fitting
Functional acrylic aquarium
Plastic divider with holes
Plant and gravel included in the package
Easy and quick installation
BEST WITH FILTER DIVIDED BETTA FISH TANK
Sutinna Fish Tank
Purple Or Blue
Colors always catch everyone's attention, so if you want to add some purple or blue tones to your living space, this Sutinna model has great features. A simple and functional design will easily fit in your home.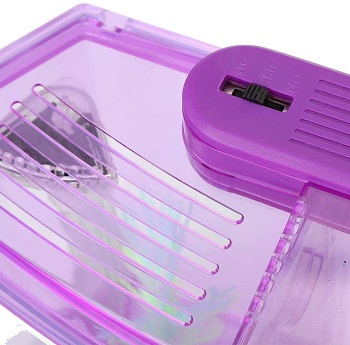 Sturdy Aquarium
The aquarium is made of sturdy and durable acrylic material which is more lightweight than glass so you can easily move it from side to side and store it when it is not in the use.
LED Lights
This divided betta fish tank measures 11 x 3.9 x 5.9 inches and is suitable for all small fish breeds. Place this model on a higher stand so you can enjoy it in the view when LED lights are turned on.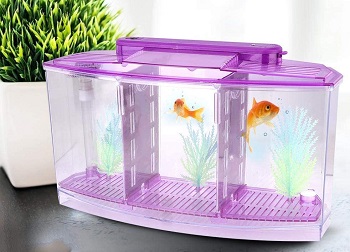 Filtration System
In this betta fish starter kit, you will get 2 dividers so you can separate the aquarium into 3 sections. The fish tank has a great filtration system for easy daily maintenance and clear water.
In Short:
Blue and purple color
Sturdy aquarium made of acrylic
Suitable for small fish breeds
Dividers for 3 sections
Great filtration system for maintenance
BEST CUBE SPLIT BETTA FISH TANK
Aqua One Betta Aquarium
Durable Design
Rimless aquariums are one of the most popular on the market, and this model will look very luxurious in your home. It is made of durable and sturdy materials so you can be sure the aquarium will last you for a long time.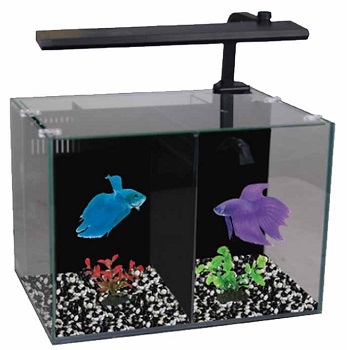 Easy Fitting
The aquarium is made of thick glass in black color and it will provide a clear view. With a measurement of only 4 x 4 x 4 inches, this small goldfish tank will easily fit on every stand in your home.
Quick Storing
For perfect reflection, the split betta fish tank comes with LED lights. You can add decorative plants in different colors for an even better view and more natural habitat. When you don't use an aquarium, you can quickly store it it will not take much space.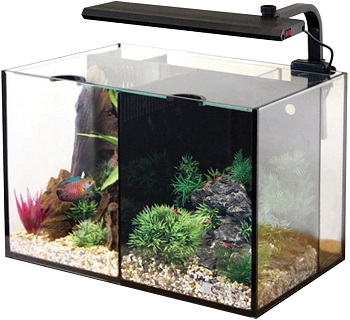 Sturdy Divider
In the middle of the tank is a sturdy divider so each fish breeds can be safe in their area. Aquarium has a great filtration system for clear water so your fishes can enjoy a healthy environment every day.
In Short:
Rimless design and black glass construction
Small measurement for easy fitting
LED lights at the top
Sturdy divider in the middle
Great filtration system
BEST PLANTED DIVIDED BETTA FISH TANK
Lee's Betta Aquarium
Perfect Fitting
If you're trying to find the best aquarium with plants, this model is a great choice for every home or apartment. A simple design with transparent construction will provide easy fitting.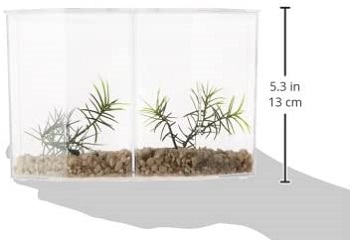 Quick Storing
Divided betta fish tank is made of acrylic material so you can be sure about safety. It is lightweight for easy moving and storing and it will not take much space.
Easy-opening Doors
With a measurement of 8 x 4.5 x 5.13 inches, this dual betta tank can fit only small fish breeds like goldfish, bettas, or tetras. 2 easy-opening doors at the top will provide easy feeding.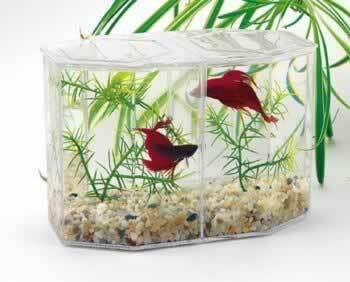 Transparent Divider
In the package with this aquarium, you will get artificial plants and gravel, so you can add them inside and provide more natural habitat to your fishes. The transparent divider can be easily installed.
In Short:
Simple design for fishes
Transparent construction made of acrylic material
Easy for moving and storing
Easy-opening doors at the top
Plants and gravel included in the package
BEST CORNER SPLIT BETTA FISH TANK
Penn Plax Twin Aquarium
Space-savin Design
If you're living in a small house or apartment and you don't have much space, this Penn Plax model will perfectly fit in every corner. A simple design with blue details goes well with any style.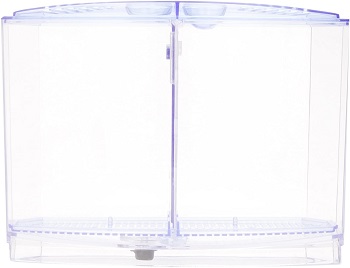 Small Tank
This aquarium is fully made of acrylic, one of the best durable materials so you can be sure it will last you for many years. The split betta fish tank measures only 3.85 x 7.75 x 6 inches.
Durable Filter
In the middle of the tank is a blue divider with vents so your fish breeds can have great water flow and optimal temperature in both areas. Don't worry about filtration, aquarium comes with a great filter system for clear water.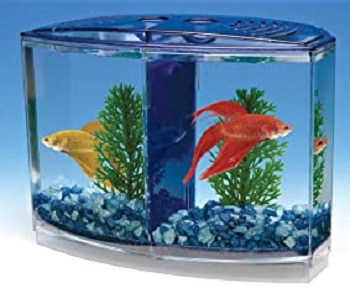 Colorful Lights
For better reflection, a self-cleaning betta tank has LED lights in 2 colors. We recommend adding plants, coral reefs, and other decorations to provide natural habitat.
In Short:
Simple design with blue details
Durable acrylic construction
Blue divider in the middle
LED lights in 2 colors
Powerful filtration system
How To Pick The Best Divided Betta Fish Tank?
Divided tanks for bettas are a great choice if you're planning to have more fish breeds. If you still not sure after you read our reviews, our guide will help you with your decision so you can buy the best model for your lovely pets.
Sturdy Construction – We are sure you want to buy a model that will last you for a long time, so it is important to check how it's made and of which materials. Usually, aquariums are made of glass or acrylic material which is both very durable and sturdy. Check if the divider is sturdy enough to stay in place for maximum safety.
Best Size – The size of the aquarium depending on how many fishes you planning to have and where you want to place this model. Make sure fishes have enough space for swimming and privacy. We recommend picking models that can easily fit on every stand, commode, or shelf in your home. Always check measurement before buying.
Functional Dividers – One of the best additional accessories for tanks is for sure dividers. They can be used for separating fish breeds, breeding, and as a hospital tank for bettas. Make sure you can easily install it inside. Dividers need to have holes and vents for better water flow, especially if you have a heater and filtration system.
Additional Accessories – Many split betta fish tanks come with lights and we recommend LED lights to prevent additional heating. You can choose a model with colorful lights for better reflection. If you're a beginner, we recommend a model with an included filtration system so you don't have to worry about daily maintenance.