Are you skillful enough that you can afford to get a 5-gallon saltwater tank after years of freshwater tanks?
If you are, you'll want to continue reading this article where we reviewed the best that fit this exact description. You'll read all about their technical specifications of a lot of different types of tanks like round, cube, and even filter tank and later on, we've even prepared a useful guide on how to figure out which tank you should get.
The Summary
Best 6 5 Gallon Saltwater Tanks
BEST OF BEST 5 GALLON SALTWATER TANK
Fluval Sea Evo V Saltwater Fish Tank
Three Stage Filtration
The first thing you need to think about when getting a tank like this is definitely the filter. The filter should be strong enough and this one is. It's a three-stage filter that has oversized mechanical, biological, and even chemical filters. All of these ensure that the water is kept clean and free from harmful chemicals like ammonia.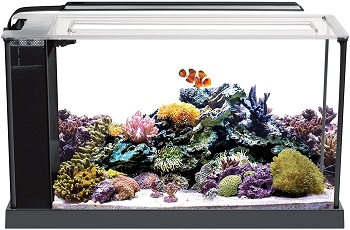 Day And Night Lighting
The thing that'll make this 5-gallon saltwater tank stand out inside your home is its LED lighting system located on top. It has a touch button that will allow you to turn it on and you can choose between daylight illumination and even nighttime illumination. Its casing is waterproof and on its own, it will encourage coral growth.
Hidden Things
Both the water pump and the filter are concealed and won't take away from the way the tank looks. They're hidden in a honeycomb-patterned casing so that it also keeps your tank looking nice. The transformer for plugging in the whole thing is quite safe and it's also low voltage.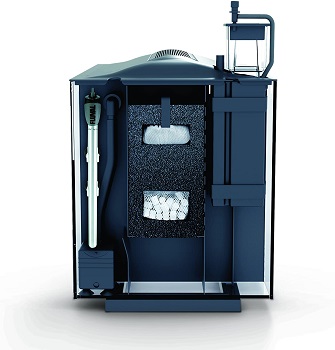 Number Of Fish You Can House Inside
With saltwater tanks, you'll need a lot more water to house a single fish inside. 5 gallons of water should be enough for one wish but you can't go overboard if you go with a 10-gallon reef tank per fish. This size of the tank is a good starting point with housing saltwater fish.
In Short:
Has a three-stage filter
The filter features mechanical, chemical, and biological media
Can house one saltwater fish inside
Feature s a waterproof casing for the LED light on top
The light turns on with a touch start
The LED light has a daytime and nighttime mode
BEST WITH FILTER 5 GALLON SALTWATER TANK
Hygger 5 Gallon Fish Aquarium
Crescent Moon Box
This aquarium is not rounded but somewhat still is. This is due to the crescent moon-shaped box that extends to a LED light on top and partially covers it. The inside of this box holds a filter and a separated water pump. The filter has a box of its own for more protection.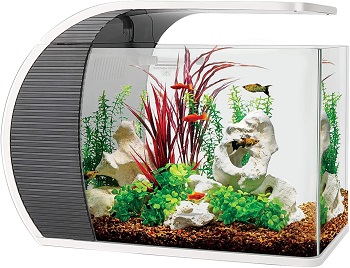 LED light Functions
The box that protects the water pump gives this 5-gallon saltwater tank a more unique look. The LED light also takes care of its looks during night and day. It has a touch switch that allows you to control 3 color modes. The color modes are blue, white, and a combination of blue and white.
Outside And Inside Tank Safety
In terms of safety for you, the edges of the tank are polished smooth. The plate on the bottom is not like the others. It's made to have good load-bearing abilities so that the tank is a lot safer and far more stable than it would've been without it. It has to hold 5 gallons of water after all which turns into around 42 lbs.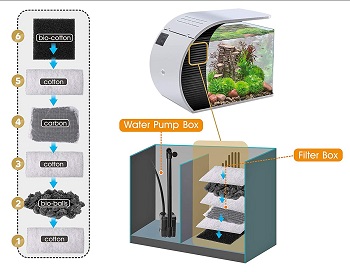 Water Outlets
The water pump produces less noise and saves you energy since it is a 5W water pump. it provides the aquarium with faster water circulation. you'll get two water outlets that will run the water from the pump inside the actual tank. They are either the rai water or the duck mouth outlet.
In Short:
Features a filter box with a filter inside
The water pump is separated from the filter
The pump has low energy consumption and noise production
The outer edges are polished smooth for your own safety
Has a load-bearing bottom plate
Features a LED light with three modes
BEST ROUND 5 GALLON SALTWATER TANK
GloFish Aquarium Kit
Benefits Of Plastic Tanks
If you're second-guessing whether or not you should get a plastic fish tank such as this one what might help you decide is comparing glass tanks and plastic ones. Plastic tanks are much lighter than glass ones and they come in various shapes. They have great impact resistance but they can scratch easily.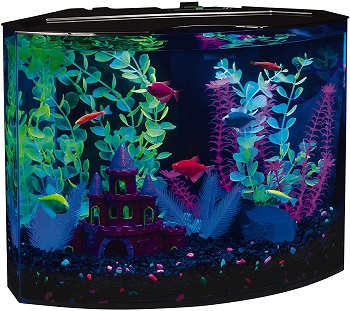 Hidden Lights
The LED lights are incorporated into the hood so that this tank can be fully sealed without you having to risk your fish jumping out. They are blue because this 5-gallon saltwater tank is designed to host glow fish. The blue light will perfectly accentuate their vivid and bright fluorescent colors.
How The Filter Works
The filter of the tank runs on electricity and the way it works is that it pulls the water out of the tank and runs it through the filter. This is where the dual mesh comes into play and catches all the dirt and other debris that goes through it and ends up back in the tank.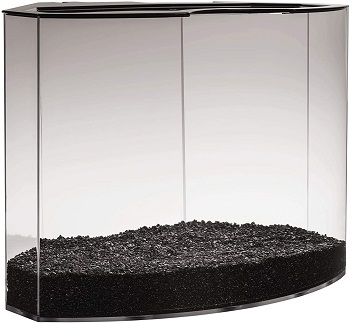 Easy Maintenance App
The manufacturer of this tank realized that sometimes fish keeping can be a difficult task to grasp and exude correctly so for all of your worries and questions, you'll get to download an app that will help you better understand water testing and its care and a lot more than just that.
In Short:
Comes with an app for a better fish keeping experience
Made out of clear plastic
Has a rounded out front
It's light and has great impact resistance
Has hidden LED blue light in the hood
The filter pulls water and cleans it with dual mesh
BEST DECORATION 5 GALLON SALTWATER TANK
Koller Products PanaView
Construction Benefits
The benefit of this tanks' construction is that it's made out of a single piece of plastic. This means that there are no edges that are glued together that might one day leak and render your tank useless. It's also great that it has high impact resistance and it's also very light.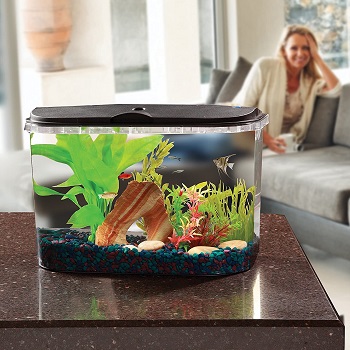 Fun LED Lights
Since it's made out of a single piece of plastic, you'll get a full view from all sides. It's fun to use and have as a decoration piece inside your home because it features an LED light lamp that has 7 different colors to choose from. You can illuminate your tank with the colors white, green, amber, blue, aqua, purple, or even red.
Filter Capabilities
The filter of this 5-gallon saltwater tank is very powerful. It can filter 45 gallons of water in just an hour. This means that it will filter out all the water in the tank 9 times. It doesn't just make the water clear, it also helps remove toxic and dangerous gasses odors and even heavy metals.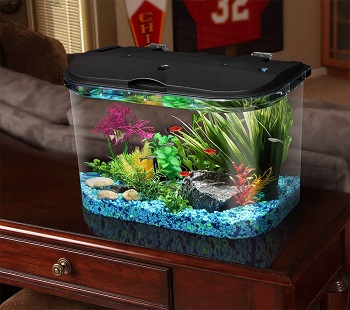 Easy Maintenance
It's really easy to keep it clean and maintain its proper function due to its cover. The cover opens upwards but only partially so that any water that might have found its way on it drips back into the tank. Replacement filters are also easy to install and replace so this tank is the perfect beginner tank.
In Short:
Made out of a single piece of plastic
Has a full view from all sides
The filter replacements are easy to install
Has LED lights that can be lit up in 7 colors
The filter cleans up 45 gallons of water an hour
BEST REEF 5 GALLON SALTWATER TANK
Marineland Portrait Glass LED Aquarium
Tank Elegance
The filtration system of this tank is elegantly hidden along the full length of the backside. This will limit your view to just the front and sides but altogether makes it look so much better. The filter offers 3 stage filtration while the water pump that's also hidden has an adjustable flow and it's also a filter pump.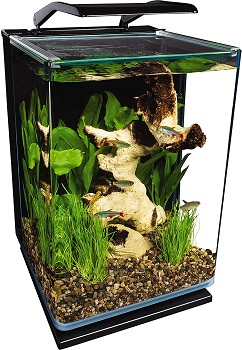 Hinged Top LED Lights
This 5-gallon saltwater tank does feature a top cover. Another thing found there is the LED light that's hinged for you to easily access the interior of the tank. You'll get to choose between lighting up the tank with white, only blue, or a combination of blue and white colors.
Material Used To Make It
Although you won't get a full 360-degree view, the corners of the tank are rounded so that you can still look at it from different points. Its walls are made out of glass so it is a bit heavier than the acrylic or plastic ones. without the water inside, it weighs around 13 lbs.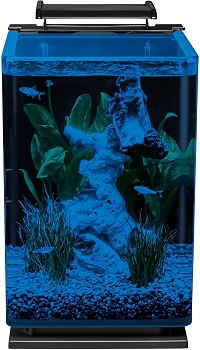 Top And Bottom
The whole tank sits on a black base so it looks even nicer and kind of like it's a trophy. It does have a cover that's made out of glass. You can easily slide this cover to the back so that you can easily feed your fish and provide tank maintenance when it's needed.
In Short:
Made out of glass
Rounded corners and hidden filtration system
Has a slide cover on top and hinged LED lights
Weighs around 13 lbs
The filter offers a three-stage filtration
BEST KIT 5 GALLON SALTWATER TANK
Marina LED Aquarium Kit
Fish Housing Guide
If you're new to the whole fish having thing this tank will be a great starting point since it comes with all the things needed for your fish to thrive inside it. The first thing on the list is the guide that will come in handy because it has answers to all of the questions you might have in one place.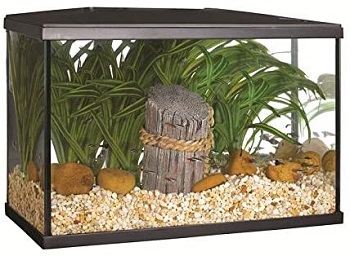 Easy Maintenance Filter
The filter of this 5-gallon saltwater tank isn't hidden and in this case, it's good that it's not because you can easily install it inside since it's a clip-on filter. The cartridges that you'll need to have to make the filter do its job right are very easy to replace as well.
Cover Details
This 5-gallon saltwater kit does feature a cover so you won't have to worry about the ish jumping out o the tank or perhaps your other pet messing with them. The cover also has implemented LED lights that you can light up to create a daylight effect for your fish while inside the aquarium.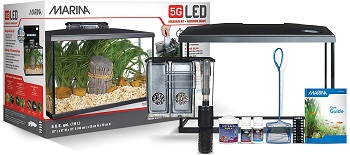 Things That Come With It
The filter and guide are not the only things that you'll get to get you started on the right path. The things included are also a delicate net to catch your fish but protect their fins, fish food, a conditioner for water, a thermometer to keep track of temperature, and a supplement to create a natural aquarium environment.
In Short:
Comes with a clip-on filter and it's easy maintenance
Feature a guide for newbies
Has a cover with LED light incorporated into it
Comes with a water conditioner, thermometer, and fishnet
Additionally, gives you fish food, and biological supplement
How To Pick A 5 Gallon Saltwater Tank
For you to pick out the best 5-gallon saltwater tank for yourself, we first need to dissect them so to speak. What you need to look out for, how many fish you can have inside these tanks, what do you need for saltwater fish to be inside one? All of this and more will be explained here.
5 Gallon Tank Fish Limits – Saltwater fish need saltwater to be able to live inside tanks and aquariums. They wouldn't survive in freshwater so these tanks need to have saltwater. For a small tank that has 5 gallons, you'll only get to house one saltwater fish inside.
Filter Requirements – Saltwater fish are more difficult to maintain mainly because the saltwater needs special care. Apart from water salinity and temperature, you'll need to get the best filters possible. You can double your already existing filter or you can buy a new one. Preferably, these filters should have a triple-stage filtration system.
Adapting A Fish To Aquarium Life – If you just bought a fish, chances are, the fish came in a bag of water. Many would just dump the fish inside the new aquarium but you'll risk killing your fish if that's the case. You should put the fish inside the tank along with the bag of water so that the temperatures can even out slowly. Every five minutes, for 20 minutes, you should put some of your aquarium water inside the bag to adjust your fish to the water as well.
Tank Prices – These 5-gallon saltwater tanks are perfect for beginners since they can only house one saltwater fish inside. They might not be expensive on their own but the equipment for them definitely is. Still, it's well worth the price when you walk into our home with a beautiful tank, illuminated by LED lights inside.
To Sum Up
We didn't have to think too hard when we decided that the one 5 gallon saltwater tank we should recommend is the Fluval Sea Evo V Saltwater Fish Tank. It's all set for housing saltwater fish inside, It has a hidden water pump and a three-stage filtration system so it definitely looks nice. If you want a bigger option to choose from for these tanks we advise you read the article about 50-gallon saltwater fish tanks or about 40-gallon saltwater tanks.