Are you searching for Roman aquarium decor?
In this article, you can find some of the most interesting decorations and all you need to know about them. We will provide you with interesting choices which may help you in decorating your perfect scenery. If you want to get the ancient aquarium atmosphere, you`ll enjoy reading about these decorations, from simple to more complex!
The Summary
Best 6 Roman Aquarium Decors On The Market
Best Of Best Roman Fish Tank Decor
Underwater Treasures Parthenon
Simple And Effective Design
The legendary Parthenon design can`t be unseen – with an effective look, you can easily achieve a great atmosphere inside your aquarium. It is both historical, but also very appropriate for different types of habitats.
Quality Made
The decor is made of long-lasting and quality material. It is completely safe for fish to come close and even use spaces for hiding or resting. The material will last for years, even if you incorporate plants around it.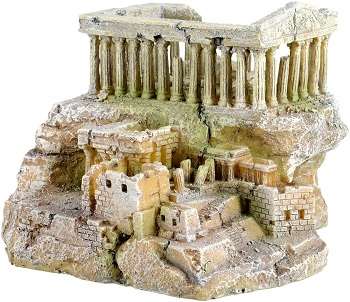 Safe Material
This roman aquarium ornament is made of completely fish safe materials – you can use it in both freshwater and saltwater aquarium. Also, it is completely handcrafted and painted, so the big care is set for details.
Price And Size
A little less than 4 inches tall, this model is ideal for use in a 15-gallon aquarium kit or bigger. Because of quality material and great details, the price is matching its quality. It comes in white colour only, but has a vintage patina and fits well into different surroundings, especially when you stress it with lights.
In Short:
Quality and durable material
Hand-painted details
White colour with patina
Ideal for freshwater and saltwater aquariums
Best Colosseum Aquarium Decor
M2cbridge Antique Roman Column Ruins
Complex Design
The decoration similar to the colosseum is ideal for any history lover, but because of its interesting design, it is the centrepiece of every scenery. Thanks to many windows, halls and entrances, it is ideal for smaller fish and especially for hiding, resting or mating inside.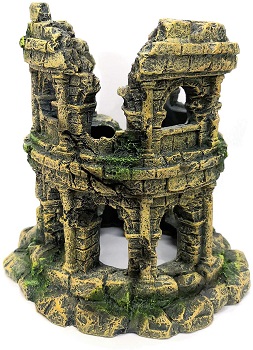 Lively Details
The colosseum aquarium decor is hand-painted and details are especially stressed. The colour is a mixture of grey and beige, which is very natural scenery and blends well with other materials, like underwater plants or rocks.
Quality Material
The whole complex is made of quality and durable resin. Not only is it completely safe for fish, but you can use it in any beautiful freshwater aquarium as well as in saltwater. The material is prone to scratches and doesn't need any special maintenance.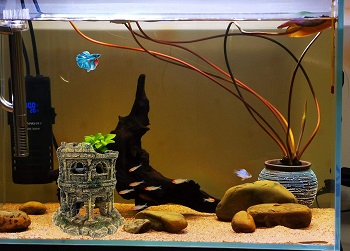 Price And Size
The decoration is 6 inches tall, so you need appropriate space for use. Yet, because of the affordable price, it can be used in many different design themes – like fairy gardens, ancient ruins…
In Short:
Simple and stable design
Much space for fish to hide
Natural-looking colour
Quality and resistant material
Can be used in many design themes
Best Column Roman Aquarium Decor
Xinapy Resin Roman Pillars Ruins
Matches Roman Topic
This design perfectly pictures ancient and Roman topics with a unique and lively design. It consists of a stable base and pillars painted in darker grey with green parts that imitates plants.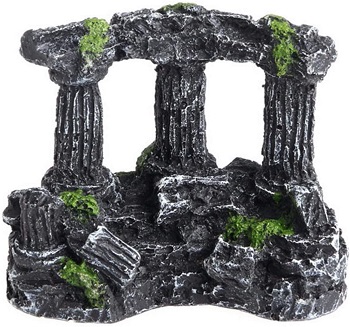 Quality And Resistant Material
The resin, the material it is made of, is prone to scratches and completely safe for use in both freshwater and saltwater aquariums. It won't shade after time and washing from algae won't change its colour.
Ideal For Fish To Hide
Because of a lot of space between pillars, it is ideal for fish or shrimp to hide. What is more, you don't have to worry if they mate or sleep inside, because there are no sharp edges or pieces that can harm them.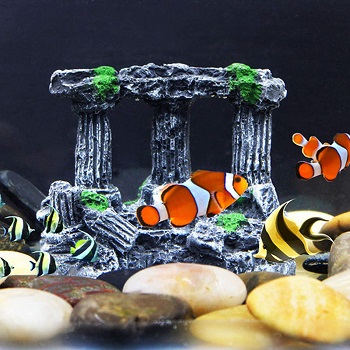 Price And Size
The whole roman decoration is 7 cm high, so you can use it even in a small goldfish tank. Just be sure you don't overload the surroundings to provide fish with enough space to swim. The price is a bit higher compared to other decorations but provides quality and long-lasting pieces.
In Short:
Dark grey colour with green parts
Ideal for any type of fish tank
Dreamy and ancient
Made of long-lasting resin
Impossible for colour to fade
Best Saltwater Roman Fish Tank Decor
Tfwadmx Aquarium Decoration
Many Details
Even though it pictures simple pillars, this decoration has many details that make it appropriate for any theme and aquarium design. Red, purple and yellow details make an excellent contrast to the dark grey base colour.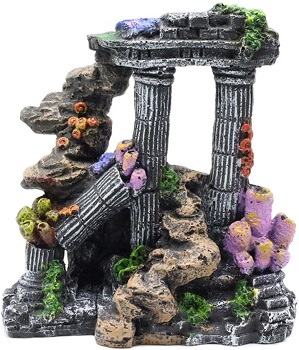 Quality Made
The decoration is made of quality resin, which is ideal for long-lasting projects and is completely safe for fish. Also, it is hand-painted with every detail completed and has a stable base, so any change of water or even bigger fish passing won't turn it over.
Ideal For Saltwater Aquarium
The roman fish tank ornament is ideal for saltwater aquariums and requires minimum effort for cleaning. You only need to let it stay in warm water and brush the algae from it with no or minimum detergent.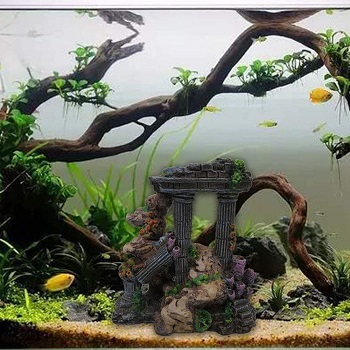 Middle Size
Because of the middle size and 7-inch height, this decoration is ideal for medium to larger aquariums. A 20-gallon saltwater aquarium is ideal to start with and you can make it part of bigger models.
In Short:
Made of quality resin
Dark grey colour
Vivid and colourful details
Ideal for saltwater aquariums
Easy and quick to clean
Best Ancient Roman Aquarium Decor
emours Aquarium Decoration
Ancient Scenery
The combination of pale white colour with patina and broken ancient pieces makes this decoration ideal for any ancient scenery. The base is stable and dark grey with plant-like green details. What is more, this piece provides many places for fish to hide and rest.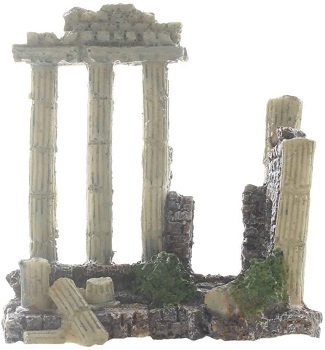 Made Of Quality Resin
The decoration is made of quality resin which is completely safe for fish and longer use. What is more, it is prone to scratches and can be used near plants.
Durable And Long Lasting
The roman fish tank decoration requires minimum maintenance and doesn't need more than several yearly brushing. It will keep the colour for a long time and can be used in freshwater and saltwater surroundings.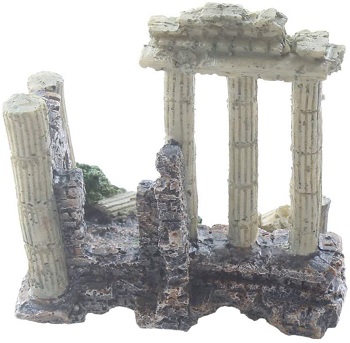 Smaller Size
The decoration is smaller in size, it is only 4 inches tall and you should consider it before adding it to your aquarium. Yet, in bigger aquariums, it can be part of some scenery, but it is great to use it for a small planted aquarium as a centrepiece.
In Short:
Ancient decoration
White, dark grey and green colour
Ideal for smaller aquariums
Quality and safe resin
Long-lasting and permanent colour
Best Betta Roman Fish Tank Decor
POPETPOP Aquarium Decoration
Different Design
Unlike other Roman aquarium ornaments, this has a unique design of a helmet. Yet, it has a flat base to be safe and secure to use near fish. What is more, it has no sharp edges or possibility for fish to get hurt.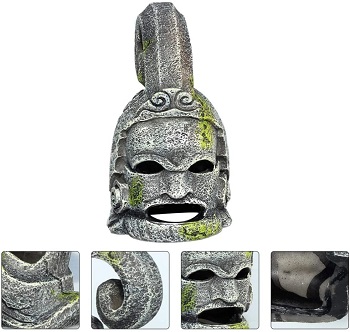 Quality And Durable Material
The whole helmet is made of quality and durable resin that looks good on the interior but is safe for fish. It has no odour and all colours are natural and blend well with the surrounding. There is minimum care you need to put, just a simple brushing if there are too much algae on it.
Ideal For Any Aquarium
The decoration is ideal for any type of aquarium, freshwater or saltwater. Also, it is resistant to any water temperature or light. The inside space is similar to a smaller cave and provides a great hiding place for fish.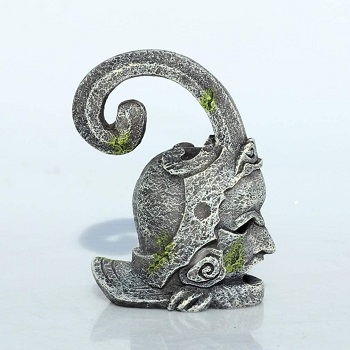 More Expensive Piece
Because it has a more special design, this piece has a higher price. Also, it is over 4 inches high and ideal for incorporating other elements to get the best ancient scenery. With a good price, you can easily get the coolest home aquarium.
In Short:
Flat bottom for stability
Quality resin
Resistible colour
Simple brushing to maintain it
Big space for fish
How To Pick The Best Roman Aquarium Decor?
If you want to use Roman aquarium decoration, you need to know some information before choosing one. Not only it is important to choose the right colour, but also to fit the size and material. Read those tips to be sure you are choosing well!
Roman Design – Between many ancient looking decors on the market, you need to choose the right Roman topic. It can be simple columns, colosseum or helmet – these will all do the theme!
Ideal Material – The decoration must be safe for fish, but also needs to be durable and with permanent colour. Check that your ideal decoration is made from durable resin which is both safe for fish and can stand many years in the water. It should have no smell or release any dangerous chemicals.
Saltwater Or Freshwater – Another important thing is to check if the decoration is freshwater or saltwater. It should be ideal for fish to hide or rest inside, so check if it has hidden space and entrances to be interesting to them. Also, vivid details will help it blend into habitat easier.
How To Clean It – Cleaning decoration shouldn't require too much time and should be done a few times per year. Ideally, you just need to remove it after it is covered with algae and brush it to remove it. Quality decoration shouldn't have scratches after cleaning it.
Fit The Size– Be careful which roman fish tank decoration size you choose. First, choose the aquarium and then fit the decoration in. For smaller aquariums, make sure it is a centrepiece, while in bigger you can add more items and plants. Be sure that fish has space to swim around it.
To Sum Up
Even if you think that choosing the best Roman aquarium decor is easy, we gave you reasons to think about many aspects. All in all, our top pick is Underwater Treasures Parthenon with a simple, yet very effective design and durable material. If you are interested in decorating your aquarium, you may find Buddha aquarium decor also creative. And to better match neutral Roman decor with an aquarium, you might find the best white aquarium models appealing.