Looking for a mushroom cat tree that will look cool in your home and keep your cat active and entertained?
Then you are in the right place. We have gathered the six best models that we could find online. Read on and check out our reviews about the best of best, small, for kittens, cheap, modern, and cat tree for large cats. Also, read our buying guide to help you choose the best model.
The Summary
Top 5 Mushroom Cat Trees
BEST OF BEST MUSHROOM CAT TREE
Priority Culture Activity Mushroom Tree
Fun And Colorful
The cat tree by Priority Culture is going to be your cat's favorite new climbing and resting space. It promotes healthy behavior and keeps your cat active and occupied. The tree combines a mushroom house, a butterfly, and flower resting platforms.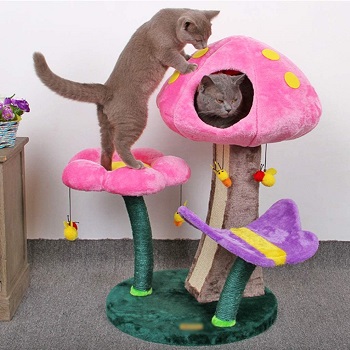 Comfortable And Safe
The tree is safe, warm, and cozy. The mushroom house is spacious and provides your cat with a warm and private resting area. The climbing tower is wrapped with hemp rope. It attracts your cat and allows it to sharpen its claws and keep them healthy and strong.
Sturdy And Firm
This mushroom cat tree's frame is made of density board material. It is steady and sturdy. The tree is hard to overturn. The wide base makes this tree stable. Your cats will get to jump off of the tree with no problems. The tree has an excellent load-bearing effect.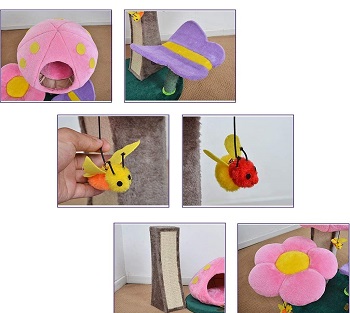 Simple To Set Up
This unusual cat tree requires assembly. However, it is simple and very quick to set it up. The easy-to-follow instructions are provided by the manufacturer. Also, you can DIY the cat's nest yourself.
In Short:
this is a fun and entertaining cat tree
it includes a mushroom house
the tree is soft, warm, and pet-friendly
this tree needs to be set up
assembly is simple and very quick
BEST FOR KITTENS MUSHROOM CAT TREE
TGHY Mushroom Climbing Tower For Cats
For Small Cats And Kittens
Another tree that is designed for smaller-sized cats. The mushroom cat tree by TGHY measures 21.7*15.7*27.2 inches. It is suitable to use this tree for up to 2 small cats or kittens. This tree includes a cat condo, a flower perch, and a leaf basket.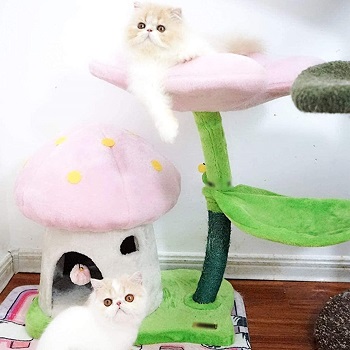 Flannel Cat Beds
This tree is wrapped in safe and pet-friendly flannel. It is soft, warm, and cozy. Such material makes cats feel comfortable and relaxed. It reminds them of their mother's fur that cats knead when they are babies.
Spacious Cat Condo
The mushroom-shaped condo for cats will fit one cat. It will provide your small fur friend with just enough space for sleep. The condo is going to be your cat's favorite and most comfortable sleeping environment.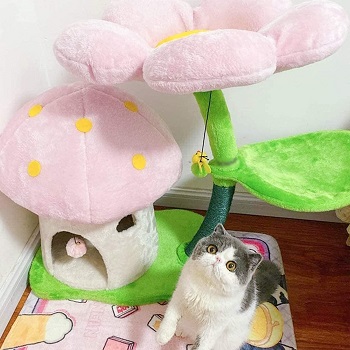 Multi-Purpose
The mushroom-shaped pink cat condo will be an ideal lounging and resting space for your cat. The included scratching post will be perfect for scratching and climbing. This tree will keep your cat active and rested.
In Short:
perfect for small cats and kittens
the cat beds are covered in flannel
this is a cozy and fun mushroom tree
includes one spacious condo
the tree is perfect for resting and playing
BEST FOR LARGE CATS MUSHROOM CAT TREE
PetnPurr Cat Tree Mushroom
Ideal For Large Cats
Large cats will love this unit. It is tall and includes multiple scratching opportunities. The tree is sturdy and comes with a firm and wide base that keeps the unit stable. PutnPurr mushroom cat tree is difficult to overturn. Even if it turns over, it won't break easily.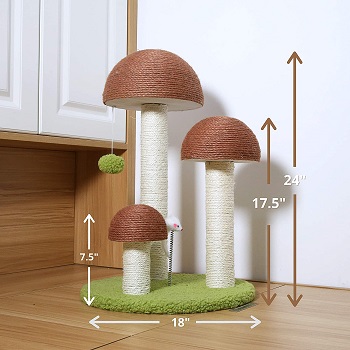 Fun And Healthy
The tree is perfect for climber and scratcher cats. It is made of hand-crafted and long-lasting materials. The tree is wrapped in sisal that will make your cat's claws strong and healthy. The hanging toy will attract your cat's attention and keep it occupied for hours.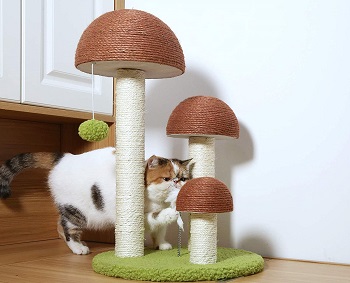 Useful Product Details
This mushroom cat tower is perfect for all cats – junior or senior. It is fun, colorful, and space-saving. PetnPurr's sturdy cat tree measures 24" x 17.5" x 7.5" x 18". The price of this unit is affordable. The quality material makes it long-lasting and fun. This unit is simple to assemble.
In Short:
for cats of all sizes and ages
durable and sturdy cat tree
the tree is covered in rough sisal
the price is affordable
perfect for scratcher cats
BEST CHEAP MUSHROOM CAT TREE
OpeCking Activity Tree For Cats
Holding Capacity
The tree's overall capacity is up to 22 lbs. This cat tree will hold cats of almost any size or breed. The tree promotes healthy behavior and keeps your cats satisfied and entertained.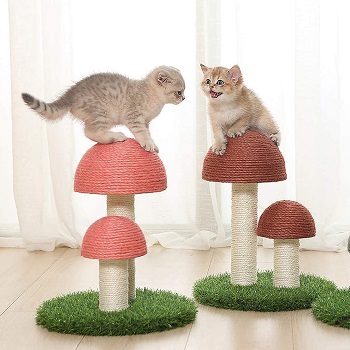 Keeps Your Furniture Undamaged
This mushroom-shaped double cat nail file scratching post for small, medium and large cats will keep your furniture safe. If you are tired of your cats scratching your sofas and couches, then we are sure this unit will come in handy.
Natural Material
The OpeCking mushroom cat tree for scratching is wrapped in natural jute fiber. The rough texture will attract your cat to sharpen its claws. It will keep your cat's nails strong, healthy, and help to save your furniture from being damaged.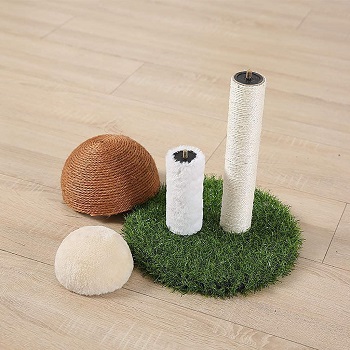 The Cheap Price
This tree comes at an affordable cost. It is convenient for every household with scratcher cats. The good price makes this unit convenient in every way. Check out more details about the OpeCking cat tree and see if it meets all of your needs.
In Short:
the maximum holding capacity is 22 lbs
this is a double-scratching cat tree
the unit is covered in jute fiber
ideal for cats of all sizes and breeds
the price is budget-friendly
BEST MODERN MUSHROOM CAT TREE
7th Heaven Fun Cat Tree
The Design
The 7th Heaven tree for cats comes with a wide base (20" X 20") that keeps the tree stable. It comes in neutral beige and green. It looks nice and attractive. The overall height of this mushroom cat tree is 30 inches.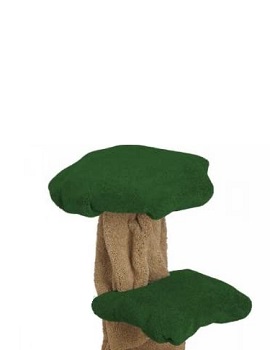 For Large And Adult Cats
This tree will fit up to 100 lbs. Even large and multiple cats will get to climb the tree. This multi-cat tree unit is stable and firm. The assembly is required as well. It is quick and simple. The instructions are provided.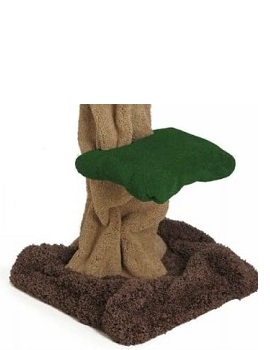 Ideal For Lounging
This tree is perfect for cats that love to sleep a lot. The soft and warm perches will keep your cats comfortable and safe. Senior cats love this unit as well. Often, they cannot climb high places and this unit makes climbing easier.
In Short:
stable tree with a wide base
comes in neutral beige and green
this tree is 30" tall
stable, firm, and long-lasting
it will fit a cat of any size and weight
the tree holds up to 100 lbs
How To Pick: Mushroom Cat Tree
If you are not sure which of the listed mushroom cat tree models could be the right one for your cat, then read our small guide. It may help you choose. Before buying, make sure your new unit comes with the following qualities: the right size and quality material. Know the unit's holding weight, and be sure the tree satisfies all of your cat's needs.
Appropriate Size – Households with senior cats or cats with shy or calm personality will benefit from a short or small mushroom tree. Such cats don't like to climb a lot and prefer scratching or lounging. On the other hand, playful and active cats will prefer taller trees that they cat climb, scratch on, and play on. Buy accordingly.
The Right Quality – The ideal tree for your lovely cats should be made of high-quality materials. Be sure that you are buying a stable tree that is made of non-toxic material. The scratching posts and pillars should be wrapped in natural and top-quality sisal or jute rope. If the tree is covered in plush material, be sure it is skin-friendly, soft, and easy to clean.
Carrying Capacity – Not every cat tower or cat tree will hold the same number of cats. A smaller tree will be optimal for one or two cats. A short cat tree will last a long time if no more than two adult cats are playing on it, whereas taller trees will hold up to three or even four adult cats.
Pet-Friendly And Safe – A cat tree must satisfy all of your cat's needs. This means that, if your cat is a scratcher, be sure you get it a tree that includes many scratching posts. Such a tree is perfect for climbers too. However, if your cat is a sleeper, a plushy and warm mushroom tree is going to be an ideal solution for you. Your new cat tree must be made of safe material and it shouldn't include sharp edges or cat toys that could possibly harm your pet.
Buy Online – When it comes to mushroom cat trees, we suggest you explore the online market. You will rarely find such models in pet shops. Be sure that you buy from a reliable manufacturer and a website you trust. The models that we have listed in this article are all available on Amazon.com. Check out customer reviews and contact their customer service if necessary.
To Sum Up
As our number one choice, we pick the Priority Culture mushroom cat tree. We liked this tree because of its interesting design and high quality. It is a small and attractive cat tree. It keeps your cats safe and promotes healthy behavior. If you are interested in similar units, we invite you to check out our article about the best cat activity trees.