Is your dog too small for large crates and too big for medium crates so you were hoping to find an intermediate, 36-inch dog crate?
You'll find the model you need if you continue reading this article where we reviewed the best models. Even more so, we made sure to include a variety of models and crate types like metal crates, soft crates, furniture crates, and even travel crates so there's something for everyone and everyone's needs.
The Summary
Best 10 36 Dog Crates
BEST OF BEST 36 INCH DOG CRATE
Gunner Kennels G1 Intermediate Crate
Tough Crate
This crate is made out of roto-molded and double-wall plastic. Even more so, it's highly durable and safe due to its custom welded door that's reinforced with an aluminum frame and locks from three points. All of this and more makes it a crash-tested dog crate as well for dogs up to 75 lbs.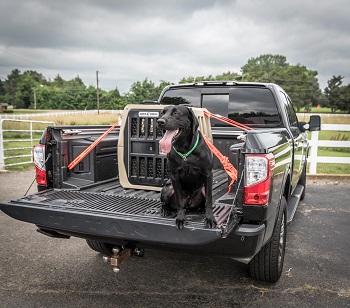 Weather Protection And Cleaning
The 36 in dog cage is meant to protect your dog from different weather conditions like rain, UV rays, and even humidity. It's easy to clean due to the drain channels where liquids will go to and all you have to do is unplug the drain to release them. For more unique dog crates like this, read the hunting dog crates for trucks article next.
In Short:
Built with double-wall roto-molded plastic
It's crash-tested for dogs up to 75 lbs
Has a liquid drainage system
Features a welded door reinforced with an aluminum frame
Protects dogs against humidity, rain, and UV rays
BEST WITH DIVIDER 36 DOG CRATE
Midwest Ultima Pro Crate
Thick Wire Gauge
Just because it's made out of wire, surely doesn't mean it's not durable. The 3, 7, 9, and 11 gauge wire build is here to prove the previous statement. The divider helps you potty train puppies so if you'd like to learn more about them and check out only these models, you'll find them all in the article about 36-inch dog crates with dividers.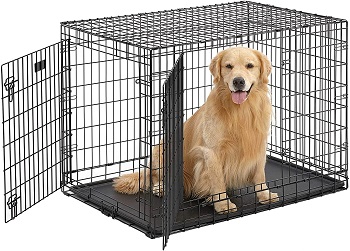 Indoor Use And Traveling
It has an e-coat finish that makes it rust and corrosion-resistant. It features 2 doors, one in the front and one on the side. You can easily fold it down to either store it or transport it as well. It comes with a carry handle and has roller feet to protect floors from scratches.
In Short:
Made with 3, 7, 9, and 11 gauge wire
Has rust and corrosion-resistant e-coat finish
Has a front and side door
Can be folded down
Comes with a carry handle and roller feet
Features an adjustable puppy divider
BEST 24 X 36 INCH DOG CRATE
SportPet Designs Plastic Kennel
Air Travel Crate Size
Sized as extra-large, this 36-in long crate is meant for traveling by air. The dog that you'll travel with shouldn't be longer than 32 and taller than 24 inches. It's made out of plastic shells that connect with locking clips and with nuts and bolts. It has 2 carrying handles and comes with easily attachable wheels.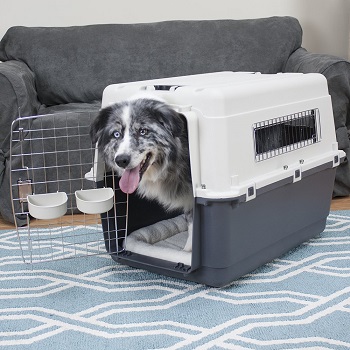 Travel Kit Extras
It comes with live animal stickers, bungee tie-down holes, and clip-on bowls that are part of the basic travel kit. If this 36 x 24 dog crate isn't what you wanted it to be in terms of function, read the intermediate dog crate article next to find one.
In Short:
Can house dogs up to 24-in tall and 32-in long
Made for air travel
Comes with nuts and bolts, stickers, and clip-on bowls
Made out of 2 plastic shells
The two shells connect with nuts and bolt or plastic clip locks
BEST 23 X 25 X 36 DOG CRATE
Carlson Pet Products Secure Crate
Standard Size
If you truly have an intermediate-sized dog, this crate is most likely to be a perfect fit because it's a standard-sized, 36x23x25 dog crate. If your dog needs a slightly wider or taller crate, you can read about other intermediate dog crates next to find one.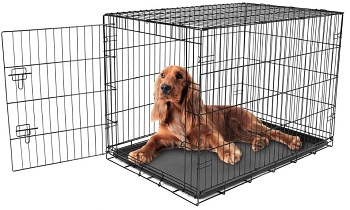 Puppy And Adult Dog Safety
It features a single entrance in the front that locks from multiple points. It's also certified to JMPA and ASTM standards which means is very safe for housing both puppies and adult dogs. It folds down in a matter of seconds and you can easily transport it with the provided plastic handle.
In Short:
Made out of wire
Has 1 entrance that locks from multiple points
Certified to ASTM and JMPA standards
Can safely house puppies and adult dogs
It can be folded and carried with the provided handle
BEST DOUBLE DOOR 36 INCH DOG CRATE
Precision ProValu Wire Crate
Safety And Size
Two factors are included for us to claim that this crate is safe. It's the rounded corners and the 5 point locking system on the front and side door. It features a divider as well so it can properly potty and crate train puppies as well. It's standard-sized with its 36 in in length, 23-in in width, and 25-in in height.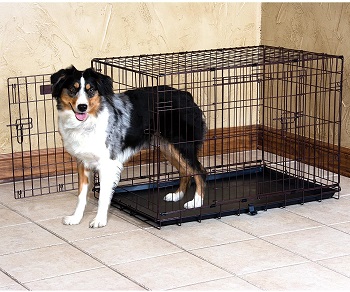 Crate Travels
The electro coat finish will help it resist rusting and corrosion. You'll find this useful if you fold it down and transport it or travel with it.  It's common for a 36 double-door dog crate to come with a divider, so if you need one, check out other 36-inch dog crates with dividers.
In Short:
The two doors lock from 5 points
Has an electrocoating finish
It's made out of wire
Has rounded corners
Comes with a divider
The doors are located in the front and on the side
It can be folded down
BEST FURNITURE 36 DOG CRATE
Unipaws Furniture Style Dog Crate
Color And Durability
One warning that you should get before reading about any furniture crate is that they can't house dogs that haven't been crate trained. The MDF wooden frame is the one at fault in this case although the wire sides are chew resistant. It fits wonderfully inside homes as white dog crate furniture so check them all out if white is your color.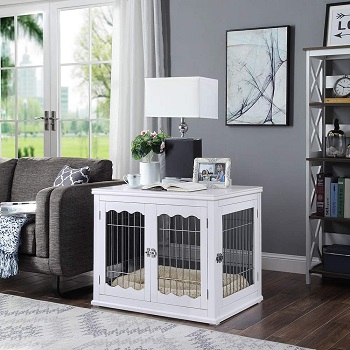 Top, Bottom, And Doors
You'll get to place inside your home with plenty of versatility due to the double door and single front door design. They all lock with 3 different locks for safety. On the interior bottom, you'll get to place a waterproof washable bed while on top, you can place up to 200 lbs worth of stuff.
In Short:
Has an MDF frame and wire sides
The wire is chew-resistant
Can only house crate trained dogs
The top weight limit is 200 lbs
Comes with a waterproof and washable bed
It's colored white
BEST TRAVEL 36 INCH DOG CRATE
4pets ProLine Crash Tested Crate
Travel Durable Build
The aluminum sheets and tubes build are enough to prove that this is a travel-efficient crate since aluminum doesn't rust or corrode. IT has fiberglass corner connectors that help round out intentionally harmful corners. The back wall is reinforced and the front door is self-lubricating.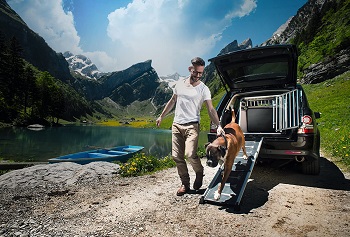 Accident Safety
All of the above-mentioned things are nothing when it comes to safe traveling when compared to the fact that this 36-inch dog travel crate is crash-tested as well. If you'd prefer to spend a bit more on a crate that's incredibly safe like this one, check out other models in the article we linked below.
In Short:
 Made with aluminum sheets and tubes
Has fiberglass corners
Features self-lubricating door hinges
The back wall is reinforced
It's crash-tested
BEST METAL 36 DOG CRATE
ProSelect Empire Dog Cage
Metal Details
The metal tubes that make the entirety of this crate have a 0.5-in diameter and are made out of 20 gauge steel. Due to the tubes, its exterior dimensions are 1-in bigger than the interior dimensions. Put together, it's still a 36-inch metal dog crate. If you see the need for a more durable option like this crate, read the article about medium metal dog crates next.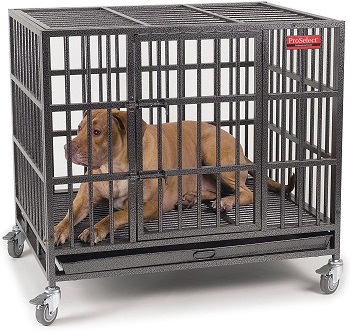 Bottom And Welded Parts
Even the cleaning tray below the wire grid floor is made out of metal. On the bottom, you'll also find 4 lockable wheels to easily move this 75 lbs crate. It has one entrance in the front that locks with 2 sliding bolt locks and it's welded at certain points to add more constructional stability and durability to it.
In Short:
Made with 20 gauge steel
It uses 0.5-in diameter steel tubes
The cleaning tray is metal
It weighs around 75 lbs
Sits on 4 lockable wheels
It's welded at certain points
BEST PLASTIC 36 INCH DOG CRATE
Pet Gear 4 Door Steel Crate
Build And Interior
We've already proven that plastic crates can be plenty sturdy and this is another example of that. It has a blow-molded heavy-duty plastic frame and steel wire sides. It's safe on the inside due to the lack of sharp steel wire edges and due to the rounded corners.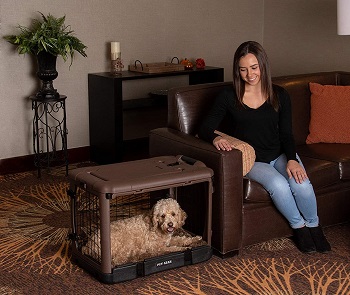 Doors And Extras
It has 4 entrances and one even slides open like a garage door. It has an insulated base and comes with a soft and washable dog bed. It's easy to collapse and drag with built-in wheels or in its travel bag. This 36-inch plastic dog crate is surely unique but many medium plastic dog crates are so check them all out.
In Short:
Made with heavy-duty plastic
HAs steel wire sides
Features 4 entrances
Can be collapsed
Comes with a travel bag and washable bed
Has an insulated base
The interior has rounded corners and no sharp edges exposed
BEST SOFT 36 INCH DOG CRATE
A4Pet Collapsible Lightweight Dog Crate
Build Materials
Soft crates are a great choice if you want to easily travel with your dog. This one is made with oxford fabric and has a strong steel tube frame. The frame allows you to fold it down while the cover makes it lightweight with only 9 lbs. It has 4 vent windows, 3 doors, and a back accessory pocket.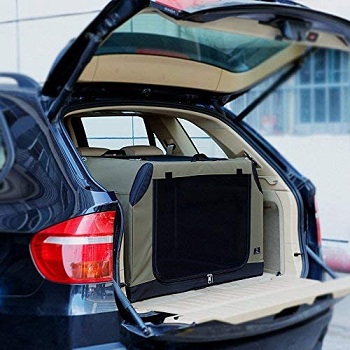 Car Protection And Comfort
The interior bottom is made so that it's leakproof while its top corners are rounded. Its cover and the soft mat it comes with are both easily washable. If you're interested in learning more about this 36-inch soft dog crate and others, you can read the article about soft dog crate medium models next.
In Short:
Made with oxford fabric
HAs a folding steel tube frame
Features a leakproof bottom
Has rounded top corners
It has 4 vent windows and 3 doors
Features a back accessory pocket
How To Pick A 36 Inch Dog Crate
To pick out the best possible 36 dog crate, it's important to learn what type of dogs these crates can house. This depends on their type, size, and primary and secondary functions and we'll go into full detail about each mentioned thing and more than just that.
36 Inch Crate Dog Size – Although not a standard crate size, it might as well be considered one just like 54-inch dog crates aren't considered standard but can still be listed as one. These crates are made to house dogs that don't fit well into the medium or 30-in dog crate category but also don't fit into the large or 42-in crate category.
36 Inch Dog Crate Cover – it's fairly easy to find a 36-inch crate cover since it isn't an extreme size like extra-small or giant dog crates are. The cover should be 1-in longer, wider, and taller than the crate to fit well on it and you'll use it for dogs that like to have some privacy or that get disturbed with too much visual stimulation.
36 Inch Dog Crate Tray – You'll find replacement cleaning trays easiest if it's a branded dog crate like midwest or petmate. Others might be a bit more difficult to find but there's plenty of manufacturers that make universal replacement tray in all sizes including the 36 in size.
Is Your Dog Intermediate – You shouldn't figure this out by knowing your dog's weight. An intermediate dog is usually going to be around 70 to 75 lbs but it's best if you'd measure the dog and compare its height and length to the crate. If the crate is at least 3-4 inches longer and taller than the dog, you've got yourself a perfect match crate.
Common 36 Inch Crate Types – The most common 36 crate types are always going to be wire crates but it's common for dog crate furniture that sizes as large to be of this size as well. Heavy-duty metal crates are more likely to be somewhere around 36-in in length. In terms of durability, wire dog crates are great for crate training, heavy-duty metal dog crates can house anxious and aggressive dogs, while furniture crates should only house crate trained dogs.
Puppy Housing – If you have an intermediate dog breed puppy, you should focus on getting a wire crate not only because they're great crate training crates but also because they're the ones that most commonly come with a divider that will help potty train your puppy. The size of crates for puppies should be determined by their approximate adult size.
To Sum Up
If we knew your dog's specific size, their behavior, and a plethora of other things we'd have no problems recommending one 36 inch dog crate to you but that's not the case. The previously mentioned factors should be taken into account when searching for one though. If you'd prefer to read about precisely medium crates, you can read next that 30-in dog crate article, or if you have an extremely large dog, you can read the 54-inch dog crates article. In case you'd like to read an article with all of the possible crate types and sizes included, we suggest you read the post about the best dog crates.