Are you looking to travel with your dog using a medium dog travel crate?
By continuing to read this article you can make it happen faster than ever since we reviewed only the best in it. You will find crates made for car travel, air travel, and a lot more so there's something for everyone's taste and preferences.
The Summary
Best 5 Medium Dog Travel Crates
BEST OF BEST MEDIUM DOG TRAVEL CRATE
Diggs Revol Dog Crate
Beyond A Travel Crate
If there's one thing that is certain about this crate it is that it isn't just a medium dog travel crate but also one of the best crates for puppy training. It comes with a puppy divider that will make potty training a lot easier and it's also safe for them because it's made with baby industry standards.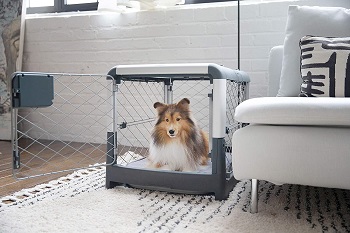 Reasons It's Made For Travel
There are multiple reasons as to why it can be used for travel. To start, it's incredibly well built by using reinforced plastic for its frame and aluminum steel wire that's high grade for the sides. It can also be collapsed and carried with a top handle and you can use its built-in wheels to transport it as well.
Door Types And Their Purpose
You'll get multiple choices as to how you and your dog can access the crate. The front door will make it impossible for your dog to escape on his own, the top access door will do you good if you wish to access your dog without him trying to escape and if you wish to use the crate in your home and leave it open, you can do that by opening the side entrance upwards.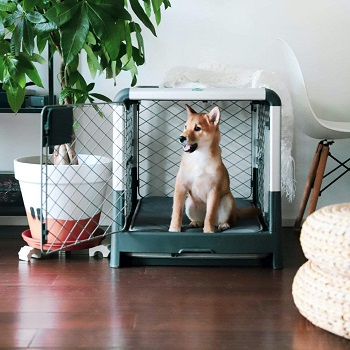 Ease Of Cleaning And Training
The crate features a plastic slide-out pan on the bottom to make cleaning the crate and containing messes inside the crate easy. No matter how safe the crate is, you should still crate train your dog before traveling with it and this crate might just be the perfect candidate to do so with ease.
In Short:
Made with reinforced plastic and aluminum steel wire
Can be used to house puppies
You can collapse the crate
Can be dragged with built-in wheels or carried with a handle
Made to be safe for puppies to live in
Comes with a divider
Has a slide-out plastic tray on the bottom
BEST PLASTIC MEDIUM SIZE DOG TRAVEL CRATE
SportPet Designs Plastic Kennels
Safe Air Travel Requirement
We do have to warn you that this crate is made to be used by crate trained dogs only. This does not mean that it's not durable but since it's an IATA approved dog crate, this is one of the requirements for you and your dog to safely travel by air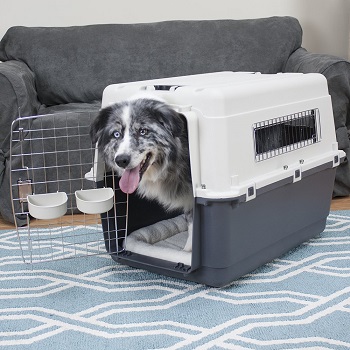 Plastic Shell Conectiveness
This medium dog travel crate has a durable plastic shell design. The top and bottom shell come together quickly and safely using the plastic locking clips but you can double ensure they are connected by connecting them with nuts and bolts that come with the crate as well
Items Required By Airlines
The nuts and bolts are not the only two things that come with the crate that fulfill the requirements of airlines for a dog crate. You'll also get "live animal" stickers for it, 2 detachable water bowls, and holes to tie the crate down with bungees.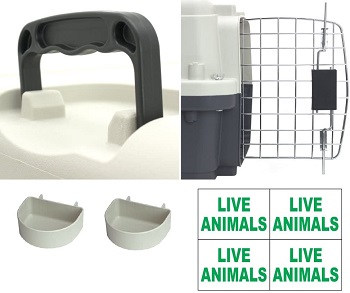 Wheels Or Handle Transport
You can easily transport this crate using the wheels that come with it or you can carry it by hand using the top handle. Your dog shouldn't be longer than 24-in and taller than 16-in to fit inside this crate comfortably. Another thing we should mention is that you should check with your specific airline about additional requirements for dog crates before traveling.
In Short:
Made out of durable plastic
The bottom and top can be connected with plastic clips
Additionally, you can connect the shells with nuts and bolts
Comes with water bowls, stickers, and tie-down holes for bungees
The crate is airline approved
Can only be used to travel with crate trained dogs
The dog shouldn't be longer than 24-in and taller than 16-in
BEST AIRLINE APPROVED MEDIUM DOG CAR CRATE
Petmate Sky Kennel Pet Carrier
Unlocking The Single Door
The crate has a single door for your dog to access it and the way it opens is by pinching the two metal pieces located there. You don't have to worry about the lock sliding open and if you choose to get a crate of the same model but larger, the 36-in model and larger have a vault-type door to prevent that.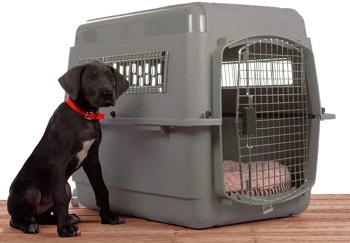 Bottom And Top Connecting
The crate is made out of durable plastic and has 2 pieces that need to be connected; the top and the bottom one. The way you will connect those two is by screwing them together with the provided winged nuts that are corrosion-proof.
Steel Wire Door And Windows
The crate has a single door for access that's made out of durable gridded steel wire. The same applies to the ventilation windows located on the sides of the crate with the exception of the back of the crate that has little holes in the plastic top shell.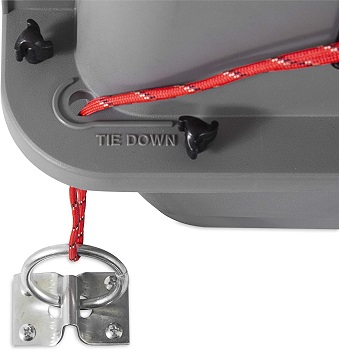 Air Travel Extras
The crate will also come with ID stickers, two "live animal" stickers, detachable water bowls, and tie-down holes for additional safety. Of course, before traveling you should always check with your specific airline about any additional requirements for a medium dog travel crate like this one.
In Short:
Made out of durable plastic
The top and bottom connect with winged nuts
Comes with most things needed for air travel
The door lock won't slip or slide open
Has a single steel wire door for access
Gets ventilated from all sides of the crate
BEST METAL MEDIUM DOG TRAVEL CRATE
Midwest Side-by-Side SUV Crate
In Vehicle Positioning
This is certainly not your average medium wire dog crate and the reason why is hidden in the crates width. You see, this crate has a narrow design to be able to fit inside your SUV or car better. What it will also do with it is save you cargo space or you could even place it in the back seat of your vehicle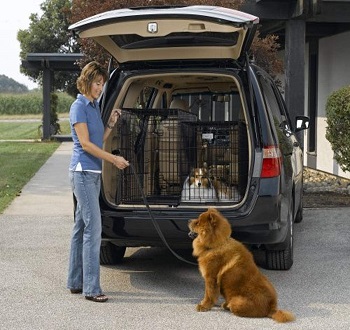 Portability Of The Crate
If you're worried about how you're going to transfer this medium dog travel crate to your car you really don't have to since the crate can be folded down and carried like a briefcase and that's not the end of it. The crate is not that heavy with only 30 lbs to it.
Escape Proof Crate
The crate has a front and back door and you can lock them safely with heavy-duty sliding bolt locks. The locks on the door are one of the more important features of crates made for car travel, but even if that's not the case, you shouldn't be worried about it since your dog should be crate trained to travel safely.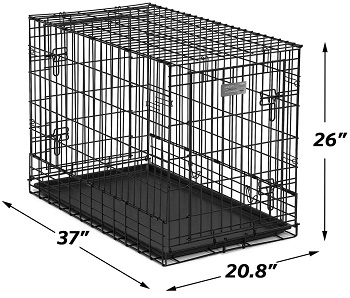 Good Specs And Features
The crate has some useful specs and features. The first one that's worth mentioning is the e-coat use to coat it that makes the crate rust-proof while a feature that's worth mentioning is the leak-proof pan for the bottom that will contain messes and keep the floors of your vehicle clean.
In Short:
The steel wires e-coat makes it rust-resistant
Has a narrower design to fit most vehicles
You can place the crate in the back seat as well
Has a front and back access door
The door safely lock with heavy-duty slide bolt locks
Has a leakproof pan on the bottom
BEST SOFT MEDIUM SIZED DOG TRAVEL CRATE
A4Pet Soft Collapsible Dog Crate
Calm Dog Crate
If there weren't enough mentions of how you should crate train your dog before traveling it's about time we say it once more since this is a soft travel dog crate. The crate is durable but will not handle any chewing coming from the dog.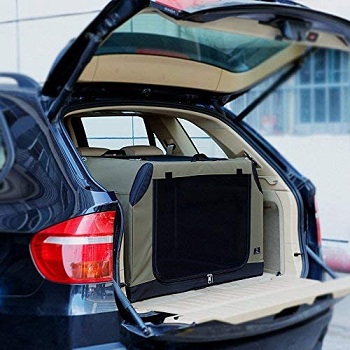 Transport And Storage
What's so great about this medium dog travel crate is that it is light with only 7 lbs to it. The overall weight includes the strong and durable steel tube frame and the oxford fabric cover that you can remove to wash it. The steel tube frame allows for the crate to be folded down to transport it with no problems or to store it when you're not using it.
Car Safety Features
You won't find a better place than your car for this medium size dog travel crate because it has a leakproof bottom that will prevent accidents from going onto your car floors and your car interior will be protected because of the rounded corners that it has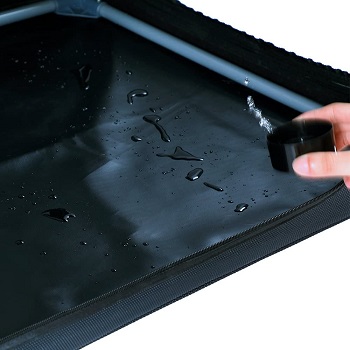 Large Entrances And Windows
The way the crate will get ventilated is through mesh fabric windows that are quite large and will offer your dog some visibility as well. There is a top mesh window as well that also functions as one of the 3 entrances. The other two are located in the front and on one of the sides.
In Short:
Has a steel tube frame that can be folded down
The oxford fabric cover is removable and washable
Has a leakproof bottom
The corners are rounded to protect your car interior
Ventilates well through mesh fabric windows
Has three entrances
Made only for calm and crate trained dogs
How To Pick A Medium Dog Travel Crate
There's a lot of things you have to things about before getting a medium dog travel crate and the first three are definitely crate safety, durability material build. We will go on to explain why and provide you with some useful information on what a medium dog crate is so stick around if you want to get the perfect crate for your dog.
Size Range – Medium dog crates for cars will range anywhere from 26 to 36-i in length. Of course, that is not the only measurement you should concern yourself with. You should also think about the crate's length to figure out if your dog ca fit inside comfortably. The you do it is that add 3 or 4 inches to your dog's length and height and if it matches the crate you are good to go. crate width will only be a useful information to see if it fits inside your vehicle.
Easy Transport Features –  All of these crates including medium soft dog crates with the exception of airline approved medium plastic dog crates have a foldable design. This will allow you to store the crate when it's not in use or for you to quickly trasport it. Aother great feature is is the crate has wheels or a carrying handle. All of these will allow for better crate portability including the light design.
Things To do Before Traveling – There's one thing that you should always do before traveling with your dog and it is to crate train your dog first and that is the rule with every type of travel dog crate. This will ensure that you are left with no distractions.
Different Crate Types Use – While a metal medium dog travel crate will do quite well with safely containing your dog even if your dog is a bit rowdy, a soft crate will do that as well but only if your dog is very calm. the answer is held in the build materials. wire and medium metal dog crates usually handle chewing well while soft crates in general do not.
To Sum Up
We turned to safety when we were picking a medium dog travel crate to recommend and the one that we see as the safest is definitely the Diggs Revol Dog Crate. Not only is it safe but it's also made for puppies and has an incredibly durable construction. If you realised that your dog is actually a small dog breed then check out the post about small dog travel crates and you figured out that your dog is large, then we suggest you check out the post about large dog car crates.