Have you been trying to find a perfect cat tree for extra large cats?
In our article, we talk about the six models that we consider best. Check them all out and find the unit that will meet your cat's needs easily.
The Summary
Best 6 Cat Trees For Extra Large Cats
BEST OF BEST CAT TREE FOR EXTRA-LARGE CATS
Hey-Bro Extra Large Cat Condo
Cozy Carpeted Design
The Hey-Bro cat tree comes with two extra-large cat condos for big cats, an elevated perch, a basket, and scratching columns. There is one dangling toy included as well. The unit is covered in high-quality plush material. It keeps cats warm and comfortable.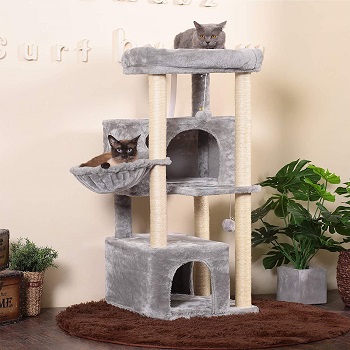 For All Cats
This is a cat tree for an extra-large cat. If you have one very big cat at home, this is the right unit for you. The tree can hold up to three mid-sized cats as well. It is an ideal cat tree for cats of all ages and breeds. The cat condos for extra large cats will keep them relaxed and safe.
Easy To Keep Clean
This cat tree is simple to maintain clean. If you want to get rid of cat hair, use a lint roller or vacuum the plush. Make sure you clean the tree regularly. Cats are clean animals and they love to stay in a clean environment. It is important for their health.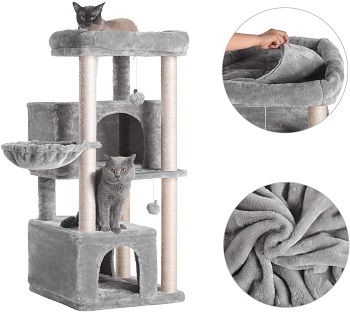 Stable And Sturdy
The unit is made of high-quality material. It includes anti-toppling fittings as well. This will make sure your cat tree stands in one place even if two cats jump off of it at the same time. This sturdy cat tree will satisfy all of your cat's needs easily.
In Short:
this cat tree is comfortable and safe
it includes two spacious cat condos
there are scratching posts and a toy
covered in a quality plush covering
sturdy and stable unit for big cats
BEST CARPETED CAT TREE FOR EXTRA-LARGE CAT
Bewishome Extra Large Cat Tower
Comes In Two Colors
You can choose between two colors that this unit comes in – light grey or grey. The colors are neutral and this big cat tree will look nice in any household. It is a tree that will accommodate multiple cats of medium size or one extra-large cat.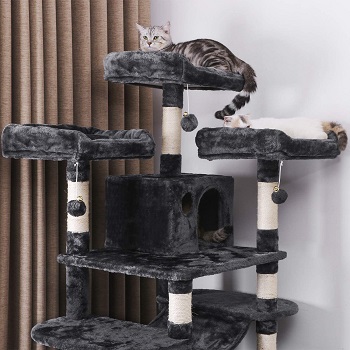 Large And Spacious
This cat tree for extra large cats comes with three elevated perches for cats that love to stay in high places. There is a spacious cat condo included and another smaller one too. The unit is big and roomy. The overall size of this tree is 36.6″L x 30.7″ D x 62.2″H.
Warm And Soft Cover
This carpeted cat tree is covered in ultra-soft and fluffy plush material. Cats love this material because it reminds them of their mother's fur. The condos are carpeted both from the inside and outside. They are an ideal private sleeping space for cuddly cats.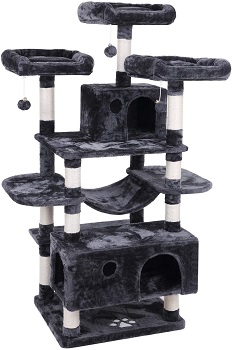 Multi-Level And Fun
This multi-level cat tree is here to keep your indoor cats busy and active on a daily basis. It is also a great unit for shy cats that prefer sleeping and relaxing. Bewishome's cat tree is fun and comfortable at the same time. It includes scratching posts and dangling toys.
In Short:
choose between two colors
this is a multi-level cat tree
ideal cat tree for one extra-large cat
it will hold multiple mid-sized cats
includes fun and cozy cat tree content
BEST MULTI-CAT TREE FOR EXTRA-LARGE CAT
AmazonBasics XL Cat Tree Tower Condo
Minimalist Desgin
If you are looking for a simple cat tree for big cats, this unit will meet your needs. It comes in beige, grey, or dark brown. Choose the color that you like most. The cat tree for extra large cats comes with large perches for all cat sizes. There is a cat condo included and a dangling toy too.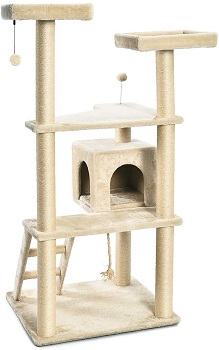 Ultra Soft Cover
This is another unit that is covered in soft and fluffy covering. It is constructed of chipboard material. The AmazonBasics extra-large cat tree tower with condo is well-balanced and it will stay in one place even if multiple cats play on it. This cat tree will keep your cats warm and relaxed.
For Active Cats
If your cats stay indoors most of the time or all the time and you have no cat tree, they will soon find an alternative and climb your furniture. This tall and multi-level cat tree will prevent your cats from damaging your furniture. It is an ideal unit for climbing and scratching.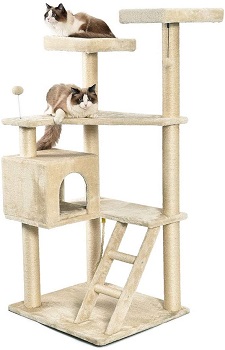 Durable Construction
This is a cat tree for extra-large cat. It will accommodate one very big cat with no problems. If you have multiple mid-sized cats, the tree will hold them as well. It is sturdy and well-proportioned. Place it next to a wall for extra stability.
In Short:
simple and tall cat tree design
ideal for multiple playful cats
it will accommodate one extra-large cat
sturdy and well-balanced unit
covered in safe and soft plush
BEST LARGE PERCH CAT TREE FOR EXTRA-LARGE CAT
Armarkat Extra Large Perch Tree
For Adult Cats
Armarkat's cat tree is ideal for adult cats of all sizes. This cat tree for extra-large cats will accommodate one very big cat or two to three cats of medium size. The unit has enough space for sleep, play, lounge, and more.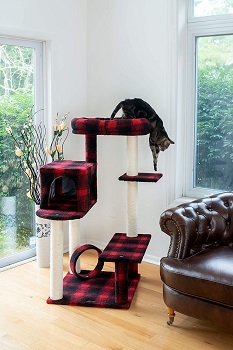 Multiple Levels And Perch
Armarkat's adult cat tree comes with multiple levels. On the top, you will find a large perch that will accommodate cats of big size. The elevated perch is cushioned with raised poly-filled bolster edges. It is safe and cozy.
Quality Material
This cat tree for extra large cats is constructed with pressed wood. It is stable and sturdy and difficult to overturn. The unit is covered in black and red scotch plaid faux fleece. This cat tree is long-lasting and simple to put together.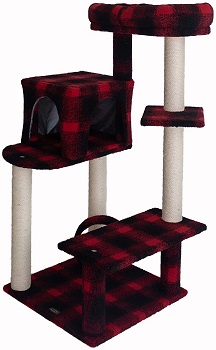 The Dimensions
The overall measures of this unit are 31″(l) x 28″(w) x 50″(h). The cat condo will not fit an extra-large cat, though. The condo's size is 6″(l) x 14″(w)x 12″(h). The unit includes the hardware set for the setup as well as the instructions.
In Short:
multi-level cat tree with a top perch
the perch is large and cozy
a medium-sized cat condo is included
this unit is made of pressed wood
covered in red and black scotch fleece
BEST MODERN CAT TREE FOR EXTRA-LARGE CAT
Amolife Large Bit Multi-Cat Tree
The Material
Amolife's cat tree for extra large cats is made of particleboard material. It is covered in skin-safe flannel and the posts are wrapped in hemp rope. This unit is completely safe and pet-friendly. The quality material ensures the tree's durability.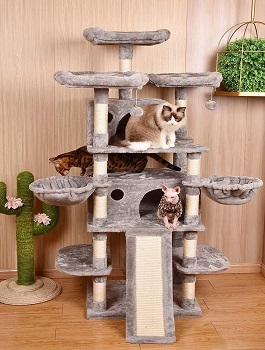 About The Content
This is one of the most elaborate cat trees. It comes with all that an indoor cat needs for a happy and active life. The tree includes multiple levels, perches, and platforms, dangling furry balls, two comfortable big cat condos, sisal rope scratching posts, and a scratching ladder.
The Size And Capacity
Make room for this cat tree. It is wide and spacious. It measures 23. 6″ Lx 19.7″Wx 68″H. This cat tree for extra-large cats will accommodate up to 44 lbs. The unit is multi-cat and it will hold up to two extra-large cats with no problems.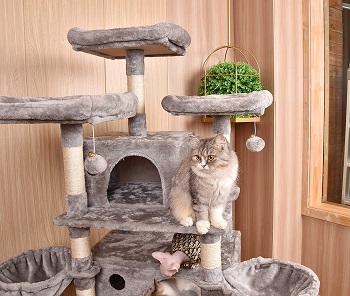 The Setup Process
A simple and quick assembly is required. We recommend that two adults to the setup. The easy-to-follow instructions are included. The tree comes with all the necessary tools for fast and proper assembly.
In Short:
made of particleboard, flannel, hemp, sisal
multi-level with two large condos
it will accommodate up to 44 pounds
ideal for two extra-large cat trees
it is easy and quick to set up this tree
BEST CONDO CAT TREE FOR EXTRA-LARGE CAT
Superjare Cat Tree Spacious Large
For Active Cats
Superjare's extra large cat condo is another multi-level unit. It is perfect for households with multiple active and playful cats. It will help to reduce feline conflicts and keep your fur friends occupied. It includes platforms, perches, dangling balls, baskets, and condos.
Ideal For Climbers
Most cats love to stay in high locations and observe the area around them. This is one of the cat trees for extra large cats that will allow cats to lounge on an elevated perch. There are multiple columns included that will help your cat to climb easily.
Sisal Posts
The columns are wrapped in rough sisal rope material. Its rough texture is ideal for keeping the cat's claws strong and healthy. Cats also scratch to mark their territory and leave a visual mark. This unit will help to keep your furniture undamaged.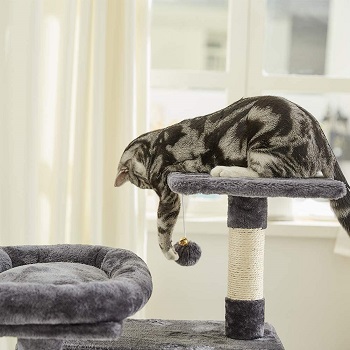 Useful Details
Superjare's cat activity tree is made of carb-certified particle board, sisal, and skin-friendly plush covering. The unit is thickened at the bottom. It is stable, well-proportioned, and safe. Get this extra-large cat condo tree for your big cats and allow them to have fun and feel cozy.
In Short:
ideal for cats that love to climb
there is an elevated top perch
the unit comes with two condos
it is covered in ultra-soft cover
includes scratching posts
How To Pick: Cat Trees For Extra Large Cats
Check out the five tips on how to buy the perfect cat tree. We have listed them in the next paragraphs. Find your new cat tree for extra large cats easily. Be sure that the tree you are buying is made of fine quality. Get the most appropriate model that will keep your fur friends safe, busy, and active.
Quality And Sturdy Material – We suggest you buy a solid cat tree for your large and extra-large cats. Not every cat tree will hold the same weight. Some units will accommodate one cat, while others will hold up to three large cats. Apart from the sturdy and firm construction, a cat tree needs to be well-balanced and stable. For extra stability, place it next to a wall.
Scratching Posts – It is very important to get a cat tree that includes scratching columns and boards. They are here to satisfy your cat's natural instinct. Cats scratch to keep their claws healthy, but also to stretch or mark territory. Don't let your cats damage your furniture. Scratching posts will help to prevent that from happening.
Cat Condos And Perches – The condos, platforms, and perches are here to keep your cat comfortable and relaxed. If you have an extra-large cat, make sure the condo is spacious enough. It has to come with large entrances as well. If you cannot find a condo that is spacious enough, there are many trees that come with large elevated perches that can accommodate cats of all sizes.
Interactive Entertaining Toys – Cat toys are here to make sure your cat stays occupied and active. For example, most units will include dangling toys or hanging ropes. Some cats stay occupied for hours. A fun cat tree with toys and scratching posts is an ideal unit for all cats.
The Large Size – If you have one extra-large cat, a medium-sized tree will be just fine. However, we suggest that you always consider getting an extra-large cat tower, no matter how many cats you have. Big cats need space both for play and sleep. Also, cat trees for extra large cats are usually more elaborate and include fun content and multiple scratching posts.