Are you getting tired of all the newest and loud automatic litter boxes and just want one that will serve you well as a self sifting litter box?
Continue reading and see what these sifting litter boxes have to offer in our selection of the best ones. To make it easier for you, we've put them into categories to make your search for one even shorter and effortless.
The Summary
Best 6 Self Sifting Litter Boxes For Cats
BEST OF BEST SELF SIFTING LITTER BOX
PetSafe Simply Clean Litter Box
The Way It Works
This litter box cleans itself. The bowl, where you place the litter, spins itself and de-clumps litter by sifting it. It does this slowly and quietly. It removes litter every 30 minutes and makes a full spin rotation cycle every hour and a half.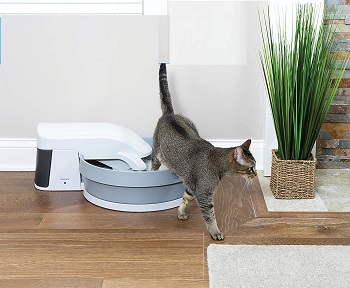 Odor Management Design And Accessories
Inside the electric cat litter box, placed on top of the bowl and a bit to the side, you'll find located carbon filters for better odor control. They are easy to replace and another way of odor management is the sealed top which can be taken of when replacing filters
Operation And Size
It won't take up much of your space since it takes up approximately 3 square feet of space. Besides being small, it is also very quiet when it's on so that it doesn't bother you or your cat. It has a LED light indicator to tell you that it's working.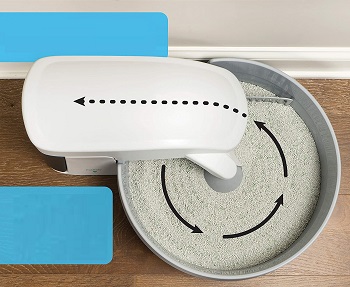 Litter Disposal
The high walls reduce the chance of litter going all over your floors. The self sifting litter box should be filled with clumping clay litter for best results. The litter that leaves the machine is placed inside a bin for you to take it off and throw the excess litter. This bin can also be covered with a small bag for even easier cleanup.
In Short:
 Runs quietly
Uses carbon filters and sealed top for no odor
Cleans litter every 30 minutes
Small in size
LED light indicates if it's working
BEST SMALL CAT AUTOMATIC SIFTING LITTER BOX
Litter Spinner Quick Clean
Intended For Small Cats
This self sifting litter box is enclosed and is accessible through a small hole in the middle of it. The hole makes a 7.5-in circle so if you think that your cat won't be able to go through the hole, don't get it. It's intended for small cats.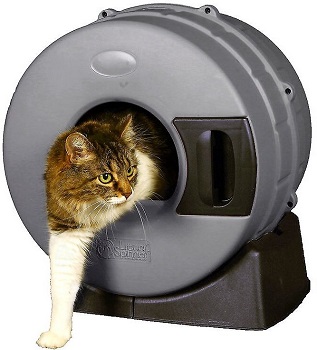 How It Looks And Why
It has a tumbler shape and it's placed on a pedestal. This is so that you can begin the cleaning process. It also has a box with grids on the sides so that clean litter can come through and get back to where it should be. It is enclosed so that there is less odor coming from the litter.
Saving Money
For it to function best, you'll have to use litter, that clumps but you can use any branded or non-branded litter of this kind so in turn, this will save you some money. Another thing that will save you money is that it doesn't run on electricity.

Simple Operation
After you spin this litter box a few times and the box sifts the litter, the excess litter will be contained in the box that you will then be able to pull out to throw out excess rubbish. It's simple to use and is a no-mess experience.
In Short:
Sifts and cleans litter with your help
Tumbler shape and pedestal make rolling easy
Any type of clumping litter works with it
Fit for smaller cats
BEST CHEAP SELF SIFTING CAT LITTER BOX
Van Ness CP5 Sifting Cat Pan
Safe And Quality Build
This self sifting litter box is made with only high-quality materials in mind. Everything that you see and get with it is approved by the food and drug administration. This means that the product will in no way be harmful to your cat. the product is also made 20% of recycling materials.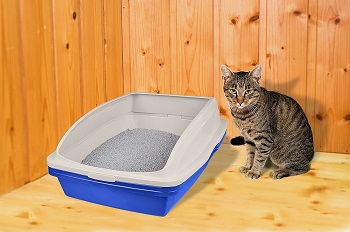 Size And Functioning
With this pan, you don't need to use a scoop for cleaning. because the box sifts litter. It is a faster and more efficient way of cleaning the cats' litter. It is a bit small seeing that it only takes up 2 square feet of space so make sure that your cat can fit comfortably inside it.
Using The Litter Box
The cheap self-cleaning litter box consists of a sifting, grided plastic rack, and two pans. Using it is simple. When you lift the rack, the litter will sift into one of the pans. You then throw out any litter that is left on the sifting rack, place it inside the empty one and fill the litter back on it with the pan that has a litter, set it all up again and you're ready to repeat the process any time.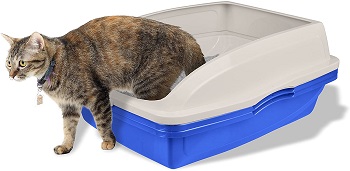 Cleaning Process
It is very easy to clean seeing as the finish coat makes it stain resistant. this also makes it long-lasting, Another thing you don't have to worry about mess outside the box. It has high side pannels so that litter stays in.
In Short:
 Consist of 3 stackable parts
It is stain resistant
Made out of recycled materials
For sifting, lift the pan
Takes up 2 square feet of space
BEST LARGE CAT SELF SIFTING LITTER BOX
SpeedySift Cat Litter Box
Build Material And Design
Although it looks like it's made from cardboard, this litter box s 100% made out of plastic. It is made to look like a box since the general assumption is that cats love boxes and enclosed spaces.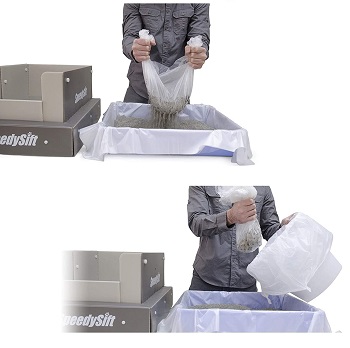 Contents Of The Box
The self cleaning litter box for large cats consists of a large pan and a lid for the pan. You simply place the top lid on the pan after you've placed the plastic bags on the pan and it's ready to be used. With the box, you'll get 4 packs of plastic bags. Each pack has 14 bags.
Disposable Plastic Bag Use
You don't have to place the bags inside one by one. They are stacked so you simply place the whole pack of 14 liners inside the pan and take them away one by one when needed. They have holes inside to sift clean litter from dirty litter. this will also give you a mess-free and scoop free experience because the dirty litter is trapped inside the bag and ready to be thrown out.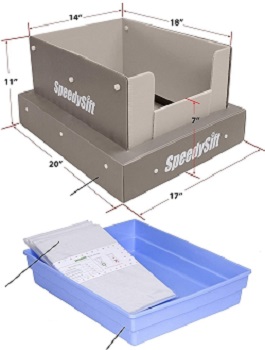 Additional Expenses
The side walls can be replaced by buying other ones. They can be cleaned with a wet wipe, but if you need to, it's good to have this option available. Heavyweight clumping clay is the recommended type of litter to use with this self sifting litter box.
In Short:
Box contents include 4 packs of 14 plastic bags for cleaning
Gives you a scoop free and mess-free cleaning experience
recommended litter to use with it is heavy weight clumping clay litter
The plastic bags are disposable and need to be bought again overtime
The high sides can be replaced by buying other ones
BEST MECHANICAL AUTOMATIC SIFTING LITTER BOX
Le You Pet Cat Litter Box
Shape And Build Materials
This mechanical litter box is shaped like a cradle and stands on a pedestal. All the parts are made out of plastic and you'll have to assemble it for it to work. The assembly process is easy and even has a video step by step guide on how to do it.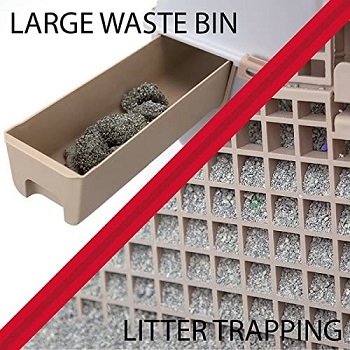 How It's Built To Function
It's made simple. The grided sifting plate is placed next to the litter placing part. The grid divides the litter placing part from the area where the litter is divided from the clumped up, dirty litter. The clumped up dirty litter goes inside the litter container and can be pulled out to dispose of the litter.
Cleaning Process
Cleaning and sifting is a 4 step process. First, you flip the box and the sifting process begins. Then you place it back to its original form and the clean litter is placed back into the littering area. Then you pull out the container and throw out the excess litter.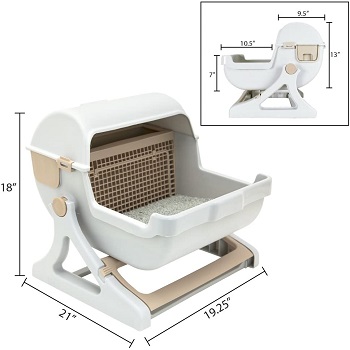 Made For Most Cats And Homes
Luckily enough, this self sifting litter box can be used by cats of all sizes. It can easily support the weight of a cat that weighs 18 lbs.  It is large but doesn't disrupt the harmony of your home. You can place it anywhere to be used because of its shape.
In Short:
Sifts litter by flipping the litter box
Dirty litter goes to a pullout container for easy throwing out
Doesn't need additional accessories except for litter
Built for cats of most sizes, even larger ones
BEST SEMI-AUTOMATIC SELF SIFTING LITTER BOX
Catit SmartSift Litter Box
Closed Top Odor Management
This self sifting litter box has a closed-off top and has a door that gives your cat an entrance point. The door can be opened or closed off to better contain possible odors coming from the box. The door is large enough to fit inside cats of all sizes.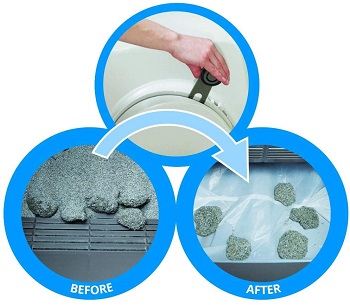 Handle Pull Sifting
You don't have to do much with this litter box to clean the litter. The way you do so is by simply pulling a handle on the side of the box that then begins the sifting process. It saves you litter so you don't have to buy it that often. You can do this once a day and once a week, remove and replace the plastic bag where litter falls.
Added Features
You don't have to disassemble the whole auto litter box for large cats to check how much much litter is there to dispose of. there's a window located on the top of the box to do so. Another added feature is a built-in carbon filter to provide enough ventilation.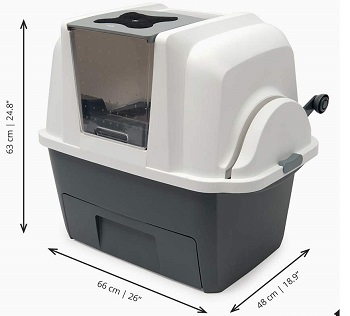 Liners For A Cleaner Box
With the box, you'll get 2 plastic liners for keeping the litter box and waste compartment clean. Of courseyou can buy more when there's a need to do so. The litter weight shouldn't go over 11 lbs so be vary of much litter is inside.
In Short:
Sifts litter with the pull of a lever
Available to be used by cats of all sizes
Has a built-in carbon filter for ventilation and odor control
You can use it once a day and throw out litter once a week
Comes with 2 plastic bags for a clean litter box and container
How To Pick A Self Sifting Litter Box
Self sifting litter boxes come in all sorts of types. THey can be as simple as a pan, or they can come as a closed box that you can roll to clean. They can even differ in how they divide dirty litter from the clean one. What you'll get is entirely up to you and your preferences but before buying you might want to consider a few things.
Litter Containers – litter containers are an integral part of these litter boxes. They should either be made as a separate pull-out compartment so you don't need to scoop the litter, just throw it out, or it will come with a disposable bag and that's where the litter will drop
Good Sifting Grids – Usually, these products will sift litter by providing a sifting grid that separates clean from dirty litter. The grids shouldn't be too big nor too small so that clean litter can easily pass through it and that dirty litter can fall into the right container
Closed Off Top – Since these litter boxes don't usually self-clean and are completely mechanical, it's smart to choose a closed off top litter box so that any odors that might come off are contained in the box. Another good thing about is that cats love enclosed places so it's easier for them to accustom to littering in the box
Litter Type – For it to work the way it's intended, you should look out for what kind of litter you're buying for the litter box. The recommended litter is usually clumping clay litter. This type of litter will make sure that your cat always has clean litter because the dirty litter will clump and be separated from the clean litter when the sifting process begins.
To Sum Up
There's a lot of things that separate a good self sifting litter box from a bad one. With a closed off top, simple sifting with the pull of a handle, the fact that it can be used by cats of all sizes, and an integrated carbon filter for good ventilation make the Catit SmartSift Litter Box the best out of all the other ones. If you don't want to rely on cleaning the litter yourself then you should definitely read this post about self washing litter boxes and if you do want to be involved in the cleaning process of the box but want it to be simple, read the post about easy cleaning litter boxes.