Are you seeking fancy design cat trees or furniture?
No worries! We are here to help.
Read on and find out more about designer cat towers, condos, and beds. We also suggest you check out the buying guide we wrote. It will help you find the most appropriate model for your cats and your household.
The Summary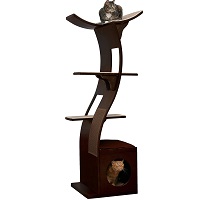 Best Of Best:
The Refined Feline Modern Style Cat Tree
This is a multi-level cat tree that includes a ground floor cat condo. It is suitable for cats of all sizes and ages. Check out more details about this unit.
Jump To Review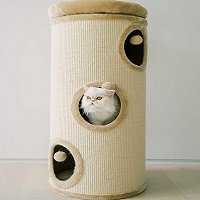 Best Condo:
Pawmona Cat Condo
Pawmona's condo is spacious and accommodates two – three cats. This 3-story cat condo includes a comfortable top perch.
Jump To Review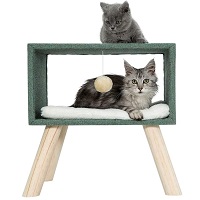 Best Small:
Furrytail Scandinavian Cat Furniture
The small cat condo by Pawmona comes in light green color. It stands on four legs. It includes a removable cushion and a cat toy.
Jump To Review
Best For Kittens:
Amolife Nice Looking Cat Furniture
A multi-function round end table with a small cat bed. This unit is modern and matches any home interior. It can be used outdoors as well.
Jump To Review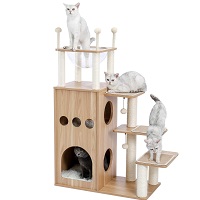 Best For Large Cats:
Made4Pets Design Tower For Cats
Small, medium and large cats can play and rest on this cat tree with no problems. The unit includes all the content that will satisfy your cats' needs.
Jump To Review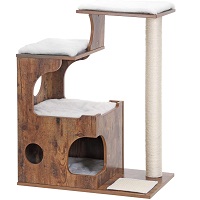 Best Without Carpet:
Feandrea Medium Cat Condo Tree
Feandrea's cat tree has no carpets. However, it includes four removable cushions. This vintage cat tree is stylish and long-lasting.
Jump To Review
Top 6 Designer Cat Furniture
Best Of Best: The Refined Feline Modern Style Cat Tree
Stylish And Tall
This dark-brown cat tree by Refined Feline includes a ground floor cat condo, two platforms, and a large top perch. The unit is ideal for multiple cats. It is sturdy and tall. Cats that love to climb to high places will adore this unit and love to observe the surrounding.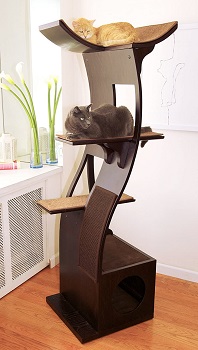 Easy To Clean
This designer cat tower comes with carpets for each platform. The carpets are simple to remove so they can be cleaned and vacuumed. Get rid of the cat hair in no time and put the carpets back on. There is a cushion included that fits the cat condo perfectly.
Fun And Cozy
Your cats can play on this tree for hours. The unit is durable and sturdy and won't collapse easily even if two cats jump off of the unit at the same time. There is a scratching post included that will keep your cats cozy and comfortable. It is spacious and has a large entrance.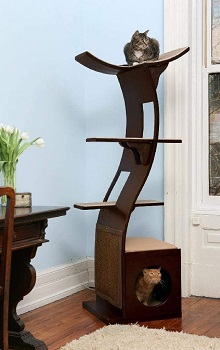 For Multiple Cats
This multi-cat tree can hold up to three or four adult cats with no problems. It is suitable for cats of all sizes and breeds. Senior cats will love to sleep inside of a cat condo. Active and young cats will love to jump between the levels or scratch the post and climb the platforms.
In Short:
tall and multi-level cat tree
suitable for cats of all sizes
the tree includes one cat condo
top perch is perfect for large cats
cushions and carpets are easy to clean
Best Condo: Pawmona Cat Condo
Spacious And Easy To Clean
Pawmona's designer cat condo is cozy and roomy. It is a perfect unit for cats that love to sleep and lounge. There is a removable cushion included. The cushion is easy to clean and it can be machine-washed as well. Clean it regularly. It is important for your cat's health.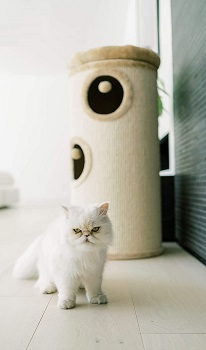 Durable Construction
This tree has a wide and heavy base. It makes sure your condo doesn't wobble. This unit is not easy to overturn. Even so, we suggest that you place it next to the wall. It will provide extra stability. This 3-tier cat tree condo is wrapped with natural sisal matting.
No Assembly
This snuggle bed includes a top perch for lounging, as well as three tiers. The Pawmona's condo for cats is one of those units that do not require an assembly at all. The package ships with the assembled cat condo and it is ready to use momentarily.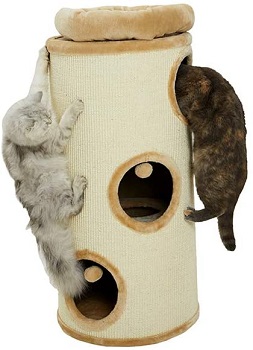 Size And Capacity
The condo's base is 18" wide. It keeps the condo stable and makes it durable. The unit is 37" tall. It is of medium size and saves spaces. The unit's capacity is up to two adult cats of three cats of smaller size.
In Short:
room and comfortable cat condo
made of durable materials
the base of the condo is heavy and wide
wrapped in sisal and promotes scratching
spacious and ideal for 2-3 cats
Best Small: Furrytail Scandinavian Cat Furniture
Light Green Design
Furrytail's small cat condo is an interesting and nice-looking piece of Scandinavian cat furniture. It comes with a light green fabric surface. It is made of natural wood which makes it durable and steady. The unit includes a removable soft cushion.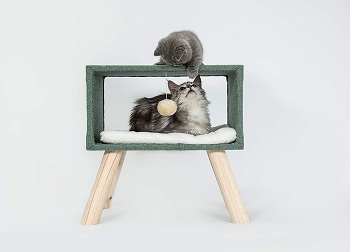 Comfortable And Cute
This designer cat furniture condo is soft and keeps cats warm. The unit is covered in skin-friendly material that cats love. The cushion included is easy to clean (it can be machine washed as well). Furrytail's cat condo looks nice with most home decors.
Interactive Cat Condo
There is one large teasing cat ball toy included. It hangs from the top and attracts cats' attention by swinging back and forth. Some cats will play with the ball for hours, while other cats will prefer sleeping and grooming inside of this condo.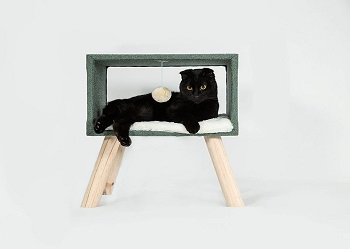 Sets Up In No Time
This is a condo that will accommodate one adult cat with no problems. You can use it as a kitten condo as well. In that case, it will hold up to two smaller-sized without collapsing. Simple and quick assembly is required. Secure the legs to the main unit and you are ready to use.
In Short:
Scandinavian light green cat condo
stands on four legs
the legs are simple to attach
the unit includes a removable cushion
one teasing toy hangs from the top
Best For Kittens: Amolife Nice Looking Cat Furniture
Multi-Function Table Bed
Amolife's small round end table is here to offer space for sorting your items or to host your cat and make it have its own special. It is a versatile table that blends in nicely with any interior decor. This unit can be used as a sofa side table either indoors or outdoors.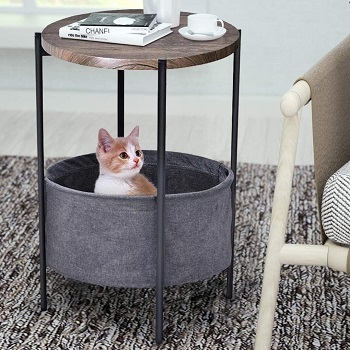 High-Quality Material
This table with a cat bed is made of durable material – steel and wood. The unit will hold up to 120 lbs. It is powdered with non-toxic and anti-rust spraying. The cat bed-storage basket is made of two layers of cloth. It is durable and it will hold one cat.
Simple To Put Up
This small piece of designer cat furniture needs to be put together. The assemble will last no more than 10 minutes. Its overall size is approximately 17.3″ D x 24″ H. The unit will fit anywhere in your room or living room. It is lightweight and easy to move.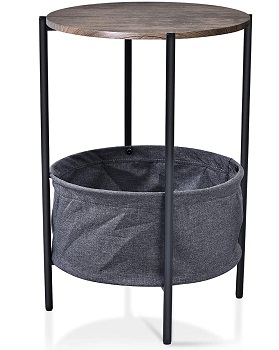 Simple To Keep Clean
The surface of this piece of modular cat furniture is smooth and waterproof. Use the soft cleaning cloth and wipe off the surface with ease. Use on-toxic and pet-friendly detergent. Clean the bed with a lint roller or a hand vacuum.
In Short:
small and versatile table cat bed
lightweight and easy to move
simple to clean with a cleaning cloth
waterproof and made for outdoor use too
the cat bed accommodates one cat
Best For Large Cats: Made4Pets Design Tower For Cats
Modern And Large
The Made4Pets manufacturers have made an attractive cat tree that looks nice in any modern and stylish household. This cat tree is beautiful, charming, and ideal for multiple cat owners. It provides hours of fun and makes your kitty cats comfortable and safe.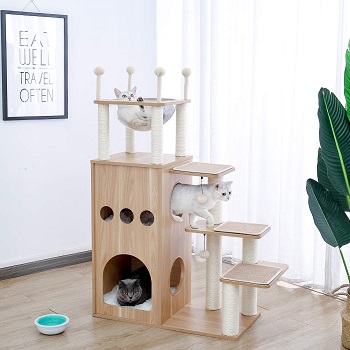 Multiple Cat Platforms
This designer cat tree included three step-like cat platforms, sisal-covered scratching posts, 2 spacious cat condos, and a top transparent nest. The tree is easy to climb. Your cats can jump between the levels with no problem. This unit won't overturn easily.
Sturdy And Durable Construction
The Made4Pets cat tree is made of thick and eco-friendly CARB-certified natural particle boards. The base is wide and sturdy. It is heavy and keeps the whole unit stable. The sisal scratching posts are durable and their rough texture attracts cats and invites them to scratch and maintain the claws healthy.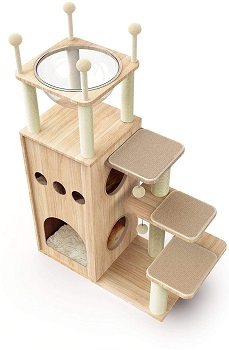 Holding Weight And Setup
The unit will hold up to four adult cats with no problems. Each cat will have just enough space for sleeping, lounging, playing, and scratching. This unit must be assembled. All the hardware and tools are included as well as the detailed instructions.
In Short:
modern, tall, spacious, and large
includes step-like cat platforms
roomy cat condo fits large cats
a transparent cat nest is included
this tree is made of eco-friendly material
Best Without Carpet: Feandrea Medium Cat Condo Tree
Vintage Design
Feandrea's vintage designer cat tree is made of dark wood veneer. It includes white fur pads. This beautiful cat tree fits in nicely with rustic home decor. The unit is wide and stable. It includes one spacious condo and three platforms. The side pillar keeps the unit stable.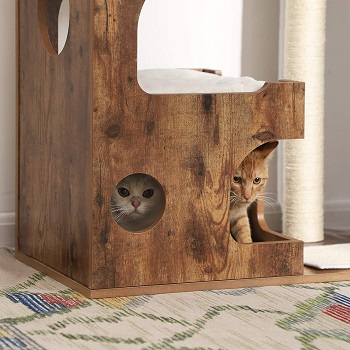 For Clean Cats
If you have clean, cuddly, and cats with a calm personality, your will love this unit. It provides your cats with a lot of space for resting, grooming, and lounging. The tree is simple to clean as well. This is important for your cats' health.
Ideal For Scratchers
If you want to prevent your cats from scratching your furniture, make sure you get a unit that includes a scratching post. This luxury cat tree comes with a tall scratching pillar that is wrapped in natural sisal.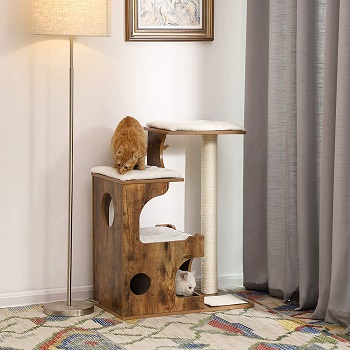 Removable Cushions
There are four removable cushions – one for each platform and one for the cat condo. The cushions can be removed and machine washed. Be sure you keep this cat tree with a condo clean. Maintain the unit regularly.
In Short:
vintage and sleek cat tree design
includes one spacious cat condo
the unit comes with removable pads
this cat tree is perfect for cuddly cats
a sisal scratching post is included
How To Pick: Designer Cat Trees & Furniture
Designer cat trees, condos, and other pieces of cat furniture are definitely pleasing to the eye. They blend in nicely into modern and stylish home decor. However, besides its attractive design, you should check if the item you want to buy is safe and made of quality material. Read our buyer's guide and find out how to buy the safest unit for your lovely fur friends.
Beautiful Appearance – Modern-style cat trees and condos are incredibly pleasing to the eye. They blend in with your furniture easily. It is possible that your visitors will not even notice a certain unit is designed for your cats. However, nice-looking cat trees and furniture may not always be functional. Make sure the material is of top quality and long-lasting.
The Appropriate Size – Social and active cats will love to climb tall cat trees with multiple levels. They will love spending time on elevated perches and observe the surrounding environment. When it comes to shy cats or senior cats, they will probably prefer spending time inside of cat condos or in cat beds. Make sure the unit you are looking to buy fits your cat and provides enough space. Also, check the unit's maximum holding weight as well.
Safe And Quality Material – Look for a unit that is made of non-toxic and pet-friendly material. Some of the safe materials are natural wood, sisal, and hemp. Units made of particleboards, veneer, or MDF are fine as well, although not as durable as the wooden cat furniture. The cat tree or condo that you need to look for should be sturdy, well-balanced, and stable.
Extra Content And Toys – Some of the cat furniture products, especially cat trees, include interactive hanging toys. Scratching posts are also included. Many cat condos and beds come with a post as well. It is highly recommendable that your cat has a special place for scratching. It will save your furniture from being damaged and help to maintain your cat's claws healthy and strong.
Where To Buy? – Designer cat furniture can be purchased online. Most pet web shops offer a large variety of modern and unique cat trees or condos. Before buying, make sure the website is reliable and the unit comes from a manufacturer that you trust. Check customer reviews as well.