Are you looking for a cat tree with stairs and steps?
Then you have come to the right place. Read on and find out more about these units. Choose between the six models we have reviewed and get the most appropriate one for your household.
The Summary
Best 6 Cat Trees With Stairs
BEST OF BEST CAT TREE WITH STAIRS
Furhaven Spiral Staircase Cat Tree
Fun Cat Tree Design
Furhaven's cat tree with steps is perfect for two active indoor cats. There are multiple platforms included. This cat tree allows your cat to climb and jump between levels. Also, this unit is here to help your cat to keep its claws healthy and strong.
Long Cozy Naps
This cat tree is entirely carpeted and covered in a soft and warm faux fur plush material. Cats love such material because it keeps them warm and comfortable. This cat tree will help your lovely cats to feel relaxed and safe. It is an ideal unit for long naps.
Scratching Posts
There are multiple scratching posts included. They are wrapped in sisal fiber and are here to help your cats scratch and stretch after waking up from a long nap. Apart from the posts, there is a dangling toy included to attract your cat's attention.
Useful Details
The measures of this sturdy cat tree are 26″ x 19″ x 49.5″. You can choose between the grey, cream, brown, or blue color of this tree. This cat tree will help your cats to stay active and occupied on a daily basis. It is a stable cat tree that will last you a long time.
In Short:
fun and cozy cat tree for two cats
ideal for play and long naps
includes a fun dangling toy
there are multiple posts included
the material is of good quality
BEST CONDO CAT TREE WITH STAIRS
Go Pet Club Stairway Cat Condo Tree
Choose Between Different Colors
You can pick between different colors of this cat tree unit – beige, grey, black, brown, or paw print. The tree looks nice in any household and the colors are neutral. The tree is almost fully carpeted and wrapped in sisal scratching material.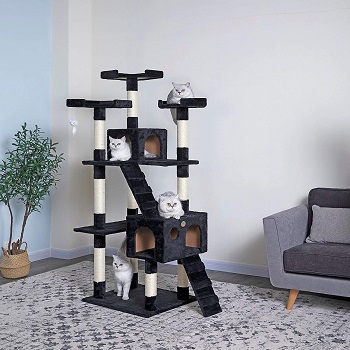 Amusing And Cozy
Cats are active animals. They love to spend time jumping and climbing. This multi-level cat tree with ladders will help your cats to stay active and to exercise on a daily basis. The tree includes two cat condos as well. One is more spacious than the other. Both condos have large entrances.
Firm Construction
This unit is made of quality material. It is ideal for cats of all sizes. The unit is well-balanced and firm. It will remain stable even if two of your cats jump off of it at the same time. Place it next to a wall just in case. It will add extra stability.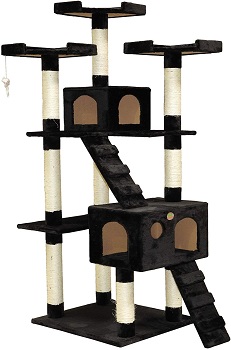 Affordable Price
If you have a limited budget but need a large cat tree, this cat tree with stairs and ladders will save you. The cost is pretty affordable and the tree will help to satisfy your cats' needs with all the fun and cozy content it comes with.
In Short:
choose the color you prefer
it is a multi-level and fun tree
it comes with two spacious condos
the unit will hold multiple cats
suitable for cats of all sizes
BEST MODERN CAT TREE WITH STAIRS
Trixie Step Ladder Cat Tree
Carpeted Design
Trixie's cat tree is entirely carpeted. It is covered with plush cloth. Cats love to sleep and rest on such a warm and fluffy material. This is another cat tree that is ideal for long naps. There is plenty of cozy space to choose from.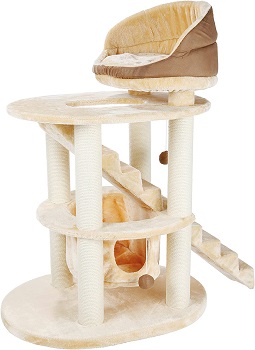 Sisal Scratching Posts
Cats scratch for different reasons. They stretch after waking up and leave a visual mark as well. This cat tree will help to prevent your cat from scratching your furniture. It will encourage their natural instincts and keep their claws healthy.
Perch And Hammock
There is a top perch included. It is ideal for cats that love to spend time in high places and observe the surrounding. This makes them feel confident and safe. An extra-deep hammock is included as well. It will help your cat to relax.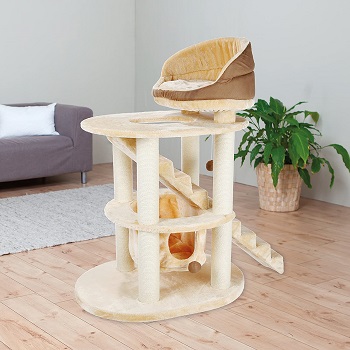 Size And Capacity
This cat tree with steps measures approximately 30.5 x 26.75 x 43.5 inches. It will hold two or three adult cats at the same time with no problem. The tree is well-balanced and sturdy. It is a cat tree for adult cats of medium size.
In Short:
the unit is carpeted with plush
it includes a top cat perch
there is a large hammock included
it is ideal for medium adult cats
it includes scratching posts
BEST CARPETED CAT TREE WITH STEPS
New Cat Condos Cat Tower With Stairs
Comes Fully Assembled
This is one of the rare models that comes already assembled. You don't need to spend time setting up this cat tree with stairs. Simply introduce your cat to its new playground and that is it.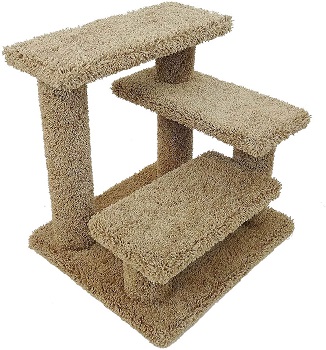 Small And Functional
It is a small and short cat tree. It is made for cats that love to climb and rest. The unit is covered in safe and fluffy faux fur material. It is ideal for sleeping and keeps cats and small dogs safe and relaxed.
Sturdy And Solid
The New Cat Condos' cat stairs tree is made of solid wood. The unit is sturdy and firm. It is hard to break or overturn. This is a well-proportioned unit and it will accommodate up to 100 pounds with no problem.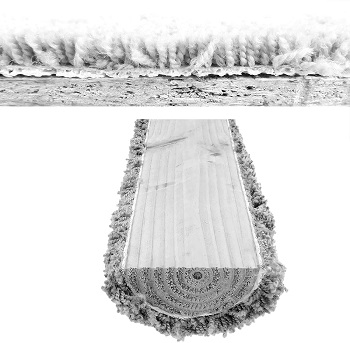 Quality Material
Since this tree is made of natural and solid wood, you don't have to worry it will break or collapse. The natural material is always the best. This unit will surely last you a long time. Also, the price is pretty affordable!
In Short:
small cat tree for cats and dogs
constructed of natural and solid wood
covered in skin-safe and fluffy carpet
long-lasting and firm construction
comes already set up
BEST FOR LARGE CATS CAT TREE WITH STEPS
PawHut 5-Level Stairs Tree
Multiple Functions
PawHut's multi-level cat tree comes with five levels. It stands on a wide and stable base which keeps the tree stable. There are four platforms and an elevated perch included. The tree is nice, attractive, and keeps cats active and occupied.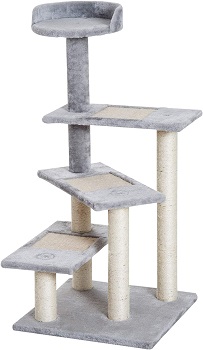 Keeps Furniture Undamaged
There are multiple scratching posts included. Cats need to scratch to keep their claws healthy and strong. If you don't provide them with a scratching post, they will easily find an alternative and might damage your furniture. This cat tree can prevent that from happening.
Well-Balanced And Stable
PawHut's cat tree with steps is made of solid particleboard. It is strong and firm. This cat tree is stable and well-proportioned. It will be here a long time to keep your cats active and satisfied.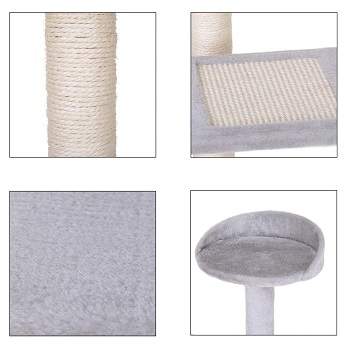 Setup And Measures
This nice cat tree's dimensions are 19″ L x 19″ W x 39.25″ H. The unit needs to be assembled. The setup is easy and one adult can do the job properly. The unit will hold up to three cats of medium size or two large cats without wobbling.
In Short:
made of solid particleboard material
covered in skin-friendly plush
includes fun multiple levels
there is a roomy elevated perch included
it stands on a heavy and wide base
BEST WOODEN CAT TREE WITH STEPS
Armarkat Aeromark Step Stairs For Cats
High Quality
Armarkat's cat tree is made of natural wood. Its overall quality is high and the unit is long-lasting, sturdy, and durable. It is perfect if you have large cats at home. This unit is suitable for cats of all sizes and breeds. Small dogs can use it too.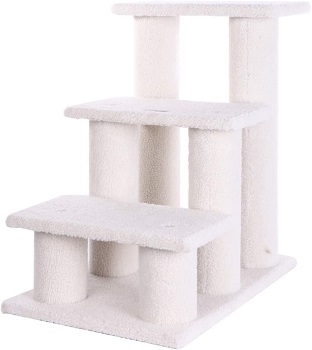 Solid And Strong
This cat tree with stairs will hold up to 70 pounds at the same. Its sturdy construction makes it firm and almost impossible to break. In our opinion, the Armarkat's solid cat tree is one of the best cat towers with stairs.
Soft Covering
Just like every model on this list, this unit is covered with a soft and warm plush material. It is skin-safe and keeps cats warm and cozy. This unit will be your cat's favorite resting space and an activity cat tree as well.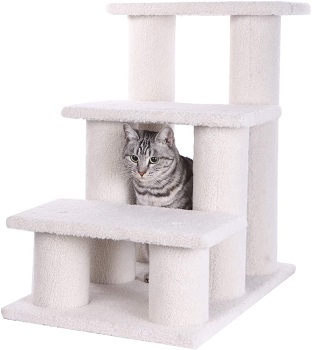 For Cats And Dogs
You can place this unit in your home if you have both cats and dogs. The unit is easy to climb. Cats of all sizes can stay on the tree and dogs of smaller sizes as well. Check out more details about this tree and see if it meets your needs.
In Short:
made of solid wood material
covered in soft and warm plush
suitable for cats of all sizes
can hold small dogs as well
durable and firm construction
How To Pick: Cat Trees With Steps
In order to buy a perfect cat tree with stairs and steps, make sure that it is safe for your cats in every way. Pick the right model. It should be of the appropriate size and fit nicely into your home. Also, not every cat can climb to high places easily. Read on and find out more.
Cool And Attractive Design – Cat trees and towers with steps and stairs look nice and attractive. They are different than most of the models. They are ideal for indoor cats and are here to keep your felines active. Choose between different models and find the appropriate unit for your lovely fur friends.
For Active And Healthy Life – Cat indoor trees are here to help your cats to stay occupied. They will attract your cat's attention and make them want to climb and jump. Cat trees may help to reduce feline conflicts if you have more than two cats at home. Also, these units come with scratching posts and will encourage your cats' natural instincts of scratching while keeping your furniture undamaged.
Choose The Right Model – Short and medium cat trees will be perfect for small spaces. Also, they are here to satisfy the needs of shy and cuddly cats. On the other hand, if you have enough space at home and you are a multiple-cat owner, a taller version of a cat tree will be ideal for your household.
Carpeted And Soft – Most step ladder cat trees are either partially or fully carpeted. The plushy material that the tree is covered with is skin-friendly. It keeps cats safe and makes them feel warm and relaxed. Such a material reminds cats of their mother's fur that they used to knead when they were babies.
Easy To Set Up And Clean – Note that you are going to need to set your new cat tree with steps up. Most of the time, the assembly is quick and easy. The detailed instructions are always included. When it comes to cleaning, use the vacuum cleaner or the lint roller and get rid of cat hair easily.