Have you been trying to find an affordable cat tree? Then read our article about the best 6 cat trees under $30.
We have made a top list of the cheap cat trees that you can easily find online. Check them all out and learn more about their features, size, and functionality.
The Summary
Top 6 Cat Trees Under $30
BEST OF BEST CAT TREE UNDER $30
Trixie Small Simple Cat Tree
Soft And Cozy
Trixie's cat tree is almost entirely covered in ultra-soft and warm plush fabric. It is skin-friendly and keeps your cats relaxed. It makes them feel safe. This unit is ideal both for quick naps or long sleep.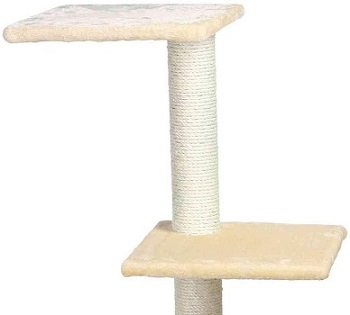 Multi-Level With Condo
This is a three-level cat tree. There is a cat condo located on the ground floor. It is covered in plush material from the inside as well. There are two platforms above the condo. This unit is perfect for climbing, playing, jumping, and scratching.
Size And Capacity
The overall size of Trixie's cat tree under $30 is about 15 x 15 x 43. The condo measures 15 x 15 x 10 and the size of the two platforms is 14 x 14". It is recommendable that no more than two adult cats or three small cats use this cat tree.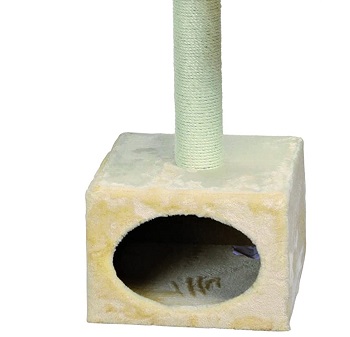 Scratching Posts
This cat condo tree house includes scratching posts. They are here to help your cat climb to the top and to scratch and keep their claws healthy and strong as well. This cat tree will save your furniture from damages. The size of the posts is 3.5".
In Short:
covered in ultra-soft plush fabric
includes 3 levels and a condo
warm and cozy from inside as well
ideal for up to 3 small cats
includes scratching posts
BEST HAMMOCK CAT TREE UNDER $30
Paws And Pals Basic Elegant Cat Tower
Elegant And Simple
This small and simple cat tower by Paws And Pals is modern, stylish, and elegant. It looks pretty with almost any home decor. This cat tree is another affordable model that will keep your cat safe, cozy, and warm.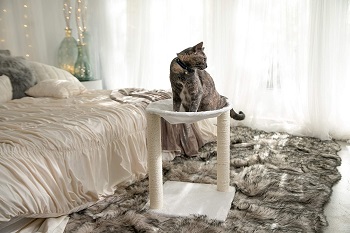 Fun Dangling Toy
The Paws And Pals' cat tree comes with one interactive dangling toy that hangs from the cozy perch. When your cat feels like it wants to play, it will get to stay occupied with the toy that will swing back and forth and attract its attention.
Fast To Set Up
Just like almost any cat tree, this one needs to be set up. However, this is a short cat tree and she set up takes only a couple of minutes. The overall measures of the assembled tree are 16" L x 16" W x20" H inches. The unit will accommodate one cat.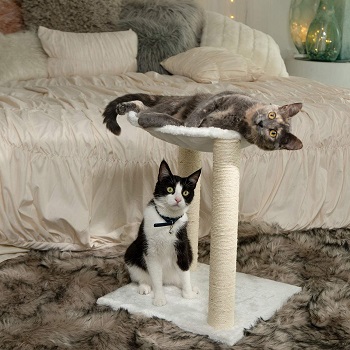 Good To Know
You can maintain this unit clean with a vacuum or a lint roller. Keep it clean regularly. Cats love to stay in a clean environment. This is another cat tree under $30 that includes scratching posts that keep the cat's claws strong.
In Short:
simple and elegant cat tree design
includes a perch and a toy
it comes with two scratching posts
simple to put the pieces together
easy to keep it clean
BEST MASSAGE CAT TREE UNDER $30
Furhaven Tree With Massage Board
For Self-Grooming
Furhaven's cat tree under $30 is different than other cat tree models on this list. It includes a special massage-board with an arched brush that helps cats with self-grooming. The brush includes sturdy and soft bristles.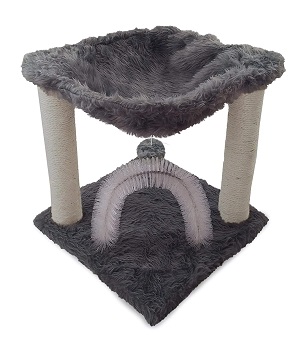 Fun And Small
Just like almost all cat trees that we are talking about in this article, the unit is small, compact, but functional too. It comes with a plush ball toy that will keep your cat occupied. Apart from that, the unit includes a sisal scratching post and satisfies your cat's instinctual needs.
For Cozy Napping
The included perch is soft and welcoming. It attracts your cat and invites it to sleep and lounge. It is lined with plush faux fur material. Cats love to sleep and knead on such material. It keeps them safe and warm.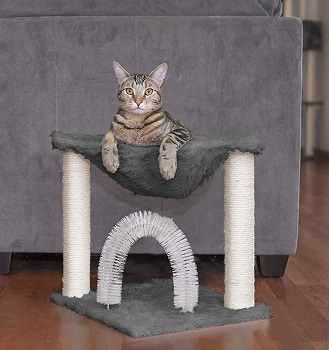 The Dimensions
This small but luxury cat tree measures approximately 15.75″ x 15.75″ x 17.3″. It comes in silver and it is stylish. The tree is perfect for one adult cat of small to medium size. It is well-balanced and can be placed in a corner too.
In Short:
small and well-balanced tree
includes a cozy cat perch
there is a self-grooming massage arch
the unit is warm and soft
comes with scratching posts
BEST INTERACTIVE CAT TREE UNDER $30
Penn Plax Short Fun Can Tree
Small Size
Penn Plax's cat tree measures only 12″ x 7″x 11.5″. It is a space-saving cat tree that you can easily place on any flat surface. Not necessary on the floor only. This unit comes fully assembled so you don't have to think about the setup.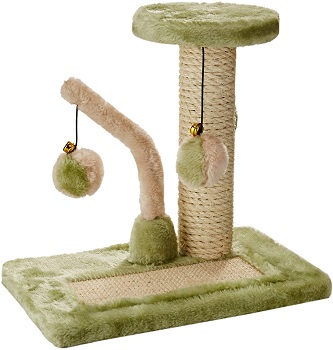 For All Cats
Cats of all sizes, ages, and breeds can play with this cat tree under $30. However, large cats will not always be interested in such a small unit. This is why we recommend you get this unit if you have kittens or smaller-sized cats at home.
Amusing And Fun
This small cat tree includes a sisal scratching pad and a tower with dangling swatting toys. It keeps cats occupied and invites them to scratch and stretch after waking up from a nap. Color may vary.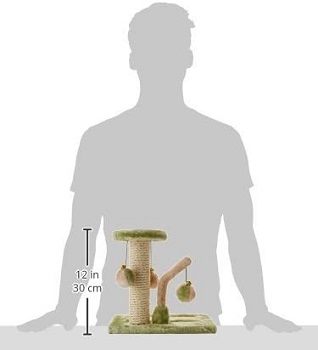 Covered In Plush
Half of the tree is covered in skin-friendly plush. It is safe for cats in every way. This material will attract small cats and allow them to rest on the tree. Cats love fluffy faux fur material.
In Short:
ideal for small cats but suitable for all
covered in sisal and faux fur plush
cozy, warm, interactive, and fun
includes dangling toys
a perfect scratching cat tree
BEST SMALL CAT TREE UNDER $30
Rumuuke Scratching Activity Tree
The Material
Rumuuke's cat tree is made of thick cardboard material. The unit is wrapped with natural fibrous sisal. This is one of the eco-friendly cat trees under $30. It is pet-friendly and safe for cats in every way. It keeps your fur friends happy and active.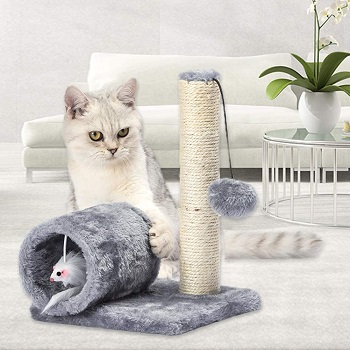 Entertaining Content
This cat tree under $30 includes fun and small cat tunnel. It is covered in plush carpet from the outside and inside. Apart from that, there is a dangling toy that can be hung. It brings fun to cats and kittens. It hangs from the top of the post.
Sisal Post
The scratching post is completely covered in skin-safe and natural material – sisal. Such material is ideal for scratching posts. Its rough texture invites cats to scratch and keeps your furniture undamaged.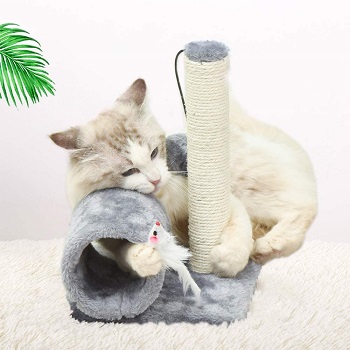 Promotes Healthy Behavior
The Rumuuke's cat tree will keep small cats and kittens active and occupied. If you have more than one cat at home, it may help to reduce feline conflicts. Cats will release their built-up emotions and stay relaxed after having played on the tree.
In Short:
made of cardboard and sisal
includes a post and a toy
there is a soft tunnel included
keeps cats active and occupied
reduces feline conflicts
BEST FOR KITTENS CAT TREE UNDER $30
Korimefa Kitten Cat Tree With Perch
General Details
This is a cat tree that is suitable for kittens and small-sized cats. It is simple to assemble and disassemble. It doesn't take up much space. It is a small and cute cat tower that helps your cat to get rid of bad emotions. Read on and find out more about this cat tree under $30.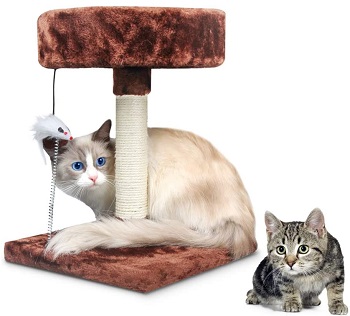 The Tree's Quality
This cat tree by Korimefa manufacturer is made of sturdy and firm board material. It is covered in sisal and soft plush. It is a comfortable, stable, and sturdy cat tree. As long as it is used properly, this unit will last you a long time.
Easy To Assemble
Put the three pieces together in no more than 2 minutes. The unit sets up quickly and easily. It allows you to introduce it to your cat instantly. The assembled size is 11.8 inches long/11.8 inches wide/15.75 inches/height.
Simple To Keep Clean
Clean the unit easily. Use a lint roller or a vacuum and get rid of cat hair. Make sure that the unit is clean all the time. Cats love to spend time in a clean environment. They are clean animals and spend most of their waking time grooming.
In Short:
cute and simple design
made of a firm material
covered in sisal and plush
includes a dangling toy
ideal for small cats
How To Pick: Cat Trees Under $30
Before buying a cat tree under $30, read the buyer's guide we have prepared for you. It will help you understand which qualities are important to look for in such a cheap cat tower. The low price does not always mean good quality. Make sure your new unit is safe, functional, and pet-friendly.
The Affordable Price – If you have a limited budget are you need a cat tree for your cat, don't worry. The online market is full of all models of cat trees. Cat trees that don't cost more than $30 usually don't come in large sizes. Also, the cheap price often means medium to low quality. This is why you should make sure that the tree you like is stable and made of fine material.
Compact Size – These units most often come in short to medium sizes. They will fit anywhere in your home and save space. Place your new cat tree under your window, in an unoccupied corner, or next to a wall, and look at your cat have fun. Know your cat's needs, habits, and personality, and buy a simple cat tree or one with an elaborate design.
The Material – If you are looking for a cat tower under $30 that is made of natural material or solid wood, you will hardly find one. Cheap cat trees are usually made of particleboard or cardboard. If you use the tree properly, it should last you a long time. This means that you shouldn't get a cat tree for your two or three cats if the weight limit is 11 pounds, etc.
Skin-Safe Carpet – Most cat trees are covered in skin-friendly carpet or soft fluffy material. Cats adore such material because it reminds them of the time when they used to knead their mother's fur in order to stimulate the milk flow. Plush material keeps cats warm and makes them feel happy, safe, and relaxed.
Interactive Content – Every cat tree under $30 will include at least some of the following content: a condo, a perch or basket, a platform, an interactive toy, or a massage board. Also, make sure that a tree you like includes a scratching post. It will help to satisfy your cat's natural instinct of scratching.