Are you interested in buying the best wooden cat scratcher for your pet?
We will help you to pick the best option.
From the 6 different models that we reviewed, you can find the best cedar, corner, 2 levels, small or multilevel, so make sure you read all important features from our guide and choose the best one from our list!
The Summary
Best 6 Wooden Scratching Posts
BEST OF BEST WOODEN CAT SCRATCHER
Vesper Tree
Modern Design
If you're looking for a  wooden cat scratcher that is functional, tall, and modern, this is the perfect choice for your cat. It is made of high-quality pine wood, and you can pick between 3 beautiful colors that will perfectly fit in every interior.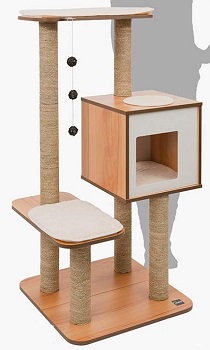 Safe And Stable
The sturdy base measures 22.1 x 22.1 inches so you don't have to worry about the cat's safety if it will fall down. Corners are rounded for owner and pet's safety, as well. You can place it next to the wall or window for better observation.
Seagrass Posts
There are multiple cat scratcher posts, wrapped with extra-long seagrass. This modern cat scratcher has 3 platforms, with soft cushions for comfort. Also, there is a condo for sleeping and privacy. Scratcher is 47,9 inches tall.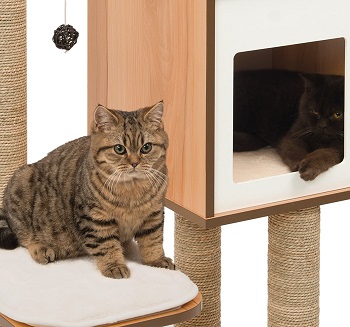 Quick Cleaning
This Vesper tree can be easily clean, because of the soft finish you can only use a towel and move the stains. Your cat will love using this, besides scratching, for stretching, climbing, and playing. Easy assembly in quick time.
In Short
Modern and functional scratcher made of pine wood
Sturdy and large base for stability
Multiple scratcher posts wrapped with seagrass
3 platforms with soft cushions
Easy cleaning and assembly
BEST CEDAR WOOD SCRATCHING POST
Natural Scratch Post
Simple Design
Most of the cats love scratching the wood, because of the natural instincts from its outdoor environment. If your cat prefers a wood scratching post, this one is a great option. It has a simple design, but very functional and easy moving scratcher.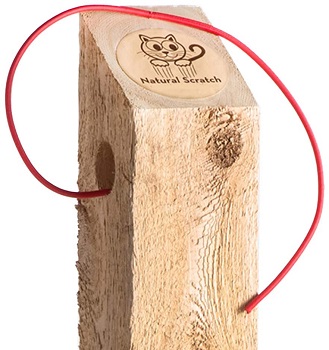 Rough Texture
Cat scratcher is made of cedarwood, and it has a soft but rough texture. Cats love the loud scratching noise, it relieves their stress.  This vertical cat scratcher measures 32 x 4 x 4 inches, the perfect size for cats of all ages.
Wide Base
The base of this scratching wood is also made of the same type of wood, and it is 32 inches long, to make sure it is stable, without wobbling or dangerous falling. Your cat can use it without worries.

Fun Features
At the top of the scratcher, there is an antenna, so your cat can play with that, as well as a mouse hole, to get your cat clawing. You can place the scratcher wherever you want, it is easy for moving and storing when you're not using it.
In Short
Made of natural cedarwood
Soft but rough texture for enjoyable scratching
Perfect for cats of all ages
Large and stable base for safety
Mousehole and an antenna for cat clawing and playing
BEST CORNER WOODEN CAT SCRATCHER
Odoland Scratcher
Corner Shape
If your cat scratches your furniture, and you want to protect it, this Odoland wooden cat scratcher is perfect for you. It is made of synthetic solid wood, and it has a corner shape that will perfectly fit on any side of your couch.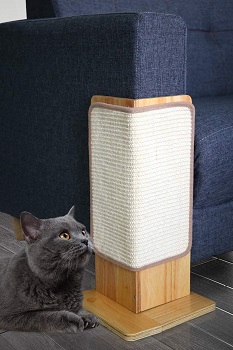 Natural Sisal
This couch corner cat scratcher measures 23 x 23 x 43 inches, suitable for cats of all activity levels and all ages.  Scratcher is wrapped with natural sisal, without any strong smell, for your pet's health.
Easy Moving
If you don't wanna place it on the couch, you can set it on corners, walls, or different kinds of furniture. Great shape for saving space, and easy for moving around your home.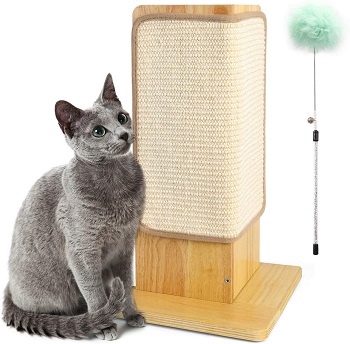 Toy For Fun
For extra fun and playing, you will get a cat wand charmer toy, so you can play with your lovely cat any time you want. With the included instructions, you will have no problems with setup and assembly.
In Short
Corner shape for protecting the furniture
Made of synthetic solid wood
Large and stable construction
Wrapped with natural sisal
Wand charmer toy included with the package
BEST INDOOR WOODEN CAT SCRATCHER
Amazonbasics Scratcher
Contemporary Design
This wooden cat scratcher has a modern design with contrasting accents, the perfect choice if you're looking for a contemporary design for your cat. This will help you to keep your cat from damaging your furniture.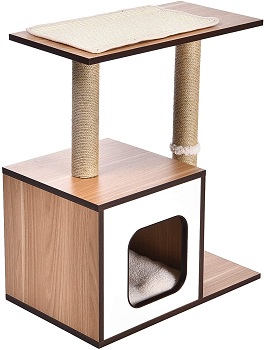 Jute Posts
With a measurement of 23.62 x 14.57 x 28.74 inches, it is tall enough for small or large cats, so they can easily stretch and stay healthy. Scratcher includes 2 posts wrapped with jute, so your pet can have healthy nails.
Platforms And Enclosure
This unique cat scratching post has also 2 platforms, so your cat can have better look around. here is a bottom enclosure, a perfect spot for sleeping and resting. You will get a soft cushion cover for extra comfort.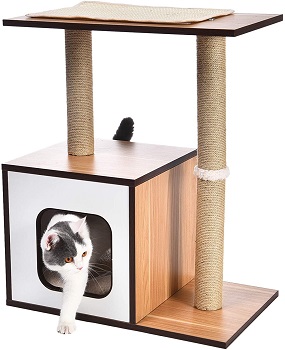 Quick And Easy Cleaning
Natural wood cat scratcher has a stable and sturdy construction that will have long durability. You can easily move it around your home, and find the best spot for your cat. Cleaning is quick and easy with only a towel.
In Short
Modern design with contrasting accents
Suitable for all cats
2 platforms for climbing and playing
Scratching post wrapped with jute
Enclosure with a soft cover for comfort
BEST SMALL WOODEN CAT SCRATCHING POST
Petmaker Scratcher
Vertical Design
If you don't have much space and you're looking for a small cat scratching post, this Petmaker will perfectly fit in your home. This vertical design with a wooden frame will stimulate playing and healthy scratching.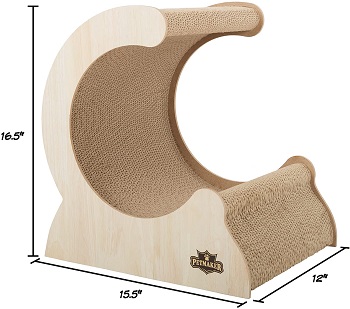 Cardboard Surface
Wooden cat scratching post measures 15.5 x 12 x 16.5 inches, perfect for smaller cats. It has a cardboard scratching surface, and cats love this material for scratching, so they can have healthy nails.
Well-balanced Design
This horizontal scratcher has a unique design but well-balanced for pet safety. There is a scratcher surface on 2 sides, so depending on your cat's preferences, she will decide which one is better for stretching.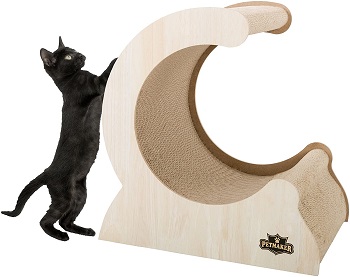 Lightweight Construction
Because of its small dimension and lightweight construction, you can place it in every corner of your home, so your cat can easily use it. The cardboard surface is comfortable for sleeping, so your cat can have some rest after exercise.
In Short
Vertical design with wooden frame
Small dimension, perfect for space-saving design
Cardboard scratcher on both sides
Well-balances unique design
Easy for moving and storing
BEST LARGE WOODEN CAT SCRATCHER
Pawz Cat Tree
Modern Design
If you have multiple cats or you just want to provide an active playground for your pets, this Pawz cat tree is a perfect option. Wooden tree with modern design in a beige color will perfectly fit in your home.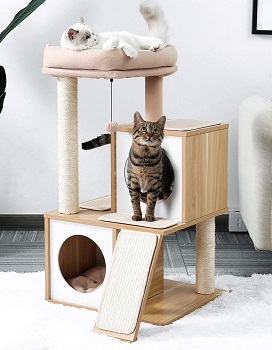 Heavy Baseboard
Wooden cat scratcher has a heavy baseboard to ensure stability and the pet's safety. With a measurement of 35 x, 20 x 18 your pets will have a large playground and you can easily fit cats of all ages and sizes.
Large Perch
Scratching posts are wrapped with natural sisal, a perfect material for loud scratching, which cats love the most. Extra-large perch at the top offers great comfort and if you place the scratcher to the window, your cat can enjoy watching outside.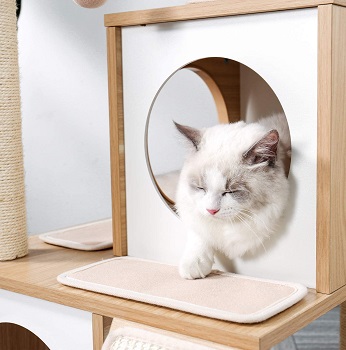 Dual Condos
This cool cat scratching post includes dual condos, with soft beds when your cats want to have rest and sleep. There is a ramp scratcher at the bottom, that can be used for climbing and stretching as well.
In Short
Large playground in beige color
Heavy baseboard for stability
Scratching post wrapped with sisal
Extra-large perch for observation
Dual condos for sleeping and resting
How To Pick The Best Wooden Scratching Post?
If you prefer natural materials like wood, that will perfectly fit in your home, and your cat loves this surface for scratching. read our guide for helpful tips. There are some important features you need to keep in mind before buying, which will help you to pick the perfect cat scrather.
Material Type – Depending on your preferences, but mostly on your cat preferences, pick the cat scratcher that will attract your cat for scratching. There is a synthetic wood, natural wood, pine, cedar, and much more which are solid so it will provide long durability and look great in your interior. Make sure that the material will provide stability for the pet's safety.
Size Of The Scratcher – Depending on how large is your cat, pick the suitable scratcher which will help her to fully stretch her muscles and easily scratch claws, to have healthy nails. For average and large cats pick the scratching post that is around 24 inches. If you have a smaller cat or kittens you can pick a much smaller surface.
Pick The Surface – There are many wooden cat scratcher, that has 2 or more scratching surfaces, so your cat can decide which one she likes the most. It is a perfect choice if you have multiple cats. You can pick between jute, cardboard, natural sisal, seagrass, and much more materials, which are perfect for easy and enjoyable scratching.
Functional And Fun – You can pick between different shapes of cat scratchers, depending on your cat's needs. There are multilevel scratchers, with condos and perches, the perfect choice if you have multiple pets. If you want something simple, pick the corner scratcher for example. For more fun, choose the cat scratch toy with a ball.
To Sum Up
The best wood scratching post from 6 models that we reviewed, in our opinion, is the Vesper tree. It is functional, sturdy, and modern, with a multilevel design and multiple posts for enjoyable scratching. If you're looking for a scratcher for a wall, check this post because we pick the best wall scratching post for your cat. Also, if you want to pick another one for doors, read our post and find the best cat door scratcher.