If you want to buy an adult cat tree for your active indoor cats, then you have come to the right place.
In our article, you will learn more details about the best six models. There will certainly be one model to meet all of your cat's needs. Check them all out and buy the right unit for your lovely fur friends.
The Summary
Top 6 Cat Tree For Adult Cats
BEST OF BEST ADULT CAT TREE
Ibuyke Adult Cat Condo Tree
Multiple Level Design
Ibuyke's multi-level adult cat condo tree is one of the best units for cats of almost all sizes. The unit stands on a heavy base. There are two condos. One of them is located on the ground floor, while the other is on the first floor. Besides that, the unit includes elevated perches, a basket, and scratching posts.

Sturdy Construction
When it comes to quality, we consider this unit a well-balanced, firm, and sturdy cat tree. Apart from the multiple pillars that keep the unit stable, there are battens at the bottom that ensure the tree's stability. So, this unit is safe and secure for all of your cat's activities.
Sisal Posts
Equally important as condos, perches, and levels, are the sisal scratching posts. We all know that cats love to scratch. The reason for their scratching is not only to keep their claws healthy but also to mark territory. In order to keep your furniture undamaged, be sure your cat knows where to scratch.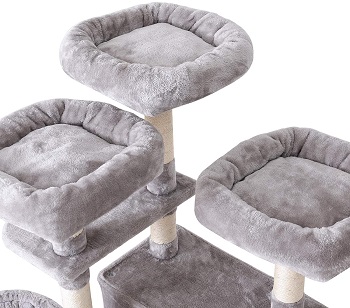 Simple To Set Up
Just like many other adult cat trees, Ibuyke's cat tower with basket, condos, perches, and posts needs to be set up. But don't worry because the assembly process is very quick and simple. Also, one or two adults can do the job in no time. The assembled size is 21.7×17.7×56.3inch.
In Short:
multi-level and fun cat tree
includes condos and a basket
there are multiple scratching posts
easy and quick to set up
ideal for cats of almost all sizes
BEST MULTI-LEVEL ADULT CAT TOWER
Go Pet Club Cat Tree Adult Cats
Solid Wooden Construction
First of all, it should be noted that the unit is made of high-quality compressed wood material. This means that it will stay in one place even if two cats jump off of it or on it from distance at the same time. Besides that, the tree will provide your cat with a natural and safe environment as well.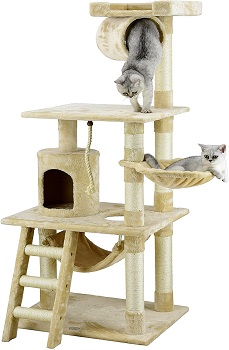 Long-Lasting Tree
This adult cat tree by Go Pet Club has a fine balance. Also, its wide base will keep it stable and hard to tip over. The levels are supported by multiple columns. They are covered in a material that is ideal for cat scratching. This is probably one of the best solid wood cat trees.
Fully Equipped
There are multiple scratching posts included as well as a cat condo, a ladder, a tunnel, and a hammock. We consider this tree a fun and quality unit that will surely keep cats active and occupied most of the day. Besides that, cats will love to spend time sleeping and relaxing on the tree too.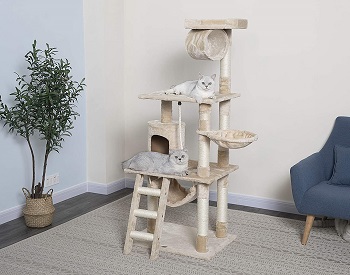 More To Know
Before buying, check if this sturdy cat tree fits into your home. The overall measures are 38″ W x 27″ L x 62″ H.  Also, you can choose between 5 colors of the unit. Lastly, this cat tower for adult cats is highly rated on the online market.
In Short:
made of compressed wood
pet-friendly and non-toxic
ideal for multiple cats
includes fun and cozy equipment
it comes in 5 colors
BEST CARPETED CAT TREE FOR ADULT CATS
Superjare Fully-Equipped Cat Tree
Simple Yet Functional
Superjare's adult cat tree comes in beige, grey, and dark grey colors. The first thing to notice about this unit is the wide base with a ground-floor cat condo. Apart from that, there is one platform above it and an elevated perch with a dangling toy. This simple cat tree is elegant and functional.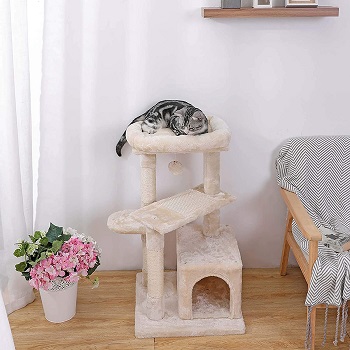 Large Plush Perch
What particularly caught our attention is definitely the top perch. We liked it because it can accommodate a cat of any size. Also, it is soft and incredibly cozy. Cats that love to lounge and relax in high locations will truly love it, we are sure.
Cozy Cat Condo
As already noted, Superjare's large perch cat tree is equipped with a cozy and roomy cat condo. It is easy to access which helps a lot if you have a senior adult cat at home. Besides that, a groundfloor cat condo is perfect for shy cats as well.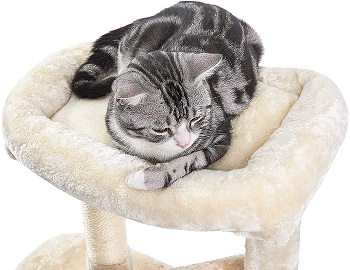 Material And Stability
Lastly, we must mention the material used for construction. The unit is made of carb-certified particleboard. There are as well natural sisal-scratching posts. Also, the base is thickened and it keeps the unit stable. Overall, the quality is fine and the unit will accommodate one or two adult cats with no problems.
In Short:
simple and minimalist cat tree
functional and quality construction
includes a ground-floor cat condo
comes with a cozy and plushy top perch
a dangling toy hangs from the perch
BEST FUN ADULT CAT TOWER
Furhaven Fun Playground For Cats
Amusing Activity Center
Indoor cats need to stay active as much as possible. However, unlike outdoor cats, they have fewer opportunities to climb, perch, and play unless you get them an indoor cat playground such as this one. Furhaven's cat tree for adult cats and small cats is an ideal example of how an amusing cat tree should look like.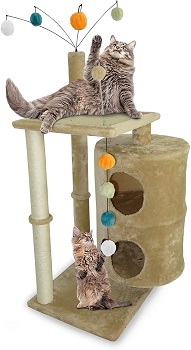 Posts And Toys
Besides multiple scratching posts that will help to keep your cat's claws strong and healthy, Furhaven's adult cat tree includes multiple dangling toys. These pieces of equipment will attract your cat's attention. The hanging balls will swing back and forth and keep your fur friends active for hours.
Two Cat Condos
Another great thing about this unit is the two cat condos. They are spacious and include large openings allowing cats of almost any size to go in and out with no problems. Apart from that, the condos will provide your cats with a comfortable and private nestling space too.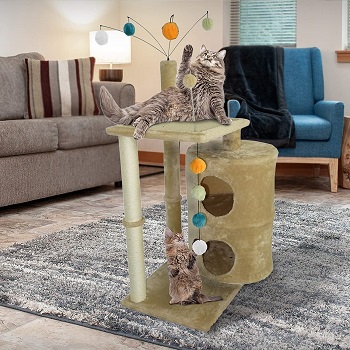 Easy To Keep Clean
All cat owners know that cats love hygiene. They spend most of their waking time grooming. This is why it is important to keep cat furniture clean as well. In order to help your cats stay happy and satisfied as much as possible, clean the unit with a vacuum regularly.
In Short:
a great cat entertainment center
includes toys and scratching posts
there are two spacious cat condos
it is simple to maintain the tree clean
ideal for adult and small cats too
BEST SMALL CAT TREE FOR ADULT CATS
Catry Scratching Climbing Cat Tower
Choose The Color
If you like the design of the Catry adult cat tree, then you should know that you can choose between two colors. The unit comes in beige and grey. With this in mind, pick the model you prefer and that will look nice with your home decor and furniture.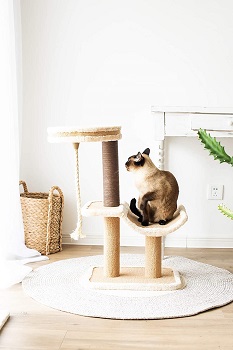 High Quality
This is altogether a quality cat tree for one adult cat. It is made of carpet fabric and paper rope. Generally speaking, such units are not very long-lasting unless you use them properly. However, if you use it for one adult cat of no more than 10 lbs, it will surely be with you in a long run.
Size And Capacity
Catry cat tower measures are 16.5-inch L/ 12.6-inch W/ 27.4-in. As already said, this is a one-adult-cat tree. This unit will certainly fit anywhere in your home, whether under the window or next to a wall. It is cozy, fun, and nice-looking.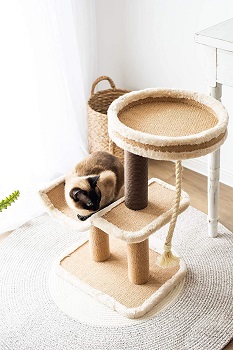 The Assembly
As you may suppose, this nice cat tree needs to be set up as well as the other ones on this list. However, the assembly process doesn't take much time. Also, the instructions are provided by the manufacturer so you shouldn't worry. The job is not complicated at all.
In Short:
choose between beige or grey unit
a medium tree that fits everywhere
easy to put together and clean
ideal for one adult cat
made of quality carpet fabric
BEST TALL ADULT CAT TREE
Roypet Adjustable Climbing Tower
Tall And Skinny
In the first place, Roypet's adult cat tree is a perfect unit for active and playful cats. Households with two or three social cats will certainly love this tree. This unit includes five levels (four platforms that look like vertical ladders). Also, it allows cats to jump between the levels easily.

Saves Your Space
Such a tall cat tree is ideal for small apartments or homes with a lack of space. The tree is tall and narrow. As a result, it will fit in any unoccupied corner or just anywhere where you find it suitable. Besides that, it won't take up too much of your space and it will be a perfect unit that keeps indoor cats active.
Baskets And Toys
This space-saving cat tree for adult cats includes two baskets. They are covered in soft and skin-friendly material that keeps cats warm and safe. Apart from the baskets, the unit includes two interactive balls. They hang from the ladders. These toys attract your cats' attention by swinging back and forth.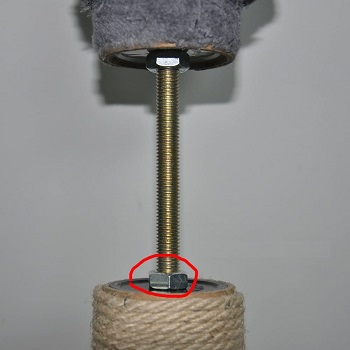 Size And Assembly
Roypet's floor-to-ceiling design makes it a sturdy cat tree for multiple cats. The unit's dimensions are 18.11″Lx11.81″ Wx90″-116″H. It is advisable to install this unit against the wall. Follow the instructions step-by-step and set it up in no time.
In Short:
a tall and narrow tree for cats
comes with a floor-to-ceiling design
it is easy to assemble the unit
this tree saves your space
ideal for households with multiple cats
How To Pick: Adult Cat Towers & Trees
In order to buy the best tree for your adult cat, you should think about your cat's personality and needs. Before buying, check out our tips and learn how to buy the right unit for your felines. In the next few paragraphs, read more about the ideal tree's size, fun and cozy cat tree equipment, and more.
The Appropriate Dimensions – First of all, the ideal tree's size depends on the number of cats you have at home. If you have one cat, then a small to medium-sized cat tree will surely be all right. However, if you have more than two active and playful cats, we suggest you get a tall or wide and multi-level cat tree. In the end, consider your cat's personality. Shy cats prefer short cat trees, while social cats love to climb a tall narrow cat tree.
Cat Tree Equipment – There are so models of cat trees for adult cats on the market. Choose between an unusual, modern, cool, or simple cat tree. Know your cat's needs and buy according to that. If your cat loves to spend time sleeping, relaxing, and grooming, a simple cat tree with a condo or a cat bed will be just fine. However, if your cats love to play a lot, then you will need a more elaborate unit such as a multi-level one with posts, perches, and dangling toys.
Importance Of Scratching Posts – Cats need to scratch. They do it for many reasons. Some of them are as follows: to keep their claws strong and healthy, to stretch after waking up, or to leave a visual mark. In case you like a cat tree without posts, then we suggest you get a separate scratching board. Otherwise, your furniture might end up damaged.
Carpeted Vs Non-Carpeted – Choose between a cat tree covered in a soft and plush covering or the one without it. Whichever unit you choose, be sure that your cat loves it. The plushy material keeps cats warm and relaxed, while non-carpeted units will almost always include a soft pillow as well. It is up to you.
Durability And Stability – In the end, before buying an adult cat tree, keep in mind that it needs to be made of fine material. Also, a well-proportioned unit, as well as one with a wide base, will stay stable and in one place. Choose between a freestanding unit or the one that gets attached to the ceiling or wall for extra stability.
To Sum Up
In conclusion, among the six above-reviewed cat trees for adult cats, we consider the Furhaven Fun Playground For Cats the best one. Most of all, we liked the fact that it is an ideal activity cat tower for indoor cats because it includes multiple toys and scratching posts. On the other hand, the unit comes with two big cat condos and it provides cats with just enough space for comfortable sleeping time.