Have you been trying to find a cat tree with litter box enclosure?
If you want to hide the cat litter, but allow your cats to access their bathroom easily, keep on reading. In order to find the best unit, we invite you to check out the best six models and buyer's guide we have provided.
The Summary
Top 6 Cat Trees With Litter Box Enclosure
BEST OF BEST CAT TOWER WITH LITTER BOX
Good Pet Stuff Palm Tree Litter Box
Interesting Design
If you have modern home decor, you might like this fun cat tree with litter box enclosure. It looks like a real clay pot with a palm. It comes in brown color, and it is made of pet-friendly material. This palm tree cat litter box is surely one of the most interesting units on the market.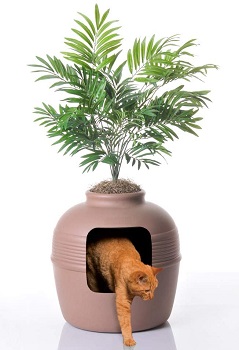 Durable Material
This cat tree with built-in litter box is made of long-lasting and non-toxic plastic (polypropylene). It provides your cat with a completely safe environment. Moreover, a high-quality plant is included as well and it makes the unit look even more attractive.
Filtered And Anti-Odor
One of the big pluses is the fact that the unit includes a filtered vented system. Simply add the filter to the pot and as a result, there will be no dust or odors. In other words, no one will know this unit is actually your cat's tree with hidden litter box.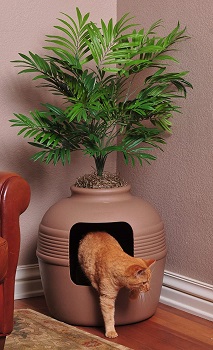 Size And Capacity
When it comes to size, this unit measures 42" high (with included plant). We are sure this flower pot litter box enclosure will fit in nicely in any corner or under your window. In the end, know that this is a multi-cat and large-cat unit. It has a large entrance door.
In Short:
clay pot cat litter box enclosure design
includes a high-quality plant
it is anti-odor and well-ventilated
spacious and easy to keep clean
fits multiple cats and large cats
BEST CONTEMPORARY CAT TREE WITH LITTER BOX
Penn-Plax Kitty Litter Tree
Contemporary Cabinet
Penn-Plaxe's modern cat tree furniture with litter box opening on the side will immediately catch your eye. The unit includes a large circular opening on the side. As a result, your cats can easily jump in and out as they wish while the front doors are closed.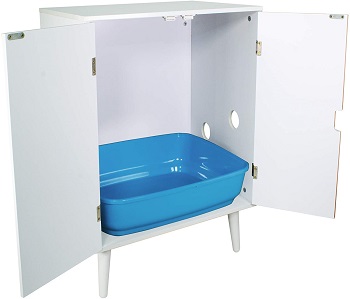 Three Colors
The cat tree with litter box features double doors and the cleaning is simple and quick. Also, if you like this model, find the right match easily. Choose between three beautiful colors – all white, espresso with orange doors, or grey wood with white doors.
Multiple Functions
This is not only a litter box enclosure, but it can also be used for the purpose of bed hiding space. Other than that, the flat top is ideal for magazines or potted plants. Also, you can put a lamp on the top, family pictures, or any other decor.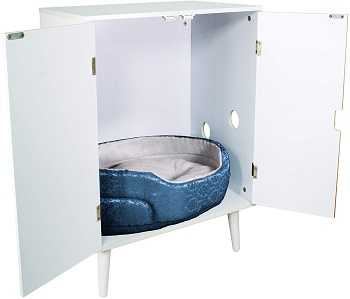 Useful Details
The overall size of this cat tower litter box combo is 30" (H) x 22. 75" (W) x 16. 5" (D). The unit is spacious and it will fit cats of all sizes with no problem. In order to stay in place, install the unit next to a wall and add extra stability.
In Short:
comes in three beautiful colors
use it as a cat bed or litter enclosure
flat top is perfect for home decorations
clean the cabinet often and easily
includes two front doors and side entrance
BEST ECO-FRIENDLY CAT TOWER LITTER BOX
Way Basics Sustainable Litter Enclosure
Eco-Friendly Material
This cat tower with litter box by Way Basics is a unit that will meet the needs of people that love to protect the environment. Thanks to the eco-friendly and sustainable zBoard material, this cabinet will provide your pets with a non-toxic environment.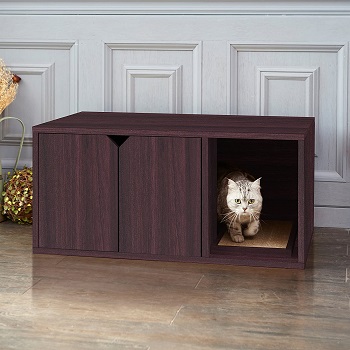 Multiple Color Option
Together with a spacious inside, the cabinet includes space for scratch pads. As a result, your kitty will get to sharpen its claws and maintain them strong. Also, we must maintain the colors that this unit comes in: espresso, blue, green, grey, natural, pink, and more.
The Dimensions
Before buying, know the enclosure's dimensions. The dimensions of this cat tree with litter box are as follows: exterior D : 20.5″ H : 16.9″ W : 35.8″  and interior D : 19.7″ H : 15.4″ W : 34.3″. Also, the maximum load is approximately 30 lbs.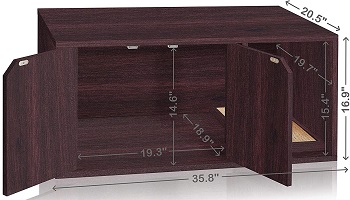 Tool-Free Assembly
On the positive side, this unit requires a no-tool assembly. For this reason, you will get to put this eco-friendly cat tree litter box enclosure in no time. Moreover, the instructions are included as well. One or two adults can to the job easily.
In Short:
made of sustainable materials
helps to protect the environment
choose between a variety of colors
easy to put together with no tools
maximum load is about 30 lbs
BEST MODERN CAT TREE WITH LITTER BOX ENCLOSURE
Sweet Barks Enclosure Cat Furniture
Stylish And Elegant
If you want to get an elegant unit that will blend in nicely with other furniture, then look no more. This black, grey, or white cat tree with litter box unit is just what a contemporary home needs. Besides its looks, this unit is famous for its multiple functions too.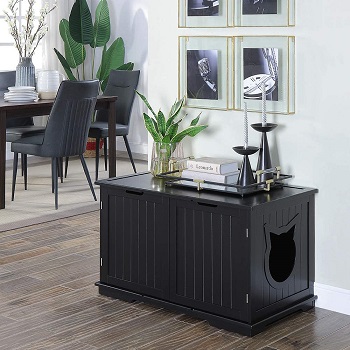 Versatile House For Cats
Store the litter box inside of this enclosure easily and use the top as your bedside table or coffee table. Other than that, you can place the unit in your hallway and put home decorations, family portraits, or other objects on top of it.
Spacious And Cozy
Cats of all sizes, ages, and breeds can easily enter this litter house. The large cat-like opening allows even large cats to enter with no problems. You will love to use this unit as a litter-box hiding space. Alternatively, use it as a private zone for your cat bed.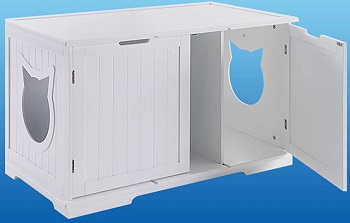 Simple To Set Up
This unit is firm and long-lasting. It is certainly one of the sturdiest cat tree houses to store a litter box. However, you will need to assemble it properly in order for it to last and be functional. Take your time, follow the instructions, and allow your cat to enjoy this great litter box tower.
In Short:
elegant and versatile cat house cabinet
includes a large cat-like shaped entrance
accommodates cats of all sizes
easy to put together and maintain clean
place it wherever it looks nice
BEST MULTIFUNCTIONAL CAT TREE WITH LITTER BOX
Birdrock Decorative House Table Litter Box
Medium With Wide Top
Birdrock's unit measures as follows: external: 19" Width x 20" Depth x 20.25″ Height and interior: 17.5" Width x 19" Depth x 18″ Height. Thanks to the size, this cat tree with litter box enclosure will surely fit in well in any household.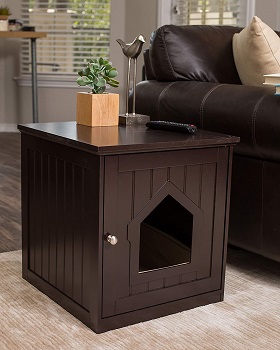 Cat Doors
The fixed cat door allows your lovely fur friend to come in and go out as it pleases. In addition to that door, the interior can easily be accessed as well thanks to the hinged door opening. This means that you can freely insert a pet bed or a litter box.
Stained Wood
Birdrock's piece of luxury cat furniture comes with stained wood. It is a cat litter box tower that will not only hide your cat's bathroom but also serve as a table perfect for lamps, magazines, plants, or other decorations.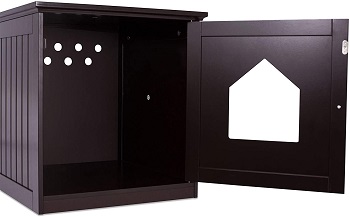 Other Details
Just like many other models of cat tree houses with litter box enclosures, Birdrock's unit must be put together. Once your set the table up, the unit will stay there for a long time. Be sure to maintain it clean regularly and properly. In the end, the price is quite affordable for almost everyone.
In Short:
medium size table cat litter house
sets up easily and in no time
clean it regularly with a cleaning cloth
versatile and multi-functional
luxury and elegant cat tree box design
BEST MINIMALIST CAT TOWER WITH LITTER BOX
New Age Pet EcoFlex Litter Loo Enclosure
Sturdy Construction
Lastly, the New Age Pet cat tree is another end table and the litter box cover. It is made from ecoFlex and is odor-free. Another plus is the fact that this unit will never absorb any moisture. You will require no tools for the setup. As a result, the assembly is quick and simple.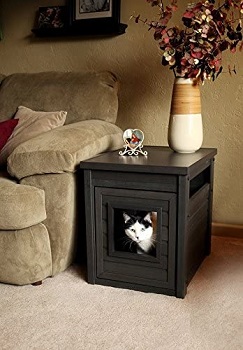 Simple To Clean
Thanks to the flat top and smooth surfaces, the unit is simple to maintain clean. All you need to do is use a clean and soft cleaning cloth. Also, don't forget to use pet-friendly and non-toxic detergent. Keep this cat tree with litter box enclosure clean regularly.
The Venting
Another great thing about this minimalist cat tower enclosure is the ventilation. Thanks to the multiple vent-openings included, the air circulates freely. For this reason, cats love to use this cat litter box tower because it is odorless and cozy.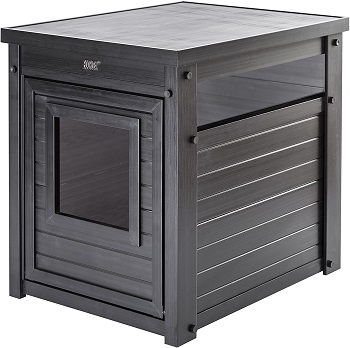 Four Colors
In the end, this is another unit that comes in different colors. Be sure you choose the one you like most – antique white, grey, espresso black, and russet brown. Lastly, the size of the unit is: exterior (in) : 23.6 (L) x 18.5 (W) x 22.0 (H) and interior (in): 21.1 (L) x 17.1 (W) x 20.5 (H); Door (in): 7.9 (W) x 7.9 (H).
In Short:
ştrong and sturdy construction
stable and long-lasting unit
includes ventilation holes
odorless and anti-absorbent
easy to keep it clean
How To Pick: Cat Tree With Litter Box
Choose between different models of cat trees with litter box and find one that will suit both yours and your cat's needs. Note that you will probably need to set up the enclosure. However, the assembly is usually quick and easy. Be sure to maintain the cat litter and the box clean regularly. Read on and find out how to introduce your fur friends to such a unit.
Choose The Model – You can choose between a variety of litter enclosure models. For example, there are modern and unusual cat tree enclosures for litter such as those that resemble clay pots. On the other hand, if you want to keep it simpler, you can get one of the condos, benches, or tables with inside space for the litter box.
Set Up The Unit – Almost all litter box enclosures for cats need to be set up. However, you shouldn't worry too much because the assemble is usually easy and quick. Some units don't even require tools. Simply follow the step-by-step instructions and you will put the pieces together in no time!
Keep It Clean – Just like the litter box, you should clean the enclosure regularly. Not only do cats love to stay in a clean environment, but it is also very important for their mental health. We suggest you use a cleaning cloth and a bit of non-toxic and pet-friendly detergent. May your cat's health and satisfaction be a priority.
Introduce Your Cat – Firstly, before you put a litter box inside of your new cat condo, bench, or another type of enclosure, you should introduce your fur friend to it. Then, allow your cat to sniff around and put the litter box next to the unit. Lastly, after a day or two, put the litter box inside the unit and show it to your cat. Leave your can alone when it decides to enter the enclosure.
Where To Buy? – In the end, we suggest you check out the online market and get your new cat tree with litter box online. You will certainly find a large variety of models, from small to large. Buy from a website and a manufacturer you consider reliable. Also, don't forget to check out the customer reviews!