If a cat climbing structure is what you have been looking for, then you have come to the right place.
In this article, you can read more about the six best models. We have divided them into different categories. Find out more about best of best, tall, wall, and other cat trees. Also, check out the buyer's guide at the end of the article. It will help you choose the best model for your furry friend.
The Summary
6 Best Cat Climbing Structures
BEST OF BEST CAT CLIMBING STRUCTURE
CatastrophiCreations Wall-Mounted Shelves
Cool Wall Design
If you like modern and unique furniture, then this structure could be just what you need. The CatastrophiCreation cat climbing structure gets mounted on the wall. It is a perfect solution for households with cats that love to climb and play a lot.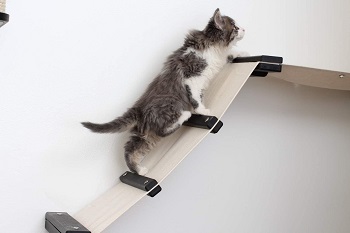 Keeps Cats Happy
Cats have scratching and climbing needs and if you don't provide them a structure to climb on, they will most likely damage your sofa and other furniture. This unit will allow your cat to lounge, perch, climb, and more. It is suitable for multiple cats as well.
Easy To Clean
Every cat owner knows that cats spend most of their waking time grooming. Also, they love to stay in a clean environment. It is important that you keep the cat tree clean regularly. Simply use a vacuum or lint roller to get rid of cat hair. Also, you can remove the covering and wash it in a washing machine as well.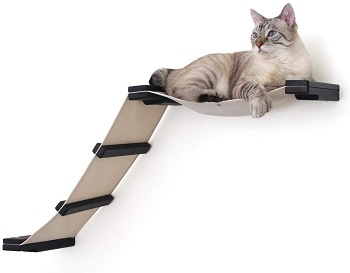 Saves Your Space
Thanks to the wall-mount option, both small and large rooms will fit this unit with no problems. Follow the instructions and install the structure on almost any wall. Save space with these modern cat wall shelves and allow your cats to feel happy and stressless.
In Short:
cool and unique wall-mount tree
keeps cats active and happy
easy to mount on the wall
simple to clean and wash
space-saving and easy to set up
BEST TALL CAT CLIMBING STRUCTURE
S-Lifeeling Climbing Narrow Cat Tree
Tall And Easy To Climb
A tall narrow cat tree is surely one of the best options when it comes to climbing. It allows cats to climb, scratch, and perch on one of the platforms. Thanks to the narrow design, the unit fits almost anywhere. Its floor-to-ceiling design allows you to secure it to the ceiling too.
The Material
This cat climbing structure is made of board material. It is pet-friendly and safe for cats in every way. The unit is covered with skin-friendly carpeting too. It allows cats to relax and feel warm. This is a stable cat tree and it will probably last you a very long time.
Platforms And Levels
There are four platforms included and they provide a lot of climbing options for your cats. As you may assume, the tree is ideal for playful cats. It will help to save your furniture undamaged and satisfy the cat's exercise needs.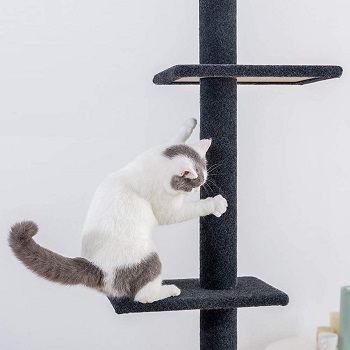 Useful To Know
The overall size of the unit is as follows: the size of the base is 10.6inch * 17 inches, the unit is 113 inches long, and 21.6inches high. The tree weighs approximately 10 pounds. You can choose between purple, beige, and black color.
In Short:
tall and skinny cat tree
ideal for active cats
includes 4 platforms
it is easy to set up
stable and long-lasting
BEST MODERN CLIMBING STRUCTURE
Pet-Fusion Scratching Cat Furniture
Installs Easily
The assembly and installation require about 20 minutes of your time. The easy-to-follow instructions come with the package and they help you install the tree correctly. All in all, the installation does not require drilling. However, you will need a hammer and a screwdriver.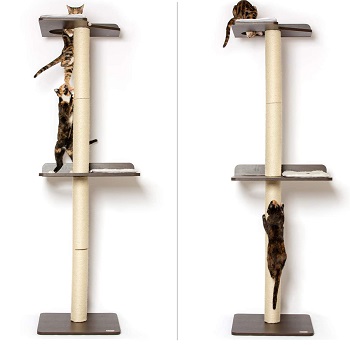 Modern Design
PetFusion's cat climbing structure has three levels. They come in dark brown and with no carpeting. Thanks to that, the surface is simple to clean. The pillar is wrapped in sisal rope and it eases climbing and scratching. Other than being nice and modern, this is a sturdy cat tree as well.
For Active Climbers
The tree is suitable both for small and big cats. However, it is best to use it in a household with multiple active cats because it will help to reduce feline conflicts and meet their climbing needs. Besides that, the scratching pillar will help to keep the cat's nails sharp and strong.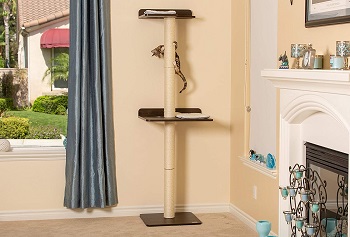 Size And Material
When it comes to size, the tree measures 24 x 20. 8 x 76. 8 inches (LWH). The maximum load weight is about two large or three medium-sized cats at the same time. The unit is made of MDF material which means that it should last you a long time.
In Short:
easy to set up and install
modern and tall design
made of MDF and sisal material
includes three levels
for two or three cats
BEST TOWER CAT CLIMBING STRUCTURE
BestPet Scratcher Climbing Furniture
Tall Beige Design
BestPet's tree comes in beige color and measures about 24 x 22 x 73 inches. It is a tall tree that includes a lot of fun and cozy content to satisfy the cat's needs. Thanks to the wide and heavy base, the unit will stand stable and it will be hard to overturn even if two or more cats jump off of it at the same time.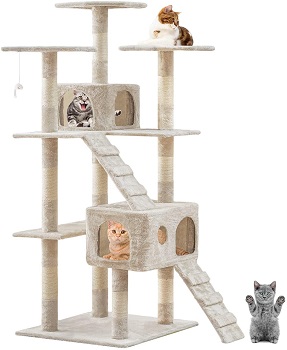 For All Cats
Cats of all sizes, sages, and breeds are suitable for this unit because it is thick. sturdy, and spacious. This multi-level cat tower provides just enough space for up to three cats of medium size or two large cats. The unit offers a large variety of content to keep cats both cozy and active.
Fully-Equipped Tree
The tree comes with a lot of fun content to keep cats active and busy such as platforms, scratching posts, ramps, and perches. On the other hand, the unit will allow cats to relax and nap for as long as they want inside of one of the condos. In the end, there is a dangling toy included allowing cats to play with it.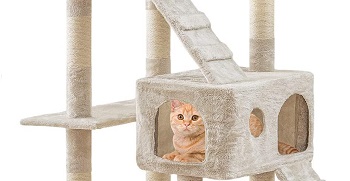 The Setup Process
Just like most cat climbing structures, BestPet's cat tower requires an assembly. All the hardware, as well as the instructions, are provided by the manufacture. Place the tree next to a wall for extra stability and allow your cats to play peacefully.
In Short:
a tall tree with fun equipment
suitable for all cats' sizes
comes with posts and a toy
easy and quick to set up
package includes tools
BEST WALL CAT CLIMBING STRUCTURE
Big Nose Cat Tree To Mount On Wall
Mount It To A Wall
Big Nose's structure for climbing is another tree that you can mount on your wall and save space. This is incredibly helpful if you live in a small apartment. In case you want to enlarge your cat's climbing space, get two or more such trees and create a large indoor cat playground.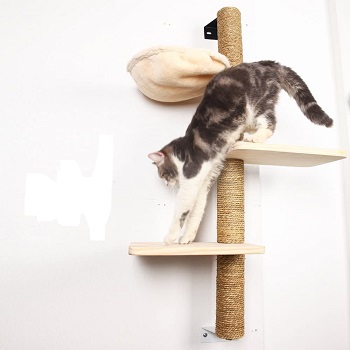 Strong Material
Thanks to the sturdy and firm material of high quality, the unit will last you a long time. Also, it will stay stable even if large cats play on it. The package includes 2.75" stainless steel screws. They make sure to keep the unit steady and help you install it correctly.
For Perching And Scratching
Most cats love to stay in high places and observe the surrounding area. This makes them feel confident. The Big Nose tower for wall mounting comes with two platforms and a basket and allows cats to choose their perfect lounging space.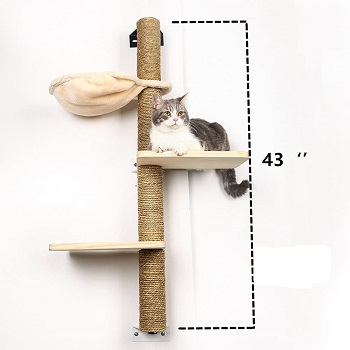 Secure And Safe
The material used for the construction of this cat climbing structure is solid pine wood. Moreover, the unit uses a skin-friendly material as well as jute rolling. All the material is 100% pet-friendly. It keeps cats satisfied, warm, and safe.
In Short:
easy to mount on any wall
includes stainless steel screws
comes with platforms and a basket
safe and pet-friendly in every way
stable and durable construction
BEST DOOR CAT CLIMBING STRUCTURE
SmartCat Multi-Level Climber For Cats
Install It On Your Door
As opposed to other wall-mounted models, the SmartCat unit is ideal to be hung on your door. Alternatively, you can also put it on your wall. There are four levels that allow cats to climb and relax. The size of this cat climbing structure allows you to install it on a door approximately 79 to 82 inches high.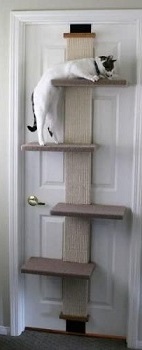 For Two Cats
Households with two cats will surely like this skinny tree. It is here to attract your cat's attention and make them want to scratch, climb, and play. Thanks to the sisal posts, cats can sharpen their claws on this adult cat tower and satisfy all of their exercise needs.
Simple Installation
You will need no more than 5 minutes to install the tree on the door or wall. It will fit almost anywhere. Another good thing about this unit is the fact that it is space-saving and sturdy. The package includes a spring-loaded bracket system which means that you can move it from door to door if you want to.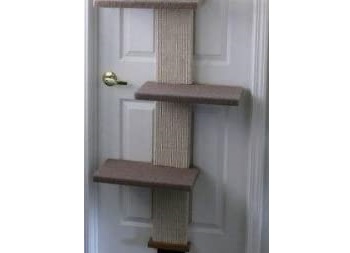 Last Details
The overall measures of the unit are 9.00 x 6.00 x 82.00 inches. The net weight is about 28.6 pounds. When it comes to the platforms, they measure 17X8.5X1 (L X W X H) inches each. The unit's rigid construction guarantees durability and stability.
In Short:
door or wall cat tree
ideal for two adult cats
simple to hang anywhere
measures 9.00 x 6.00 x 82.00"
includes sisal posts
How To Pick: Cat Climbing Structures
Before buying a cat climbing structure, read our guide. We talk about the quality of materials that the unit is made of. Moreover, check out what size is the best for your cat's needs. Be sure to buy a durable tree that will meet your cat's needs for a long time. Read on and find out more.
Quality Material – The unit should be made of solid, sturdy, and pet-friendly material. If you have only one cat, a simple particleboard tree will surely be fine. On the other hand, households with multiple and active cats should look to buy a solid cat tree, such as one made of wood or similar.
The Right Size And Model – Cats that love to climb, play, and scratch should have a taller version of a cat tree to meet all of their needs. However, not every household has enough space for such a tree. If you live in a small apartment, we suggest you check out the wall-mounted trees or trees that get installed onto a door. The market offers a large variety of options.
Structure's Stability – Be sure to get a stable unit. If you buy a freestanding tree, look for the one that has a good balance and a wide and heavy base. Also, such units can often be attached to the wall or ceiling. If you buy a wall-mounted unit, then install it correctly and make it safe for your cats.
Posts And Other Equipment – Scratching posts are a must. They help cats to maintain their claws healthy. Not only that but they ease climbing as well. When it comes to other interactive toys, we find them important as well because they attract cat's attention and keep them busy for hours.
Where To Get? – Check out the online market in order to find the best cat climbing structure. Be sure to buy from a reliable manufacturer and a website you trust. Follow our tips and you will surely find the right unit very soon. In the end, read customer reviews and buy highly-rated units.
To Sum Up
In our opinion, the best cat climbing structure on this list is the S-Lifeeling Climbing Narrow Cat Tree because it is space-saving, narrow, and tall. This is one of the indoor cat trees for active and playful cats. It easily meets all of their climbing needs and allows them to perch in a high location. Moreover, this cat tree for two cats is simple and fast to set up and it comes with a possibility of securing it to the ceiling which adds extra stability.