Do you wish to have a hanging decorative bird cage that will be a comfortable home for your bird and also a great decoration for your home?
Look no further and continue reading this article if you want to get the best of the best, learn something new, and truly see what these cages have to offer. We made sure to review products varying in different categories like metal, round, and even antique models with even more to come.
The Summary
Best 5 Hanging Decorative Bird Cages
BEST OF BEST HANGING DECORATIVE BIRD CAGE
Prevue Hendryx Designer Bird Cage
2 Functions
The first and most obvious choice to start with is a wonderful hang-on decorative bird cage that can actually function as a real bird cage as well. This is mainly due to the fact that it features 4 corners instead of being round which is not good for birds. Use it as a cockatiel or small parakeet cage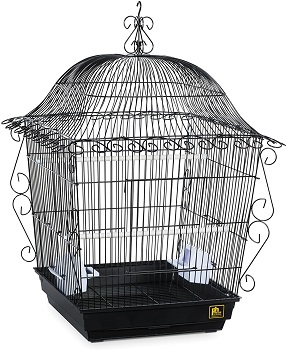 Corners And Top
As mentioned, it has 4 corners while the top is a wonderful-looking antique curved top. The corners on the outside feature wonderful wire decorations While the edges of the top go over the actual cage frame for even more wonderful decorations.
Wire Build
It's primarily made out of metal wire and finished with a black finish. The bottom is made out of plastic, it has a wire bottom, and you'll also find a sliding pull-out try on the not-so-deep plastic base.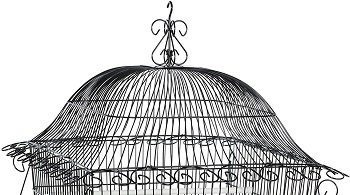 Entrance And Wire Spacing
This bird cage features an entrance in the front and the inside is equipped with 2 plastic white bird feeders and a white plastic perch as well. It has a 5/8-in wire spacing so it's good for birds like cockatiels.
In Short:
Has a metal wire top
It has 4 corners and can actually house birds
Has a 5/8-in wire spacing and can house birds-like cockatiels
Features a plastic base bottom, a wire grid bottom, and slide-out tray
Has a curved top and plenty of outside decorations
BEST WITH STAND HANGING DECORATIVE BIRD CAGE
Deco Benzara Victorian Style Bird Cage
Stand And Hook
Although it's against the logic of a hanging bird cage to feature a stand, that is not the case with this vintage bird cage with stand that, apart from the stand, features a hook on top that allows you to hang it anywhere you'd prefer.

Stand Details
The stand features 3 thin metal legs and it's rounded much like the cage itself. It's only logical that you can easily remove it from the stand since it's hangable as well. The hanging hook features a decorative sphere and only then a hook.
Material Used And Color
It's made out of metal and features a dark brown finish. The details and pattern make it resemble an antique and victorian style cage with plenty of curves, interesting metal shapes, flower-like patterns and so much more than that.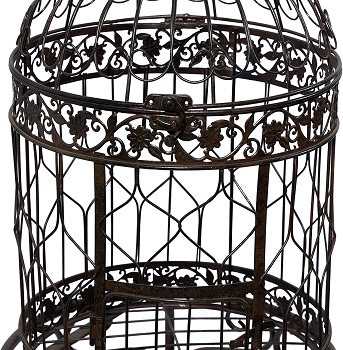 Entrance Number And Location
This hanging decorative bird cage has a hook opening at the top so it's easy to place bigger things like potted plants inside it but it also features a smaller front entrance. It's 14-in long and wide and including the stand, 47-in tall.
In Short:
Features a stand
Has a round shape
It's 14-in long and wide
With the stand, it's 47-in tall
The top comes off and acts as an entrance
Features an additional front entrance
BEST METAL HANGING DECORATIVE BIRD CAGE
Apebettrel 19 Inch Bird Cage
Cage Shape
The shape of this cage makes it work as a regular bird cage. It's rectangular, its biggest proportion being its height. Although birds need more width and length than height. It still helps and allows you to actually house birds inside this small parakeet cage.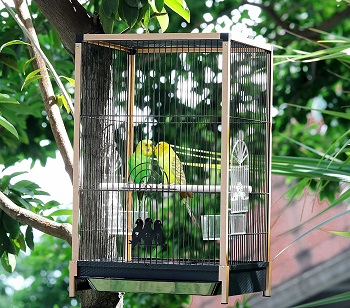 Simplicity At Its Best
It's a simpler version of a hanging decorative bird cage since it mostly features perfectly lined up wires while the out-of-the-ordinary details are located on the corners of the cage since the sides are made with wire but the corners are made out of aluminum and feature a rose gold color.
Cage Dimensions
It's 12.2-in deep, 13-in wide, and 19-in tall. It has a wire grid floor and below it, a plastic slide-out cleaning tray so that birds don't step into their own litter. Due to the hook on top, you can hang it on a tree, on a stand, or perhaps on a ceiling hook on top even.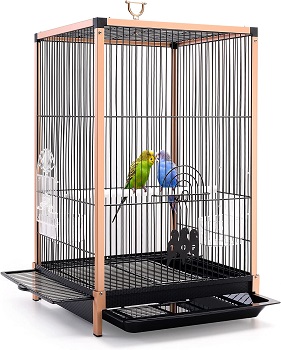 What It Has And Fits Inside
The door opening is a sliding door that's 5.5-in tall and 4.3-in wide so a bird like a budgie will easily fit inside. It comes with 2 clear PVC feeding cups you can place on the feeding entrances to always know how much food is left in them, and one bird perch that's made out of plastic.
In Short:
Has iron wire sides
Features an aluminum frame that's rose gold
Has a sliding door that's 5.5-in tall and 4.3-in wide
Has a wire grid floor and plastic slide-out tray below
Can house small birds like budgies
It's 12.2-in long, 13-in wide, and 19-in tall
Comes with a perch and 2 feeding cups
BEST PARAKEET HANGING DECORATIVE BIRD CAGE
Prevue Hendryx SP1720-4 Shanghai
Vintage Colors
Vintage is in and if you love the vintage household colors like mint green you'll love this cage that uses a combination of mint green and white color. It's shaped like a Chinese temple so it's no wonder that this model of a hanging parakeet cage is named shanghai.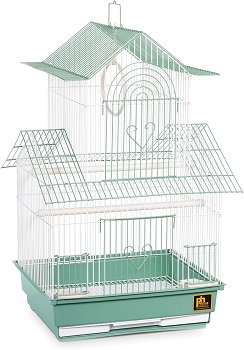 Bottom And Top
Its top is made out of wire while the bottom is a deep plastic base featuring a slide-out cleaning tray and a wire grid floor below it. The spacing between each wire is 0.43-in which makes it great for housing small birds like parakeets but mostly budgies and even smaller finches.
Hook Info
The hook is also made out of wire and features a triangular convex hole so that it's prevented from spinning wherever you hang it. You can use the hook to carry the cage as well and use it as a travel cage. Birds are going to like better a cage they're already familiar with when traveling.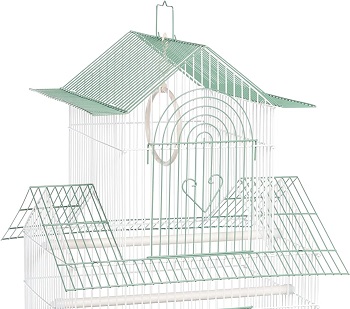 Cage Proportions
This hanging decorative bird cage is 13.5-in long, 11-in wide, and 22-in tall cage. It has 2 entrances and the inside features 2 white plastic perches and 2 feeding cups that you can place on the feeding entrances located to the left and right of the bottom entrance. It even features swinging toy you can hang on top.
In Short:
Has a wire bottom and plastic bottom
It's colored mint green and white
The details make it look like a shanghai temple
It's 13.5-in long, 11-in wide, and 22-in tall
Has a 0.43-in wire spacing
Has a wire gird floor, slide out cleaning tray, and a deep plastic base
Comes with 2 perches, feeder cups, and a swinging toy
BEST OUTDOOR HANGING DECORATIVE BIRD CAGE
Rehomy Hanging Bird Cage
What To Avoid
Although you could technically use this cage as an actual bird cage, we would definitely advise against it due to the round shape that lacks corners and can easily confuse birds, make them stressed, and have them deteriorate in both mental and physical health quickly.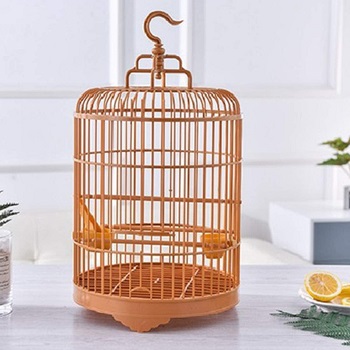 Plastic Build
It features a bamboo yellow color but is made out of plastic. The plastic build does allow you to use it outdoors with more confidence since plastic, unlike metal, won't corrode or rust. At most, it will fade away or stain.
Flooring And Wire Spacing
The cage flooring of the bird enclosure is made out of plastic wire while the bottom does feature some room for dirt to fall into, maybe from potted plants. The outer wire build is pretty traditional and has a 0.43-in wire spacing. Again, this is of no use to you since it can't house pet birds but it's great if you want to have a more real-looking bird cage option. At most, you can use it as a wild bird feeder, it'll work perfectly that way.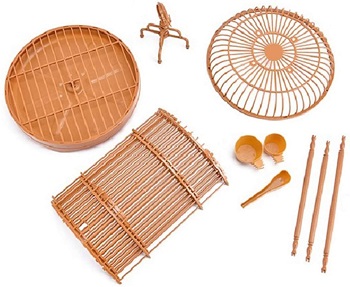 Length, Width, And Height
Even the hook used to hang this 9.84-in long and wide, and 17.7-in tall cage is plastic. The whole thing weighs around 1 lb and features bird perches and some feeders. Perhaps it could serve well as a wild bird sanctuary in case you'd like to save some birds of the trouble of finding food.
In Short:
Made out of plastic
Has a 0.43-in wire spacing
It's colored with a yellow bamboo color
Can serve well as a wild bird feeder cage
Comes with 2 plastic bird feeders
How To Pick A Hanging Decorative Bird Cage
Some things are a must to know even with a hanging decorative bird cage. We're here to make your shopping experience more understandable and simple providing you with important information about these all in this useful buying guide.
Decorative Cage Uses – You can really get creative with what you'll use these cages for. You can use them for potted plants in case they feature a large top opening that will allow you to place a plant inside. They can serve as candle holders, They can hold letters. Really, nothing is off-limits when it comes to their decorative function, and of course, with some, you can use them as actual bird cages as long as they match the birdcage criteria.
Looks And Inspiration – Traditionally, rounded cages are old school and vintage. The first type of cage that comes to mind if you're an inexperienced bird keeper is a rounded one most definitely. Their design and style mostly make them antique, victorian, and generally vintage but who's to say that they can't fit into modern homes well. The hooks featured on top can also make or break the looks of a vintage hanging bird cage. A hook with a decorative bottom attached to the cage top is going to look more antique than a simple wire handle.
Rounded Cage Problems – The main problem with these cages is that they are usually round so they really can't house an actual bird inside. The reason why is that they're too small no matter what, and their lack of corners can easily confuse a bird and have it become ill both mentally and physically. What you can use them for is wild bird feeders. This of course, means that they'll have to hang on an outdoor patio or perhaps a tree so make sure that they're rust and corrosion-resistant.
Wire Spacing Issues – Another problem with these but not all of them is the unsafe wire spacing. If they were made to actually house birds they'd house small birds that can do well with a wire spacing of up to 5/8-in. These birds include cockatiels, budgies, and finches. Some hanging decorative bird cages have a lot bigger wire spacings than these so housing them inside is out of the question but nonetheless, wild birds will have some use for them.
To Sum Up
It wasn't easy to decide on a recommendation for just one hanging decorative bird cage but in the end, we decided to go with the Prevue Hendryx Designer Bird Cage due to the fact that it looks amazing enough to be a decorative one but still, it's made in a way that will still allow you to house a bird inside. If you'd like to read more about these cages but wooden, check out the decorative wooden bird cages article next, or if you'd prefer to read about sturdier versions, read about the decorative metal bird cages next.