Have you desperately been trying to find a bird enclosure that will be tailored to your birds' needs completely?
You're off to a good start if you're reading this and all you have to do is to keep on reading to read about the best ones out there and to learn something along the way. We made sure to include plenty of products in different categories so that at least one is almost like it's tailored to your wants and needs. A few of the categories you'll find here are parrot, cockatiel, and even indoor enclosures.
The Summary
Best 6 Bird Enclosures
BEST OF BEST BIRD ENCLOSURE
Pawhut 44 Hexagon Canopy Aviary
Enclosure Looks
This is a truly beautiful cage with its hexagonal shape. Due to the shape, it's far more spacious than what a regular bird enclosure would be since it's equally wide and long. To be specific, it's 44-in in long and 44-in wide. In terms of actual cage height, it's 44-in tall.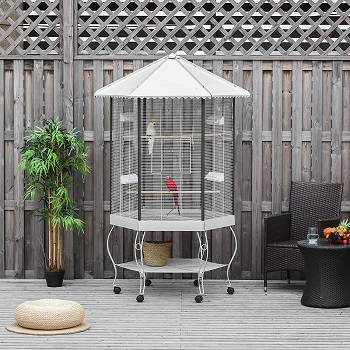 Top And Use
It has a wonderful canopy top that prevents rain from getting inside the cage, making your birds wet. The canopy top also exits from the edges of the cage so that water can drip down on the floor and not through the cage wire sides. It's slanted so there's no water build-up on top.
Entrances And Bird Size Recommendation
It has a small entrance in the front and the spacing between each wire makes it suitable for housing smaller birds. Specifically, it can house budgies, finches, and cockatiels. Since it's pretty big, you can house multiple birds inside it with no problem.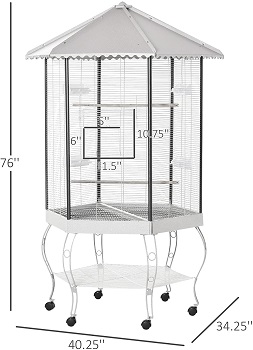 2 Locations Of Use
You can use this macaw aviary enclosure outdoors but also indoors thanks to the stand it sits on. It's an antique stand with curved legs that just adds to its overall wonderful look. It features plastic wheels and there's even a wire grid on there where you can put your bird supplies.
In Short:
It's colored white
Has a hexagonal shape
Sits on an antique stand with 6 wheels and a wire grid
It's 44-in long and wide and the actual cage is 44-in tall
Features a top slanted canopy
Can be used indoors and outdoors
Good for housing smaller birds
BEST LARGE BIRD ENCLOSURE
Aivituvin Large Aviary For Pigeons
Bird Numbers
This is actually first and foremost an aviary for pigeons. It's big enough for you to house around ten to fifteen pigeons inside and apart from the flight area, there is a bird's nest area as well. You'll get a total of 6 pigeon nests located in the back of the enclosure.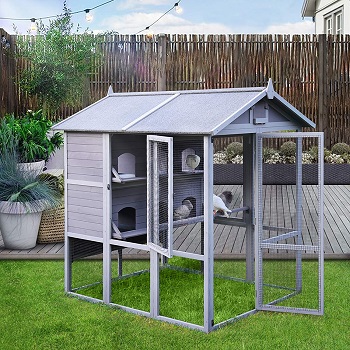 Pigeon Breeding
The 6 pigeon nests are lined up 3 by 2. Each of the 2 lines features a single plastic pull-out tray accessible from the back so that you can clean them easily. In case you want to check up on your pigeons, you can open up either of the 2 large doors on the outside back to do so.
Wood Used
It's primarily made with firwood, a good material of choice when it comes to outdoor applications. it's weather-resistant and the house roof-shaped top is waterproof since it's an asphalt roof. You don't have to worry about water build-up there because of the house roof shape.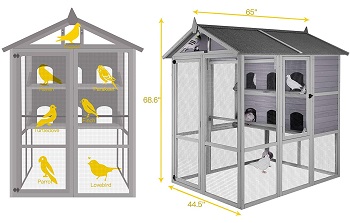 Wire And Size
This large enclosure for birds has wire sides with a wire spacing of 0.5-in. You can easily walk inside it using the large door in the front and there's an additional smaller door on the side. Overall, this enclosure is 65-in long, 68.6-in tall, and 44.5-in wide so it might be too big for you to use indoors. After all, it doesn't feature a bottom either so that's another reason for it.
In Short:
Made with firwood
Has a waterproof asphalt roof
It's weather-resistant
Can house 10-15 pigeons inside
Has a flight area and 6 pigeon nests
The nest are accessible via the back
You can walk inside it
It's 65-in long, 68.6-in tall, and 44.5-in wide
BEST OUTDOOR BIRD ENCLOSURE
Gutinneen Outdoor Bird Aviary
Largest Dimension
If we're talking about its biggest proportion, it's the height of this aviary enclosure. To put it into specific numbers, it's 70.8-in tall only 32.7-in long, and 30.9-in wide. Nonetheless, you can use it to house multiple birds inside as well.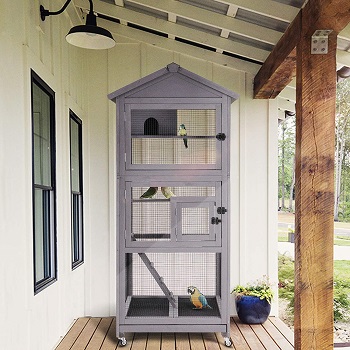 Enclosure Construction
It's built out of firwood, a wood that comes back to its original form even when exposed to moisture and then it shrinks or expands. it's used for its frame while its sides are covered with a wire having a small wire spacing so it's best used as a budgie/parakeet aviary
Roof And Bottom
The roof is house-shaped and it's a waterproof asphalt roof that'll help keep your birds dry and the wood on the roof protected from mold. On the bottom, it features 4 wheels, some of which are lockable so if you'd like, you can actually move it indoors as well.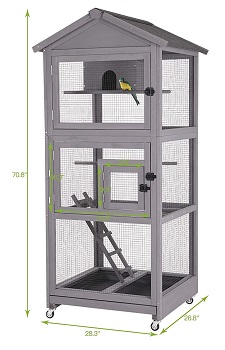 Inside Extras
As for the accessories, the outdoor bird enclosure features a ladder, 2 perches, and a hideout or nesting bird area as well. It also features a slide-out plastic cleaning tray on the bottom situated below the wire grid floor that'll prevent birds from exiting and stepping into their soil.
In Short:
Made out of firwood
Has a waterproof asphalt rooftop
It's 32.7-in long, 30.9-in wide, and 70.8-in tall
Has a slide-out cleaning tray below the wire grid floor
Comes with 2 perches, a hideout, and a play ladder
Has 4 lockable wheels so you can move it indoors as well
BEST PARROT BIRD ENCLOSURE
Flyline Double Cage With Center Divider
2 Parrot Housing
It's definitely tough to find a double parrot cage but we managed to do so with this one. It comes with a divider that you can leave on or remove. Everything on this bird enclosure aviary is focused on the fact that you might house 2 parrots separately inside it.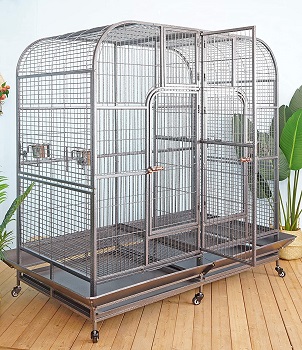 Split Enclosure Details
The split features on this parrot enclosure include a door on each split side, 2 feeding doors on each side, 2 stainless steel feeders on each side, and a large perch on each side. All around it, there is a birdcage seed guard as well to help keep your floors cleaner.
Bar Spacing And Thickness
It has a 1-in bar spacing, perfect for parrots, and has a wire gauge of 6. This means that it's the thick wire that your parrots will have a hard time bending if they will ever. Large parrots have strong beaks so it's important to think about wire gauge when buying them an enclosure.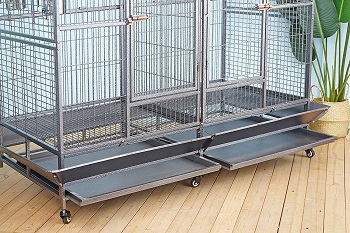 Moving It
It sits on 6 wheels and each cage part has a large metal slide-out tray for cleaning below a wire grid floor. It's curved at the top to look nicer and overall, it's 64-in wide, 32-in deep, and 73-in tall. It's really heavy with its weight of around 198 lbs so be prepared to need a hand to move it if you will.
In Short:
Made out of metal and has a powder coat finish
Has a 1-in bar spacing and 6 wire gauge
it's 64-in wide, 32-in deep, and 73-in tall
Comes with a divider to house 2 parrots separately
Each part features 2 feeder doors, feeder bowls, an entrance, and a perch
Weighs around 198 lbs
Features metal bird cage seed guards
Sits on 6 wheels
BEST COCKATIEL BIRD ENCLOSURE
Mcombo 70 Inch Outdoor Aviary
Cockatiel Wire Spacing
Cockatiels are neither small nor medium birds but instead, they sit somewhere in between. Although they can be housed in cages for smaller birds, they can also be housed in cages with a wire spacing of up to 0.6-in. This one has a 0.5-in wire spacing.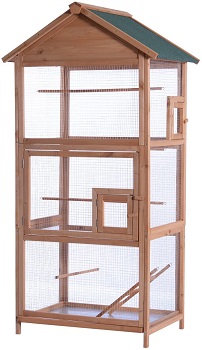 Firwood Construction
It has a fir wood frame whose benefits we've already discussed and will discuss further later on,  and as previously mentioned, wire sides. The bottom of the wooden aviary enclosure features a cleaning tray made out of iron metal much like the sides.
Doors And Roof
It has a green asphalt roof to prevent damage done to wood and to keep your birds dry when it rains. It has 2 entrances, both located in the front, one larger than the other since the smaller one is built into the larger one. It also features a smaller entrance on the right side-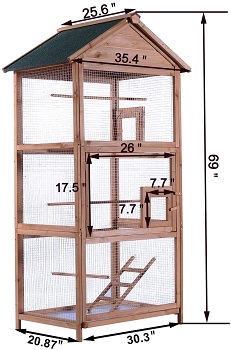 Ground Elevation And Size
It is elevated from the ground so that you can pull out the cleaning tray and so that mold doesn't build up there due to trapped moisture. Inside, it features a play ladder, 3 perches you can hang anywhere, and overall, it's 35.4-in long, 69-in tall, and 25.6-in wide.
In Short:
Has a firwood frame
Features iron wire sides and a cleaning tray below
Comes with 3 perches and a play ladder
Has 2 smaller and 1 larger entrance
It's 35.4-in long, 69-in tall, and 25.6-in wide
BEST INDOOR BIRD ENCLOSURE
Mcage Small Flight Bird Enclosure
Full Metal And Black
Although the cage does have a house rooftop, it's not an asphalt roof nor is the cage a wooden one. It's fully made out of metal, roof included but you can still use it indoors and outdoors if you will because of the roof. It's also fully coated with a black finish.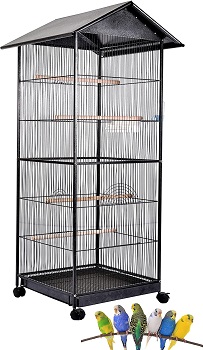 Enclosure Movement
It's situated very close to the ground but not that it lays flat on it due to the 4 wheels it sits on. They're made out of plastic and they're lockable to make it more stable when you're not moving it around the house or from the house to the great outdoors.
Other Materials
The only wooden parts are the 4 perches it comes with. Apart from those, it also features 1 split water and food cup made out of plastic, and a water or seed feeder bottle. It has a wire grid floor and a cleaning tray below it that's also made out of plastic instead of metal for a longer service time.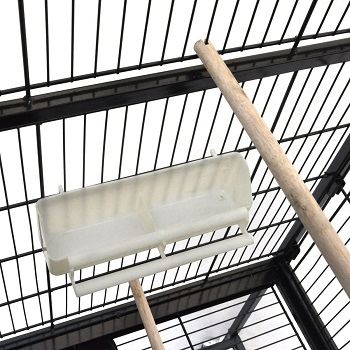 Dimensions And Doors
This indoor finch aviary enclosure is 26-in wide and long and 62-in tall. It features a 0.5-in wire spacing making it perfect for housing smaller birds like budgies. Due to the enclosure height, you can house more than one budgie inside as well. It has a regular entrance and a breeding box entrance as well.
In Short:
Has 2 doors, one a breeding box entrance
Has a 0.5-in wire spacing
Fully made out of metal and features a metal house roof
Sits on 4 lockable wheels
Comes with 4 perches, a bottle, and a double feeder cup
Has a wire grid floor and a plastic cleaning tray below it
it's 62-in tall, 26-in wide, and 26-in long
How To Pick A Bird Enclosure
To truly get the best possible bird enclosures, we had to first define what bird enclosures are, what you can do if you can't specifically find one, and how to determine which one is safe for your specific bird and why. There's more we will discuss in this simple buying guide.
Bird Enclosure Definition  – A bird enclosure is meant to be a temporary living situation for birds. They're usually made for the great outdoors and are rarely small. This means that they can usually house multiple birds inside, not just one. You can use them for your birds to get their daily exercise.
What To Look For If You Can't Find One – Although you won't find a bird enclosure easily if you google it, what you will find is a bird aviary so in case you have troubles finding one, focus on finding outdoor bird aviary kits. You can also look up indoor aviaries but those are smaller than outdoor ones.
Wire Spacing For Birds – Wire spacing is probably the single most important factor that will determine whether or not the enclosure is fit to house your bird. The important thing to remember is that the wire spacing shouldn't be too big for your bird to pull its head through. For small birds, this means a 0.5-in wire spacing will be safe, for medium birds, anywhere between 0.6 and 0.8-in and for larger birds 1-in. To learn about wire spacing for your specific birds, please check that out or ask a professional.
Common Wood Build Info – The most common wood type used to make these enclosures is firwood and it's a great choice, to be honest. Firwood acts great in terms of how it reacts to moisture exposure. Regular wood would shrink or expand and over time, would become deformed but firwood will go back to its original form.
Common Metal Build Info – Any metal can work as long as it's protected from rust and corrosion with a finish or something else. The most common is regular steel or iron. Common rust and corrosion protection finished include powder coats. You're more likely to see a fully metal bird cage if the enclosure is meant to house big birds like parrots since they have stronger beaks so apart from the large wire spacing, the bars should have a low gauge, meaning they're thicker.
To Sum Up
In case you still have trouble deciding on one of these bird enclosures, we'll lend a hand and recommend the Mcage Small Flight Bird Enclosure as the best one. There are plenty of reasons why but some of them are that it's fully made out of metal, can be used indoors and outdoors, easily moves there will 4 lockable wheels, and it can house birds like budgies and cockatiels. In case you want to see a similar offer, we advise you to read next either the post on the best outdoor bird enclosures and the best parrot aviary article.