Do you want to invest all your money within your budget on proper outdoor bird aviary kits so that you don't have to spend more on other things?
By continuing to read this article you can make it happen today! We did our best to find and reviewed only the best and we've also included a lot of different ones like wooden, antique, large aviaries and a lot more so stick around, you might just find the perfect one for yourself and your bird.
The Summary
Best 6 Outdoor Bird Aviary Kits
BEST OF BEST OUTDOOR BIRD AVIARY KIT
A&E Cage Small Walk-in Aviary
Smaller Entrances
What makes this aviary so good is that it features all the doors necessary for its proper functioning. What we mean by this is that you'll get a large front access door but the focus here is more on the smaller doors for feeding. There are three of them and each can hold one of three stainless steel bowls for food and water. These entrances are located on the right side.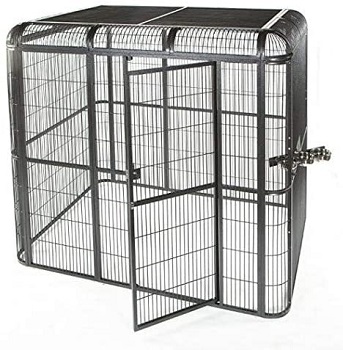 Entrance Safety
We can't ignore the large access door of this outdoor bird aviary kit. This is because it's so large that you'll get to walk inside this metal bird cage. It locks with a hasp latch lock but the thing that makes it extra safe is the fact that it also locks with a key so you won't have to worry about your birds escaping.
Aviary Construction
We have to be specific about the material it's made of so that you'd know what are some of the risks of using it outdoors. It's made with iron but it's well protected from outdoor weather conditions with its finish. the finish in question is a black powder coating finish that's non-toxic to birds.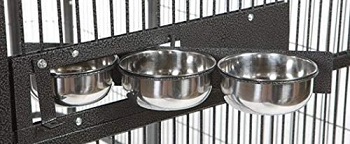 Determining Birds It Can House
It's rare to find a walk-in bird aviary that can house smaller birds but luckily this one is just that. We were able to conclude this by looking at its wire spacing of 0.5-in. This wire spacing makes it suitable for use as a parakeet aviary or any other small bird aviary.
In Short:
Made with iron
Has a bird non-toxic powder coat finish
You can walk inside it
The large front door additional locks with a key
Comes with feeding doors and food and water bowls
Has a 0.5-in wire spacing
BEST ANTIQUE OUTDOOR BIRD AVIARY KITS
Talis Large Deluxe Bird Aviary
Price Issue
The secret that places this aviary into the outdoor parrot aviary category and this one is its material of choice for its build. We'd like to start by saying that it's not exactly cheap though. You'll be paying over 1000 dollars for this aviary so it's really not something all can afford.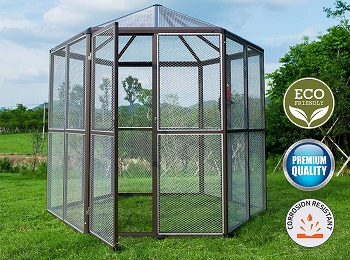 Aluminum Safety
It's well worth its price though since it's made out of aluminum. Aluminum is a great material of choice when making bird cages or aviaries because even when it rusts or corrodes, the aluminum oxide created isn't toxic to birds if they ingest it.
Size And Assembly
You might have some trouble assembling this outdoor bird aviary kit but you'll get everything needed to easily do so. The problem with its assembly lies in the fact that it 93-in tall and 95-in wide and long. It's equally wide and long because it has a hexagonal shape so it can also be considered a large antique bird cage.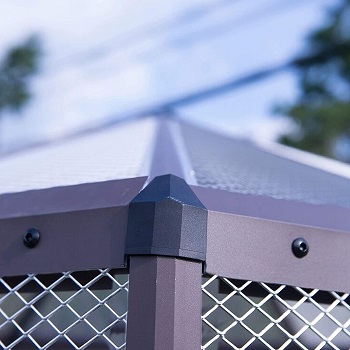 Easy Customization
Another thing that makes this aviary great is that you'll be setting yourself up for success in terms of aviary customization since you can easily walk inside it. The wire spacing isn't specified but we wouldn't recommend it for a smaller parrot. Instead, we'd recommend it as a parrot aviary.
In Short:
Made entirely out of aluminum
Can be tricky to assemble
It's 93-in tall and 95-in wide and long
Can house large parrots like macaws
You can easily customize it by walking inside of it
Costs over 1000 dollars
BEST WOODEN OUTDOOR BIRD AVIARY KITS
Pets Imperial Stunning Wooden
Roof And Frame Looks
This aviary is nothing short of beautiful. It's hexagon-shaped and that alone should be enough to make it beautiful. Luckily, it also features a top canopy and a natural finish. The benefits of its shape begin when seeing how large the interior is with 4 ft 9"  in both length and width.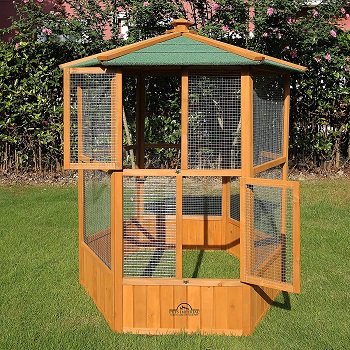 Kit Perspective
You can look at outdoor bird aviary kits from another perspective. By kit, you can also think about how well it's equipped to protect your birds and to be protected itself from outdoor weather. This aviary surely is just that with its wooden frame, wire sides, and asphalt rooftop.
Actual Build Weather Protection
The wire is galvanized to stay corrosion and rust-free, the top is a waterproof asphalt roof and ranged so that water doesn't bud up on top. The timber wood has a finish that's waterproof so you can feel comfortable using it as a backyard aviary knowing that it'll last you for quite some time.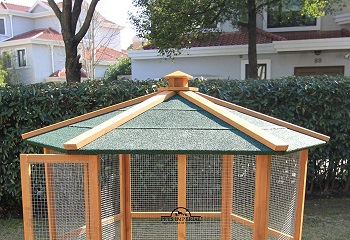 Reaching For The Inside
You won't have access to this aviary by walking inside it, but you can feel confident that you'll be able to reach everywhere inside thanks to its bottom and top door. We'd advise you to use this aviary with small birds or perhaps even pigeons and doves if you will.
In Short:
Made with timber wood
The wire bits are galvanized
Has a waterproof asphalt canopy
Features a hexagon shape
It's 4 ft 9" long and wide
Can house smaller birds
BEST LARGE OUTDOOR BIRD AVIARY KIT
Gutinneen Outdoor Pigeon Aviary
Which Birds It Aims For
Although we already reviewed some large aviaries, with this aviary you'll get concrete examples of just how large it is aside from its dimensions. This aviary can house up to 15 birds. To be specific, the birds in question are pigeons but of course, you can use it to house other birds with the same wire spacing needs as well.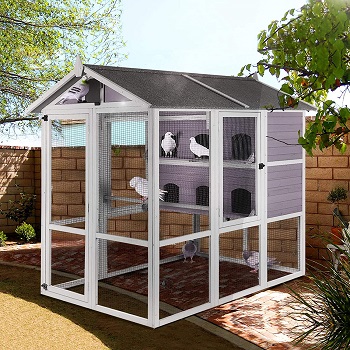 Nesting Box Access
What makes it fall into the outdoor bird aviary kits category is the fact that it comes with everything needed for you to breed your birds. Specifically, we're talking about the 6 nesting boxes located far in the back. you can access these and easily clean them with a slide-out tray from the back.
Entrances And Their Locations And Size
It's 57.3-in long, 44.5-in wide, and 70.8-in tall. Unless you're taller than this proportion, you won't even have to crouch to access the interior of this aviary for pigeons. You'll get to do this through the large front door but you'll also get to access it through the smaller doors on the sides.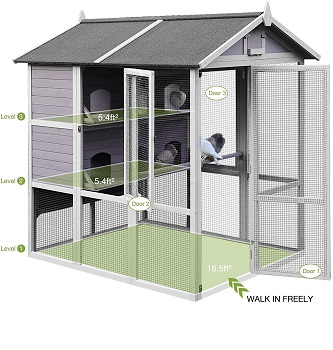 Fir Wood Qualities
Firwood is a great wood for outdoor use. Even though it's a softwood which also makes it the reason why you should want to house smaller birds inside, it acts great when it comes into contact with moisture. This is because it will always go back to its original form even when it doesn't shrink or expand.
In Short:
Made with fir wood
Can house up to 15 pigeons
Features 6 separate nesting boxes
You'll gain access to the nesting boxes from the back
It's 57.3-in long, 44.5-in wide, and 70.8-in tall
You can easily walk inside it
BEST PARAKEET OUTDOOR BIRD AVIARY KIT
PawHut 65″ Large Wooden Hexagonal Aviary
Shape Benefits
We've already seen aviaries like this in action but rest assured that there are some differences between them. As you know by now, having a hexagon-shaped aviary is a benefit on its own in terms of looks and interior spaciousness. This one, in particular, is 59.1-in long and wide and it's 65-in tall.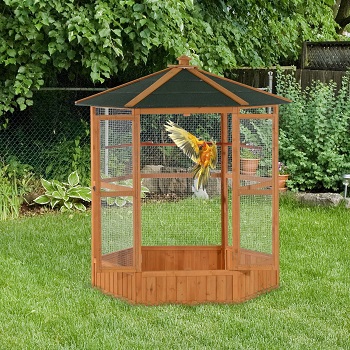 Can You Walk Inside It
Technically you will get to walk inside it by crouching just slightly. The door that will allow you to do this is a 2-door entrance which means that it's wider with 26.2-in in width and it's 51.-in tall. If you can't walk inside it, rest assured that you'll still be able to access all the interior bits of this outdoor bird aviary kit.
Weight And Transport
The fir wood that makes most of this aviary is light so you won't have that much trouble transporting it elsewhere. Keep in mind that it doesn't feature wheels so you'll still have to figure out a way to move this 80 lbs aviary. It has galvanized wire sides and an asphalt canopy roof that's waterproof.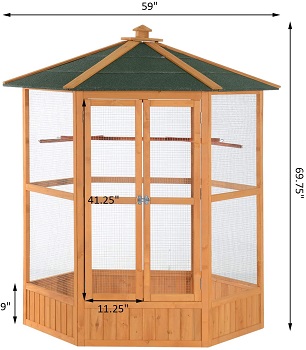 Accessories And Birds It's For
Although it doesn't come with a lot of accessories, it's still better than nothing. It comes with a central perch that will allow you to hang two more perches on it. It has a 0.5-in wire spacing so it can work great as a cockatiel aviary or even a finch aviary. The important thing is that the birds are small.
In Short:
Has a lightweight fir wood build
It weighs 80.2 lbs
It's 59.1-in tall and wide and 65-in ta
HAs a 0.5-in wire spacing
Has a large, somewhat walk-in 2-door entrance
The wire is galvanized
HAs a waterproof canopy
BEST ON WHEELS OUTDOOR BIRD AVIARY KIT
Aivituvin Wooden Bird Aviary
Things On The Inside
This aviary definitely comes with a lot more than your bird wi ever need on the inside. Of course, this doesn't mean that you won't get to further customize it but it's good to be able to count on the things it already comes with. These things are a hideout spot, 2 perches, a wooden feeder, and even a play ladder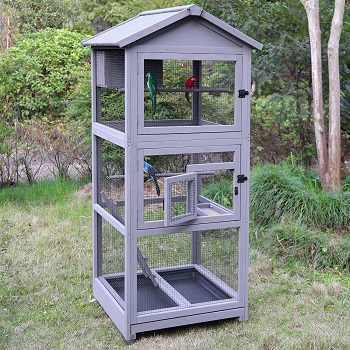 Indoor Placement Easiness
Although it's made out of wood, we do have to say that it does look quite modern for one simple reason. It's the grey color that makes it like this and you'll get to make sense of this color by using it as an indoor finch aviary as well. This is mostly due to the bottom wheels that will allow you to move it easily.
Protective Top
Most of these aviaries come with asphalt rooftops that are waterproof and will be well protected from rain. What these tops also do on these outdoor bird aviary kits is that they help keep your birds in the shade from the sun and protected them from getting wet in direct rain. It's the same with this one.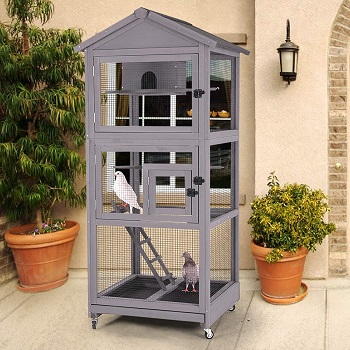 Choice Of Outdoor Materials
We've already explained that fir wood is a great material of choice when it comes to outdoor placements. It also has a galvanized wire and the spacings between the wire are 0.5-in x 0.5-in. This makes it great for housing smaller birds like budgies, the already mentioned finches, and more.
In Short:
Has a solid fir wood build
Features galvanized wire sides
Has a 0.5-in x 0.5-in wire spacing
Has a grey finish
Sits on wheels for easy movement indoors
Has a waterproof asphalt roof
How To Pick An Outdoor Bird Aviary Kits
No two outdoor bird aviary kits come with the same things so it's important to raise what you need the most and what the focus of your search is. We'll provide you with all the necessary information about them to help you pick out the best one for you and your birds.
What Are Aviaries – If you don't know whether or not you should even get an aviary what might help you decide is by learning about what they're for. They're made to give your birds a safe place to fly around freely. They won't make sense for birds with clipped wings but we definitely do not recommend this practice.
Everything Needed For Proper Functioning – In this article, by kit, we focused more on everything that will help your aviary function great outdoors. This includes build materials and coating finishes. Most of these are made with wood that's weather-resistant and some are entirely made out of metal. One thing's for certain, all can last you for years of use.
Aviary Maintenance – Even though you'll get everything to start using these aviaries outdoors, you'll still need to do maintenance every once in a while. This can be done by coating the aviary with a new protective coating finish. You should focus on weather-resistant finishes and ones that are safe for birds to ingest.
Rust And Corrosion Problems – The biggest problem of outdoor parrot aviaries is that it can be hard for them to avoid rusting. To help prevent this you'll want to pay close attention o the coating finishes. If you're lucky enough, you'll get the chance to have an aluminum aviary whose rust is safe for birds to ingest. Other metals are your main enemy.
Interior Customization – If you want the aviary of your birds' dreams you'll want to customize it further. Outdoor bird aviary kits that are the easiest to further customize are the ones that allow you to walk inside them. With ones that don't allow you to do this, focus on the size of the entrances.
To Sum Up
We had no choice but to recommend the Aivituvin Wooden Bird Aviary as the best out of all of these outdoor bird aviary kits. This is because it comes with a lot of accessories needed to keep your birds stimulated and happy, but it also has everything needed to last you a long time because of weather-protected bits. If you're interested in checking out aviaries for larger birds we'd definitely recommend you read the article about macaw aviaries and if you're aiming for smaller birds, then the article about the best cockatiel aviaries.