Do you have some quails that you want to house in a quail aviary but you're finding it hard to find one?
We feel like we can help you find one but what you need to do now is continue reading this article If you're wondering what you'll find here we'll just te that you'll find reviews of the best. We even made sure to include multiple types of aviaries like metal, wooden, large, and more.
The Summary
Best 6 Quail Aviaries
BEST OF BEST QUAIL AVIARY
PawHut Hexagonal Outdoor Aviary
Shape Plus
Quails are birds that most stick to the ground. They can fly around but it is just not all that common. That's why they need an aviary that's going to provide them with enough ground where they can run. Luckily, this wooden aviary has a hexagonal shape so it will have more space on the inside.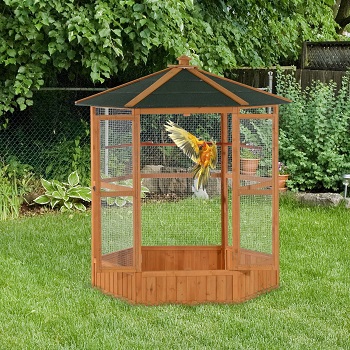 Dimensions Of The Aviary
What we mean when we say that you're going to be getting more space is that this quail aviary is equally wide and long. it's 59.1-in long and wide and it's 65-in tall. Even when your quails choose to fly around you can be sure that they're going to have enough room to fly around.
Weather Protected
It's made out of fir wood that's really light. What's great about this wood is that it acts well when used outdoors because it will always go back to its original form even when it shrinks or expands due to moisture. The roof is an asphalt roof which means that your birds will be kept in the shade and be protected from direct rain.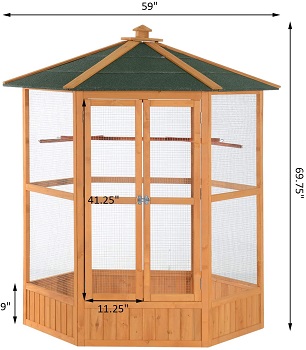 Birds To Pair Them With
The galvanized wire spacing of this aviary is 0.5-in. You can safely house quails inside and you can also pair them with budgies, finches, and canaries. It's definitely a large enough aviary for both quails and other bird species. You'll get to access the interior through the double door in the front.
In Short:
Made with fir wood
Has an asphalt roof that's waterproof
the wire is galvanized
Can be used outdoors
It's 59.1-in long and wide and 65-in tall
BEST OUTDOOR QUAIL AVIARY
Pets Imperial Canopy Aviary
Proportions
This is yet another aviary that has a hexagon shape. Like we said before, the benefit of having this type of aviary is that you'll get much more space on the inside. This one is a bit smaller than the previous one with 4ft 9" in length and width and also a height of 5ft 2".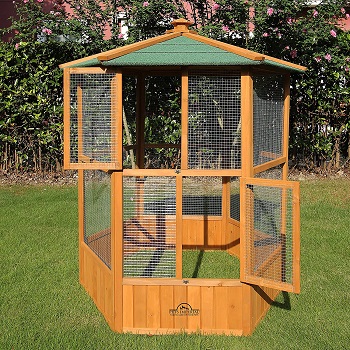 How It Looks
The benefit of aviaries that are shaped like this is that they're just gorgeous and are bound to fit as backyard aviaries. This one has a natural wood finish and features a green canopy. This canopy extends a bit from the edges so that water drips to the ground and not on the inside.
Door Location Purpose
Even though it doesn't have doors big enough for you to easily walk inside it there are two of them. Each door will allow you to access a specific part of this quail aviary.  The top one will allow you to access the top and there's a bottom one for you to access the bottom. Both lock with sliding bolt locks.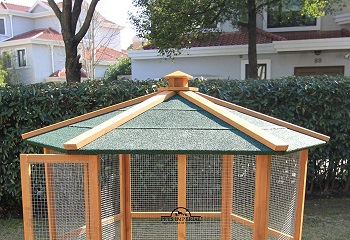 Birds Allowed Inside
Similar to the previous aviary, this one will get your quails enough room to walk around freely. They'll be safe inside since the wire spacing isn't that big and it's made for finches, doves, and other similar-sized birds. It does not, however, feature and toys or accessories.
In Short:
Made with timber wood
It's hexagonal
It's 4ft 9" wide and long
Can also house birds like finches and budgies
Has a waterproof asphalt roof
BEST METAL QUAIL AVIARY
A&E Cage Co. Walk-In Aviary
Entering The Aviary
Large aviaries like this one offer you a wide range of customization possibilities just because of the fact that you can walk inside them. This will also allow you to easily feed your quails when needed. You'll get to enter the aviary through a single large door located in the front.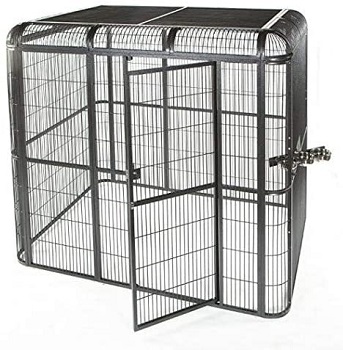 Lock Safety
Don't be fooled, birds can be tricky when it comes to unlocking their enclosure. That's why this bird aviary locks with a key so there's no way your birds can open it unless they're locksmiths. you'll also get 3 feeding entrances on the sides.
Material And Coating
The material used to make it is iron. It's no exactly the best material to use for an outdoor aviary but it should be okay since it's coated with a powder coat finish that nob-toxic to birds. if you're not sure, you can always use this iron bird cage under a patio or in a sunroom. You will have to perform maintenance though.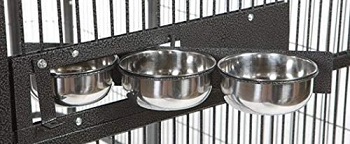 Walk-In Benefit
It's not all that often to find a walk-in aviary that has a 0.5-in wire spacing but this one does. That means you'll get to house other birds inside that we recommended with quails before. This includes small birds like budgies, finches, and canaries. You can easily completely customize this quail aviary.
In Short:
Made out of iron
Has a powder coating finish that's non-toxic to birds
You can walk inside it
Locks with a hasp latch lock and a key
HAs a 0.5-in wire spacing
BEST WITH STAND QUAIL AVIARY
PawHut 44 Hexagon Covered Canopy
Color And What It Sits On
We truly like hexagonal aviaries cause they look elegant but offer your birds enough space to walk around and fly freely. This one is painted white and grey so it looks even nicer and you'll also get to move it indoors if you want to because it sits on a stand with wheels.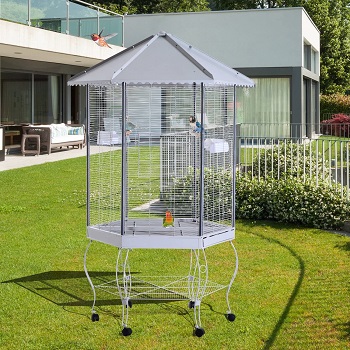 More Stand Details
It also looks great because the stand actually looks like an antique bird cage stand. This is due to the fact that it has hollow legs that are also curved. It has six of them and each leg has its own wheels so you can move it easily. You'll also get to better organized your bird supplies because of the storage grid.
Top Design
The top of this quail aviary features a canopy that's made with metal sheets. This will allow you to use it outdoors from time to time. It will provide your birds with enough shade from the sound but will also protect them from the rain because it extends from the outer edges of it.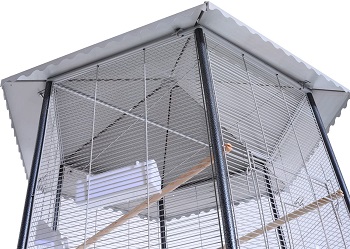 Entrances And Accessories To Go With It
It's got a small entrance closer to the top so even if you open it, your quails won't really get to exit. It also features smaller entrances where you'll get to attach the 4 feeding cups that come with it. You'll also get two perches with it but that's more reserved for other small birds that you can house inside due to the 0.5-in wire spacing.
In Short:
It's hexagonal
Has a white and grey color
Features a protective meta sheet canopy
Sits on a stan with wheels and a storage grid
Has a 0.5-in wire spacing
BEST ON WHEELS QUAIL AVIARY
Prevue Pet Products Charming Aviary
Square Footage
With this aviary, your quail will get around 6 square feet of space to run around. THat's because this aviary is 35.5-in long and 23.75-in wide. It's also very tall so you won't have to worry about your quail hitting the top when it decides to fly. It's 68.83-in tall with the stand on.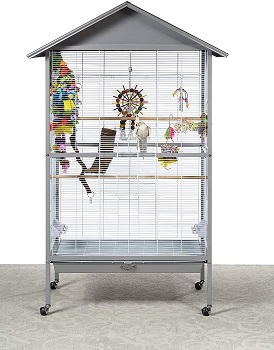 Stand Size And Contents
Although you have to take into account the height of the stand to figure out just how tall the interior of this quail aviary is, it doesn't really take up much of its height. The stand has 4 wheels so you can easily move it from room to room or outdoor if you'd like and there's a deep slide-out cleaning trey there as well.
Top Pros And Cons
The top of this bird aviary actually makes it a parakeet bird house because it's a house rooftop. This means that there is no wire on top and your quail won't get to bump his head on the wire. for other birds, this means that you won't get to hand accessories and toys there.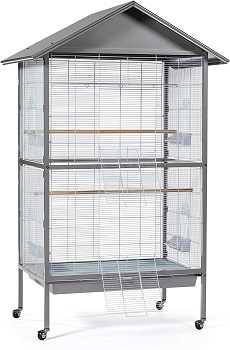 Outdoor Use And Birds It Can House
Due to the metal sheet house rooftop, you'll get to occasionally place this aviary outdoors. Your birds will get shade and protection from the sun. It has a 0.5-in wire spacing so you can put it inside other small birds that like this wire spacing except for love birds that might attack your quail.
In Short:
Has a meta sheet house roof
Sits on a stand with wheels
Can be used outdoors occasionally
HAs 6 square feet of ground space
HAs a 0.5-in wire spacing
BEST LARGE QUAIL AVIARY
Gutinneen Outdoor Pigeon Aviary
Number Of Birds It Can House
Your quails will probably be the happiest inside this aviary. If you have pigeons it will be especially good because this is first and foremost an aviary for pigeons. We'll get into details as to why later on but the first thing you should know is that you'll get to house up to 15 birds inside.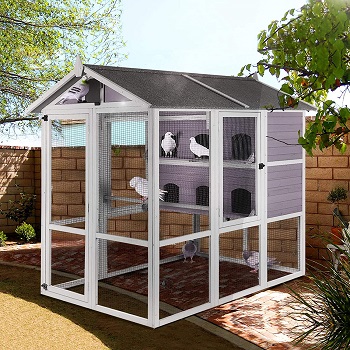 Space For Running
This is a quail aviary that will give your quails the most space to run around out of all the others. It's 65-in long and 44.5-in wide. This means that it will give your quails around 20 square feet of space to run around. It's also tall so you don't have to worry about them bumping into the top that's 68.6-in tall.
Nesting Areas
For your pigeons or perhaps doves, you'll get 6 separate nesting boxes that are located in the far back. These boxes are elevated from the ground so that there's additional room to walk around on the bottom. you'll get to access these boxes from the back and you'll get to clean them by pulling out the two slide-out cleaning trays.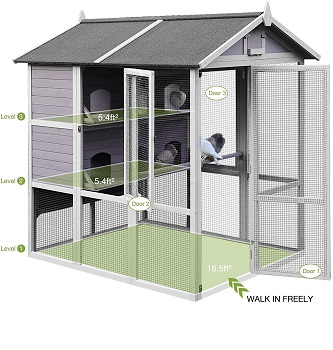 Build Materials And Entrances
It's made out of fir wood that's weather-resistant as it is. It also has a large asphalt roof that's waterproof. The wire of this aviary is galvanized so everything you see will be well protected from outdoor weather. You'll get to walk inside this aviary through a large door and you'll get two smaller entrances on the sides.
In Short:
Made with fir wood and wire
The wire is galvanized
Gives quails 20 square feet to run around
Features nesting boxes for pigeons
Can house up to 15 flying birds
You'll get to walk inside it
How To Pick A Quail Aviary
To pick out the best aviary for quails you'll need to know what are their aviary needs, their behavior, how to keep them safe, and a lot more than just that so make sure you stick around and read this buying guide where we'll go through everything that'll help you choose the best aviary for them.
Quail Behavior – Quails spend most of their time on the ground so the focus is to provide them with an aviary that will let them run around freely. Most of these are large enough to house multiple quails but some aren't so it's important to know just how big an aviary needs to be for them.
How To Find An Aviary – If you're looking for a quail aviary, you probably won't find any aviary that's made specifically for them. Quails can be housed with other birds. Usually, they're small birds like budgies, canaries, pigeons, and doves so if you want to get them an aviary, look for aviaries for these birds.
Appropriate Aviary Size – When we say that an aviary for quails should be big we mean really big. If you're having trouble with exact measurements an aviary that will allow you to walk inside it or an aviary with the same large length and width will be just fine for them.
Quail Safety – Although quails don't really require a special wire spacing it's safest to house them in an aviary with a 0.5-in wire spacing.  This is because they can't be housed with larger birds like African greys that need a bigger wire spacing and a bigger aviary.
To Sum Up
To keep your quails happy and healthy we definitely recommend you get the Gutinneen outdoor quail aviary. The birds have around 20 square feet to run around and you can use this aviary outdoor and even walk inside it. If you want to check out more aviaries for birds that live a similar life as quails, we advise you to check out the article about pheasant aviaries or about peacock aviaries.