Do you own many different pheasants and you need that variety of choice when it comes to picking out a pheasant aviary?
You'll get that variety so we advise you to continue reading. This is because we not only reviewed the best in this article but we also made sure to include a variety of sizes for different types of pheasants like peacocks or golden pheasants. Furthermore, we categorized them into categories like wooden, metal, small, and even large
The Summary
Best 6 Pheasant Aviaries
BEST OF BEST PHEASANT AVIARY
Talis Deluxe Large Bird Aviary
Length, Width, And Height
We didn't just categorize these aviaries into categories you can already see but we've also categorized them into sizes for small, medium, and are pheasant breeds. We'll start with medium aviaries and this one is the first out of the two. It's 93-int a and 95-in long and wide.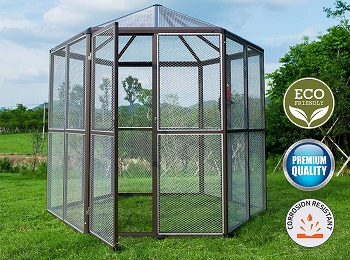 Which And How Many Inside
With hexagon aviaries like this one, you'll need to calculate their square footage a bit differently. This one has a square footage of 52. For pheasant that we intended this pheasant aviary and those are golden pheasants, this is just enough for a pair or even three of them.
Metal Safety
The best thing about this aviary is that it's an aluminum bird cage. This is great because you'll have to use it outdoors and aluminum doesn't rust or corrode. If it does, the rusted parts are safe for birds to ingest because the white residue or aluminum oxide is safe for them.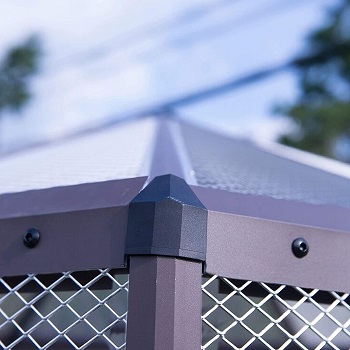 Door And Lock
Since it's 93-in tall and that comes out to be 7 ft 9" you'll easily get to walk inside to change things up or to customize it when you need to. Your pheasants won't exactly be able to get to the lock due to the netting and the tall positioning of the hasp latch lock so you can stay worry-free.
In Short:
Made out of aluminum
Aluminum is safe for birds to ingest
It's 93-in tall and 95-in long and wide
It's hexagon-shaped
You can easily walk inside it
BEST METAL PHEASANT AVIARY
A&E Cage Co. Walk-In Aviary
How Big It Actually Is
Although we're reviewing it as a small aviary because it certainly is compared to the first one that is not completely true. Unless you're taller than 6 ft 3" you'll have no problems entering this 75-in tall aviary. It's also quite spacious with a rectangular shape and length of 61-in and width of 85-in.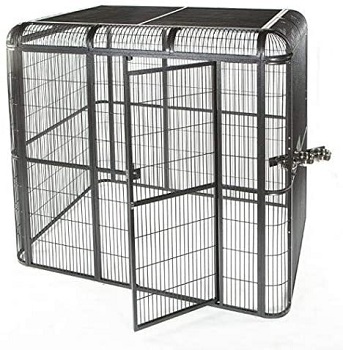 Other Birds It Can House
This is the second out of the two aviaries that we intended for golden pheasants or pheasants of medium size. Other than a pheasant aviary, you can also use it as a parakeet aviary or as an aviary for small birds. This is due to its wire spacing of 0.5-in. We wouldn't recommend you pair the two though.
Locking Safety
Although you really shouldn't be worried about the door opening and predators getting in or your pheasants getting out, we'll sure you of this by mentioning some lock details. You'll get to lock the single door with 2 locks, one being a hasp latch lock, and the other having to be locked with a key.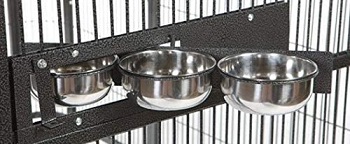 Material And Its Coating
It's made out of iron and since it's large, you'll have no choice but to use it outdoors. That's alright though since you'll want to focus our attention on the coating finish. The powder coating finish of this aviary is what's going to protect it from rusting prematurely. It's also non-toxic to birds
In Short:
Made out of iron
Has a bird non-toxic powder coating finish
You can walk inside it
Has a 0.5-in wire spacing
The door locks with a key and has platch lock
BEST WOODEN PHEASANT AVIARY
Pawhut 65 Large Wooden Aviary
The Smallest
We didn't really have a breed in mind when we chose the next two aviaries to review them here. We'll leave this to you but what we will do is give you the necessary information to decide on your own. Let's start by saying that this aviary is much smaller than the first two and the last two.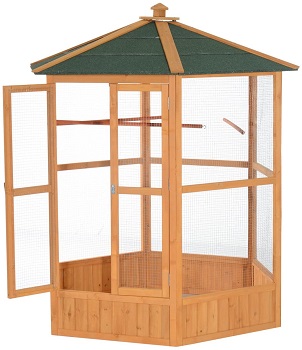 Access To The Interior
Since it's 59.1-in long and wide and 65-in tall You won't exactly get to enter this pheasant aviary. You might step inside it by ducking a bit though. This is thanks to its large 2-door entrance that's 51.2-in tall and 26-in wide. This entrance locks with a single hasp latch lock.
How Many It Can House
Some pheasants only need 5 square feet of space to feel comfortable inside. This was the knowledge we acquired to decide on reviewing this wooden aviary. You'll get 15 square feet of space on the inside which means that you'll get to house 3 smaller pheasants comfortably.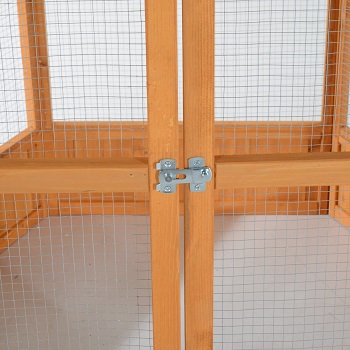 Weather Protected Build
It's made out of fir wood that's weather-resistant as it is. It's got wire sides that have been galvanized to stay protected from rusting and corrosion and it even has an asphalt roof. This asphalt roof is waterproof and will have to keep your pets dry during rainy weather and in the shade during sunny days.
In Short:
Made with fir wood and wire
The wire is galvanized
Features a waterproof asphalt roof
Gives your pheasants 15 square feet of space
Has a 51.2-in tall 2-door entrance
It's 65-in tall
BEST OUTDOOR PHEASANT AVIARY
Pets Imperial Stunning Woodden Aviary
Beautiful Design
We might have forgotten to mention an important thing with the previous aviary but luckily, this one is the same so we'll say it now. This aviary can be a wonderful addition to any backyard or garden due to its hexagon shape, wooden build, a natural stained finish.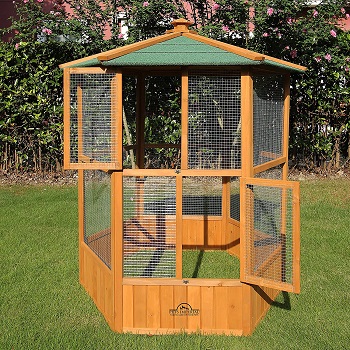 Hexagon Shape Benefit
One of the main benefits of a hexagon-shaped aviary is that it looks great but still gives your birds plenty of space to roam around on the inside. To be precise this backyard aviary will give your pheasants around 14 square feet of space due to its length and width of 4 ft 9".
Reaching For The Interior
If you could barely walk inside the previous pheasant aviary there's not a chance you could do it with this one. You'll still get to access every part of it due to the door positioning. One smaller door can be found on top to access the top parts and one is found on the bottom to access the bottom parts.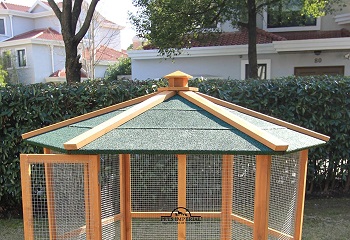 3 Materials
Same as the previous aviary, it's made out of wood and wire. The wood in this case is Timberwood but the wire is still galvanized. The asphalt roof canopy on top adds to its looks but will also help protect your pheasant from direct rain and the sun since it's an asphalt roof.
In Short:
Built out of timber wood and wire
Features a top and bottom door
Gives pheasants around 14 square feet of space
Has a green asphalt roof canopy on top
Fits beautifully inside any garden
BEST LARGE PHEASANT AVIARY
PawHut Galvanized Metal Aviary
Peacock Space Requirements
The last third of this article is dedicated to pheasants that need the most space when it comes to aviaries and those are peacocks. Male peacocks need more space than females to be able to flaunt their tales when they need to. One peacock requires 100 square feet of space and this 9 ft wide, 24 ft long, and 6.5 ft tall aviary gives them that space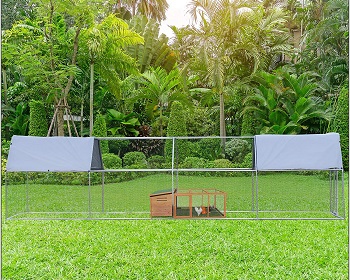 Interior Square Footage
The interior has a total of 216 square feet of space which will allow you to house 2 peacocks comfortably. It wouldn't make sense that such a big pheasant aviary is made just for them. That's why we'd recommend you house them together with chickens, ducks, or other pheasants.
Covered Spots
Since it's so big you can easily divide its space into fourths. With that said, we can then say that two-fourths of this duck aviary features a top cover. This cover is UV and water-resistant which easily leads us to the conclusion that it's meant to provide your pheasants with shade and protection from the rain.

Entrance And Build
It features a single entrance in the front that will allow you to enter it. The frame is made out of galvanized steel tubes which means that they are rust and corrosion resistant and the wire is welded. The wire walls are smooth so you won't have to worry about your birds harming themselves.
In Short:
HAs a galvanized metal frame
The wire is welded and smooth
It's 9 ft wide, 24 ft long, and 6.5 ft tall
Features a single walk-in entrance
Allows you to house multiple peacocks
Has 216 square feet of space
BEST BACKYARD PHEASANT AVIARY
Polar Aurora Large Metal Aviary
Large Proportions
Although it's somewhat smaller than the previous aviary we reviewed it's still a big aviary. You should know that it's 10 ft wide and 12.5 ft long so you can figure out whether or not it will even fit in your garden or backyard. If you want to house peacock pheasants, you'll need adequate space.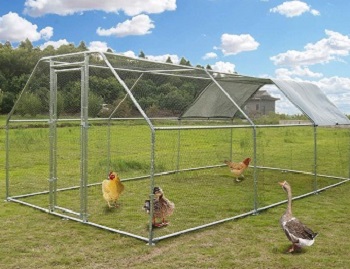 Frame And Wire Coatings
Although the sides of this pheasant aviary are made out of wire, it's great that they are PVC coated to win some more points in weather resistance. Its frame, just like with the previous peacock aviary, is galvanized which means that a thin layer of zinc coating makes it resist rusting and corrosion.
Interior Area
Like we said before, it is a smaller peacock aviary than the one we reviewed and for you to figure out just how smaller it is, we figured we'd tell you that you'll get 125 square feet of interior space. That's good for one peacock and other birds, poultry, and pheasants. Remember, for two peacocks you'd need at least 200 square feet.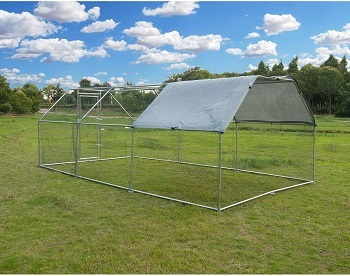 Top And Entry
Half of the top can be covered with a cover that's UV and water-resistant. Your pheasants will have a choice whether or not they want to be in direct sun and rain or not. You'll get to enter the inside through the single door in the front. Thi aviary should be easy to assemble due to the quick connect frame.
In Short:
HAs a galvanized steel frame
The wire sides are coated with PVC
Can be used outdoors
Gives you pheasants 125 square feet to roam
You can enter it in the front through the large door
The cover is water and UV resistant
How To Pick A Pheasant Aviary
Picking a pheasant aviary is easy when it comes to safety. All you need to make sure of is that it's properly protected from outdoor weather conditions but you do need to think about space because too small of a giving area can cause make pheasants to harm each other. Keep reading this buying guide to preventing that and more.
100 Square Feet Aviaries And Over – Getting your pheasant over 100 square feet of living space is ht best thing that you can do for them. Specifically, we're talking about peacocks. One peacock needs 100 square feet of space, 2 need 200, etc. Of course, you can place inside other pheasants as well
Protection Of Birds – You'll want to inspect your aviary and make sure that there aren't any holes that will allow predators to roam in freely and harm your pheasants. Another thing to think about is the protection of the aviary. Make sure that its bits, especially the metal parts are weather protected.
Medium Aviaries – What we mean by medium pheasant aviaries are the ones that are just a bit under 10 ft long, wide and tall. You'll get to use them to house medium-sized pheasants. What we mean by medium are pheasants like golden pheasants that don't grow very long but the big difference is between males and females
Small Pheasants – For a common pheasant, you'll need to make sure that each one has at least 5 square feet of space to roam around freely. All of these can house multiple small and medium pheasants while only one is big enough to house 2 large peacocks. Keep in mind that pheasants can be housed with other pheasants and with poultry and ducks.
To Sum Up
If you want to go big, the best pheasant aviary that we can't but not recommend is the PawHut Galvanized Metal Aviary. It's actually so big that you'll get to house 2 peacocks inside comfortably and other pheasants and poultry. You won't have to worry about predators going in because the wire is welded. Since most of these aviaries could have house exotic birds and parrots we'd recommend you read the article about cockatiel aviaries or macaw aviaries next.