Are safety and durability a number one priorities and do you know that an aluminum bird cage exudes both?
Are you having trouble finding one?
If you are we'll make it easier for you if you continue reading this article where we only reviewed the best ones we could find. You won't just be reading about the same old indoor application cages. Instead, you'll read about travel cages, aviaries, and a lot more than just that.
The Summary
Best 4 Aluminum Bird Cages
BEST OF BEST ALUMINUM BIRD CAGE
Kings Cages Playpen Top Cage
Color Options
There's really only one reason why we chose to review this cage as the best and that's because it's an indoor bird cage. The great thing about it is that it's not only colored with the same old aluminum silver but actually has some painted bits. You can choose to get it in red, black, bronze, gold, and classic silver color.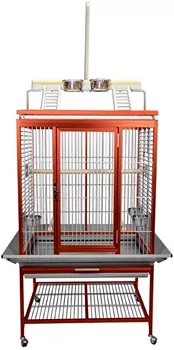 Why It's Safe And Where You Can Use It
We won't get into much detail as to why an aluminum bird cage is so good but we will tell you one thing. It's completely safe for birds and there is no fear that your bird will suffer metal poisoning. Since it's aluminum, you can actually use it outdoors as well if you'd like.
Three-Part Build
There are three parts to this cage. Starting with the bottom, you'll get a stand with wheels, a storage wire grid, and a seed guard, in the middle you'll find the actual cage and at the top, you'll find a play area. The play top area consists of 2 ladders, 2 bowls for food and water, and a wooden perch.
Length, Width, Height, And Wire
This play top bird cage is 22-in wide and 32-in long. Overall it's 75-in tall and the cage interior is actually around 51-in tall. It has a 5/8-in wire spacing so it's suitable for medium-sized birds like cockatiels, African grey, and others. It's spacious so you don't have to worry about it being too small for them.
In Short:
Comes in the colors red, gold, bronze, black, and silver
Has a 5/8-in wire spacing
Can be used both outdoors and indoors
The top features a play area
Sits on a wheeled stand with a storage grid
Comes with a seed guard
BEST PARROT ALUMINUM BIRD CAGE
Kings Cages Large Aluminium Cage
Appreciating Its Length
In this case, when we think of parrots we mean the larger parrot species like macaws. This is important to mention because this is a macaw travel cage meant to house the biggest of macaws. A travel cage of this length is actually hard to find usually. It's around 29-in long.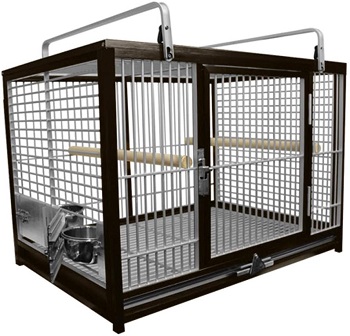 Weight And Carrying Options
Since it's an aluminum bird cage, you will have to think about the fact that it's not exactly light. it weighs 29 lbs and that's the reason why you'll get two carrying handles instead of just one. the carrying handles are also made out of aluminum metal and are screwed onto the cage.
Parrot Recommendation
The only reason why you should ever worry about it getting caught in rain is if you want to keep our bird dry. Other than that, the cage won't rust. we wouldn't recommend it for parrots that are longer than 26 or 27-in because your parrot might end up with a bent tail if the travel cage is too small.

Small Bird, Big Cage Dangers
In the case of travel cages, you won't have to worry about the wire spacing unless it is too wide for your bird. This aluminum parrot cage has a 5/8-in wire spacing which would mean that it can house birds like cockatiels but it might be too big for them. The Kings cages aluminum cage model also comes with 2 perches and 2 bowls.
In Short:
Weighs around 29 lbs
Comes with 2 carrying handles
Has a 5/8-in wire spacing
Comes with 2 perches and bowls
It's around 29-in long
Mean to house larger parrots like macaws
BEST TRAVEL ALUMINUM BIRD CAGE
Parrot Wizard Aluminum Cage
Small Cage Benefit
This is yet another parrot travel cage but designed to house smaller birds since the one before was too big for them and they'd move around too much while you're driving. It has a 5/8 -in wire spacing but the important thing is that it's 14-in long which means that it can house birds like African greys and cockatiels.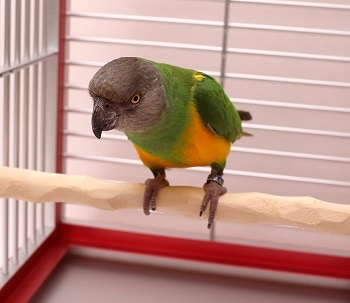 Color And Handle
You can use it as a fashion statement since the silver aluminum color and the red color go perfectly together. The frame is colored with a red color while the bars are left silver. The top handle is made out of aluminum but it does feature a wooden part so that it can act as a perch.
Lightweight Aluminum Build
With the before aluminum bird cage, the problem was that it was heavy and this cage solves this problem. It only weighs 10 lbs so that no one has a problem carrying it and transporting it elsewhere. During transportation, you won't have to worry about the cleaning tray accidentally sliding out due to the clasp that rotates to lock it into place.
Innovation Features
The red color of this cage is not your regular spray paint or powder coat finish. The aluminum was anodized to create this color. Another innovation is the door that has reduced rattle noise because of the magnets it has. The perch on the inside is a NU perch that will allow your bird to safely and comfortably grip it.
In Short:
It's colored red and silver
The red color comes from anodized aluminum
Has a magnetic, reduced rattling noise door
Has a 5/8-in wire spacing
Weighs only 10 lbs
The top handle acts as a perch
Made for medium-sized birds
BEST AVIARY ALUMINUM BIRD CAGE
Talis Large Deluxe Bird Cage
What Are Aviaries
If you don't know what aviaries are, they are typically large enclosures if they're outdoor parrot aviaries that are mean to give your bird a safe place to fly around. If you don't have a backyard or garden we don't really know how you'd fit it inside your home since it's very spacious.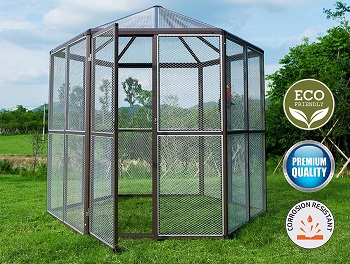 Door And Aviary Proportions
This aluminum bird cage is so big in fact that you can easily walk inside it to customize the interior if you want to. It's 95-in wide and long and 93-in tall. The single door is 68-in tall so you might have to duck to enter if you're a taller person but you should stand tall inside easily.
Perfect For The Outdoors
We can't promise that you'll love how it looks but we absolutely love its hexagonal shape and top canopy it has. It is bound to fit well inside any backyard or garden. Since it's an aluminum bird aviary, it would be a waste if you didn't use it outdoors since even if it would rust, the rust would be safe for birds to ingest.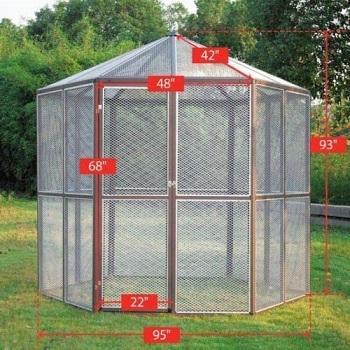 Bird Use Recommendation
Instead of being made with horizontal and vertical wire, this aviary is made with wire nets. Since these can be very wide, it's best if you'd avoid using them for smaller birds and only focus on using them for larger birds and parrots like cockatoos, macaws, amazons, and others.
In Short:
Has a hexagon shape and a canopy
MAde with metal nets
Should be used outdoors
Mean for larger birds and parrots
It's 93-in tall, and 95-in long and wide
You can walk inside it
How To Pick An Aluminum Bird Cage
Picking out a bird cage made of aluminum all comes down to your needs and what you want to use it for. We'll explain each type in detail and go into more detail about aluminum cages for birds in general, their prices, and why they're so good for birds and parrots so keep reading this buying guide.
Aluminum Metal Benefits – The benefits of owning an aluminum cage for birds are not large in quantity but quality instead. Aluminum as metal doesn't rust and even if it would rust, you won't have to risk your bird suffering metal poisoning because aluminum oxide, a white residue substance, is safe for birds to ingest.
Talking About Price – Price wise these cages are definitely not cheap. Some can cost over 1100 dollars depending on their size and use. A small travel aluminum cage would cost around 500 dollars while for a full-blown aviary, you'd have to spend around 1500 dollars.
No Need For Coating Finishes – If you see an aluminum bird cage with a coating finish like a powder coat finish or a spray paint finish, you should know that these are truly pointless. These finishes are usually meant to protect the metal from rusting and your bird from ingesting pure metal bits of the cage.
Bird Wire Hazards – You can't avoid wire safety with these cages though. With travel cages, you should focus on the wire spacing not being too big and the cage not being too small or too big for your bird but with aviaries and other bird enclosures, too wide of a wire spacing can cause big problems while a too-small wire spacing can mean that the wire is too thin for your bird and that bird would easily bend it. The second case is more common with larger birds.
To Sum Up
We'd definitely go with the Kings Cages Playpen Top Cage as the one aluminum bird cage we'd recommend since it's an indoor bird cage made to actually permanently contain birds. It can be taken outdoors as well since it is aluminum and it's made to house medium-sized birds. If you want to check out cages made from the second-best material for bird cages, we'd advise you to read the article about stainless steel parrot cages or stainless steel macaw cages next.