Have you had trouble finding a peacock aviary that's designed to house them and it's also large enough?
We had some issues too but in the end, we managed to comprise this article. All you need to do is continue reading to be almost guaranteed that you'll find an aviary for your peacocks fast. We didn't just review these aviaries but we've also made sure to include more than just one type like metal, large, and outdoor ones.
The Summary
Best 4 Peacock Aviaries
BEST OF BEST PEACOCK AVIARY
Hiwokk Large Metal Aviary
Aviary Proportions
Since it's a lot easier to visualize proportions of dimensions than it is to visualize square footage we'll begin this review by telling you that this aviary is 9.8 ft long and 13.1 ft wide. This is important to know because your want to make sure that it will fit wherever you plan on putting it.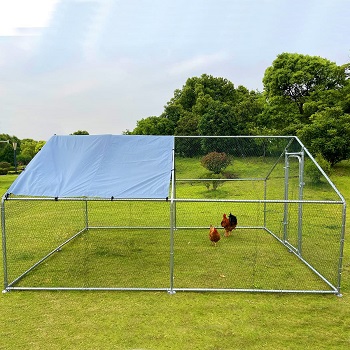 Importance of Square Footage
The next important thing to know is the square footage that we calculated by checking out the already mentioned length and width. You'll be pleased to know that this peacock aviary has a square footage of around 128. This is important because the minimum space for a peacock is 100 square feet.
Entering It
It's shaped like a parakeet bird house since it has a house rooftop. At its highest point, this aviary is 6.4 ft tall but for peacocks, this is less important since they mostly move on the ground. You'll have use of this height because it will allow you to enter it through the single large door in the front.
Material And Finish
This is actually an iron bird cage but there is a but. It has been coated with a stainless steel finish so that you can use it outdoors with a lot of confidence. You won't have to worry about rusting and corrosion and your birds will also be kept in the shade and protected from the rain because of the cover that takes up about half of the aviary.
In Short:
Made out of iron
The iron is coated with a stainless steel finish
It has a square footage of around 128
It's 6.4 ft tall
You can walk inside it through the large front door
Comes with a UV and water-resistant cover
BEST OUTDOOR PEACOCK AVIARY
Polar Aurora Large Bird Aviary
Low Pricing
It's almost unbelievable how sometimes the cheaper things can have a better quality than the more expensive ones. This aviary is one of those things. You can't really expect to pay less than 300 dollars for an aviary of this size and this aviary is just around 60 dollars above that initial price.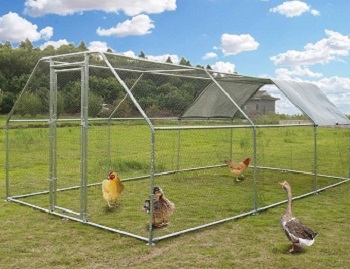 Footage And Proportions
If you're curious about what exactly its size is we'll tell you about the two most important things and that are its proportions and its square footage. This peacock aviary is 10 ft long and 12.5 ft wide. When put together, you'll get the square footage of 125 which is just 3 square feet less than the previous one.
Sun And Rain Protection
Your peacocks will get adequate shade from the sun but that reigns true for half of this large metal bird cage. This is true due to the cover that covers half of its top. This cover is water and UV resistant so your peacocks will get to choose when they are in the shade from the sun and rain.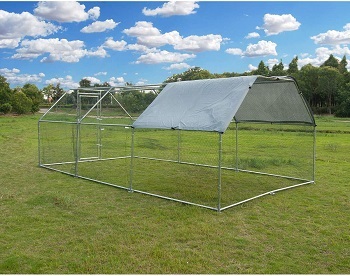 Materials And Entry
Unless you're taller than 6 ft 4", you won't have problems entering this aviary through the single door located in the front. The aviary has a galvanized metal frame which means that it's corrosion and rust-resistant and has a PVC coated wire which also means the previously mentioned thing.
In Short:
Has a galvanized metal tube frame
The wire is PVC coated
Features a cover that covers half the aviary
It's 10ft long and 12.5ft wide
Gives you peacock 125 square feet of space
BEST LARGE PEACOCK AVIARY
PawHut Galvanized Large Metal Aviary
Double The Width
If you thought that the previous aviaries weren't big, you'll definitely consider this one to be large. Its 20 ft in width is double the size of any proportion of the previously reviewed aviaries. With that width, you'll also get a length of 10 ft and a 6.5 ft which is again a lot.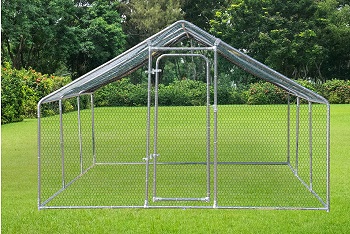 Multiple Peacocks Housing
It'll be a lot easier to tell you that it will give your peacocks 200 square feet of space for you to imagine just how much space your peacocks will get. With the previous knowledge that a single peacock needs around 100 square feet of space, it's easy to conclude that you'll get to house more than one in this peacock aviary.
Predators Protection
Another important thing to think about is that you'll have to make sure that predators won't get inside and hurt your birds. You'll make sure of this by checking out the materials an aviary is made out of. This one features a galvanized steel frame and a plastic coated wire mesh.

Top One Third
You can easily split this pheasant aviary into 3 thirds. With this kept in mind, it's easy to conclude that one-third of this aviary can be covered. The cover will protect your peacocks from direct sunlight and rain since it's both UV resistant and water resistant.
In Short:
Has a galvanized steel frame
The hexagon wire plastic
One third is covered with a water and UV resistant cover
It's 20 ft long and 10 ft wide
Gives your peacocks 200 square feet of space
BEST METAL PEACOCK AVIARY
Walsport Large Walk-In Aviary
What It Is
If you looked up a peacock aviary, you'd hardly find one. You'd either have to make one yourself or resort to other types of aviaries to give your peacock what he needs. That's why we actually reviewed chicken coops here and this aviary is not an exception to that set rule.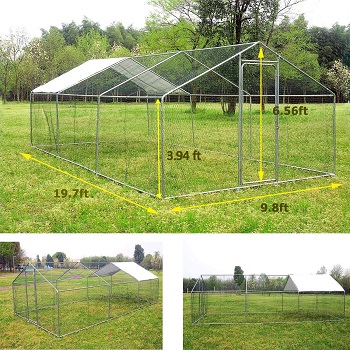 Assembling It
It's easy to set up but you'll have to first assemble the frame and then attach the wire bits onto it. You should secure it with zip ties so that there are no spaces where a predator could go through and access your peacocks inside this peacock aviary. You will get detailed instructions on how to do everything.
Weather Protection
Just like the previous aviary, you can separate this one into thirds as well. One-third of this aviary is going to protect your birds from rain and the sun since you'll get to place a cover on one-third of the top. The whole thing is made to resemble a house.
Metal Protection
With outdoor bird enclosures, you always have to make sure that the material that makes is weather-resistant as well. The frame of this aviary is galvanized which means that its corrosion and rust-resistant. Galvanization is a process where a thin layer of zinc is applied to the material to protect it from the already mentioned metal conditions.
In Short:
Has a galvanized steel frame
Comes with detailed assembly instructions
One third features rain and sun protection cover
It's made to resemble a house
It's actually a chicken coop as well
How To Pick A Peacock Aviary
If you're here reading this peacock aviary article, you'll already know that peacocks mostly reside on the ground and have different needs when it comes to their enclosure. We'll go through all these needs and make it easier for you to decide on the best aviary that you can get them.
What To Look For – If you were to go online and try to find an aviary that's specifically designed for peacocks you wouldn't have much luck finding one. The best thing you can do is look for chicken coops. These coops that can actually house peacocks are all meta and are designed for outdoor use.
Places They Can Be – We'll get into how big of an aviary peacocks need in a bit but we'll start by telling you that they're all huge. Almost all of them are longer and wider than 10 ft so we don't really think that you could place these aviaries indoors. Even if you could, it's best to house them outdoors.
How Big Does An Aviary Need To Be – You certainly can go too big with these peacock aviaries but you can go too small. Just one peacock needs at least 100 square feet of space. This is especially true if you have a male peacock because they need that space to flaunt their tails.
Birds They Get Along With Well – If you have one peacock it wouldn't make sense to house just the one inside an aviary. That's why it's important to know what birds can be housed with them. Your safest bet is to house them with other fowls and poultry like chickens and turkeys.
To Sum Up
We based our choice for the best peacock aviary on how much space there is and how many peacocks can comfortably Iive inside it. This aviary is the PawHut Galvanized Large Metal Aviary. It will give you 200 square feet of space which means that you can put 2 peacocks inside. If you want to look at aviaries for exotic birds we suggest you either read the article about the best parakeet aviaries or about the best-rated macaw aviaries since they gather a pretty wide range of birds.