Are you looking for a brand new and safe fly babies aviary that will make their first clumsy fights fun and easier?
We got just the thing for you then. If you continue reading this article you can be sure that you'll find an aviary fit for your bird chicks. We reviewed the best but we also made sure to include different types of cages like cockatiel and parakeet aviaries and even some visually pleasing aviaries like antique and wooden aviaries.
The Summary
Best 6 Fly Babies Aviaries
BEST OF BEST FLY BABIES AVIARY
A&E Cage Co Walk-In Aviary
For Small Birds But Large
This is probably the best aviary you can get for your baby birds for one simple reason. The reason is that you'll get to walk inside it and not a lot of aviaries for small birds like budgie allow this. We concluded this by looking at its wire spacing of 0.5-in which's perfect for any small-sized bird.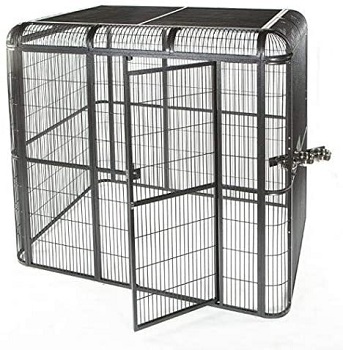 How Large Is It
Unless you're taller than 79-in you won't even have to duck when entering this fly babies aviary. It's also 61-in wide, and 85-in long so you can be certain that your birds will be happy flying around. We say birds because their size will allow you to house multiple birds.
Coating Finish Of The Metal
It's actually an iron bird cage. Iron is a pretty common material used in making bird cages and aviaries. The important thing to do is protect it from different weather conditions if you're using it outdoors. This aviary succeeds in this by having a quality and bird-safe powder coating finish.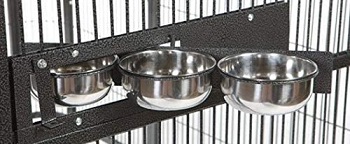 Accessories And Doors
Although you should still be hand feeding your baby birds at 5 weeks of age when they first fly, you will get 3 small entrances that serve as feeding entrances. You'll get to place 3 stainless steel bows on them. The large walk-in door locks bot with a hasp latch lock and a key.
In Short:
Made with iron
Has a powder coating finish
Features a 0.5-in wire spacing
Suitable for small birds like budgies
Comes with feeding doors and bowls
The front door locks with a key and a hasp latch lock
BEST PARAKEET FLYBABIES AVIARY
Pets Imperial Stunning Wooden Bird Aviary
Placement Recommendation
You seriously don't have to settle for less when it comes to the visual representation of an aviary. This will definitely be a great backyard aviary not only because it's mean to be used outdoors but also because it will look amazing there due to its hexagonal shape and canopy top.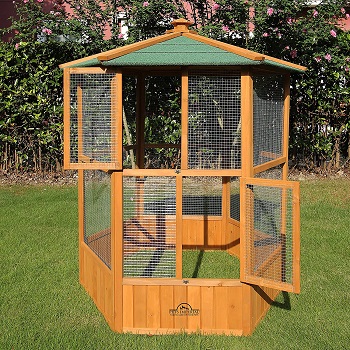 Primary Material And Top
The wood used to make its frame and most of it is timber wood. This wood is weather-resistant and has a natural stained finish. The canopy is green and it's actually an asphalt roof which means that it's waterproof. This canopy will provide your birds with shade and protection from direct rain.
Clever Door Placement
This big parakeet cage has a large door on the top half and one on the bottom half. Although the height of 5 ft 2" won't exactly allow you to enter it, the door positioning will still give you access to most parts of this flybabies aviary. This wooden aviary is also 4 ft 9" long and wide so it's quite spacious.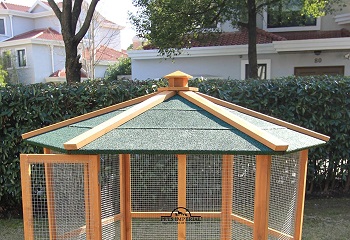 Wire Parts Use And Safety
Wire parts of any cage and aviary allow your birds to move through them with beaks and their claws. It's also important to give your specific bird a cage with a wire-spacing that's not too big since too wide of a wire spacing might seriously harm your bird. The 0.5-in wire spacing on this aviary will allow you to house birds like canaries, budgies, and cockatiels.
In Short:
Built out of timber wood and wire
The wire has a 0.5-in spacing
Everything on it is weather-resistant
The asphalt roof canopy gives shade and rain protection
Can house small birds
Has a bottom half and top half entrance
BEST ANTIQUE FLYBABIES AVIARY
PawHut 44″ Hexagon Covered Aviary
How It Looks
The benefit of any hexagon-shaped aviary or cage is that it offers your birds a lot of space to fly around on the inside while still looking elegant. This is another one of those aviaries but definitely, another benefit, looks vise is that it's a large white bird cage as well.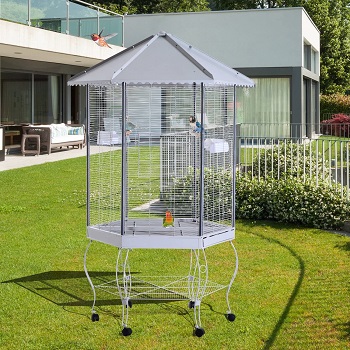 Stand Information
It's not just a white aviary, it's also a beautiful antique aviary thanks to the antique bird cage stand it sits on. This stand has six curved legs that are also hollo and each has a wheel for you to easily move it indoors or outdoors. You'll get to organized your bird accessories better due to the storage grid.
Canopy Design
The canopy on top is made out of metal sheets. It extends from the edges of this flybabies aviary so that water doesn't drip inside it but on the ground near it. It's angled so you also won't have to worry about water build-up on top. On sunny days, it will do a great job of keeping your birds in the shade.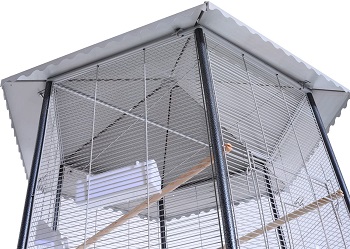 Small Bird Wire Spacing
Just like the one's before it, it also has a 0.5-in wire spacing so you know the drill: It's made for housing smaller birds. There is a reason why all of these aviaries are made for small birds and we aren't going to stop with this one. You'll also get 4 feeding cups and 2 perches for the interior.
In Short:
Made out of metal and metal wire
The wire has a 0.5-in spacing
It's colored white
Has a metal sheet top canopy
Sits on an antique stand with wheels
Comes with 2 perches and 4 feeding cups
BEST WOODEN FLY BABIES AVIARY
PawHut 65″ Large Wooden Aviary
Aviary Similarities
This is the last of the three hexagon-shaped aviaries that we will review. In terms of how it looks and how it's made, it has more similarities to the first one. It has a wooden build, a natural finish, a green asphalt roof, and wire sides. It's definitely a great addition to any backyard or garden.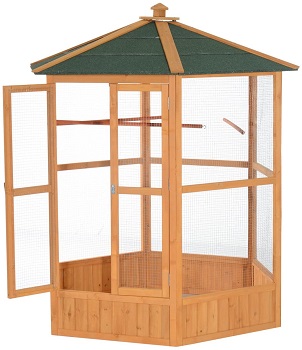 Height And Entrance Height
This aviary has a large 2-door entrance in the front. We wouldn't say that you'll get to easily walk inside it since it's 65-in tall but the entrance is 51.2-in tall. You definitely won't have problems accessing all the nooks and crannies on the inside of this fly babies aviary.
Materials Used
It's built out of fir wood that's light. It weighs around 80 lbs because it's not entirely made out of fir wood that acts great in different weather conditions. It's also made with galvanized wire and has an asphalt roof. The roof is waterproof and will also give your birds the shade needed so that they don't overheat.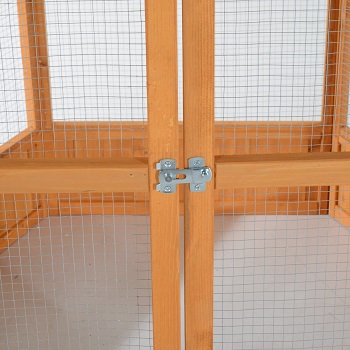 Simple And Spacious Interior
The inside space of this large wooden bird cage is kept simple and spacious. This outdoor parrot aviary is 59.1-in long and wide and for accessories, it only features a central perch that has 2 more perches staggered on it. the wire spacing is 0.5-in so it's best you use it with smaller parrots like budgies ad cockatiels.
In Short:
Made with lightweight fir wood
HAs galvanized wire sides
The asphalt roof is waterproof
HAS a 0.5-in wire spacing
Comes with 3 perches
It's 65-in tall and 59.1-in long and wide
BEST INDOOR FLYBABIES AVIARY
Prevue Pet Products Charming Aviary
Optional Uses
If you'd feel at ease if your bird chicks went out for their first flight inside an indoor aviary this might be the aviary for you. If you'd like, you can occasionally use it outdoors during sunny weather for reasons we will get into a bit later on in this review.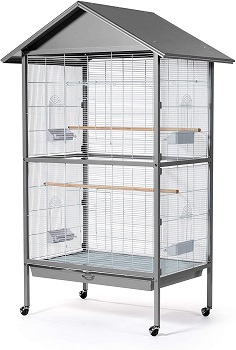 Moving It
First things first, to actually use it outdoors occasionally you'll first have to move this 70.55 lbs flybabies aviary there. You'll easily get to do this since the stand it sits on is equipped with 4 wheels. The stand can't be detached from this indoor finch aviary.
Top Looks And Use
When you've placed it outdoors your birds will be kept in the shade since the top of this aviary is like a house roof. it's made with metal sheets so there's no way the sun could shine through it. If it occasionally does get wet with rain, it will also protect your birds from getting into contact with it.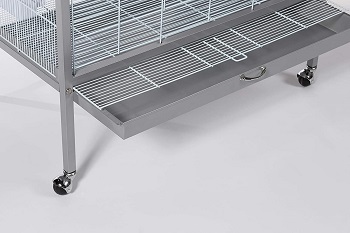 Birds It Can House
From finches to cockatiels and budgies, these are some of the birds you'll get to house inside because of the 0.5-in wire spacing. The inside comes readily equipped with 2 wooden perches and even 4 cups of food and water that you can place on the feeding entrance found on the sides.
In Short:
Made out of meta
Designed for primarily indoor use
HAs a metal sheet house roof top
Features a 05-in wire spacing
Sits on a stand with wheels
Comes with 2 perches and 4 feeding cups
BEST COCKATIEL FLY BABIES AVIARY
PawHut Wrought Metal Bird
Double Use
You'll get to use this aviary in one of two ways. You'll either get to use it as an aviary or as a bird cage. Of course, you can always change it up and this is thanks to the fact that you can place a slide-out cleaning tray and wire grid right in the middle to create 2 bird cages.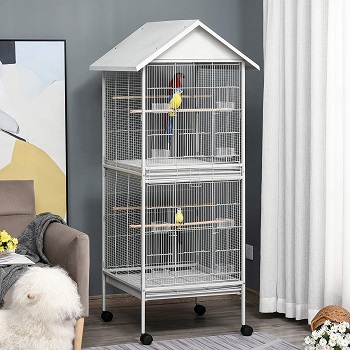 Separate Cages Dimensions
The cages that you've separated will be found on top of one another. They're slightly bigger than the minimum recommended cage size for cockatiels. They are both 28.25-in long and wide and one is 24.5-in tall and the other one is 24.75-in tall. With the stand and top included, this fly babies aviary is 67-in tall.
Everything Doubled
Since you'll get to separate this cockatiel aviary into two enclosures for cockatiels, it makes sense that it comes with an entrance for each cage. Each cage also comes with 4 small feeding entrances, food and water cups, and 2 wooden perches. Of course, the bottom also has a side out cleaning tray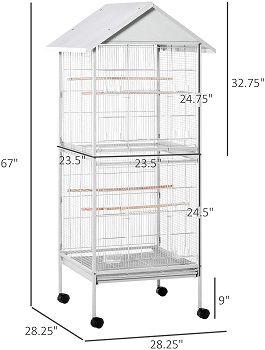 Primary And Secondary Use
Just like the aviary before it, we'd advise you to primarily use this large cockatiel cage indoors with occasional outdoor use. You'll get to move it there since it sits on wheels and because the house rooftop will protect them from the sun. The wire spacing is 0.47-in so a bit smaller than recommended for small birds.
In Short:
Can be used as 2 separate living cages
It's colored white
Has a 0.47-in wire spacing
Sits on a stand with wheels
Has a roof housetop
Comes with 4 perches, 8 cups, and feeding entrances
How To Pick A Flybabies Aviary
You'll want your aviaries to be extra safe when it comes to bird chicks. They are clumsier when they first begin to fly so ensuring that they have a safe place to fly around and through trial and error become expert flying birds is crucial. Make sure you continue reading to learn all about it.
First Flights According to Bird Breed – It would take forever for us to tell you about how long it takes for each bird breed to first fly so we'll focus on the ones that you can house in these aviaries and those are smaller birds. They take the shortest amount of time to ground and typically it's around 5-9 weeks that budgies, finches, canaries, and cockatiels first fly.
Baby Birds Needs Comparison – For small birds that are still babies, the cage requirements are the same as for adults. They should still be with their parents when they first learn how to fly but they can pretty much do anything an adult bird can. They might be a little clumsy when they first fly but that's about it
Cage Wire Spacing – All of these birds can live happily and safely in cages and aviaries with a wire spacing that's up to 0.5-in. Cockatiels can go a bit higher than that since they are larger but not too much. Wire spacing is important because your bird can easily get stuck between or get its wings caught on the spacing in between if they are too big.
Bird Numbers And Species Mixing  – Flybabies aviary are huge and it's only logical that they can house multiple birds. You can even house different bird breeds but make sure you keep it between cockatiels, finches, budgies, and lovebirds if you bred different types of birds at the same time and have a baby chick of these species
To Sum Up
We'll stick to the A&E Cage Co Walk-In Aviary as that one flybabies aviary that we'd like to recommend. It's large enough for you to walk inside it, it locks safely with a hasp latch lock and a key and it can house multiple small birds because of the size and 0.5-in wire spacing. If you'd like to see aviaries for large birds we'd recommend you either read the article about macaw aviaries or parrot aviaries.