Is your small parrot unsatisfied in his small cage so you're looking for a replacement that's going to be a large bird cage for parakeets?
If that is the case, you'll want to continue reading this article where we reviewed our top picks on the subject. We made sure to include all sorts of cages and that's why this is the place where you'll definitely find one that you need like flight cages, indoor cages, and even outdoor cages.
The Summary
Best 6 Big Parakeet Cages
BEST OF BEST BIG PARAKEET CAGE
Vivohome Large Budgie Cage
Wire Construction Importance
Probably the most important thing that these cages should have is a strong and durable wire. This cage has it all. It's made with low carbon steel which means that it's a high tensile wire and it also has rustproof and waterproof features. The finish is non-toxic which is also important since these birds tend to chew on their cage.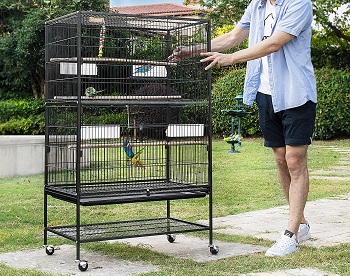 Weight And Movement
On its own, it does weigh quite a few pounds so you might find it challenging to move. To make things easier for you in terms of moving this 33 lbs big parakeet cage, you'll get a stand for the cage that has wheels on the bottom. This stand also has a rack where you'll get to place your budgies' accessories.
Important Accessories
It's really important for parakeets to feel like they live in a natural environment where they'll get to play since they're highly active birds. That's why this cage comes with 3 wooden sticks and hanging accessories that are going to be perfect for them since they're small birds and this is an accessory for small birds.
Keeping It Clean
This large metal bird cage is also easy to clean. It has a plastic tray on the bottom that will collect and fallen excrements and food particles. All you need to do when you're ready to clean it is slide it out and rinse it off with water. The interior is also easy to clean since shelving is easily removable.
In Short:
Made out of low carbon steel
The wire is rust and waterproof
Comes with 3 wooden sticks and a hanging accessory
Can be cleaned using the slide-out plastic tray
Sits on wheels and a stand for easy movement
BEST FLIGHT LARGE PARAKEET CAGE
Yaheetech Wrought Iron Flight Cage
Flight Cages Explanation
The main difference between regular bird cages and these flight ones is that they're a lot wider than regular ones. You'll want your bird to be able to spread their wings easily and fly around as well. These cages are good for both the birds' physical and mental health. You'll even get to use it as a 2 budgie cage.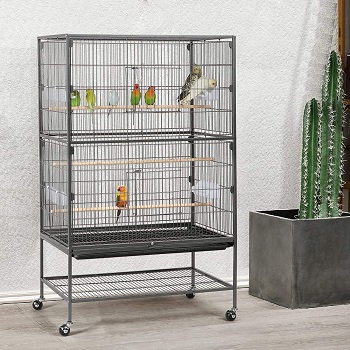 Two-Part Cage Construction
We can divide the construction of this large bird cage for parakeets into two parts. One is the frame that's made out of steel tubes that have all been welded together. The other part is the steel wire that has a 0.6-in bar spacing. The whole cage has been covered with anti-rusting hammered paint and it's water and rust-resistant.
2 Lock Doors
Since this large parakeet flight cage is quite tall, you'll get two front doors for it that can be safely locked and are double secured with a chain and hook so that they don't open fully unless you want them to. Both will ensure that your bird doesn't escape the cage when you're not there to supervise them.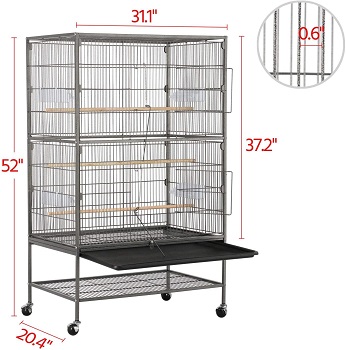 Stand And Accessories
This budgie flight cage is even heavier than the one we reviewed before it. It weighs around 37 lbs and sits on a stand with wheels for easier movement. You'll even get a few useful accessories with it that will ensure the proper functioning of the cage. These accessories are 3 polished wooden sticks and four feeders made out of plastic.
In Short:
It's wider than regular cages
Comes with 3 wooden sticks and 4 plastic feeders
Has a steel tube frame
The whole cage is rust and water-resistant
It's coated with hammered paint
Sits on a stand with wheels
BEST WOODEN LARGE BUDGIE CAGE
Aivituvin Wooden Bird Cage
Extra Tall
The height of this cage indicates that it is a large wooden bird cage since it's 70.8-in tall but there is a but. Its length and width are much smaller so even though it's tall, you won't get as much space in terms of length and width since it's 32.7-in long and 30.9-in wide.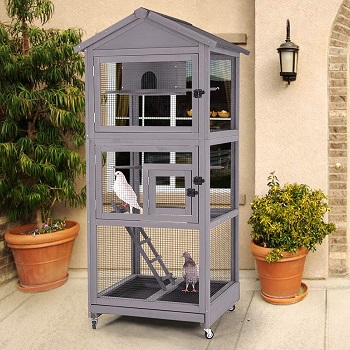 Interior Supplies
This large bird cage for parakeets will provide him with enough accessories to keep him having fun. You'll get two wooden perches, a resting house, playing stairs, and for convenience, a wooden feeder. On the bottom, there is a hidden pullout tray that's used for cleaning and has a removable bottom netting.
Materials Details
The wood used to make it is fir wood but that's not the only material that has been used to make it. It has wire in its build that's galvanized. This means that it has a layer of zin that gives it better corrosion resistance. Don't worry though, it has a non-toxic finish so it won't harm your budgie.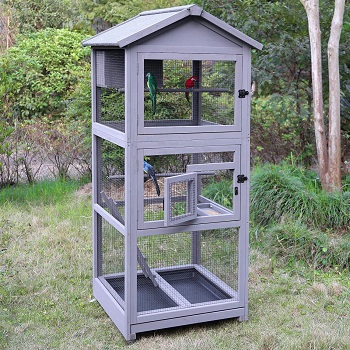 Indoor And Outdoor Use
The whole cage is meant to be used as both an indoor and an outdoor bird enclosure. The roof is actually an asphalt roof so it's waterproof. The whole cage is actually waterproof and corrosion-resistant. You'll easily get to move it outdoors and indoors since it sits on lockable caster wheels.
In Short:
Made out of fir wood and galvanized wire
IT is waterproof and corrosion-resistant
Comes with 2 perches, a resting house, and a play ramp
Features a wooden feeder inside
The bottom has a removable net and a cleaning tray
Can be taken outdoors using the lockable caster wheels
BEST INDOOR LARGE BUDGIE CAGE
Super Deal Rolling Bird Cage
Entrances And Interior Details
Your parakeet will get to enter this cage through two entrances. They're both located in the front and are centered. It has 4 additional feeding entrances on the sides. It makes sense that it has these since it comes with 4 feeders that are a bit heightened to prevent food drops.
Moving Options
As most big parakeet cages do, this one also comes with a stand that features wheels on the bottom. It also features a rack where you'll get to place your bird's accessories and food but it's not the only way you'll get to move this cage. It comes with a handle located on top for you to carry it with ease when you need to.
Safety In Terms Of Bar Spacing
These cages need to have tight wire spacing so that your bird can't pull his head through the spacing and hurt himself in the process. This one ensures safety with its 0.4-in bar spacing. Typically, you'll want to look at bar spacing that isn't bigger than 0.6-in.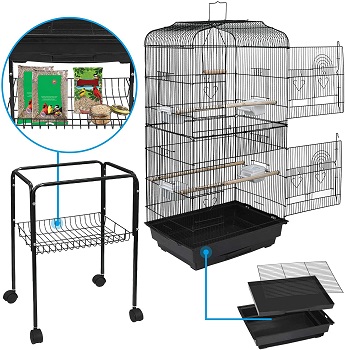 Shape And Materials
It's easy to consider this cage to be a vintage metal bird cage because of its shape and metal details. It features a curved top and has interesting door details. It's made out of steel wire that is rust and corrosion-resistant and it is also fading and odors resistant. This is what makes it perfect for indoor use.
In Short:
The cage is corrosion and rust-resistant
Additionally, it's fading and odor resistant
Comes with a stand with wheels and an accessory rack
Features a handle on top
Has 2 entrances, 4 feeding doors, and 4 feeders
BEST OUTDOOR BIG BIRD CAGE FOR PARAKEETS
Lonabr Wooden Aviary House
Outdoor Use Features
It's important for parakeet bird houses that are meant to be used outdoors to able to live through all sorts of weather conditions. This one is the one that can because of the asphalt roof that makes it waterproof, a paint finish that's also waterproof, and raised floor that prevents mold build up on the bottom.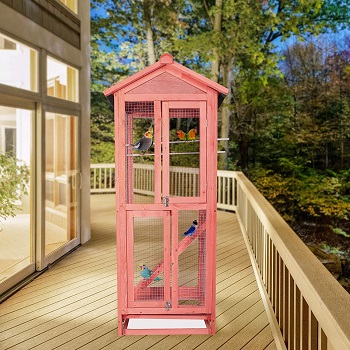 Cleaning Supplies
For cleaning this large bird cage for parakeets, you'll get both a removable mesh tray and a regular cleaning tray. It has this on purpose because this is the best way that it will collect all bird excrements and fallen food and water. All you need to do to clean it is slide it out and rinse it off when it's needed.
Access To The Interior And Contents
For your budgie to enter this cage and for you to access him, you'll get a top and bottom front door. They're not centered but instead, each one is located either to the left or to the right. For the inside, to make it more fun for your budgie, you'll get two perches and a ladder for playing.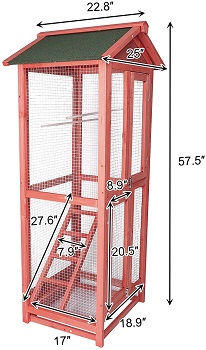 Build And Movement
It isn't entirely made out of wood though. It features a wooden frame and roof but it's also made with steel wire that will help better protect your bird from outside predators. If you want to move it around you'll probably have to disassemble it since it doesn't come with wheels.
In Short:
It has a waterproof paint finish
The asphalt roof is waterproof
Has 2 perches and a play ladder inside
Features 2 large entrances
Made out of wood and wire
BEST WITH STAND BIG PARAKEET CAGE
PawHut Rolling Metal Bird Cage
Removable Stand
There are two types of cages when it comes to the stand they sit on. First are the cages that can' be separated from their stand and the second one are the ones that can be. The ones that can be are preferred since they're more versatile. This cage falls into this second category.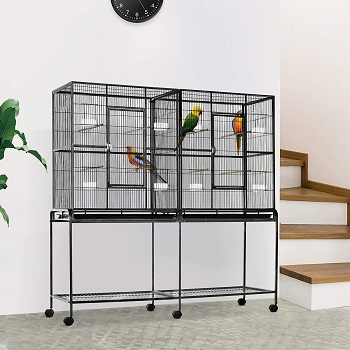 Separated With Divider
This large budgie cage is s big that it looks like it's actually two separate cages. Although each part comes with its own stand, the interior is connected. You can separate the two using the provided divider or remove it if you want even more space. This is the perfect 2 budgie cage because of it.
Frame, Sides, And Cleaning
Its construction is a two-part construction. It features a solid metal frame and fr the sides it used steel wire. Even though it's large, the bar spacing is perfect for housing parakeets, the bar spacing in question being 0.5-in. The only plastic bits of this cage are the 2 slide-out cleaning trays.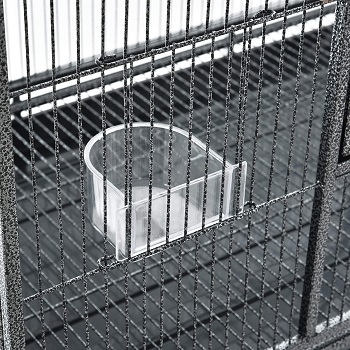 Entrances And Accessories
There are 2 large entrances located in the front that locks safely without you having to worry that the bird will open the entrances on his own. It has additional side doors and even sliding feeding doors. The feeding doors will come to be useful since you'll get plastic food bowls with them and 8 wooden perches.
In Short:
Has a solid metal frame and steel wire sides
Features 2 front entrances, side entrances, and feeding doors
Comes with 8 wooden perches and food containers
Sits on a stand with wheels that you can remove
It's so big it can house 2 budgies
Comes with a divider
How To Pick A Big Parakeet Cage
To make sure you get the best large-sized cage for your parakeets, you first need to learn a few things about these cages and parakeets as pets. We'll provide you with an explanation for cage size, parakeets' behavior, and a lot more in this simple guide to make sure you get the best.
Important Thing To Consider – There is a minimum requirement when it comes to the size of these cages but you can never go wrong with a big cage like an extra-large parakeet cage. The important thing about them is to make sure that they have a small enough bar spacing of 0.6-in at max so that they can't get their head through and hurt themselves.
Why Get A Big Cage – Not only will your parakeet be happy inside a larger cage but it will also allow you to house another parakeet inside it. Parakeets are very social birds and they might get lonely if work is stopping you from frequently being inside your home and tending to their needs.
Recommended Cage Must-Haves – You'll need to make your cage fun for your bird and accessories will help with that. Typically, these cages come with perches that will help mimic their natural environment, and some even come with a hanging accessory or a play ladder. All of these are good but you will have to get other accessories like a cuttlebone and a mineral block so that you prevent them from chewing on their cage and keep their beaks groomed.
Types Of Parakeets –  Parakeet birds are parrot birds that eat seeds. They're small and medium-sized birds and there are around 115 types of birds that fall into the parakeet breed. The ones we talked about here are budgies or budgerigars. They're classified as small and long-tailed parakeets.
Minimal Cage Size Requirement – For one budgie to live happily inside a cage you'll want to make sure that the cage is at least 12-in long and 18-in tall and wide. If a cages' width is the one that stands out, you're probably looking at a parakeet aviary cage. No matter what, your budgie should be released to fly or at least an hour inside your home every day but if that's not possible the easy solution is getting a big type of cage like an aviary.
To Sum Up
All of the big parakeet cages we reviewed are amazing cages, but we feel as if we just have to recommend the Vivohome Large Budgie Cage as the best one you can get. It's has a small enough wire spacing, it's durable since it's made with low carbon steel and it is even rust and waterproof. If you're a little low on cash but still want a proper cage for your budgie make sure you check out the article about cheap parakeet cages and if you need to travel with your budgie, we advise you to check out the article about parakeet travel cages.