Do you love the color blue and wish you could get your pet bird a blue bird cage?
Have trouble finding one?
We're here to fix that and provide you with reviews of the best cages in this color. Continue reading if you want to check out what we have in store for you with these. To keep it interesting, we made sure to review cages in different categories so everyone can find the one they need the most and of course, like the most like breeding cages, travel cages, budgie cages, and more.
The Summary
Best 6 Blue Bird Cages
BEST OF BEST BLUE BIRD CAGE
Yaheetech Wrought Iron Large Flight Cage
Navy Blue Color
The color of this cage is certainly unique even though you're reading an article about nothing but blue cages. It's unique since instead of being your typical light blue or dark blue, this cage features a navy blue color all around which is in our humble opinion, the best blue there is.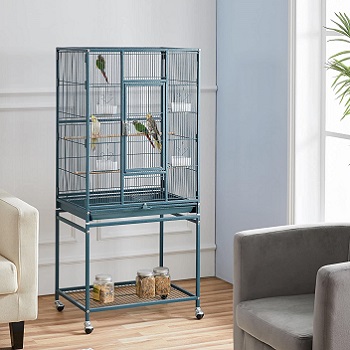 Removable Stand
It sits on a stand colored navy blue as well and if you'd like so, you can remove it from the stand and use just the cage. The stand features 4 caster wheels and even has a wire grid where you'll get to store all of your bird-related supplies.
Height And Other Proportions
With the stand, the wire bird cage is 53.5-in tall and overall, it's 17-in wide and 24.5-in long. It features a 0.4-in wire spacing so even the smallest of birds can be housed inside it like finches but you can go with budgies and cockatiels as well.
Entrances And Extras
It has a large entrance in the front and 4 small feeding entrances around it. The small entrances are where you'll get to put the 5 plastic feeding cups that come in the package and you'll even get to equip the cage with 2 long wooden perches for the birds to rest there.
In Short:
it's colored navy blue
Has a 0.4-in wire spacing
Has 1 regular and 4 feeding entrances
Comes with 2 perches and 4 feeding cups
Can house small birds like budgies, finches, and cockatiels
It's 53.5-in tall with a stand featuring 4 wheels
Overall, it's 17-in wide and 24.5-in long
BEST BUDGIE BLUE BIRD CAGE
Prevue Hendryx Triple Roof Bird Cage
Top Sectioning
We can section the top of this cage into three separate sections. In order, they are a house rooftop, lower arched rounded top, and another house roof-shaped top. The house rooftops are colored blue, the center is white, and the only other bleu thing about it is its deep plastic base.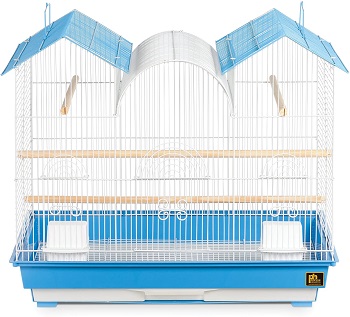 Base Details
The base features a white plastic slide-out cleaning tray located below the white wire floor so that your bird doesn't step into its own soil and remains as clean as possible. Each house rooftop features a hanging wire hook that you can use to move the cage elsewhere.
Multiple Uses And Size
No one is to say that you can't use it as a travel cage either. It's 26-in long, 14-in wide, and 22.5-in tall with a wire spacing of 0.5-in meaning that it's perfect for housing budgies and other similar-sized birds. You can get away with housing a cockatiel inside as well.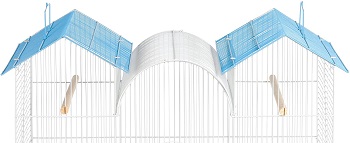 Inside Features
The inside is accessed through a single door in the front while the other smaller doors act as feeding entrances where you can put the two plastic cups it comes with. It also comes with 2 long wooden perches and if you'd like to stay away from blue, you can buy this blue budgie cage in a green bird cage version.
In Short:
Has 2 house roof-shaped peaks and a center arched peak
The top and plastic base is colored blue, the rest is white
It has a 0.5-in wire spacing
Comes with 1 regular and 2 feeding entrances
Features 2 feeding cups and 2 long wooden perches
It's 26-in long,1 4-in wide, and 22.5-in tall
Has 2 hang hooks on top for ease of moving
BEST SMALL BLUE BIRD CAGE
Yaheetech 64 Inch Open Top Cage
Curved Door Top
The top of this cage is curved, making it look a bit more antique in terms of shape. In terms of color, it's colored light blue but with a darker hue nonetheless. On top, you'll find a double door that opens and can stay open if you place a perch in between for your bird to rest there when getting out-of-cage time.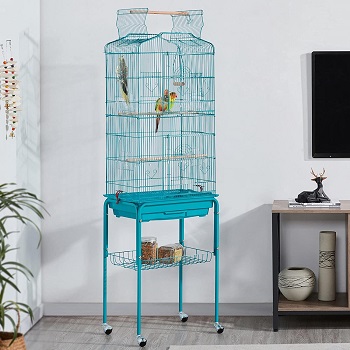 Stand Info
Even the stand it sits on is blue. It's a metal stand featuring 4 caster wheels and a hanging plastic base that will collect bird litter and seeds that fall off. Additionally, it has a raised edge wire grid where you can store and keep organized your bird supplies.
Multiple Doors
This small bird cage with a stand has a top and bottom section door and each of the two features 2 smaller doors acting as feeding entrances. It has additional side entrances where you can place the 4 acrylic food cups so you can always know how much food is left inside them.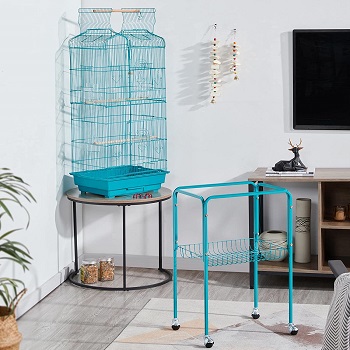 Wire And Size
This small blue bird cage has 0.4-in wire spacing, allowing you to house the smallest of birds inside. Overall, it's 59.5-in tall, without the stand it's 36.5-in tall and it's pretty narrow, having a width of 18-in and a length of 14-in. Apart from the top perch, it comes with 2 additional wooden perches.
In Short:
Has a 0.4-n wire spacing
HAs a removable stand with a supplies storage grid
It's 18-in long and 14-in wide
With the stand, it's 59.5-in tall
Without the stand, it's 36.5-in tall
Has a top double door, acting as a rest area
Comes with 2 perches and 2 feeder cups
BEST INDOOR BLUE BIRD CAGE
Prevue Hendryx Flight Cage
Flight Cage Use
Flight cages are a great option to go for if you don't have that much time in the day to supervise your bird when it's time for exercise. Birds fly left to right so it makes sense that these are mostly wide rather than tall or long. This one specifically is 26-in wide, 14-in long, and 36-in tall.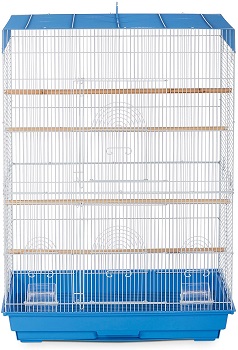 Birds It Can House
It has a 0.5-in wire spacing meaning that it's an excellent budgie flight cage. You can house more than one budgie inside as well. The top of the cage is blue as well as the plastic base. Other than that, the wire is colored fully blue. The base features a slide-out plastic tray underneath the blue wire grid floor.
Side And Center Doors
It has 2 centered entrances in the front with the side entrances acting as feeding ones. You will get 2 clear feeding cups with it and a total of 4 perches made out of wood where the birds can rest when they're not spreading their wings and flying around a bit.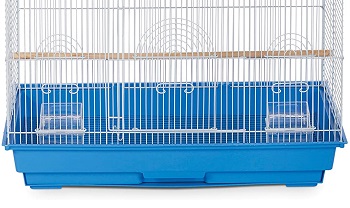 Top Hook Use
On top, it has a wire hook that allows you to hang it someplace if you'd like or you can use it to transfer the cage from room to room. Carrying it shouldn't be a problem since this bird cage blue model only weighs around 16 lbs even with the wire top.
In Short:
Has a blue top, base, cleaning tray, and bottom wire grid
It has a 0.5-in wire spacing
Can serve as a flight cage
Comes with 4 wooden perches and 2 clear feeding cups
Weighs around 16 lbs
It's 26-in wide, 14-in long, and 36-in tall
BEST BREEDING BLUE BIRD CAGE
Mcage 6 Pack Of Breeding Cages
Stacking Design And Cage Number
The first thing to mention about this is that you can stack more cages on top of it. This is relevant because you will get 6 cages so you can stack them 3 at a time and form two lines of cages. They're all fully blue, including the wire and base.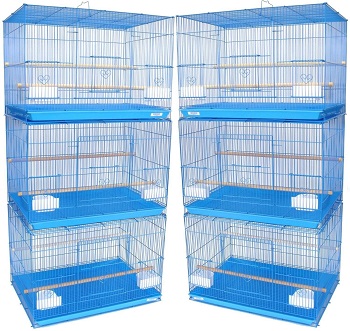 Base Info
The base is made out of plastic but it's framed around the wire so you can easily pull it out to clean it. Above it, there is a wire grid floor to prevent your birds from trying to escape through the pull-out tray hole and to prevent them from stepping into their own soil.
Transport And Size
Each cage comes with a wire hook on top so you can easily transport them and use them as travel cages as well. Each one is 24-in long and 16-in wide and tall with a tight wire spacing of 3/8-in meaning that you can use it for breeding a lot of small bird breeds.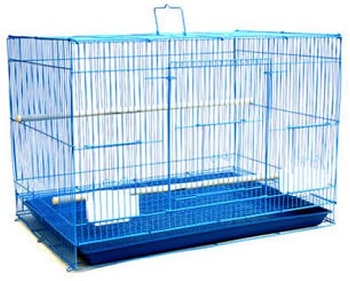 Finish Coating And Extras
The blue comes from the epoxy finish on the wire that's bird safe. Each cage features 2 clear feeding cups and 2 wooden perches. The feeding entrances can transform to become breeding blue bird cage entrances if you get a budgie or cockatiel breeding box to put there.
In Short:
You'll get 6 cages in the package
The cages are stackable
Each one is 24-in long, 16-in wide, and tall with a 3/8-in wire spacing
They're fully blue with an epoxy coat on the wire
Each cage come switch 2 perches and 2 clear feeding cups
Can house a variety of small birds
BEST TRAVEL BLUE BIRD CAGE
Yyds Wrought Iron Blue Cage For Birds
Cage Proportions
You'll want to keep your travel cage small but big enough for your bird to fit in full length. This 19.7-in long, 13-in wide, and 13-in tall cage is perfect for that reason in case you own small or medium-sized birds like cockatiels, lovebirds, and budgies.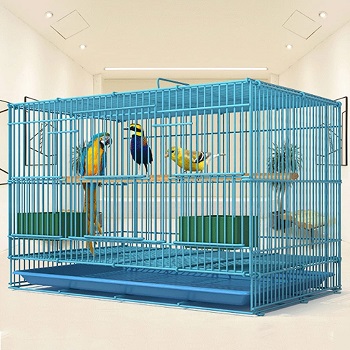 Wrought Iron Construction
This parakeet travel cage is made out of wrought iron. It's a type of metal more durable than regular iron due to its lower carbon content but more prone to rusting and corrosion. The thing to protect it from that happening is the blue finish features on the whole of the cage.
Bottom And Top
It has a gridded wire floor and a slide-out tray below, sitting in the wireframe nonetheless. The tray is made out of plastic so it will be easier to clean and can last longer. On top, you'll find a wire hook that will allow you to either carry it for transport or if you want o use it as an everyday bird cage, hang it someplace.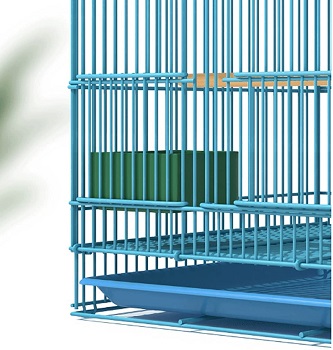 Extras It Comes With
There are plenty of accessories it comes with that just prove that you can house your bird permanently in this cage. They're all made out of plastic and include a water bottle, 2 feeding cups, a bath box, a feeder shovel, and one large perch made out of wood.
In Short:
It's 19.7-in long, 13-in wide, and 13-in tall
Made out of wrought iron
It's fully colored blue
Made to house small and medium-sized birds
Has a wire hook on top for easy carrying
Comes with a perch, 2 feeding cups, bath box, and water bottle
How To Pick A Blue Bird Cage
In case you'd like to learn more about your new blue bird cage in general, this is the place to be so keep on reading if you want to learn about what to focus on when buying these so that your next cage can be the safest one possible for your specific bird.
Where The Blue Comes From – The blue color of this cage is the finish coating protecting the metal parts of the cage, specifically the wire. In some cases, you'll get blue-colored plastic bits but it's more important to check out the finish coating on the metal since it will protect the metal from rusting and corroding.
Why Rusting And Corrosion Are Bad For Birds – If rusty and corroded bits of metal are ingested, a bird can suffer metal poisoning from it so it's important to not save on acting finishes. A powder coat finish will do just fine and in some cases, an epoxy finish as well.
Metal Durability Importance – If you were to look at just these select few cages, you wouldn't have to worry all that much about wire thickness and durability. This only goes true for larger birds whose beaks are extremely strong and can easily bend the thin wire of most of these cages, that's why they're small bird cages with a stand of without a stand, at least in some parts.
Knowing Your Wire Spacing – Wire spacing is important to watch out for since it makes or breaks a cage for your specific type of bird. You want to watch out for too big of wire spacings since birds can easily pull their head through some and either escape or seriously hurt themselves. For small birds, a general consensus is that the wire spacing shouldn't be bigger than 0.5-in. Of course, this varies from bird species to bird species so make sure you check it out for your exact type of bird.
Cage Variety – Unfortunately, there isn't much variety with these cages. At most, you'll be able to use them as 2 budgie cages or host medium-sized birds inside them but to truly know that, you should refer to the size of the specific cage you're looking at and the wire spacing, but more on that later on in this guide.
To Sum Up
In the end, which blue bird cage you'll get is dependent entirely on you but if we could recommend one, we'd definitely do so with the Yaheetech Wrought Iron Large Flight Cage since it has a unique navy blue color, a wrought iron build, and it's big enough to house multiple budgies inside. If you're not feeling blue, but rather some other color, we suggest you either read the black bird cage article or perhaps the brass bird cage article next.