Have you decided to start breeding your cockatiels and you know that the first thing to get you started is getting a cockatiel nesting box?
We can help you pick one out if you continue reading this article. We didn't just review the best boxes we could have found but we also made sure to include a large variety like wooden, small, and large boxes and to offer you some basic information on cockatiel breeding.
The Summary
Best 4 Cockatiel Breeding Boxes
BEST OF BEST COCKATIEL BREEDING BOX
Kathson Cockatiel Nesting Box
Box Types
There are two types of bird breeding boxes out there. Both basically do the same thing and there aren't as many differences between them but the number one difference is their minimum size. This breeding box is a squat nest box. It means that it's not as tall. this one is 7.7-in tall.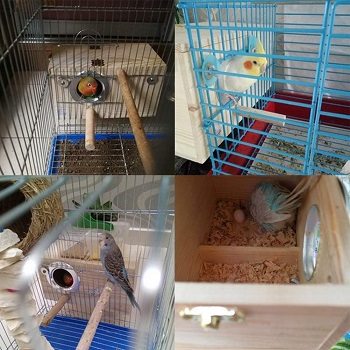 Minimum Size Requirements
A squatting nest box doesn't really need to be that tall to fit the minimum size requirement for these boxes. Generally, you should be looking for a box that's at least 12-wide, 16-in long, and 10-in tall if we're talking squatting boxes. You can deviate slightly with the size and this one does with its 13.4-in in length, 6.9-in in width, and 7.7-in in height.
Wood Type Importance
A cockatiel or any bird that uses a breeding box is more likely to end up breeding inside if the box produces a natural wooden odor. It's also important to make sure that the material that makes it is not toxic to birds. This cockatiel breeding box is made out of natural parasol wood and does produce natural wooden odors.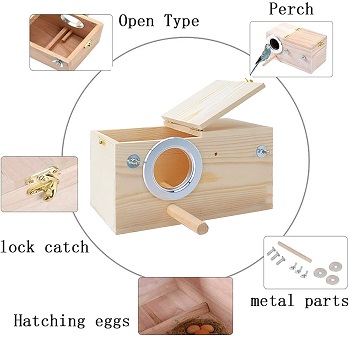 Outside Details
The top of the box is where you'll find a hinged door that will allow you to access the interior of the box for cleaning and checking on chicks and eggs. The hole where your cockatiels will enter the box is covered in metal so that your cockatiels don't hurt themselves while entering it.
In Short:
Made out of natural parasol solid wood
Produces a natural wooden odor
Has a door centered a bit to the left
The outer rim of the entrance hole is covered with metal
Has a small hinged door on the top
BEST LARGE COCKATIEL BREEDING BOX
Calvana Hand Crafted Breeding Box
Box Size And Looks
If you're wondering why these breeding boxes look the way they do, their looks are the result of years and years of trying to mimic a birds' natural nesting environment so that they feel safe. The most important thing you should worry about is size. This one is 13.5-in long, 7.5-in wide, and 7-in tall.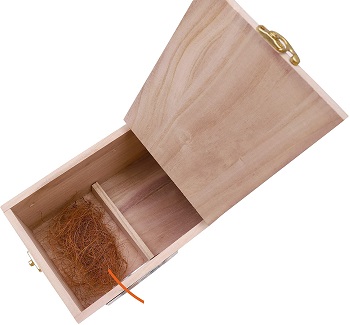 Wood Type And Their Warnings
Another thing to focus on when looking at the materials used to make a breeding box is if the wood is natural. You should avoid particle boards and MDF wood because they create dust when they're chewed on or scratched on. This box is made out of natural wood that's safe for birds.
Hole Diameter And Safety
You should consider the diameter of the entrance's hole. Your cockatiels should do fine with this cockatiel breeding box that has a 2.5-in diameter. Just like the previous box, the edges are covered with smooth metal so that your cockatiels don't hurt themselves upon entering.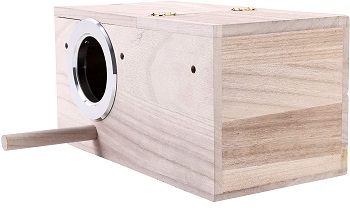 Interior Details
It's good to line the interior of a box with natural materials like wood shaving or something similar. This one comes with natural coconut fiber that's safe for cockatiels and other birds. The interior is sectioned into two spots. One is used for the eggs and one for your cockatiel to be somewhere.
In Short:
Made out of bird-safe wood
Has a 2.5-in diameter entrance hole
The hole is lined with metal
The interior has 2 sections
Comes with natural coconut shavings
Can be accessed by you through the top
BEST SMALL COCKATIEL NESTING BOX
Hathson Cockatiel Nest Box
Interior Access And Cage Hook Up
You should always be able to access the interior of the box you have. The entrance to this box is located on top. The entrance can, of course, be locked with an elastic band. In the front, you'll find winged nuts so that you can attach the box to the outside of your indoor bird cage to get everything going.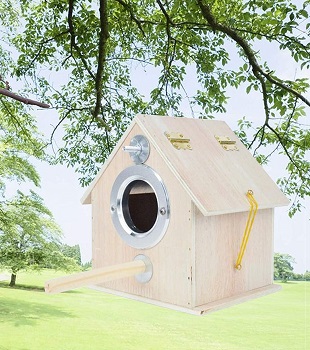 Shape And Size
This cockatiel nesting box is shaped like a house. This doesn't do much for your birds but only makes it more interesting to you. it is smaller than the rest so we'd be careful with using it but you should be fine with it. It's around 10-in long, 8.66-in wide, and 7.5-in tall.
Box Placement
This breeding box can actually work wonders for wild birds as well. It has a looped rope on top that you can use to hang it on a tree somewhere outside. In an indoor environment, you can place it outside of the cage or on the inside of a cockatiel cage with the already mentioned winged nuts.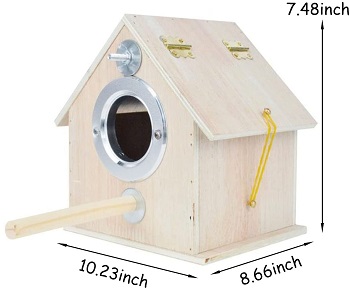 Front Details
The hole diameter is a bit bigger than the hole diameter of so far reviewed boxes. It has 2.95-in diameter and again, it's lined with metal for your cockatiels to not hurt themselves trying to enter this cockatiel box. In front of the hole, you'll find a perch that males use to guard their eggs and mate
In Short:
Shape Like a house
Has an entrance on the top
The entrance locks with a rubber band
The entrance hole has a 2.95-in diameter
Features a perch in the front
It's around 10-in long, 9-in wide, and 7.5-in tall
BEST WOODEN COCKATIEL NESTING BOX
Kelendle Bird Breeding Box
Different Box Type
In the first review, we mentioned that there are two types of breeding boxes, a squat box, and a tall box. This is the first out of all that we're reviewing as a tall box. These boxes have a different minimum size requirement. This one is around 10-in long and wide and 14-in tall.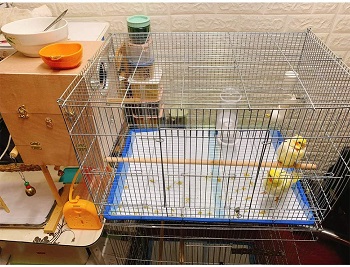 Minimum Size And Entrance
The minimum size for these boxes should be 10-in wide, 12-in long, and 13-in tall. You can deviate a bit from this size so it should be fine as a cockatiel nesting box. The entrance hole to the box is located all the way at the top. The metal ring on the outer edges is to prevent biting as well.
Human Interior Access
The entrance that you'll get to access the breeding box is located on the sides. It locks with 2 locks and you can actually side out the whole thing to better clean and check up on how things are going inside. This slide-out box has a strip on its edges so that your cockatiels don't bite on it and damage it.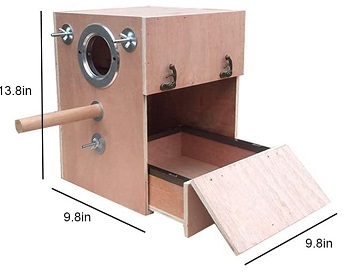 Cage Setup And Front Panel
You'll get to hook this breeding box on the outside of a large cockatiel cage. You'll get to do this using three-winged nuts and bolts found in the front. Like any cockatiel nesting box, this one too has a wooden perch where the male cockatiel will rest and guard the entrance to the nesting box.
In Short:
It's 10-in long and wide and 14-in tall
Has an entrance on the top
The access hole has an anti-bite ring
The entrance locks with 2 locks
You can slide the interior box outside
The interior box has anti-bite strips on its edges
How To Pick A Cockatiel Breeding Box
Although almost all of the cockatiel breeding boxes are made to look practically the same, they have large size differences. We want to help you pick a box on your own so that's why we comprised this simple buying guide that will help you focus on what a nesting box should have and why.
2 Box Types – There are two box types that we reviewed here. The first one is a squat box and the second one is a tall box. The main difference is their size. A tall box is much taller and they also have different minimum sizes needed for cockatiels. A tall box should be at least 10-in wide, 12-in long, and 14-in tall while a squat box should be 12-in wide, 16-in long, and 10-in tall. You don't have to focus on this too much but it should be a point of reference.
Wood Types Allowed – Any natural wood will be fine for a breeding box. What you should avoid are MDF and particle boards since they can eave dust particles when chewed on which is harmful to birds. If the wood chips, it's probably fine, if it dusts, avoid it at all costs.
Entrance Hole And Perch Use – The perch on the outside of each nesting box is used for males to guard their eggs and mate. It's their instinct and all breeding boxes should have them. The entrance hole should be covered with a metal ring to prevent biting and to prevent birds from getting hurt when entering.
Cage Placement – These cockatiel nesting boxes can either be placed on the outside of a cage or the inside of a cage. if the winged nuts are located in the front, you can attach them on the outside and if they're located in the back, you can place them inside. You should think about cockatiel breeding cage size as well. at minimum. The cage should be large enough to house two cockatiels so just add multiply the minimum size for one with 2.
To Sum Up
We thought about size and details when we chose to recommend the Kelendle Bird Breeding Box as the best cockatiel breeding box. It doesn't deviate a lot from the recommended size, has anti-bite strips on the entrance hole and the inside, and it's easy to access by humans since the interior box can slide out. If you require breeding boxes for other birds we suggest you read the article about parakeet breeding boxes or if you need a cage, about parakeet breeding cages.