Do you want to air travel with your bird but all of the regulations just keep confusing you and you want to get a definite airline-approved bird carrier?
All of the ones we reviewed in this article fit some, most, or all of the criteria required by airlines for you to safely travel with your bird. Make sure you continue reading if you finally want to hit the road with your bird. In the article, you'll find parakeet carriers, cockatiel carriers, and even parrot carriers.
The Summary
Best 6 Airline Approved Bird Carriers
BEST OF BEST AIRLINE APPROVED BIRD CARRIER
Halinfer Bird Carrier Cage
Carrier Function
When you're not using this carrier for air travel, you can use it for short outings, trips to the vet, and even hiking. The reason for it is because this carrier acts as a bird backpack with perch It's got the two shoulder straps and the shape of a backpack to truly resemble and be one.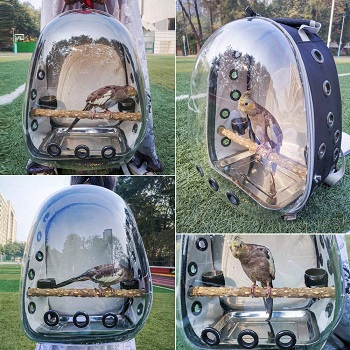 Two Travel Generals
There are two things that you need to consider before traveling in general. One is to think about how wide of a field of vision on the outside your bird will have and the second thing to think about is how much ventilation your bird will have. The first thing is covered since its whole front is made out of clear materials.
Vent Holes And Windows
The vent holes can almost exclusively be found only on the sides of this airline-approved bird carrier. For ventilation, you'll get 15 side vent holes. The front of the backpack features additional 3 vent holes. The holes will allow you to also place a rope perch inside that looks like a wooden perch.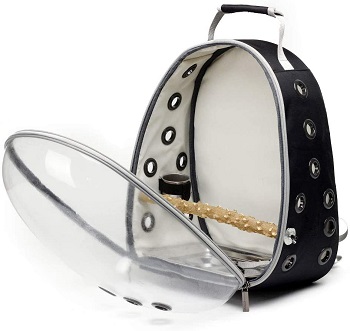 Carrier Weight
The weight of a bird carrier will also determine how high of a fee you'll pay to bring the carrier aboard an airplane with you although it's not exclusive to it. This backpack only weighs 3 lbs so when you're not traveling by airplane, it'll be easy to bring anywhere you'd like.
In Short:
Has a clear material front
Features a capsule shape
Has 18 vent holes
Comes with a rope perch
Acts as a backpack
Weighs only 3 lbs
BEST PARROT AIRLINE APPROVED BIRD CARRIER
Pennzoni Display Macaw Carrier
Size Importance
Parrots can be tricky to board an airplane and may actually have to travel as cargo. This doesn't really surprise us since birds that will get to usually travel as carry-on luggage are usually small birds. This is due to the size of a carrier they can be contained in. This carrier is 27-in long, 12-in wide, and 17-in tall.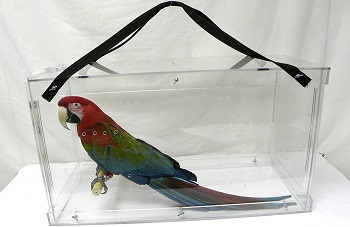 360 View
It's important to give your bird a wide field of vision when traveling because it's a stressful time for a bird no matter what you do. if the bird can see you at all times and check out its outer surrounding you might easily reduce the stress. This parrot carrier offers a 360-degree field of vision.
Build Material And Air Circulation
The reason why you'll get a 360 view of vision is that this airline-approved bird carrier is entirely made out of acrylic material. The thickness of the material is 1/4-in if it means anything to you. The small holes all around the carrier serve as ventilation points but they will also help you place a wooden perch on the inside.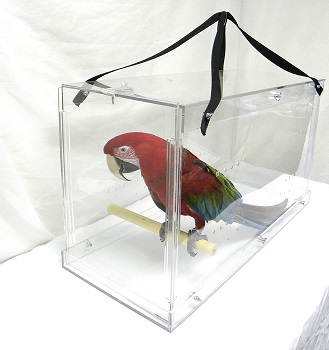 Not For Every Airline
Not every carrier is going to be able to travel with you aboard an airplane since most airlines have different criteria for air travel. With this carrier, it is going to be tricky due to its size and the fact that it can house large parrots that are usually loud and produce a lot of noise.
In Short:
Offers your bird 360-degree view
Made entirely out of acrylic material
The build material is 1/4-in thick
Has small holes all around it for ventilation
Comes with a wooden perch
Able to house larger parrots
It's 27-in long, 12-in wide, and 17-in tall
BEST SMALL AIRLINE APPROVED BIRD CARRIER
Shor Pet Premium Bird Carrier
Under Airplane Seat Fit
If a carrier is small and able to house small birds, you can easily automatically assume that it can go aboard an airplane with you. The most important criteria for this is for you to see if it can find inside a cabin and under the seat of an airplane. This carrier is 9-in tall so it just might.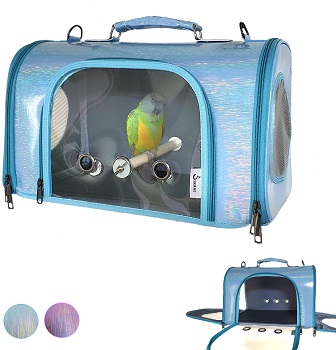 Birds To Contain Inside
If you're confused as to what size of bird you can house inside you can think about what birds can you normally house in a 0.5-in wire spacing cage and that'll help you with the answer. It's 17-in long, and 12-in wide so it can house birds like budgerigars, finches, canaries, cockatiels, and more.
Entrances And Vents
This small bird carrier only has a clear front and it's not fully clear. This window also acts as an entrance to this airline-approved bird carrier along with the two side entrances. On its sides, you'll find two large and round windows made out of mesh fabric that will help with air circulation.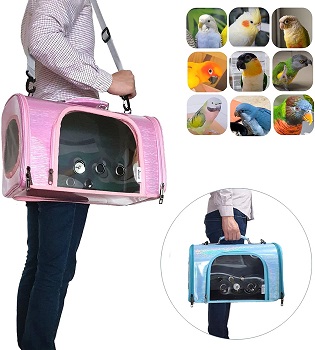 Soft Plastic And Colors
You would think that the carrier is made out of soft fabric but it actually uses PU plastic as its primary build material. It's a plastic that is easily bendable and easily manipulated so it does kind of act as a soft fabric. The exterior is very shiny and colored blue but you can choose to get it in a shiny yellow color.
In Short:
Made with PU plastic
It has a shiny blue color
It's 9-in tall so it can fit under airplane seats
Able to house only small birds
Has 3 entrances in total
Features a partially clear front
Has mesh fabric windows on the sides
BEST PARAKEET AIRLINE APPROVED BIRD CARRIER
C&L Bird Carrier Backpack
Multiple Budgies
Parakeets are nothing more than small parrots. There's a lot of them species wise but the most common parakeet is a budgerigar or budgie. They don't require much space since they only get 7-in long in fully adult size. This carrier is just big enough to house two in normal traveling conditions.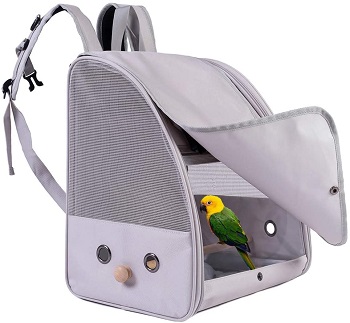 Interchanging Dimensions
For it to fit under the seat of an airplane, all you need to do is lay it flat on the ground with its shoulder strap side on the ground. By placing it this way, you're getting a chance to actually fit it below because its length of 11.5-in becomes its height while the height becomes the length.
Covered Clear Front
The whole front of this airline-approved bird carrier is clear but what's so great about it is that you can choose to cover it with a piece of cloth. This cloth is waterproof and blocks UV light. When you're taking your bird out for short outings, you won't have to risk your bird overheating.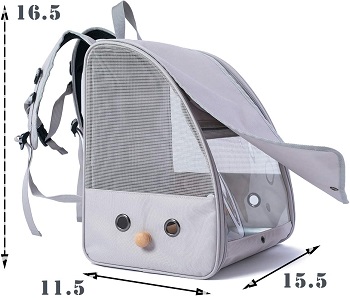 Accessories For The Interior
We're not so sure how the metal cleaning tray that you can place on the bottom would act in an air travel environment but it will do great when you're done with air travel. It also comes with a perch and a perch is a must with airline-approved carriers. This bird travel carrier has a wooden one.
In Short:
Has a clear front
The front can be covered with a UV block and waterproof cloth
Acts like a backpack
You can lay it flat on the ground to fit below an airplane seat
Comes with a metal cleaning tray and wooden perch
Can house birds like budgies and other small birds
BEST COCKATIEL AIRLINE APPROVED BIRD CARRIER
Gatycallaty Bird Carrier Backpack
Cockatiel And Carrier Size
Cockatiels are weird birds when it comes to their size and cage needs. They look as small as budgies and can be housed inside cages made for budgies but not when it comes to travel cages because they are much longer than them. A fully grown cockatiel is 13-in long so they need a carrier that's at least 2-3 inches longer than them. This one is exactly 13-in long and wide.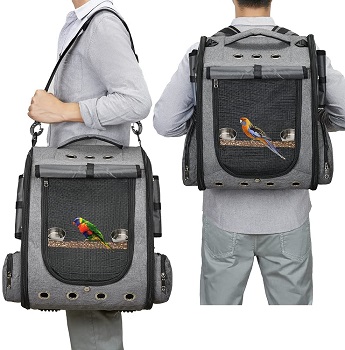 Height Becomes Length
Yes, the airline-approved bird carrier is overall too small for cockatiels but when you think about the fact that you'll have to lay it flat on the ground for it to be on an airplane, then it's the right fit. that's because it has a height of 17-in tat actually becomes the length when laid flat on the ground.
Carrying Ways
It's not every day that you get a backpack that can be carried in more than two ways. This cockatiel travel cage can be carried either with the 2 shoulder straps as a backpack, carrier with a top handle, or you can place it on one shoulder with a long single shoulder strap.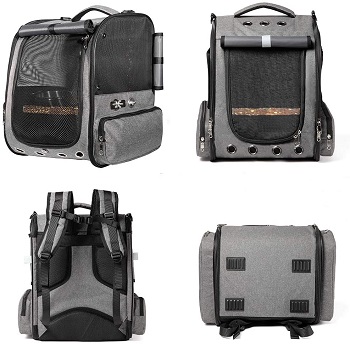 Windows, Covers, And Other Details
The front and both sides feature mesh fabric windows. You can cover all of these windows with a fabric cover that's windproof, sunproof, waterproof, and even coldproof. There are 7 more holes in the front for proper ventilation and you'll even get 2 pockets on the sides that act as accessory pockets.
In Short:
It's 13-in long and wide, and 17-in tall
Has a mesh fabric front and sides
The windows can be covered
The fabric cover is resistant to weather
Can be carried in three ways
Can lay flat on the ground to be inside an airplane
BEST CANARY AIRLINE APPROVED BIRD CARRIER
Juniqute Airline Approved Carrier
Places Where A Carrier Can Be
It's easy to conclude that it's very common for backpacks for birds to be airline-approved. There are two places that an air travel carrier can be and that's either in cargo or aboard an airplane with you. We'd definitely advise making sure that the bird is with you on an airplane to reduce stress and you'll get to do it with this 11.2-in long carrier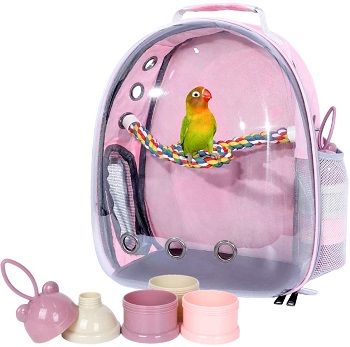 Underseat Placement And Ventilation
Just like any other backpack reviewed before it, to actually fit below an airplane seat you'll have to ay it on the ground flat. You should make sure that the airline-approved bird carrier has enough ventilation points and this one does with its 2 mesh fabric windows and 9 vent holes in total.
Shape And Front
It has a capsule shape and it's one of the most common shapes a bird backpack can have. The material used to make the front isn't specified but it is clear. This will help your bird have its eyes on you and feel safer with a field of vision that looks outside of the carrier.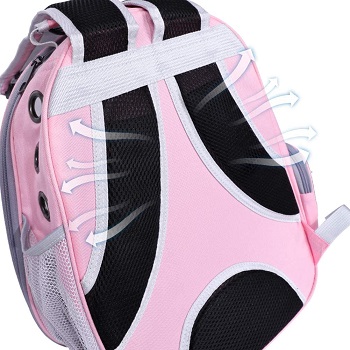 Accessory Info
The perch it comes with is much longer than the actual carrier and that's because it's a rope perch. You can easily manipulate it and bend it however you'd like. You'll get to connect its ends to the vent holes. It also comes with a couple of plastic and portable bird feeders.
In Short:
Functions as a backpack
It's 11.2-in long
Has a clear front
Features a capsule shape
Comes with a rope perch and portable feeder cups
Has 2 mesh fabric windows and 9 vent holes
How To Pick An Airline Approved Bird Carrier
It's not that big of a problem t actually find an airline-approved bird carrier but what is a problem is to find one that fits the criteria of the specific airline you're traveling with. We'll focus more on these criteria than on actual carriers in this buying guide that will help make air traveling with a bird a little bit easier.
Carry On Luggage Carriers – For your bird to actually board an airplane with you the carrier you have must fit below an airplane seat. For that to happen, your bird will most likely have to be a small bird type like a budgie, canary, finch, and other similar-sized birds.
Cargo Bird Cages – Although none of these cages are made to travel as cargo we thought it was important for you to know what a bird carrier should have in that case. You'll have to make sure that your bird can properly stretch its wings. You'll have to include a toy, a perch, and food and water cups as well. It shouldn't be too large either as that can cause the bird to move around excessively during periods of heavy air turbulence.
Preparing For Air Travel -Before actually purchasing a carrier for your bird, it would be best to check in with the airline you're traveling with and check their specific regulations for travel bird carriers. After you've cleared everything with your airline, only then should you get a carrier.
Too Small Of Carriers – With a too-small airline-approved bird carrier, you're risking your bird getting extremely stressed. Another thing you're risking is your birds' tails getting bent. it's best to check the adult size of your specific bird and buy a carrier according to their size. You should look for a carrier that's at least 2-3 inches longer or wider than the bird.
To Sum Up
We'll stick to a carry-on luggage airline-approved bird carrier since they are the safest and are far easier to figure out. That's why we'd recommend the Halinfer Bird Carrier Cage as the best one out there. When you're not traveling by air, you can also use it for short-term travel. If you're tired of carriers and wish to have a travel cage we'd advise you to either read the article about macaw travel cages or the article about parakeet travel cages.