Do you enjoy having your backpack and do you think your bird would benefit the most by being inside a bird backpack with perch?
You can continue reading this article then because, in it, we reviewed our top pick for these backpacks. We made sure to review different types of backpacks so that it isn't monotonous so that's why you'll find large, small, acrylic backpacks and many more.
The Summary
Best 6 Bird Backpacks With Perch
BEST OF BEST BIRD BACKPACK WITH PERCH
Pecute Bird Carrier Backpack
Bird Backpack Distinction
The most distinguishing feature of backpacks made for birds is that they all have some sort of see-through material. Typically, you'll find the clear material in the whole of the front but this backpack is slightly different. The whole half bottom including the left, front, and right side is made out of clear materials.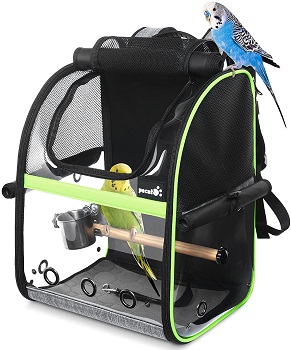 Importance Of Ventilation
The top of this bird carrier with perch is made out of mesh fabric. Just like the clear material, it can be found on the left, front, and right sides of the top half. Ventilation is important for a bird backpack because otherwise, your bird can easily overheat inside. Additional ventilation holes are provided on the clear material.
Interior Shade
The whole front and half of the left and right sides can be covered with a piece of fabric. This fabric is actually 300D cationic oxford fabric which means that it's waterproof. This is great because you can rely on it to keep your bird dry and prevent it from overheating in direct sun.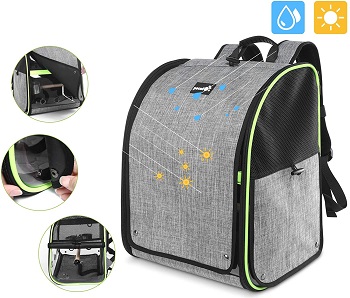 Proportions And Other Accessories
Since it's a bird backpack with perch, of course, it comes with one. In this case, the perch is made out of wood and you'll also get two small bowls for food and water that go well with the perch since you can clip them onto it. The carrier is 13.4-in wide, 11-in long, and around 17-in tall.
In Short:
The bottom half is made out of clear material
The top half is made out of mesh fabric
The whole front and half of the sides can be covered
Made with 300D cationic oxford fabric that's waterproof
Comes with a wooden perch and clip-on bowls
BEST ACRYLIC BIRD BACKPACK WITH PERCH
Shiningirl Pet Parrot Carrier Backpack
Common Clear Materials
The three most common materials that make the clear bits of a backpack are acrylic material, polycarbonate, and polyethylene. Out of the three, the polycarbonate is definitely the strongest but acrylic materials come close to it. The whole front of this backpack is made out of acryl.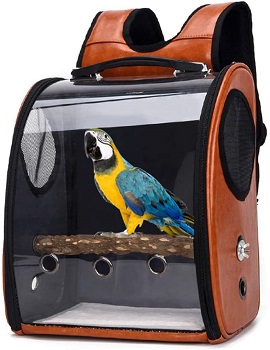 Shapes And Colors
You can choose to get this exact backpack in two shapes and multiple colors. The one we're reviewing is, in our opinion, more elegant looking. It has a rectangular shape while the other one has a capsule shape. This specific backpack comes in orange, red, blue, yellow, and pink colors.
Left And Right Contents
The side of this bird backpack with perch features a single circle covered with mesh fabric for ventilation on top. Below it, on each side, you'll find two holes. These holes serve as ventilation points but their main function is for you to screw on a single perch there. Since there are two holes, you can place it on two different levels.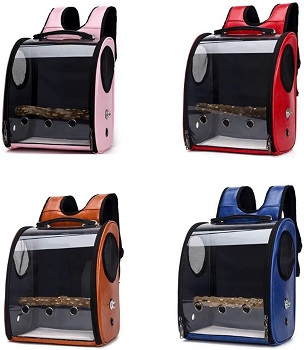 Interior Stuff And Dimensions
There is a soft pad on the bottom that you can remove when you want to clean it off. You and your bird will get to access the interior through the entrances located on both sides. There entrances close with a zipper. This parrot backpack is 13-in wide, around 7-in long, and 15-in tall. It's made to house smaller parrots and birds.
In Short:
Has an acrylic material front
Comes with a screw-in perch
Made to house small birds and parrots
Has a rectangular shape
Comes in 5 different colors
It's 13-in wide, around 7-in long, and 15-in tall
BEST SMALL BIRD BACKPACK WITH PERCH
Halinfer Bird Carrier Cage
Small Carrier Problems
You should really watch out for small bird carriers and backpacks since it makes a big difference if it's too small for a bird. Birds won't ever mind more space but they will mind if the backpack is not as long as them because they can end up having a bent tail. It's 11.5-in wide so a bird at least 2 inches smaller will fit inside well.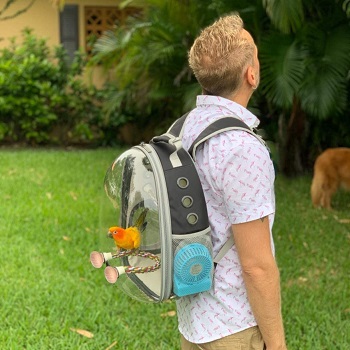 How It Looks
There are two most common shapes that a bird backpack with perch can have. One is a rectangular-shaped backpack and the other one is a capsule-shaped backpack. This one is capsule-shaped. It has a clear front but all of its sides and is curved so that it looks more rounded.
Interior Bottom
The bottom is wider than the top and you can actually fit a small raised edges cleaning tray there. It already comes with this tray and it's made out of stainless steel. This is great because it will handle well getting into contact with bird droppings and the metal is also safe for birds to ingest without risking metal poisoning.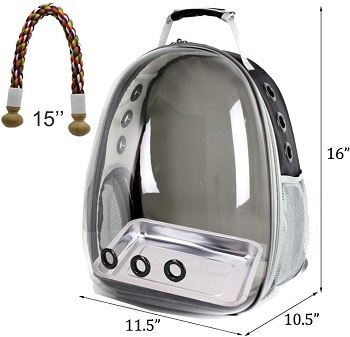 Second Perch Type
There are two types of perches that we've seen so far a backpack or carrier can come with. It's either a wooden perch or a cotton rope perch. This perch is a rope one and it's actually wider than the backpack but you can bend it to fit inside. The right side holds a mesh fabric accessory pocket so if you want more ventilation, you can buy a small ventilator and place it there.
In Short:
Has a capsule shape
The front is clear
Has a side mesh fabric accessory pocket
Comes with a long rope perch
It's 11.5-in wide
Suitable for smaller birds under 10-in in length
BEST PARAKEET BIRD BACKPACK WITH PERCH
Gatycallaty Bird Parrot Backpack Carrier
Budgie And Backpack Size
If we didn't recommend this backpack for budgies we would definitely have recommended the last backpack we reviewed. Budgies are one of the smallest birds with their adult size of only 7-in. This backpack is 12-in wide and 8.5-in long so no matter how your bird stands inside, it won't be too small for them.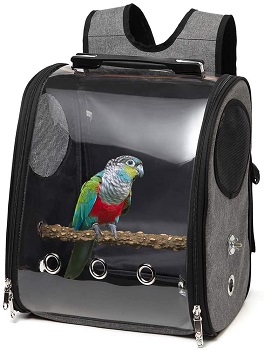 Clear Parts Reasoning
The reason why all of these carriers come with a clear side is that this helps reduce bird stress while traveling. A small space paired with a lot of movement can take a toll on your bird. If they're able to observe their surrounding you're automatically making them happier. This bird backpack with perch has a fully clear front including the top.
2 Perch Positions
The perch you'll get is made to look and resemble an actual wooden branch in the wild. It's long so that it can fit the width of this backpack. Using winged nuts you'll be able to screw it onto the left and right holes. There are 2 holes on each side so you can choose its position.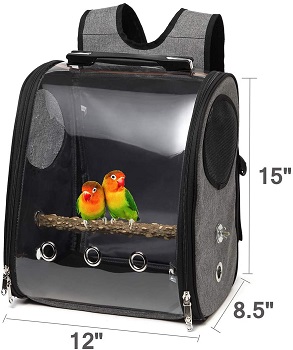 Side Entrances
The entrances to this parakeet carrier are located on its sides. You'll get to open them up using double zippers. The sides also feature a mesh fabric window each for better ventilation on the inside. This will be especially important during sunny and warm weather when there's a chance your bird might overheat otherwise.
In Short:
It's 12.5-in wide and 8-in long
Has a fully clear front side
The entrances can be found on the sides
Has 2 mesh fabric windows for ventilation
The perch can be screwed-in in two places
Suitable for budgies and other small birds
BEST CANARY BIRD BACKPACK WITH PERCH
Jerrycat Bird Carrier Backpack
Many Vent Holes
The most distinguishable feature of this backpack is that it will definitely be properly ventilated at all times. The number of vent holes are to thank for this and you can find most of them on the sides of the backpack with a few extra ones located in the front. There are 15 of them on the sides and 3 in the front.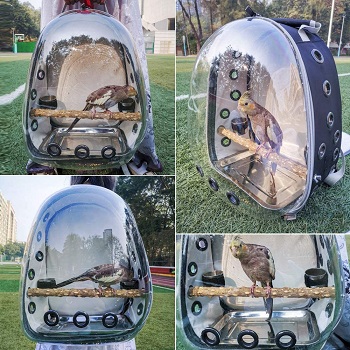 Chest Safety Buckle
If you don't feel comfortable simply wearing his backpack with the shoulder straps you can secure it with a bucket that goes around your chest. This feature will leave you worry-free when it comes to excess backpack moving that would leave your bird with more stress.
Metal Liner
The bottom of the interior of this bird backpack with perch can be lined with a metal tray for you to easily clean it whenever you feel the need for it. Since it's a tray made out of stainless steel you can think of this backpack as a stainless steel bird cage or carrier to an extent since it is made out of soft fabrics mostly.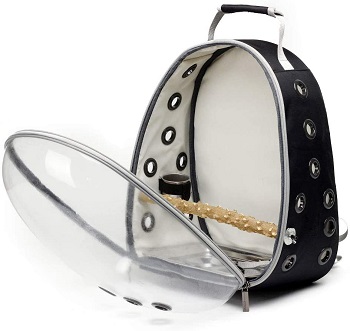 Air Travel
The backpack is actually airline approved and all you need to do for it to fit under the seat of an airplane is to lay it down flat on its backside. The perch looks and feels like a wooden perch that mimics a natural wooden branch but it's actually made out of cotton so it's a rope perch in a way.
In Short:
Features a capsule shape
Has a total of 18 vent holes
The front is made out of clear material
The rest of the backpack is made out of oxford fabric
Comes with a branch looking perch
The bottom can be lined with a stainless steel tray
BEST AIRLINE APPROVED BIRD BACKPACK WITH PERCH
Juniqute Airplane Backpack
Bird Air Travel Fee
Bird travel backpacks and carriers designed to fit the standard of an airline-approved bird carrier are considered carry-on luggage. What this means is that you'll get to take them on an airplane with you but you will have to pay a fee for it. Typically, the fee will be around 70-130 dollars.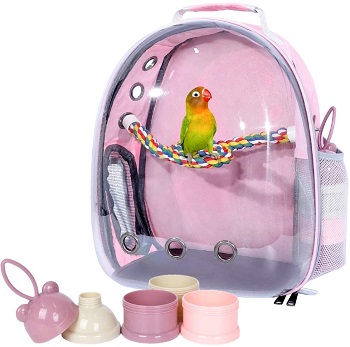 Under Airplane Seat Fit
The most important criteria for a bird backpack with perch to be airline approved is if it can fit under the seat of an airplane. This one can be if you lay it down flat with the clear side facing upwards. It's 11.5-in wide, 10.5-in long, and 16-in tall. With these dimensions, you will comfortably house a small bird inside.
Mesh Windows And Holes
Vent holes will do the job of ventilating the interior well but the problem with them is that they must be small so it's better if a bird backpack has them and mesh fabric windows that can be larger. You'll find 6 vent holes on the sides, two mesh fabric windows on its sides, and 3 additional vent holes in the front.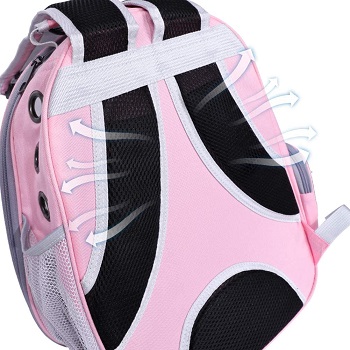 Other Extras
Along with the rope perch that you can bend to fit inside any hole you can think of and that the backpack has, you will also get portable feeder cups. You can place these cups on the accessory storage pocket on the right side. This accessory pocket has a double function since it also works as a vent window.
In Short:
It's airline approved
Fits under the seat of most airplanes
It's 11.5-in wide, 10.5-in long, and 16-in tall
Has 2 mesh fabric windows and 9 holes in total
The perch is longer and made out of rope
Comes with portable bird feeders
Suitable for small birds
How To Pick A Bird Backpack With Perch
We will take a wild guess and say that you've already gone through the many cages and carriers and found that a bird backpack with perch is going to be the best fit for you and your bird. In this simple buying guide, we will make sure you understand their sizes, looks, and functions.
Why They're All Clear – If you don't know already, traveling can be a really stressful time for a bird. From excess moving to a small containment space, you'll want to make sure to keep the stress levels low. That's where the clear bits of a backpack comes into play.
What You Don't Have To Worry About – Right off the bat, we can name two benefits of bird backpacks as opposed to bird travel cages. Bird backpacks are much easier to carry because of the way they're carried and because the materials that make them are light. Another great thing is that you don't have to worry about metal poisoning.
Perch Types – If you find that a perch is longer than the backpack you're looking at, this is pretty normal since it's most likely a rope perch then. Another perch type is a wooden perch. With rope perches, you get multiple placement options under the condition that the backpack has a lot of vent holes.
Looking Out For Size – There's nothing wrong with getting a bird backpack with perch that's too big for the bird since there's no such thing as too big when it comes to birds. There is such a thing as too small and if a backpack is equal to or shorter than your bird your bird might end up with a bent tail.
To Sum Up
It's easy to stick with the Pecute Bird Carrier Backpack as the best bird backpack with perch when it's this good. The whole bottom is clear while the whole top is made out of mesh fabric. You'll get to cover the whole front with a piece of waterproof fabric to keep your bird dry and prevent it from overheating in hot and sunny weather. If you'd prefer to get an actual travel cage for large and smaller birds, we'd advise you to read the article about macaw travel cages or cockatiel travel cages next.