Do you wish you could travel with your cockatiel inside a safe and large enough cockatiel travel cage?
You can pick one out from the ones we reviewed in this article if you simply continue reading. We made sure to review for once the best and secondly different types of cages like metal, plastic, and cheap cages with more on the way. After that, you can even read a guide that'll help you choose the best.
The Summary
Best 6 Cockatiel Travel Cages
BEST OF BEST COCKATIEL TRAVEL CAGE
Kings Cages Large Aluminium
Is It Large?
It's hard to say whether a travel cage is big or small since they're all pretty tiny to be able to fit inside cars but a good differentiation point is to say that a large cage is 20 or over inches while a small cage is always under. That's why this can be considered as a large bird travel carrier since it's around 29-in long.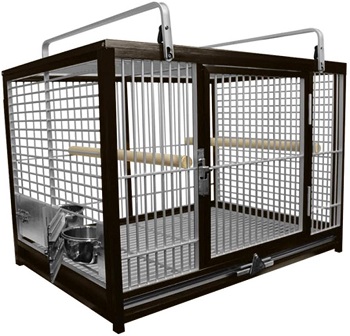 Rust Safety
You really don't have to get a poor quality cage with travel cages and this is the cockatiel travel cage to prove it. it's made out of aluminum and the great thing about it is that it doesn't rust. Even if it would, aluminum oxide or rust is not something to fear since it's safe for birds to ingest.
Other Birds It Can House
If you perhaps have both a cockatiel and a larger parrot that you need to house inside a travel cage you can be sure that your large parrot will fit inside. This is especially if you want to use it as a macaw travel cage since the length of the cage will help prevent your bird from ending up with a bent tail.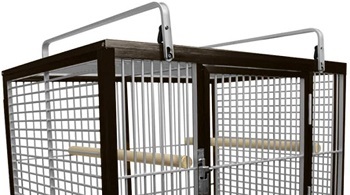 Weight, Carrying, And Safety
The top of the cage features 2 handles for easier carrying since it does weigh around 29 lbs. The main entrance actually self locks with a magnet door so there won't be any locks for your bird to pick at and manage to escape somehow. It has a 5/8-in wire spacing that's still safe for cockatiels.
In Short:
Made out of aluminum metal
Aluminum rust is safe for birds to ingest
It's 29-in long
Has a 5/8-in wire spacing
Can house even larger birds like macaws
Has a self-locking magnet door
Weighs around 29 lbs and can be carried with 2 handles
BEST ROUND COCKATIEL TRAVEL CAGE
Pawhut 25" Dome Top Cage
Top Two Safest Materials
We couldn't miss out on an opportunity to review this cage alongside the first one we reviewed. If you're wondering why it's because both of these cages are made out of materials that are considered to be the top 2 for making safe bird cages. This one is made out of stainless steel.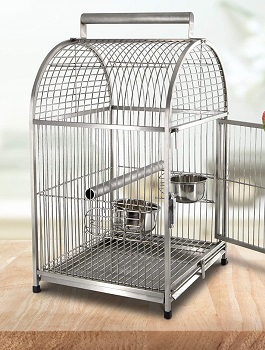 Is Round Safe For Birds
If you know something about bird cages you probably know that round cages aren't exactly safe for birds. This is only true for fully round bird cages since they are very confusing to birds and can affect their mental and physical health greatly. Luckily, this cage is only rounded out at the top.
Inside And Outside Accessories
Although it does feature a perch on the inside, it also has one on the outside. It can be found on the top and this same perch will also allow you to carry this cockatiel travel cage wherever you go. Additionally, the interior can be equipped with 2 bowls that you can place on the feeding entrances.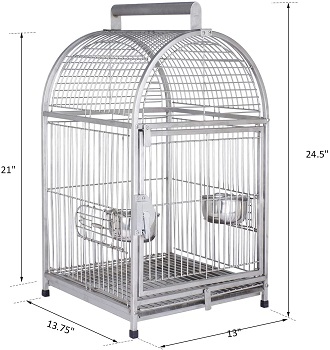 Other Birds It Can Contain
The wire spacing of 0.5-in lets us conclude that you can no only use this cage to house cockatiels but other similar-sized birds as well. It will act great as a parakeet carrier, finch carrier, and basically, it'll work fine with any small-sized bird. Overall, it's 13.7-in long, 13-in wide, and 24.5-in tall.
In Short:
Built out of stainless steel
Features a round top
Has a 0.5-in wire spacing
It's 13.75-in long, 13-in wide, and 24.5-in tall
Comes with an inside and outside perch
Carrying handle included
BEST METAL COCKATIEL TRAVEL CAGE
PawHut 22 Heavy Duty Cage
Metal Durability And Quality
We can't really say that this cage has a lower quality than the first two we reviewed but the answer lies in the material used to make it so you can make your own judgment. It's made out of wrought iron that has a low carbon content and that is what makes it durable but it rusts more easily.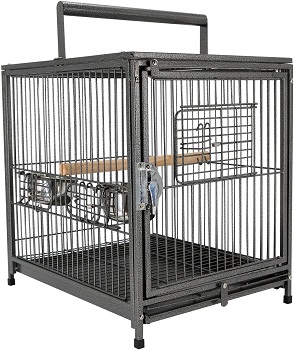 Finish Type
If you don't know why you should even worry about the cage rusting, you should worry because our bird can get metal poisoning otherwise. Luckily, this cockatiel travel cage has a powder coat finish that actually protects the cage from rusting and protects your bird from getting into contact with direct metal.
Two Front Doors
There are two doors in the front of this cage, one is the large main entrance that locks with a lock but can also be secured with a piece of metal so that you really don't have anything to worry about. The second door is built into the first and is a lot smaller, this one will allow you to not risk your bird getting out if you need to quickly access them in outdoor settings. The cage features a cockatiel safe 0.6-in wire spacing.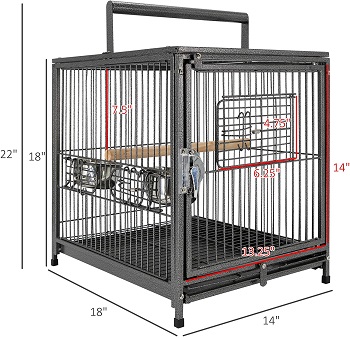 More Doors And Accessories
There are two more doors to be found on this wrought iron bird cage and they can be found on the sides. They're even smaller than the built-in small door since they act as feeding entrances. You can actually place the two stainless steel bowls on them. For the inside, you'll also get a wooden perch.
In Short:
Has a wrought iron construction
it's coated with a powder coat finish
Has a large main entrance and a built-in smaller one
The side doors act as feeding entrances
Comes with 2 bowls and a wooden perch for the inside
Has a 0.5-in wire spacing
BEST PLASTIC COCKATIEL TRAVEL CAGE
Featherland Paradise Perch 'n Go
Plastic Made
In terms of safety, this cage is a no-brainer since it's mostly made out of plastic materials and has very few metal bits. The material used is polycarbonate or in short, PC plastic. It is similar in properties to PVC but there are some differences. It's also clear plastic in this case.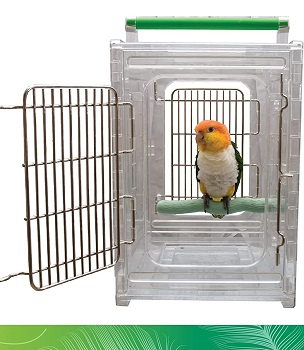 Metal Pieces
We mentioned that it has a few metal bits but these are also a no-brainer since they are made out of stainless steel. You can found them in the back and the front. In front, it's used for the single access door, while in the back, it's used for the proper air circulation panel.
Two Perches And Their Locations
The two perches that come with this cockatiel travel cage are located on the outside and inside. The outside perch acts as a carrying handle as well as a resting or playing perch while the perch on the inside makes this cage a bird carrier with perch. Both perches are green.
Cockatiel And Cage Proportions
It's 15-in long, 12.5-in tall, and 10-in wide which seems like a small cage. Don't worry, your cockatiel won't end up with a bent tail since they are mostly 12-in long. It only weighs 6.5 lbs so it won't be difficult to carry this cage with your cockatiel inside.
In Short:
Made with polycarbonate
Has a stainless steel front door and back panel
The carrying handle acts as a perch
Features an interior perch
It's 15-in long, 12.5-in tall, and 10-in wide
Weighs 6.5 lbs
BEST CHEAP COCKATIEL TRAVEL CAGE
Prevue Pet Products Flat Top Cage
Price Comparison
Almost all, if not all, of the cages we reviewed cost over 100 dollars but you really don't need to pay that much for a good quality cage. This is where this hanging parakeet cage comes into play. It costs around 30 dollars so it really is made for everyone's budget.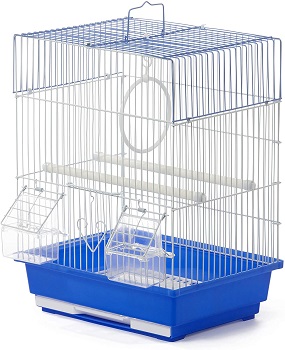 Multiple Uses
We said that it was a hanging cage for a good reason. You can actually use it either as a travel cage or as a bird living cage. Due to its wire handle, you can hang it on a stand or if you have a hook on your roof, you can hang it there as well. For traveling, the wire handle becomes a carrying handle.
Simple Build
If we were to describe with one word how this cockatiel travel cage is but we would definitely use the word simple. It's got a white-colored wire body and a plastic bottom. The bottom is colored in blue and it features a white slide-out cleaning drawer as well so that you don't have to separate the wire bit from the base to clean it.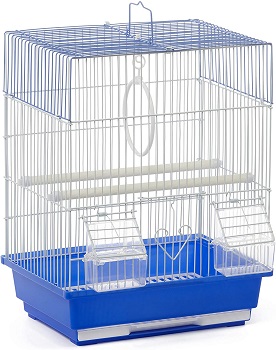 Permanent Bird Housing
We'd be careful with housing cockatiels permanently inside this cage though. Fully grown cockatiels are usually 12-in long and this cage is also 12-in long so it might not be for prolonged use. It's also 9-in wide, 15-in tall, and features a wire spacing of 0.5-in, perfect for cockatiels and other small birds.
In Short:
Has a white wire body and a plastic bottom
The bottom is colored blue
HAs a white cleaning tray that slides out
Has a 0.5-in wire spacing
Can be used as a hanging cage
It' 12-in long, 9-in wide, and 15-in tall
BEST SMALL COCKATIEL TRAVEL CAGE
X-ZONE PET Bird Travel Bag
Carrier Lenght
As we've mentioned before, it's hard to determine whether the travel cages or carriers are small or large since they're all too small to ever house a bird permanently but going with the rule we set earlier, this cage is to be considered small since it's 17-in long which means it's less than 20-in long.
2 Material Build
The carrier is mostly made out of soft fabric materials ad although we can't say for sure what exactly is the material used to make its sides, we can only take an educated guess and say it's plastic. The benefit is that the plastic is clear so your cockatiel will get a good view of his or her surroundings.
Entrances And Ventilation
The entrances to this cockatiel travel cage are located on the left and right side or the back and the front, depending on how you look at it. One of these two entrances is made out of mesh fabric so that your cockatiel can get proper airflow inside. Additional air is provided through the 8 holes in the clear material.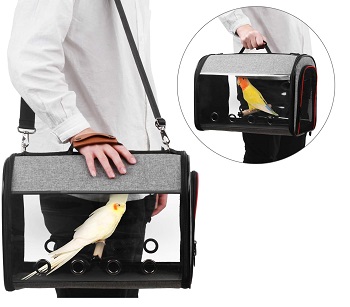 Carrying And Accessories
It does come with a single perch for the inside that you can attach to the clear plastic bits. ON top you'll find a leather carrying handle and loops where you can attach the shoulder strap with metal hooks. That leaves you with two carrying options for this lightweights, around 3 lbs carrier.
In Short:
It's 17-in long
Mostly made out of soft fabric material
Has 2 clear plastic sides
Features 2 entrances on the left and right
One entrance is a mesh fabric one for good airflow
The clear material bits feature 8 holes for ventilation
Comes with a single wooden perch
Can be carried with a handle or shoulder strap
How To Pick A Cockatiel Travel Cage
Since the rues of a cockatiel living cage do not apply to a cockatiel travel cage, you'll want to learn a few things about these to get the best one for your bird. If you continue reading this buying guide, you'll be guaranteed to learn almost everything that you need to know to pick one out by yourself.
What Counts As Small And What As Large – It's hard to determine whether a cage like this is small or large so we went with the logic of which birds they can house. If the cage is 20-in long or above, it can be used to house larger parrots like macaws and if it's under, it can be considered small
Cockatiel Travel Cage Needs – Most adult cockatiels are 12-in long. This length mostly comes from their long tail and you shouldn't go under the length of at least 12.5-in to comfortably house your cockatiel. If you get a smaller than recommended cage, you will risk your cockatiels tail getting bent.
Two Cage Types – The first cage tye we reviewed were actual cages. They look like cages and are made like cages. This means that they mostly have a metal build and feature wire sides. The other type of cages we reviewed are soft carriers that won't leave you worrying about what wire spacing you should get.
Metal Cage Warnings – Metal cages are definitely more durable than soft fabric cages but you need to be extra careful with them. You should worry about the wire spacing that shouldn't go over 5/8-in and the material used to make them. Your safest bet is to go with a stainless steel or aluminum cage but if you don't have the money for it, iron or wrought iron cage will do just fine, as long as you focus on the finish coating that will prevent premature rusting.
To Sum Up
it was hard to try and recommend anything other than the Kings Cages Large Aluminium as the best cockatiel travel cage. It mostly has to do with its size since it's almost 30-in long and will definitely be spacious enough for your cockatiel and it's made out of bird-safe aluminum. If you wish that we recommended the stainless steel cage, don't worry, you can always read the article about stainless steel parrot cages or about stainless steel macaw cages.